Product : Affiliate Secrets 2.0
Creator : Spencer Mecham
Price : $897
Do I Recommend : Certainly Yes. However,because of the price of this course,i only recommend action takers.
Actionable

Real Strategy that Works
Affiliate marketing as you know is the easiest way to make passive income. A lot people on the internet including Daily Job Killer are banking as an affiliate. So,of course,you shoudn't feel doubful anything about the income potential from this business.
But ask yourself,have you started affiliate marketing journey the correct way. If yes,it's great for you but if not,you are in big trouble. So,we will need a correct path before starting your own business of course.
That's where Affiliate Secrets 2.0 comes in,a very famous affiliate marketing course that helps you make real money as an affiliate. After buying the course and also learn the strategy from Spencer Mecham,i would say it's a great product for those who are looking for a serious income.
Let's read my entire Affiliate Secrets 2.0 review so that you know what it is.
What is Affiliate Secrets 2.0?
Basically,it's premium course from Spencer Mecham that helps you make money with funnel methods. Besides,you will combine 8 traffic sources to create your passive affiliate income.
Who is Affiliate Secrets 2.0 For?
Of course,those who want to make money as an affiliate
Any marketer at any experience
You are an action taker and not really living paycheck
If you are finding the true passive income
And a lot more,…
Main Features and Demo of Affiliate Secrets 2.0
Now,i will show you exactly what inside Affiliate Secrets 2.0. Basically,the course is mostly focusing on Internet Marketing/Make Money Niche.
Inside the course,he helps you make real money promoting Recurring Offers including stuffs like Clickfunnels,Builderall and more,..
The strategy here is to drive traffic to your campaigns,then you send automated autoresponder sequence.
Inside the Affiliate Secrets 2.0 course,he has DFY Affiliate Offers he handpicked and DFY Swipes also.
The main page builder he recommends here is Clickfunnels but it's OK to use other softwares.
About traffic generation,the course has 8 traffic sources for you.
So,his successful formula here is affiliate funnel + automated autoresponder sequence.
1.Traffic Generation
This is maybe the most wanted module of Affiliate Secrets 2.0. Inside the course,they have 8 traffic generation techniques. Before starting,here's a list of his recommended affiiate offers.
For those who want quick traffic,you can consider buying solo ads from his recommended providers.
a.Youtube
The software he recommends is Screenflow,which is for screen capturing. If you don't intend to use Screenflow,it's OK to buy Create by Vidello instead.
He has a winning formula called viral Video.
Inside the course,he shows you how to outsource signals to get your video get known faster.
For Youtube,as we know,we need SEO Techniques and keyword research to get ranked.
As you can see from my screenshot,he shows you basic step to optimize Video SEO.
b.PPC Ads
This is a great ad networks to work with but most people think Facebook Ads is better. Well,the cost for CPC ads is cheaper than Facebook Ads if you set properly.
A lot keywords here only cost you very low but they have high traffic potential.
Instead of Google SEO,which is not realistic now,sometimes running CPC ads can provide you faster results.
Inside the course,you will understand everything about Adwords and Bing also.
This can guarantee you page 1 on Google of course for Adwords and you will have potential traffic to your affiliate funnels.
Bing Ads is also a winning ads network especially for those who run IM niche.
If you use WordPress,don't forget that you will get Ad Credit from Hosting Services.
c.Social Media Traffic
Besides biggest traffic above,there will be other untapped free traffic you don't know.
Firstly,you learn about Instagram Viral Marketing.
This will redirect people to your affiliate funnel page or free offer of course.
Quora is a group traffic that you can become a gurus and share useful stuffs.
Then,you will learn about FB Groups traffic.
You will learn a litte bit about Chatbot marketing.
Here's the best time interval to post on FB Groups.
After learning some free traffic sources,you will learn about FB Ads from his partners.
This is an entire process when you set it up and scale it for later.
With Affiliate Secrets 2.0,you'll do advertising yourself,no DFY Targeting.
He will instruct all types of ad even including IG for FB Ads.
Lastly,you'll learn about Pinterest free traffic.
Here's the DFY Group Board Research.
This includes multiple niche,not just Internet Marketing Niche.
2.Value
According to success marketers,the more value you add,the more money you make.
In this module,you will understand about value to add and how to utilize them the correct way.
With the strategy,you can use them with both free and advertising traffic.
As i mentioned before,the purpose of Affiliate Secrets 2.0 is about affiliate funnels.
With Affiliate Funnels,you will use lead magnets to grow your lists.
Inside the course,Spencer Mecham will provide you free training to give away yourselfs.
They are not cheap PLR products,they can help you build a quality lists and build better engagement.
3.Funnels Building
The course depends a lot on sales funnel methods so this one is one of the most important module of Affiliate Secrets 2.0
He will help you understand about affiliate funnels methods.
This don't just help you build a list but also promote high ticket products like Clickfunnels and Expert Secret,Dotcom Secrets.
You can either use his pre-built funnels by 1 click importing or use other softwares.
Everything you need here is to change your affiliate link to his shared funnels.
There's a lot winning affiliate funnel as you can see from here. They can redirect to your presell page and you can still build your list.
With built-in high converting templates,you can easily grow your lists.
The recommended autoresponder software from him is Active Campaigns,so,you need an autoresponder.
Here are some funnels from him.
With Clickfunnels,you can 1 click cloning.
The beauty of IM niche is that once you get some success,you can start creating coaching program.
Not just that,you can even rebrand the course so that people can get the value.
You have 2 options : share people the signup URL or cloning his funnels and rebrand as yourselfs.
He also gives away bonuses you can provide to people. Think,you provide How to Make Money with Clickfunnels course to those who want to buy Clickfunnels,this is a win-win options.
Here's the affiliate marketing course you can give away as a lead magnet.
4.Products
Besides Clickfunnels,there's a lot winning products you can promote to profit.
These are his recomended affiliate program + signup URL.
There also some solo ads provider that he recommends you to work with. The idea is to help you promote all these evergreen products and you earn passive income.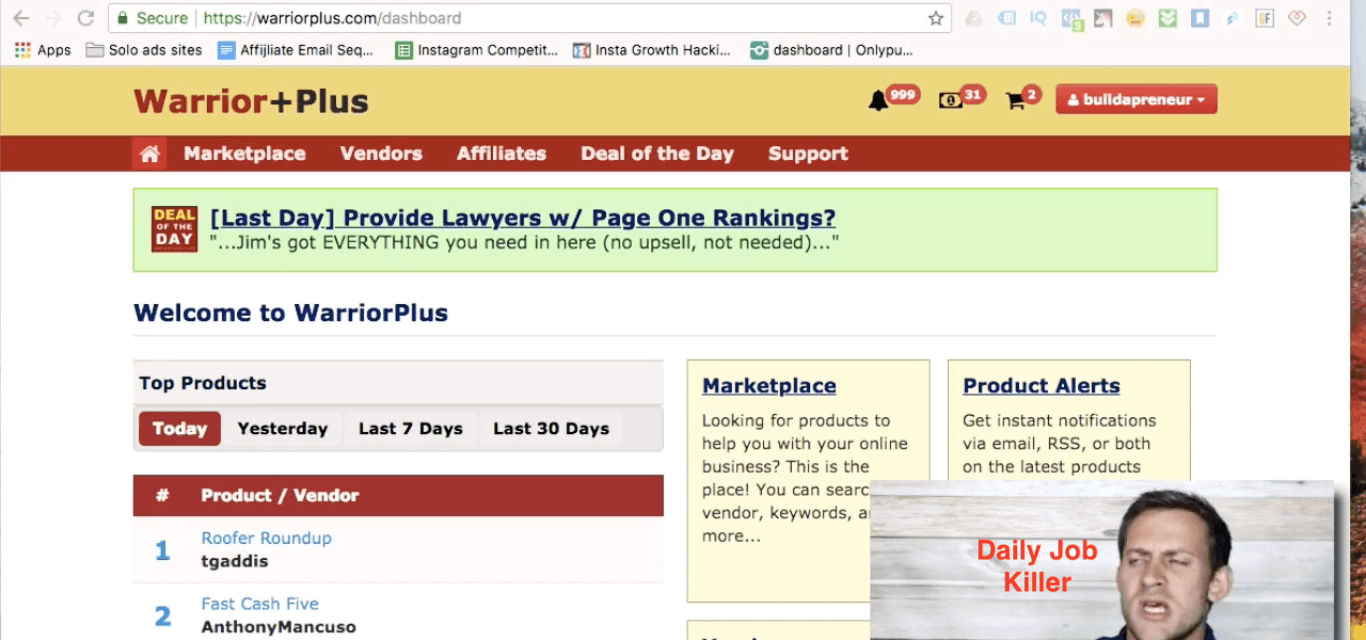 Besides,he also provides easy to sale to product on Jvzoo and W+.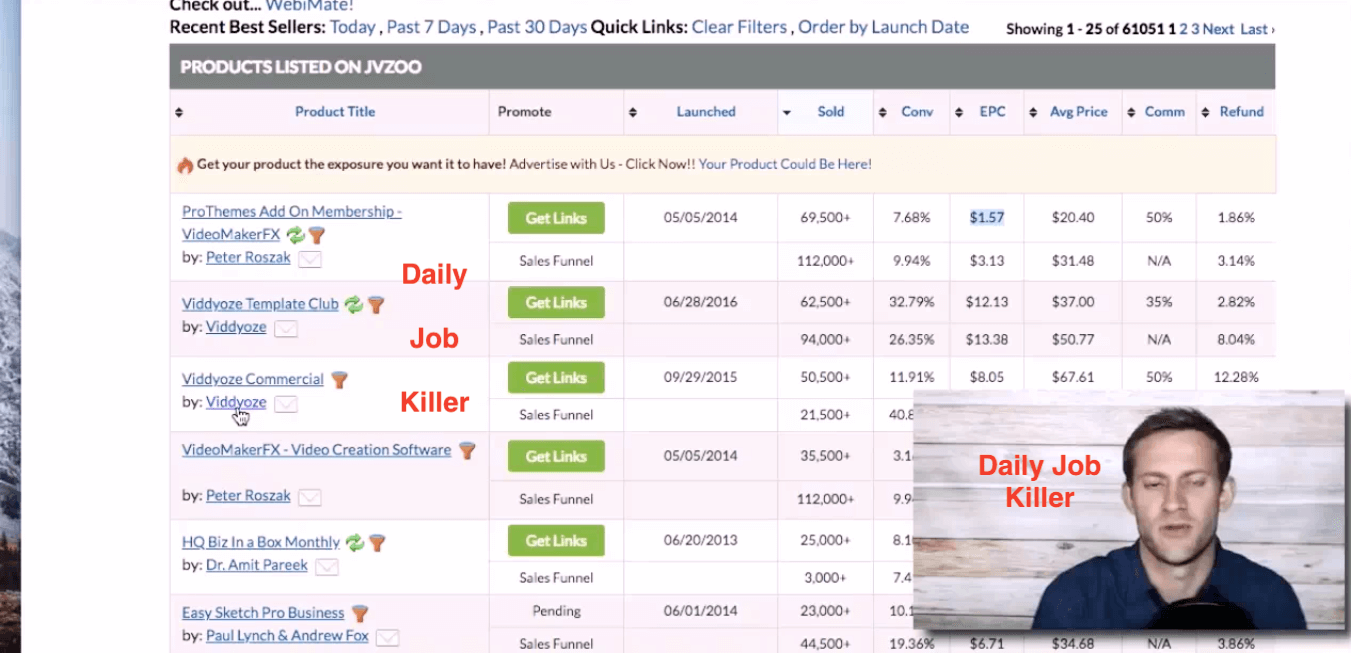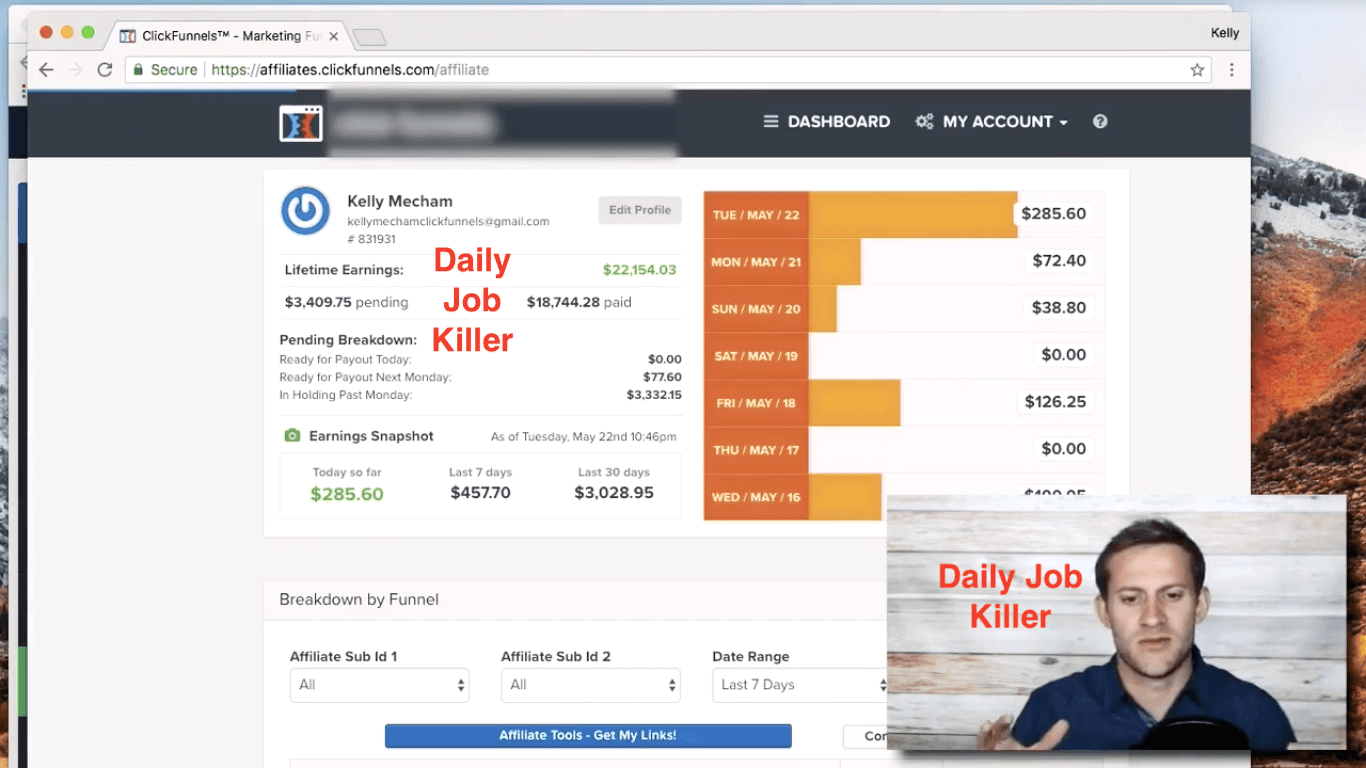 As you can see,he focuses mostly on high ticket offers.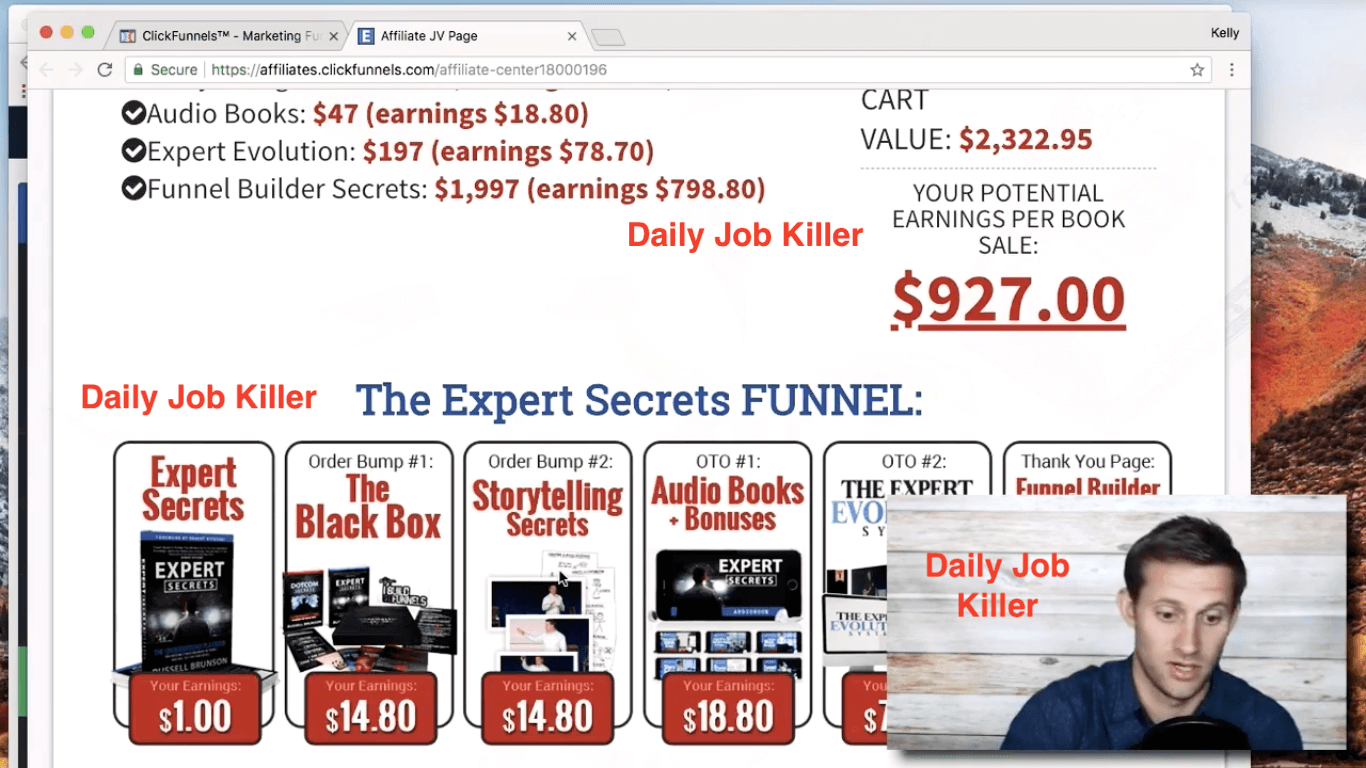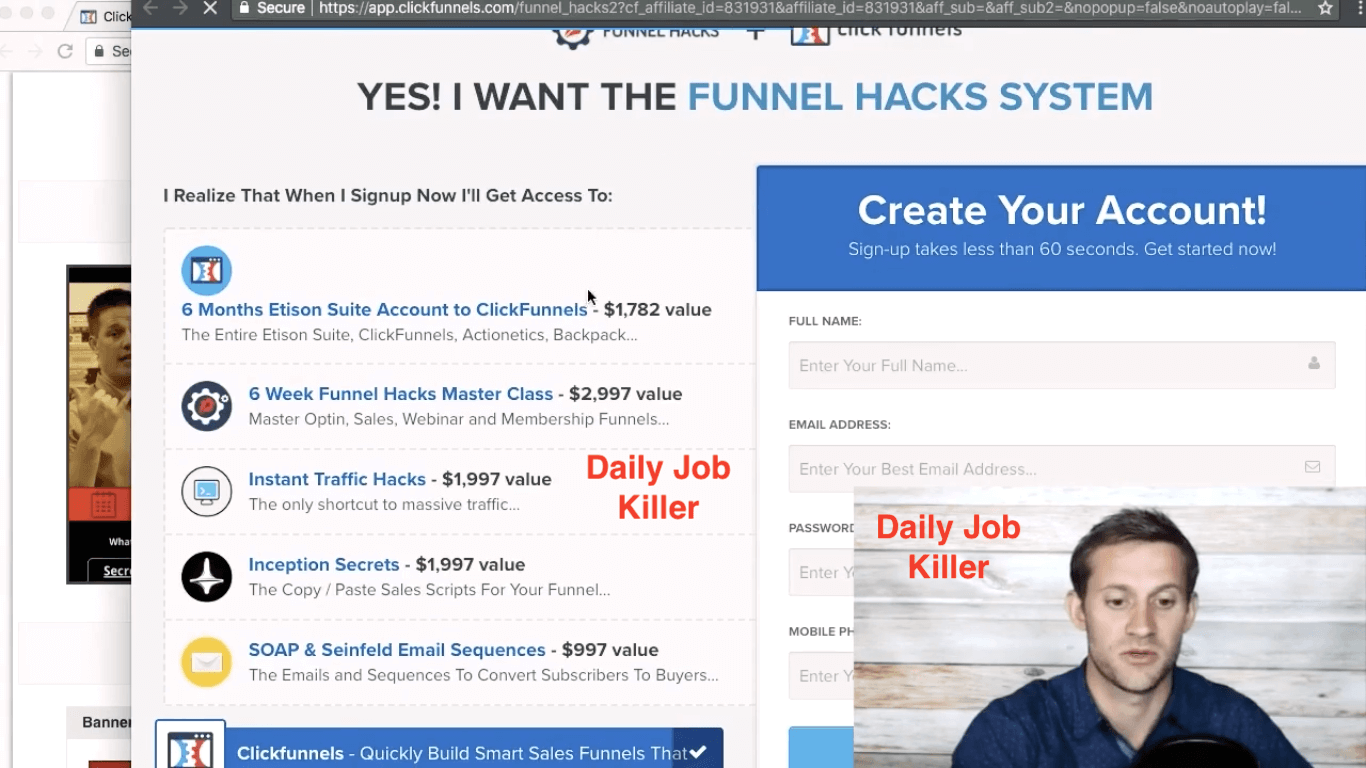 The beauty from them is that you got credited from the free trial and if people buy,you got easy affiliate commissions.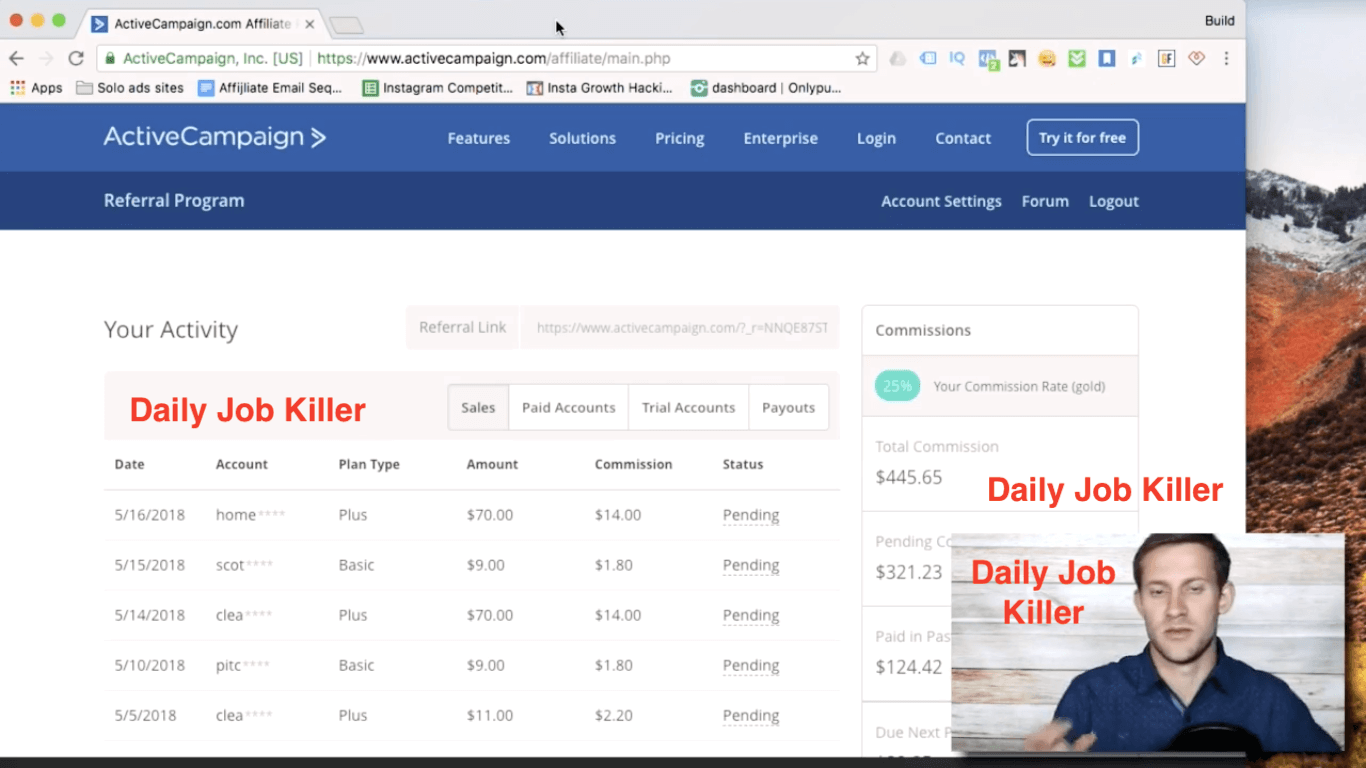 As they are monthly products so that you make money passively.
5.Email Marketing
With affiliate funnels,the majority of money you make are from automated autoresponder sequence.
Of course,you'll need to invest in an autoresponder. According to Affiliate Secrets 2.0,you can use Actionetics,Active Campaigns and Sendlane as he recommends. But in case you don't like them,feel free to use others.
There are three main sequences he focuses on Affiliate Secrets 2.0
They are Soap Opera,Seinfeld and sequence to help your existing Clickfunnels's customers.
You can run workflow to scale your campaigns.
In order to avoid getting banned from autoresponder,it's needed to cloak your link.
And lastly,Affiliate Secrets 2.0 brings you DFY Automated Autoresponder Sequence.
This helps you increase relationship with customers and then monetize from them with offers.
6.Outsourcing
Once you have some success,you can hire VA to scale your business faster.
This module of Affiliate Secrets 2.0 will help you do the process. But in case you don't like,it's OK to skip.
Normally,experienced marketers don't hesitate hiring VA because they know that they will actually get the money back.
After that,you get the Bonus Social Media marketing course from Rachel Lee,who's also in 2 Comma Club.
Here's the daily task from her,as you know,this woman has ranked a lot competitive videos on Google and Youtube.
Then,you can view success story and case studies from successful marketers.
These guys use Google Adwords and Youtube to make money promoting Clickfunnels.
7.Bonus Bundle
In order to help you start your affiliate funnels faster,Spencer has provided DFY Funnels inside Affiliate Secrets 2.0.
In this example,you give away free report to people and then promote Dotcom Secrets as an upsell.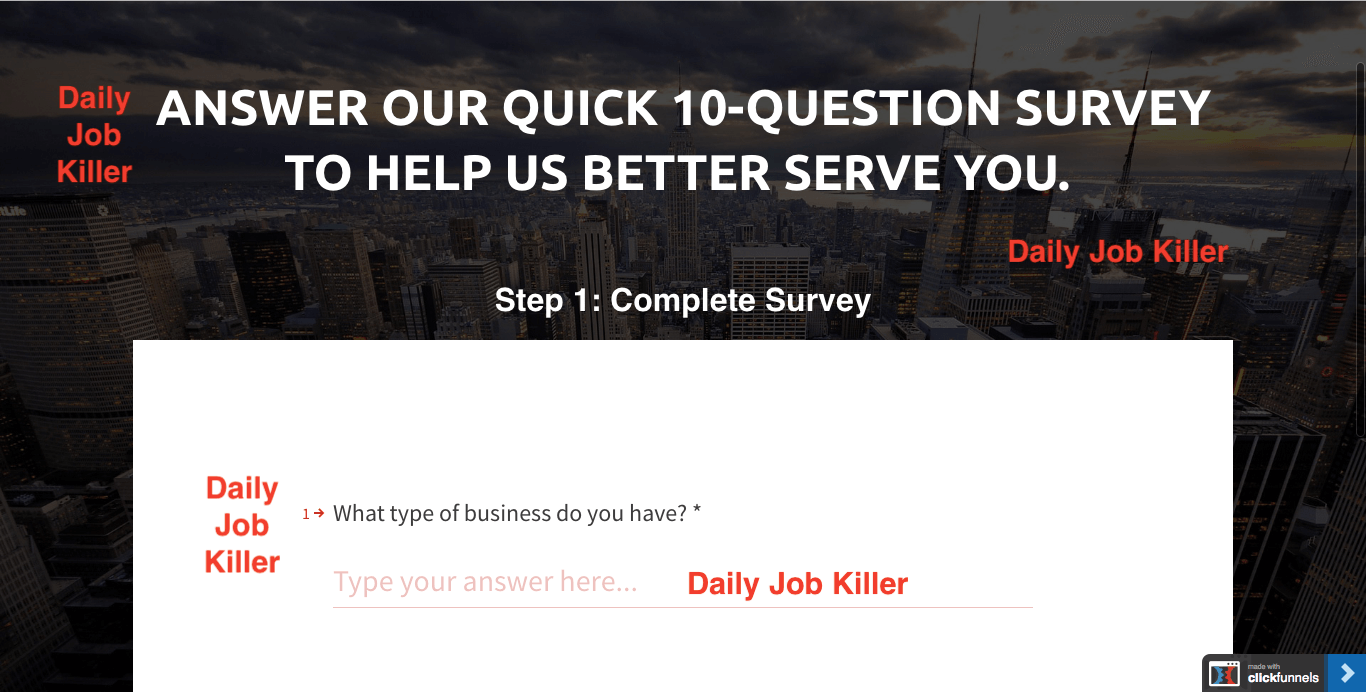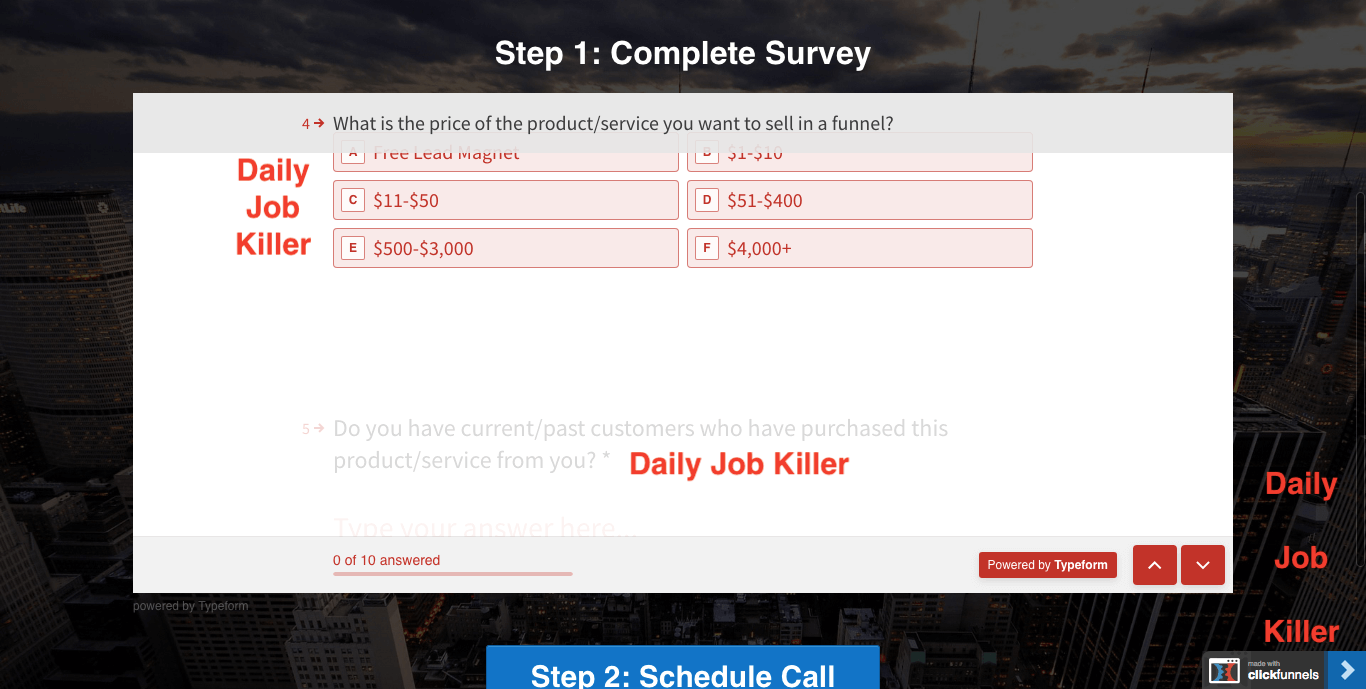 Before people want to buy something,you need to understand them first. In fact,Survey funnel like this converts really well.

Besides,he also has a funnel for those who intends to sell products online.

This includes everypage such as salespage,order page and upsell page.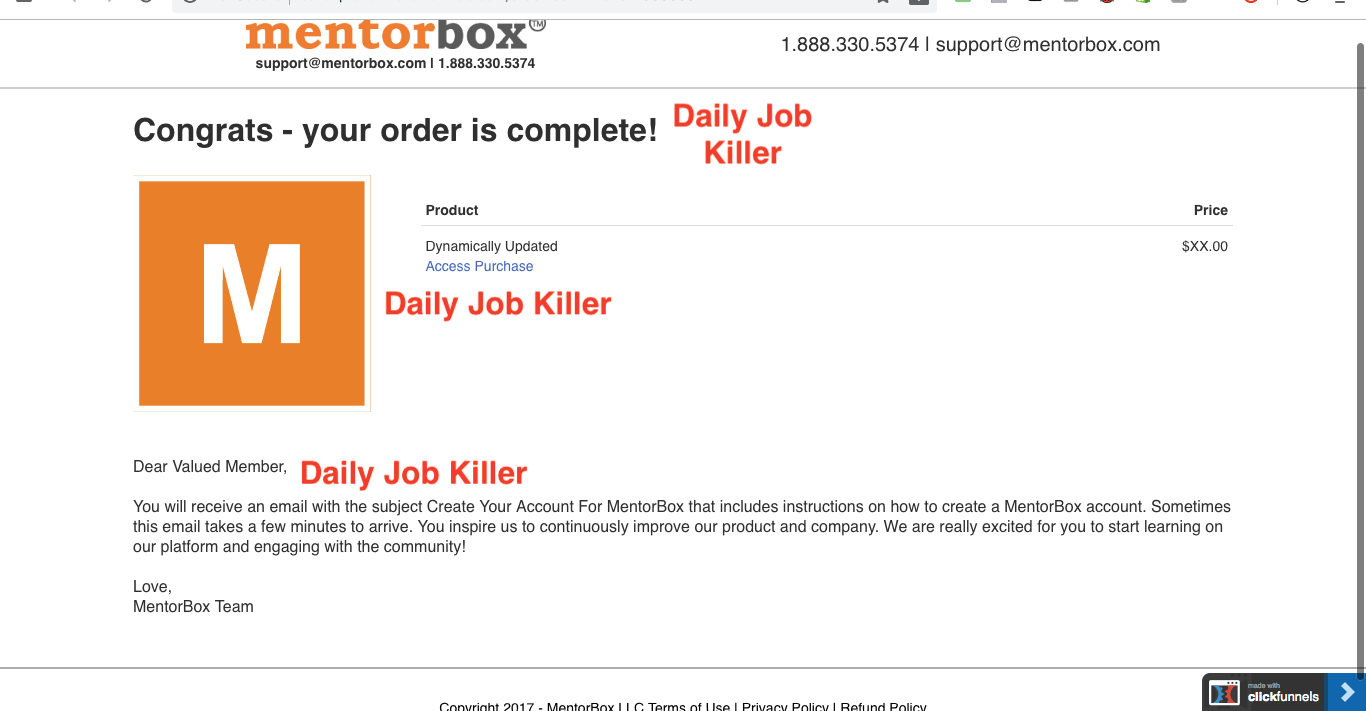 With this option,you will certainly get quality subscribers that are ready to buy product from your link.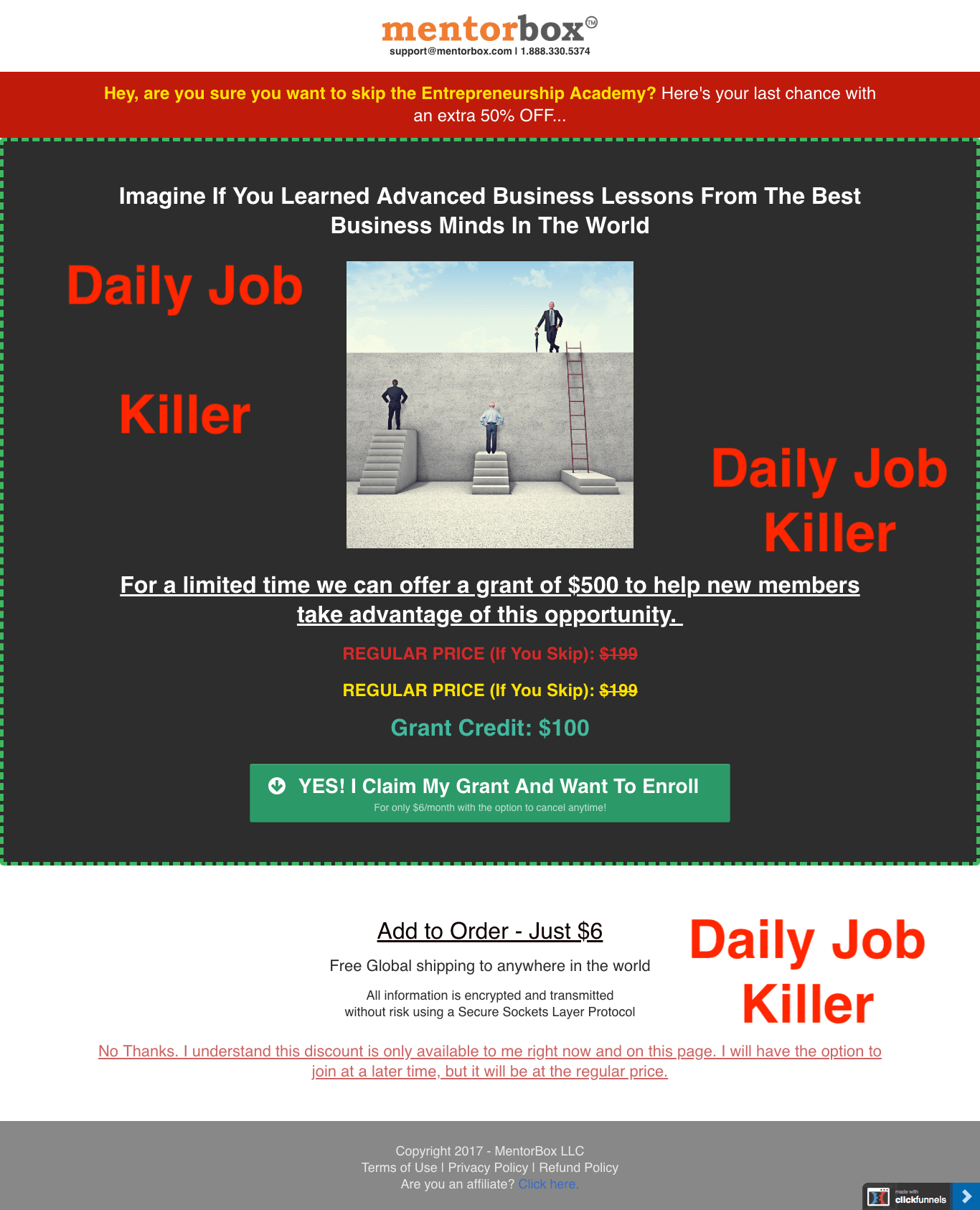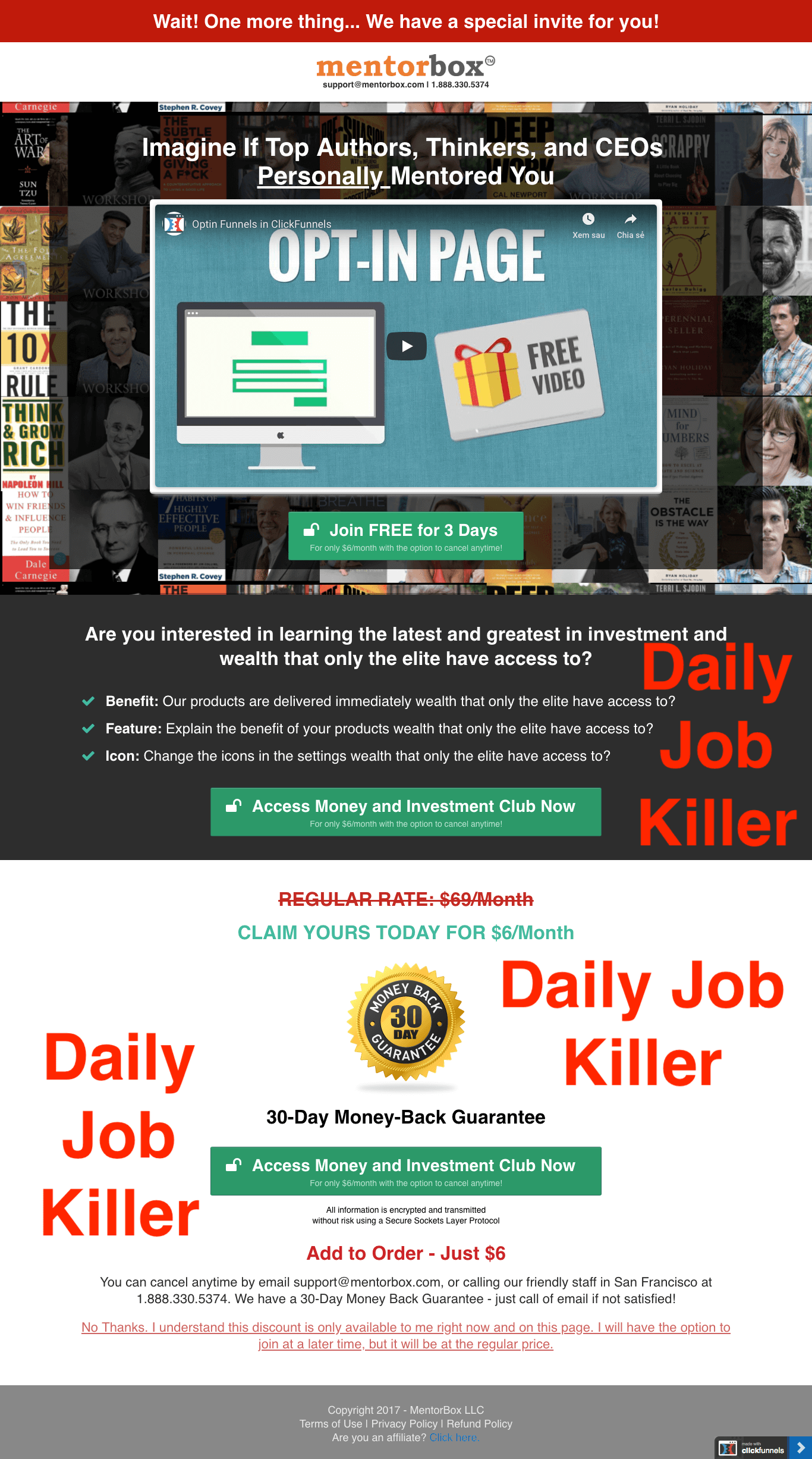 Ecommerce niche is hot,you can establish yourselfs as an eCommerce Experts.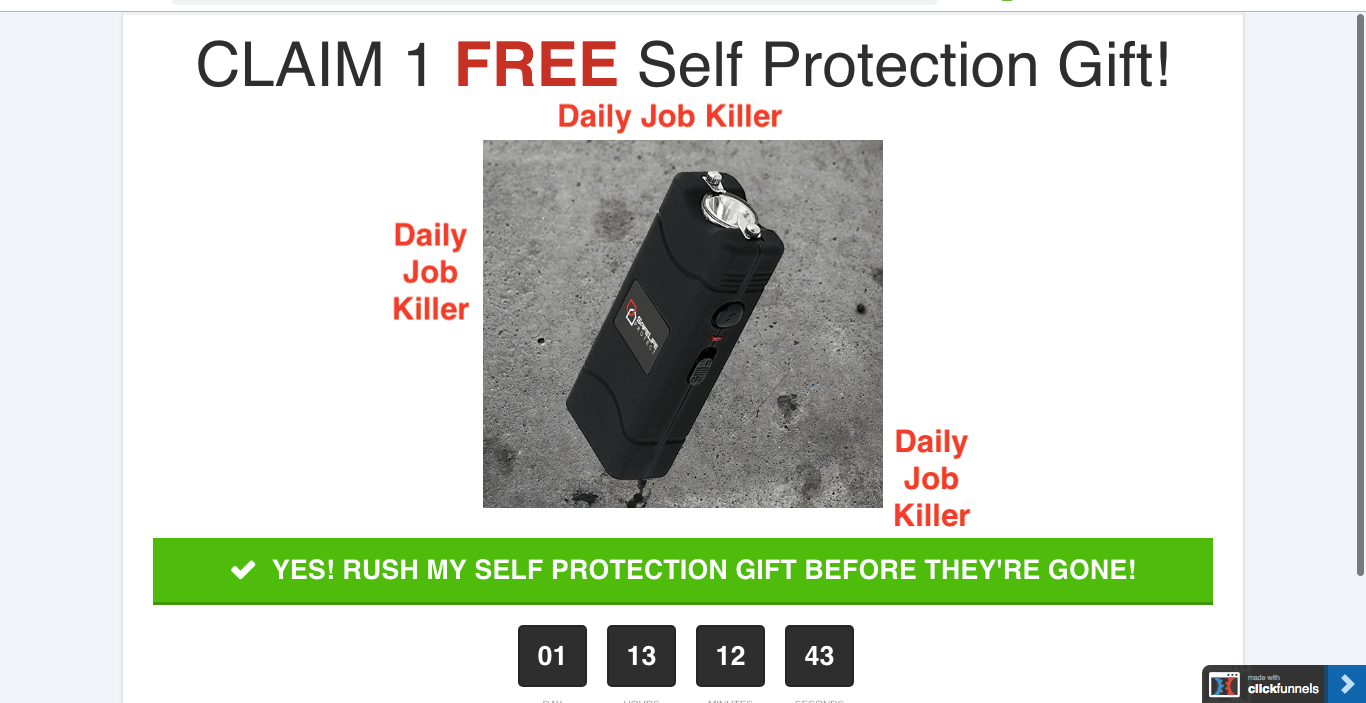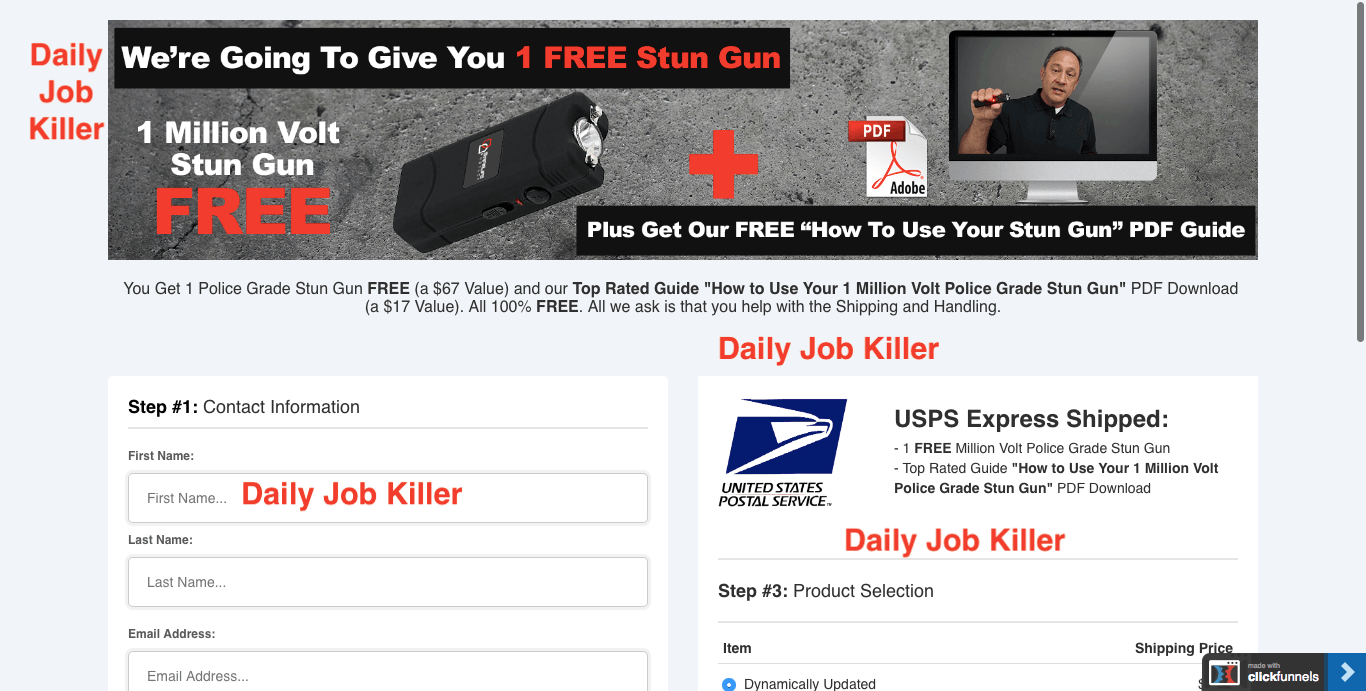 In fact,sales funnel converts somewhat better than Shopify Store and using this strategy can help you promote Clickfunnels easier.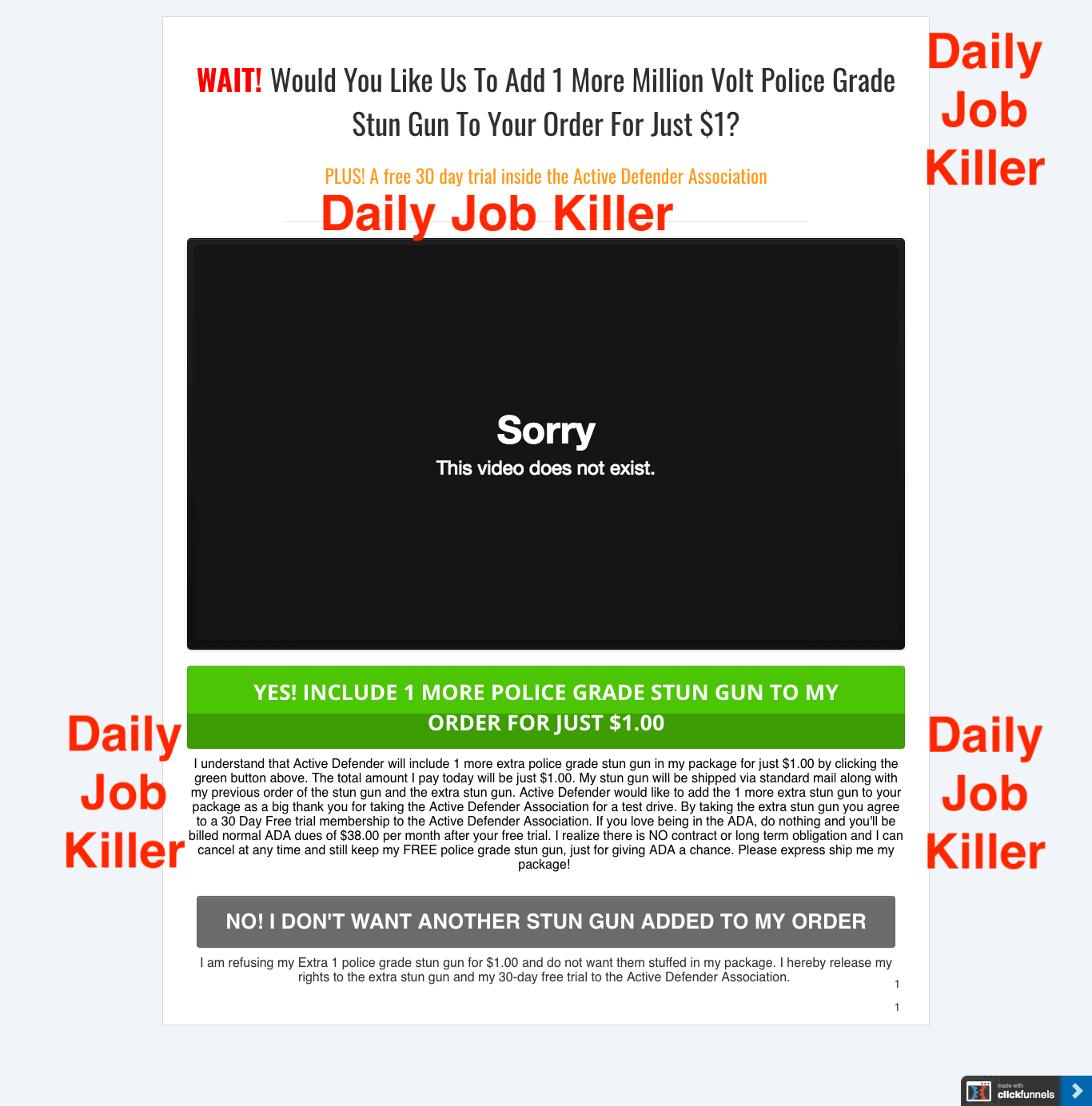 And that's all you need to know before you buy Affiliate Secrets 2.0. In fact,it's a great course worth buying.
My Affiliate Secrets 2.0 Review Video (Please Watch)
In order to provide you a correct understanding about Affiliate Secrets 2.0,i have recorded a full walkthrough demo video about it. So before you buy the course,turn on your volume and watch these videos first.
Pros of Affiliate Secrets 2.0
Easy to understand video course
Realistic and Actionable Strategy
DFY Funnels that you can 1 click cloning
Various Traffic Sources and Angles
DFY Automated Email Autoresponder Sequence
Whitelabel Lead magnet to Build a List
Include Case Studies and Example Campaigns
Cons of Affiliate Secrets 2.0
He Focuses a Lot on Clickfunnels
Final Verdict
In summary,Affiliate Secrets 2.0 is a great training course and yes,it can help you create a passive income according to what the product creator says. With recurring products,you can make money while you are resting and sleeping. After learning the strategy from Spencer Mecham,i see that the training works. Of course,if you want to make money in IM/MMO niche,Affiliate Secrets 2.0 is a big yes from me.
Mini FAQs
Does Affiliate Secrets 2.0 Offer Refund?
Due to the digital nature of this course refunds are not offered except for extenuating circumstances. If you feel you have one of these circumstances you can email support@buildapreneur.com. All refunds will be issued at the sole discretion of Buildapreneur or its representatives.
What is Affiliate Secrets All About?
This is a training course that helps you make money in the internet marketing niche. Preferably, to make recurring affiliate commissions by promoting products like Clickfunnels, Monthly Autoresponders and some Hosting Services,
What is the Main Traffic for this Course?
You can either use free and paid traffic. In most cases, successful story from this course are from paid traffic as it will target real potential buyers instead of target those who are always looking for having stuffs free or those who are always seeking for a refund.