Clickbank University 2.0 Review From Real Customer-Does The Training Work?
Product : Clickbank University 2.0
Creator : Justin Atlan
Price : $47/month
Do I Recommend : Yes,however,not for those who don't take action or lack budget. Besides,i don't like the funnel of Clickbank University 2.0.

Recommended But Not For Everyone
Presently,Clickbank is the biggest affiliate marketplace and shopping cart plattform. Unlike Jvzoo,W+,Clickbank's vendors must pay commissions to affiliate after refund expires. Besides,there's no instant payment on Clickbank like Jvzoo,
Paykickstart
and Jvshare,so no kind of cash rebates. On the other hand,if someone requests a refund with CB products,they will get the money back. I have personally bought some scam products on W+,Jvzoo and when i claim refund,they reject.
Moreover,most Clickbank products are more legitimate than other marketplaces. Therefore,you have many reasons to market on Clickbank.
Of course,you can make money as an vendor and affiliate,it depends on your marketing plans. But before you do it,you need to have some actionable strategies. Today,i will introduce you a practical Clickbank course,Clickbank University 2.0. Comparing with most training i learn and have a review access on the internet,Clickbank University 2.0 is in a higher level.
Let's checkout my Clickbank University 2.0 review before you buy it.
Notes : i got a review access from Megan Mann so that i know what inside.
What is Clickbank University 2.0?

At first,Clickbank University 2.0 is a course that helps you make money on Clickbank. It teaches you how to make money as a vendor (product launching) and affiliate marketer.
Besides,it has interviews with real students who success through this course. About traffic training,it mostly focuses on Facebook Ads,Youtube Ads and Instagram Influencers. The vendors course will focus on advanced strategies such as conversion tracking,split testing,salescopy,etc. While the affiliate course focus mostly on email marketing,giveaway and affiliate funnel.
Who is Clickbank University 2.0 For?
Any marketer at any experience
You don't lack budget
If you are sick of fake promises,scam and liars
People who hate theory,they need actionable trainign
Affiliate marketer or Product Launcher,..
And many more,…
Main Training Inside Clickbank University 2.0
Now,i will show you exactly what you are actually getting inside Clickbank University 2.0. I have already learnt the training and i will say,it's certainly legit.


This is the member's area once you login.


The first upsell of Clickbank University is a landing page builder,it's usual as some big names on the market. However,it's more affordable than Leadpages,Clickfunnels and it also covers page hosting,membership generator.
1.Vendors
This training mostly covers about product launching,find JV partners and salescopy.


When you launch product online,your salespage is the key to successful launch. Sellers is a great way to make money online because it also helps you build an email list.


Autoplay video sales letter is also important,too. About the Email training or JV managing,it's actually like you create a Jv partner page,then you will provide materials for your product. Of course,the more beautiful and professional information in your JV page and sales page,the better chance for your products to be promoted by top affiliates.


When selling product on Clickbank,they recommend you to create a course rather than software. Webinar marketing is also mentioned on this training,which allows you to find real potential audiences and build your list.
Besides,you will learn about upsells,funnel to maximize profits.
You should understand that the main traffic sources as a vendor is to find a JV brokers. Always keep in mind that you need to build a list with just JV partners,then you send newsletter to them for launch updates.
No matter what it is,the core thing to a successful launch is a high quality product that sells. But before taking action,i recommend you to learn copywriting skill.

2.Affiliates Training

This training is mostly about paid traffic,affiliate funnel and email marketing. In my opinion,affiliate funnel is a proven way to make money because it doesn't just help you build a list,but also promote affiliate offers easier.
According to them,list building is the most powerful way to make money online and actually if someone likes a product,they will buy in anyway.
There are no kind of Done For You bussiness here,you must do your own. What i like about Clickbank University 2.0 is that they focus on building relationships with subscribers.
3.Interview
The best way to start your marketing process is to watch case studies from top marketers. These are real life interviews so as to make sure you understand about your process.


Each  interviews has their own marketing plans.



Besides,you also get interview training.

4.Traffic
No matter how good your campaign is,without traffic,certainly you can't make any dime. However,this training mostly covers about paid traffic sources. In my opinion,paid traffic is better than free because they are mostly real traffic and they are faster to get view,build list.


The main traffic sources they teach are Facebook Advertising and Instagram Shoutouts. Actually,Instagram Shoutouts is a kind of hiring influencers. It's like you pay an influencers a small money,then you will display your landing page on their description.


Normally,this technique mostly works with health,fitness,diet,transformation,muscle niche.
About the Facebook,they mostly taught about Facebook Ads likes or Facebook Campaigns. Hardly say about fan pages or viral facebook traffic.
That's the reason why i don't recommend Clickbank University 2.0 to anyone. If you lack budget for paid ads,you can't make money with it. Most people who join Clickbank University 2.0 are complete newbie,so,how they get free original traffic.
Then,you will have some knowledge about Youtube Ads. It's a 4 parts course :

Setting Up
Optimizing
Running Ads
Scaling
OTO 1 : The Clickbank Builder
This is the upsell 1 of Clickbank University 2.0,there are two options : split payment of $297,that's $594 in total or 7 monthly payments of $97,that's $679 in total. In my opinion,it's not really an upgrade because landing page is a must have for any online bussiness. You may not believe but most 7 figures marketers focus on their landing page a lot.
If you can't afford to buy Clickbank Builder,it's OK to buy an affordable option,FastEye Pages.
What i love about this product is that it fully covers the page hosting with custom subdomain,multi purpose landing page templates. Besides,it's customized to help you create a funnel and it also has membership generator.
For those who haven't created any landing page before,you can visit the training,it teaches all kinds.


The process is super simple,just pick a template and then customize it for your own usage. You should understand that just the page hosting with custom subdomain and membership generator can cost more than that. Have a look at Clickfunnels,Kajabi or Fresh Member and you will understand why.


Just pick any templates and customize it after that.


Here's an example optin page that helps you create an affiliate funnel or anything else.


And of course,you can also create a redirect page.
The subdomain format will be http://yourcustomsubdomain.clickbankbuilder.com
If you are thinking about No WordPress Method,this is a good idea.
And that's all you need to know before buying Clickbank University 2.0.

Funnels of Clickbank University 2.0 In Details
Let's take a look at the entire funnel of Clickbank University 2.0. The front end course of Clickbank University 2.0 costs you $47/month.
After you buy the front end course,then they will offer you Clickbank Builder.


I think you you don't really need to buy upgrade. There's a lot landing page builder on the internet with the better price such as FastEye.
Bonus From Me
In order to help your life much easier,i will add some extra bonus if you buy Clickbank University 2.0 through my link. Just simply buy and then contact me with your name and your Clickbank receipt. After that,i will check and give you immediate access. Of course,i won't offer cheap PLR bonuses,just related with the product.
1.The Complete Facebook Ads and Marketing Course


This is the highest rating and most practical Facebook Ads course on Udemy.
2.Video Ads Made Easy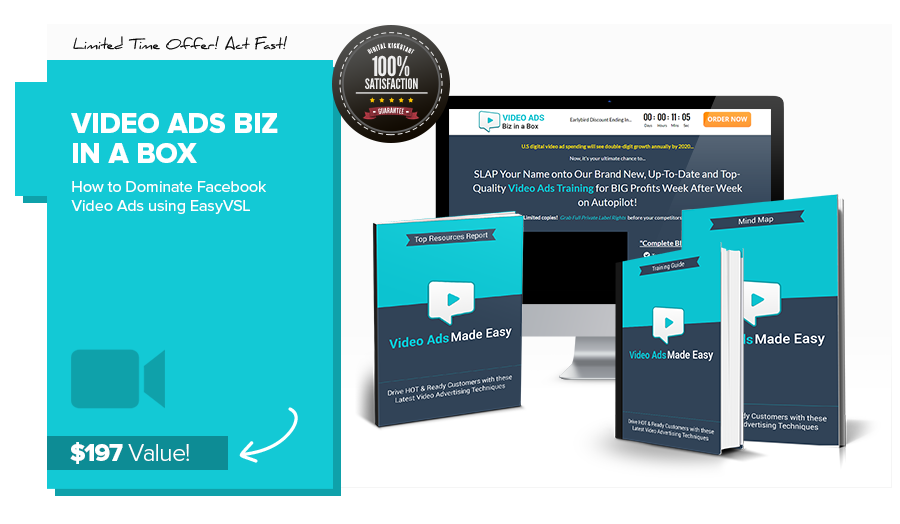 3.Video Ads 2.0 Made Easy
4.Youtube Marketing Made Easy
5.Instagram Marketing Made Easy
6.Youtube Ads Made Easy
7.Youtube Ads Made Easy Upgrade Video Training
8.Instagram Ads Made Easy
9.Email Marketing Made Easy
10.List Building Made Easy
11.The 10K Email Manifesto
12.Commissions Blueprint
13.Effortless FB Profits
Pros of Clickbank University 2.0
Realistic and Practical Training
Step by Step Video Training Lessons
Real Today's Winning Strategies
High Quality Lessons
Include Advanced Training
Contains Video Case Studies and Interviews with Experts
Copywriting Skills Course
Always Advise to Create a Funnel (Sales Funnel or Affiliate Funnel)
Cons of Clickbank University 2.0
Expensive Upsells Funnel
Doesn't Cover a lot about Basic Setup like WP,Fan Pages
Some Lessons are advanced that make you feel overwhelmed
Final Verdict
In summary,Clickbank University 2.0 is a good training that helps you make money with Clickbank. Clearly,it covers some professional lessons like Facebook Ads,Instagram Influencers and Youtube Ads course. Besides,it teaches about funnel creation and affiliate funnel,which is also proven to build a consistent online bussiness. Of course,this training is a yes from me and i would say the training works. About the upgrade,you don't really have to buy them because you still have affordable options.