Product : Commission Gorilla v2
Creator : Promote Labs (also the creator of Chitchatchimp,LPM,Conversion Gorilla,Split Test Monkey,Post Gopher)
Price : It's now $47/year and price seems not going to increase.
Do I Recommend : Yes (Especially for Jvzoo's affiliate marketers)

On affiliate marketing,there are three things i care the most. Firstly,i care about landing page. Secondly,i care about
split-testing
. And lastly,i care about spying. Of all those three factors,i care about landing page as well as presale page the most. In fact,landing page is highly important if you are going in depth about affiliate marketing. On the other hand,it represents your traffic,your ads and it helps you increase ROI.
In order to promote a product,we can not always depend on vendors's salespage. Therefore,we should create a presale page to warn up your audiences and to provide a more details about an offer. Jvzoo is one of the highest paying out affiliate network but it's not easy to work with. If you are new to Jvzoo,then you may struggle to get approval with some best offers from big vendors. Personally,when i first started promoting Jvzoo's products,i was always struggling to get affiliate link.
On this network,just 50% of products there are really high quality,most of them are low quality and even scammers. Moreover,it's hard for inexperience affiliate to rank over professional marketers. 95% of Jvzoo products's fake (or scam) affiliate review sites always rank on Google because they have strong backlinking strategies. So,to beat them,you need to have something to be an unfair advantage. Personally,one of my advantages when comparing with these scam review sites is that i review honestly and show the exact demo of a product.
Fortunately,Commission Gorilla V2 is a brand new software that is mostly designed to promote Jvzoo product. Of course,you can still use Commission Gorilla V2 to work with other networks if you know how to customize. Now,let's check out my Commission Gorilla V2 reviews and demo so that you know what you get inside.
If you are looking for a real user reviews of Commission Gorilla V2,you are lucky because most of the reviews you read are fake. They just copy paste the salespage and they impress you by these following scam tittles.
Now,i will instruct you step by step on how to create a presale page using Commission Gorilla V2. Once again,i won't attract you like these suck review sites. Here's my receipt after buying this product,because i'm a real users 🙂
Before You Buy
Commission Gorilla v2 is a Jvzoo's product and one of the characteristic of this network is upsell. After you buy this product,you will see the upsells of it. The funnel of Commission Gorilla includes 5 products so that there are 5 salespage. What i really don't like is that some of them has autoplay video,which is annoying. Therefore,to get this product,you may need to cancel upsells. In my opinion,that's less than major Jvzoo's products. Some funnel includes 17 products,hence you need to cancel 17 times to actually get the product.
What is Commission Gorilla V2?

At first,Commission Gorilla V2 is a web based, affiliate promotion page (bridge page) builder with a whole host of conversion boosting bells and whistles, combined with a bonus management system and an in-depth reporting and analytics engine developed exclusively for affiliate marketers.
The software reduces the time and effort typically needed to create a promotional. You could say it's the software for affiliates made by affiliates. And you can also say it's a presale page creator
Who is Commission Gorilla V2 For?
Any affiliate marketers in any experiences
People who are struggling or to scale their Jvzoo's profits
If you don't have enough budget to buy presale page creator such as Instapage,LeadPages,Unbounces,etc
Those who understand how important a landing page or presale page is
People who want to boost optin rates (yes,if you treat it as a presale page instead of a promotion pages)
Main Features and Real Demo of Commission Gorilla V2
Now,i will instruct you on how to create a presale page using Commission Gorilla V2. This is the member's dashboard once you login.

1.Add Bonus

Remember,this is a software created to monetize on Jvzoo and one of the best way to increase conversion on this network is to offer bonuses. Personally,i don't like using PLR bonuses but if a bonus is really high quality and it delivers real value,you should offer bonuses. Here's how to add bonus. At first,click on New Bonus. Then,you will see there are 4 ways to add bonuses.
a.Classic Combo

In this situation,you will need an available image on your computer and laptop. Then you need to add some description about this bonus. In fact,this bonus type will have the highest conversion. For example,i add a bonus called Content Marketing Blueprint Audio and Video.


After that,you need to share a bonus download file. This will enable Commission Gorilla V2 create a bonus thankyou page. Clearly,this will save you time instead of adding similar bonuses on multiple files. That file will automatically be included on a bonus thankyou page. Just give a link redirect to Drive,Dropbox and Amazon S3,etc.


And then,a bonus have been created inside Commission Gorilla V2.

b.Images Bonus Graphic

Another type of bonus you can deliver is images types. Commission Gorilla V2 works the best if you have 800 height dimension. Here's how to do that. For instance,i add a bonus graphic called Bing Ads Mastery Training.


Of course,don't forget to give out a URL to deliver this bonus. Commission Gorilla V2 won't host bonus files,it hosts bonus thank you page to automatically provide on Jvzoo.
Tada,a graphic bonus has been created 🙂

c.WYSIWYG (Do It Yourself)

Personally,i don't like this editor because it has some little bit annoying. In order to upload images,you can only upload the web source page.
In this example,i will add a bonus called Affiliate Authority. When comparing with those 2 types above,it still has advantage about the detail of your bonus.


This is how i do and once again,don't forget to provide the download link. Here's a bonus should look like.



And this is a bonus delivery file,which is automatically added on their hosted TY page if you add this Bonus Block on the page buidler.

2.Create A Presale Page
a.Introduction
After creating your bonus description,images,then you need to create a presale page. Commission Gorilla V2 helps you create a bonus page or a promotion page and presale page. Creating a presale page with Commission Gorilla V2 is super easy because all images,descriptions are stored inside the your library.
First of all,choose the page settings. All of the links inside that page will redirect into one URL,that's what a presale page looks like. In this scenario,i will create a bonus page with Post Gopher.
Firstly,i choose spacer block elements.


Then choose the Text Block elements,simply drag and drop.


After that,upload the logo,brand of a product to make them know what it is,just choose the Image Block.


Don't forget to add spacer block,if you don't do that,the presale page you make will look unattractive.


Next,you can add a short description about the offer you are promoting. Of course,we use Text Block.


Remember to choose the text format,edit font to pinpoint to product. In this scenario,i choose Open Sans Text. After that,i add an detail image to make it more informative. When promoting any affiliate product,you need to present it easy to understand.


Then i add another text block to add features of this product.


Also embed a video demo of the offer. If you add a Video Sales Letter,it should be on the top. Commission Gorilla can host your presale page but it doesn't host video. So that prepare an embed link from Amazon S3,Vimeo,Youtube,etc.


After i add video,i add another description about the offer.


Right now,i start introducing the bonus offers.


Next,i click on CTA Button element. The next thing to do is to customize that button. All of the button will redirect into one URL that you insert on the page settings.

b.Offer Your Bonuses
The next thing to do with Commission Gorilla V2 is to offer bonuses towards your audiences. Avoid using some cheap PLR bonuses,it's OK to use but it should really deliver value towards people. At first,click on Text Block to create the name of your bonus. After that,you can customize font,text color and text block.


Next,click on the Bonus Block element and select the bonus you have created.


Do this again and again until you feel you offer enough bonuses for a product.


And lastly,simply customize it for the best look.


Now,look at the page i have created with Commission Gorilla V2 here.
This is a bonus TY page hosted by Commission Gorilla V2.


Here are some other demo created by Commission Gorilla V2,checkout all of these.
Product Dyno Presale Demo
Landing Page Monkey Presale Demo
Conversion Gorilla Presale Demo
Split Test Monkey Presale Demo
Provely Presale Page Demo
MonkeyPlayr Presale Page
Chit Chat Chimp Presale Page Demo
EasyVSL v3.0 Presale Demo
Commission Gorilla V2 Presale Demo
Reevio Presale Demo
3.Link Cloakening
Using Commission Gorilla V2 to create a landing page to display ad is a good idea. Some Jvzoo or CPA products are created to work with Facebook Ads and social media traffic. With this software,the page you create will have a URL like bonuscrate.com/g/xxxx/xxxxx.
In my opinion,this link is not ugly but it's not memorable. Promote Labs know that so they offer a WordPress Plugin to help you create a pretty link. Just simply install inside the member's dashboard and then use the activation code in your account.
The example bonus page's url i show you is: http://bonuscrate.com/g/4109/23720/ and thanks to this feature,it now become https://dailyjobkiller.com/post-gopher-bonus.

Why Buying Commission Gorilla V2 Is A Big Saving Of Money?
This software is highly affordable when comparing with the best creators like Leadpages,Clickfunnels,Instapage,Optimize Press,etc. Promote Labs is one of the best software creators in the industry in general and on Jvzoo. Almost all of their products are great and i personally like using for my own. After buying Commission Gorilla V2,you will have a coupon to get 50% discount on their others's products.
So,instead of buying Split Test Monkey or LPM at $37/year,you will get them for just $18,5/year. That's a big money saving.


You can buy either through that link or my affiliate link :),it's up to you,simply enter the code to save 50%.
Upsells of Commission Gorilla V2
As i mentioned before,Commission Gorilla V2 has upsells and i think they're still great. In my opinion,you don't have to buy the upsells if you don't really need. In fact,all of these upsells have one similar purpose,is to increase conversion rates of your presale page.
Upsell 1 : Commission Gorilla V2 Pro Account ($37)
If you buy this upsell,there are three add-on features.
1.Add Countdown Timers To Your Pages: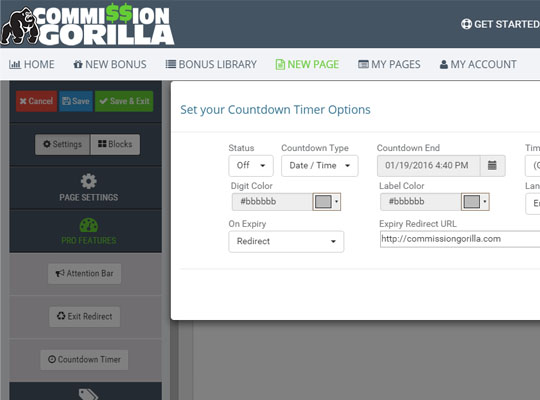 This option allows you to use date specific or evergreen timers on all your pages with just a few clicks and choose to automatically redirect visitors to any other page when the countdown expires (or simply reset the countdown to start again).
2.Add Attentions Bar To Your Page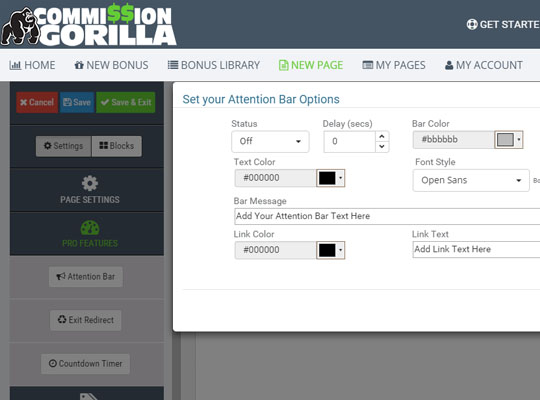 You can set attention bar to display at the top of their pages, change the colors and fonts, add a timed delay.
You can use attention bars to highlight a bonus, remind visitors about deadlines, link to demos or videos . And you could even use them to link to other promotions or lead capture pages.

3.Add Exit Popup To Your Pages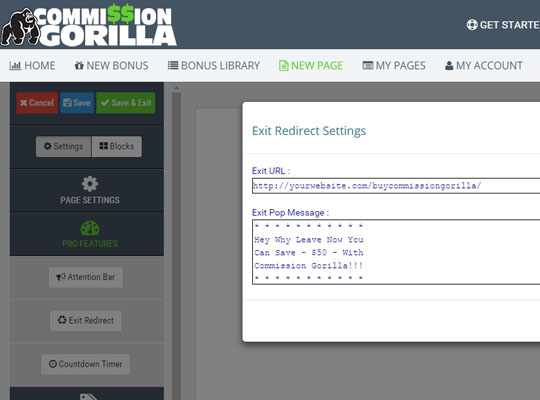 It's a fact that not everyone who visits your pages will continue to your recommended offers.
You'll be able to send leaving visitors directly to the offer page (via your affiliate link) and it can easily 'save a sale' or you can send visitors to a squeeze page to build your list where you can even show another bonus offer.
Upsell 2 : Commission Gorilla V2 Instant Bonuses Monthly & Commission Gorilla V2 Instant Bonuses One Time ($47/one time and then $19,95/month or $47/one time)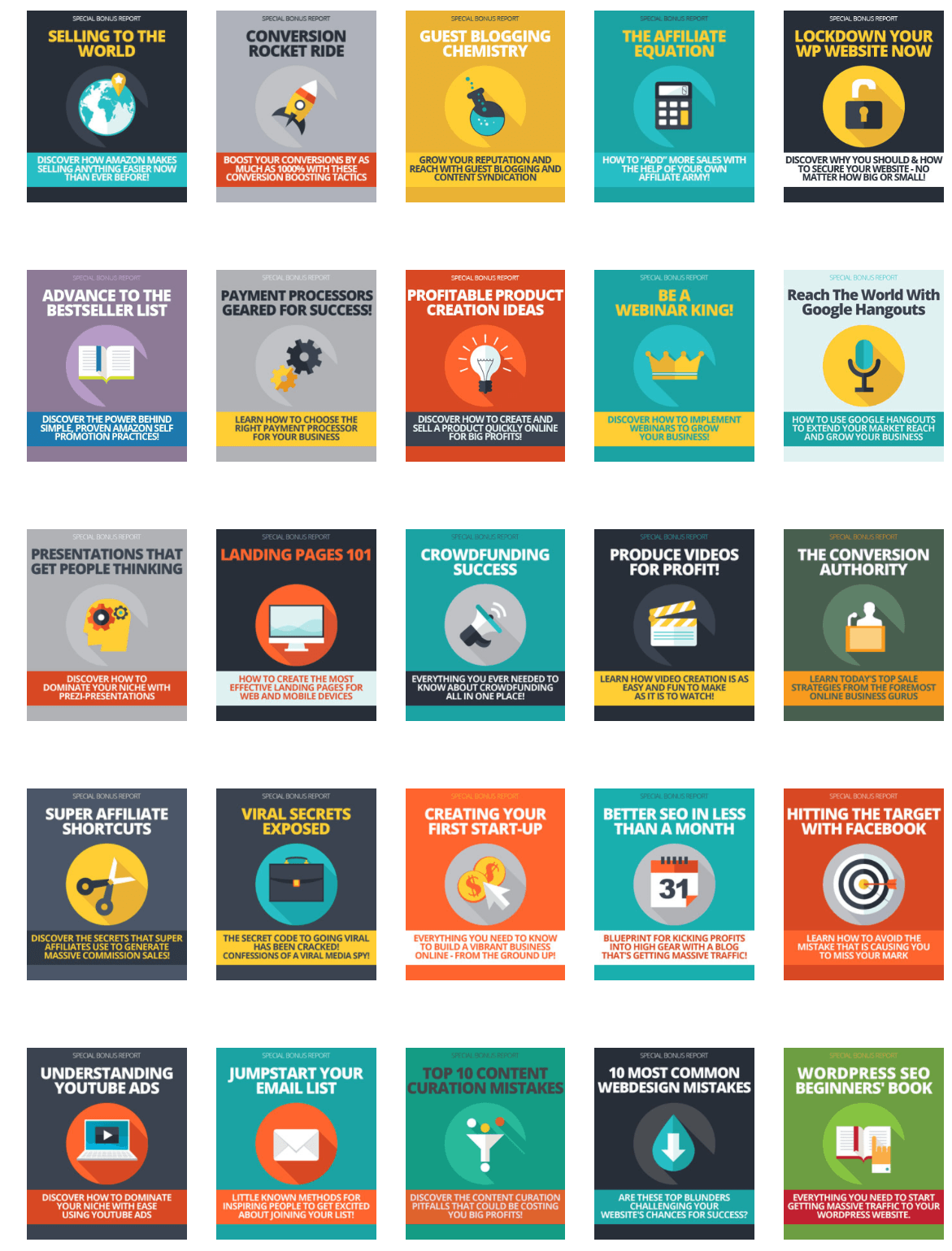 With this option, you referrals will get a 'head start' and have their bonus library all ready to go with done for you ready made bonuses.
You'll instantly get access to 25 pre-done bonuses and an addition 2 each month. (NOTE: If they you the trial, you get the 25 bonuses, but not the 2 additional each month)
In my opinion,these bonuses are definitely better than cheap PLR bonuses you are always seeing. And of course,your brand won't be at risk.
Upsell 3 : Commission Gorilla V2 Salespage Bypass ($67/onetime)

With the sales page bypass, you'll be able to leapfrog any vendor's sales page and still bank commissions.
It's as simple as:
Create a bypass link and use it on your Commission Gorilla Page
Sell directly from your page
Collect your payment as normal, but with higher conversions!
You can use this option to pretty much ramp up commissions on just about any offer that you want to promote.
Plus, it includes the Black Dragon Protocol course that pretty much shows how to go from zero to hero in 90 days or less as a super affiliate marketer.
With the Black Dragon Protocol course, you'll find out how to get more traffic, how to grow you list, and how to convert even the most lukewarm prospects into rabid buyers and fill your bank account with cold hard cash!
Personally,i don't recommend this upsell so that you can cancel this. Currently,this offer only works with Clickbank and Jvzoo. On the other hand,if you do this,you may need some copywriting skills. So,once again,i recommend you to skip this offer.
Upsell 4 : Commission Gorilla V2 Review Blocks ($17/onetime)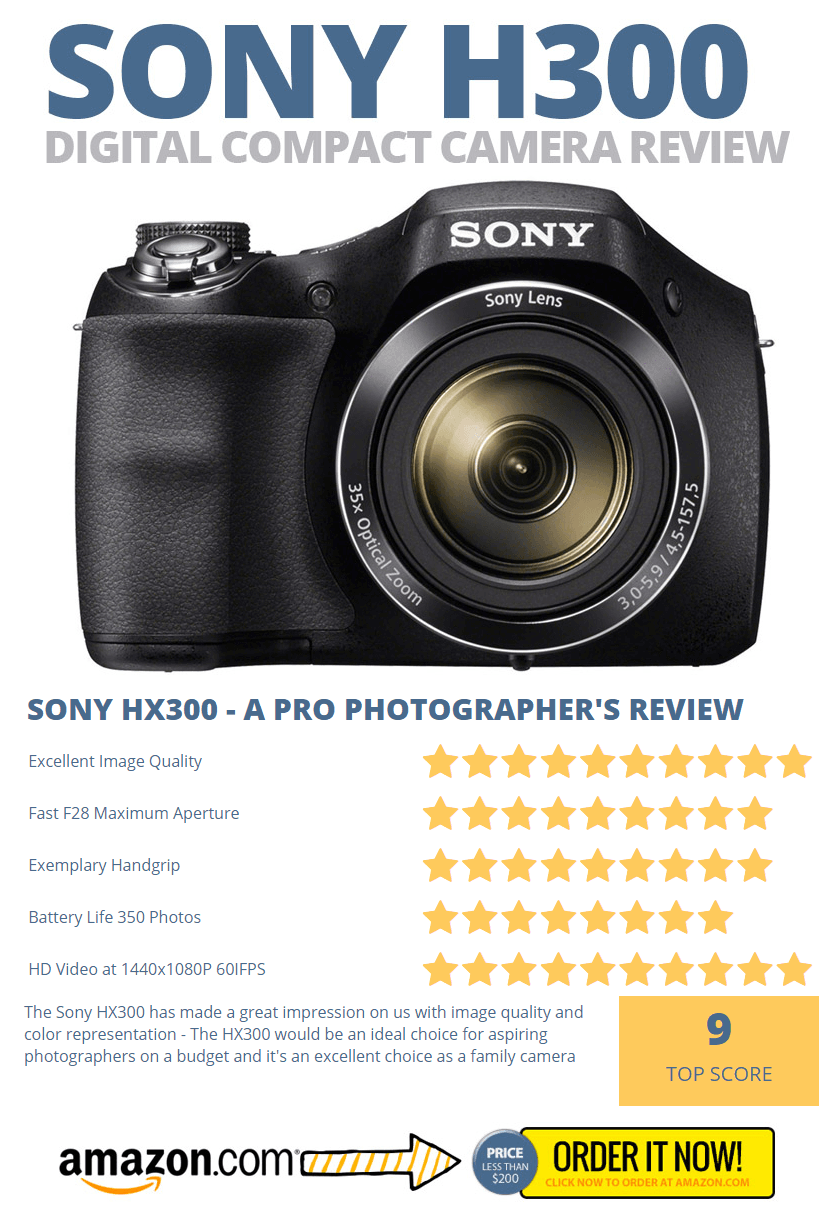 This offer allows anyone to enhance their Commission Gorilla pages with impressive, eye catching reviews.
It's powerful add on to Commission Gorilla that all of you will absolutely go head over heels for!
Here's a quick summary of the features:
Unlimited Color Combinations
Up To 5 Rating Criteria Slots
17 Criteria Styles: Animated Bars, Stars, Ticks & More
Custom Headline Fonts
Multiple Rating Options: Out of 10 or Percentages
Clone Block Functionality
Unlimited Use / Add Multiple Blocks To Any Page
The best part is everything is truly point and click and no coding. Just use the simple editor and have a stunning review block to add to your existing pages in no time!
This offer is highly great if you are running an authority site but if you don't like review strategy,i recommend you to skip this upsell.
Pros of Commission Gorilla V2
Super simple to use and to manage
Affordable price that anyone can buy
Drag and drop page builder
100% Free Hosting with SSL Included
SEO Optimization
Hosting Your Bonus Page and Bonus Thank-you page
Saving Time and energy
50% Discount with their other products
Cons of Commission Gorilla V2
1.Not 100% Drag and Drop
This software can only drag and drop between blocks but it seems like it's not smooth to drag and drop images and text simultaneously. Of course,Commission Gorilla V2 can't be as good as some expensive services above. In my opinion,if you get used to it,it's not a cons anymore.
2.A Little Bit Annoying When Uploading Images
There are two ways to upload images,you can upload from computer or upload from URL. On the page builder and WYSIWYG editor,you can only upload from URL. And on the bonus creation,images and Classic can only upload from Computer.
Final Verdict
In summary,Commission Gorilla V2 is a great product that you definitely should checkout. It has been used and recommended by some biggest marketers like Mark Thompson,Matt Callen,Sean Donahoe,etc. Besides,Commission Gorilla V2 helps you create a presale page,which is highly important to boost conversion rate. Moreover,this is a strategy that many super affiliate are still using. I highly recommend this product if you are a Jvzoo's marketers but you can still customize it for other networks and to build a list. Thanks for stopping by and if you feel this review is great enough,feel free to share so that people know the exact features of the product.