Product : Kyvio
Creator : Neil Napier (also the creator of Pixel Modo)
Price : $49/month or $297 for one time purchase (12 month license) or $497 for one time purchase (24 month license)
Do I Recommend : Yes,but only for those who sell products online.
Sales funnel is really hot presently as it's the best way to maximize value of a customer. That's why many business owner are successful from sales funnel keywords.
But as a small business,purchasing Clickfunnels,Kartra,Convertri and other services is not ideal for everyone. In fact,they will need something all in one.
Think about this,you will need an optin and lead generation page and then they redirect to the salespage. Besides,you also need email service providers and salespage plus membership site to deliver content. And last but not least,you also need hosting provider,affiliate management and many exit intent services outsite.
When we do a math,that's up to hundreds of dollars per month. So,today,i will introduce you an all in 1 business plattform that saves you budget while selling your own product,Kyvio.
Kyvio previously is InstaSuite and it was highly popular towards many internet marketers. I have personally tested Kyvio and really like the system.
What is Kyvio?

At first,Kyvio is an all in 1 product selling and launching plattform. It has landing page builder,email marketing services,funnel builder,affiliate management and membership site creator. Kyvio has web hosting on the cloud and also subdomain with SSL Certificate
Who is Kyvio For?
Especially for product launcher or course creator
Anyone who sells their own product online
Those who want to save budget from buying multiple services simultaneously
And many more,…
Main Features and Demo of Kyvio
Now,i will show you exactly what is Kyvio and how it's a great online marketing service. This is the member's area once you login. If you just purchase the $29/month,you won't access Smart Affiliate. But if you purchase the $69 or $147 per month plan,you will access everything.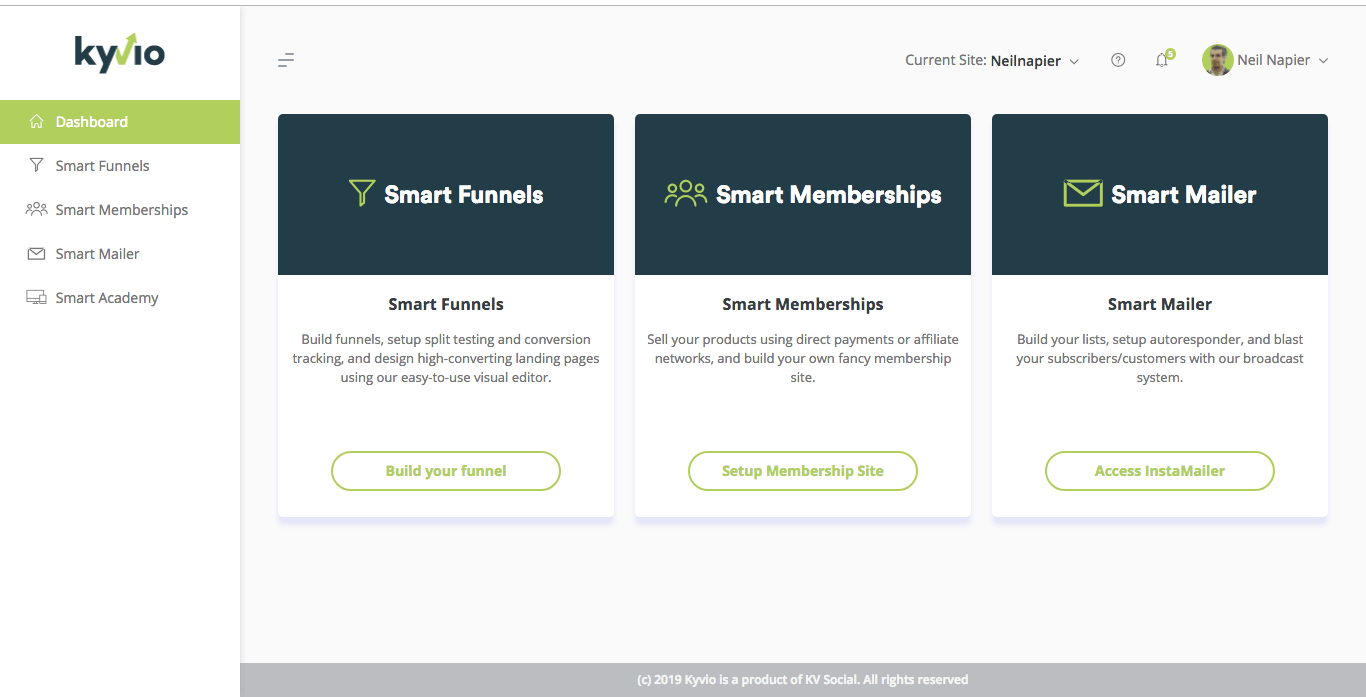 The main difference between each pricing plans is the amount of funnels and subdomain you can access with Kyvio.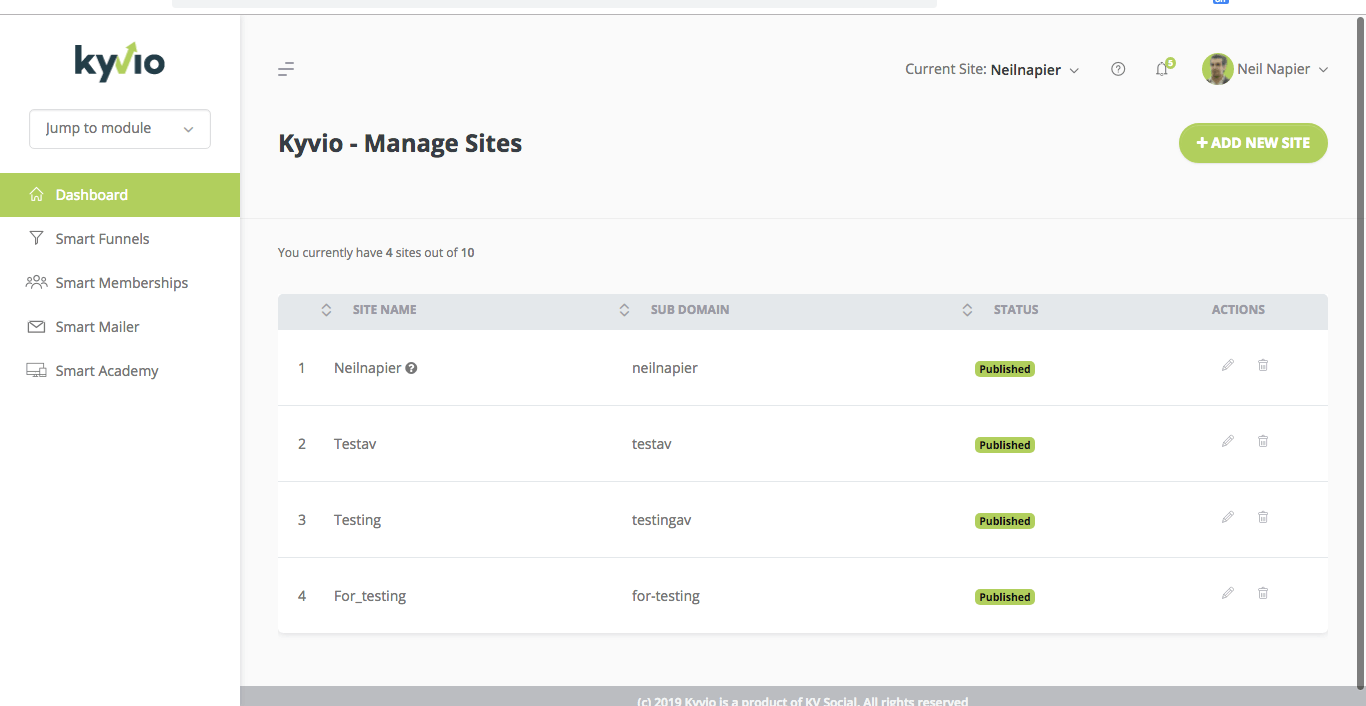 In fact,Kyvio is a combination of all features such as Page Builder,Blog Builder,Sales Funnel,Membership Site,Course Management,Affiliate Management,Email Marketing and Support Desk. Here are services that you can integrate with Kyvio.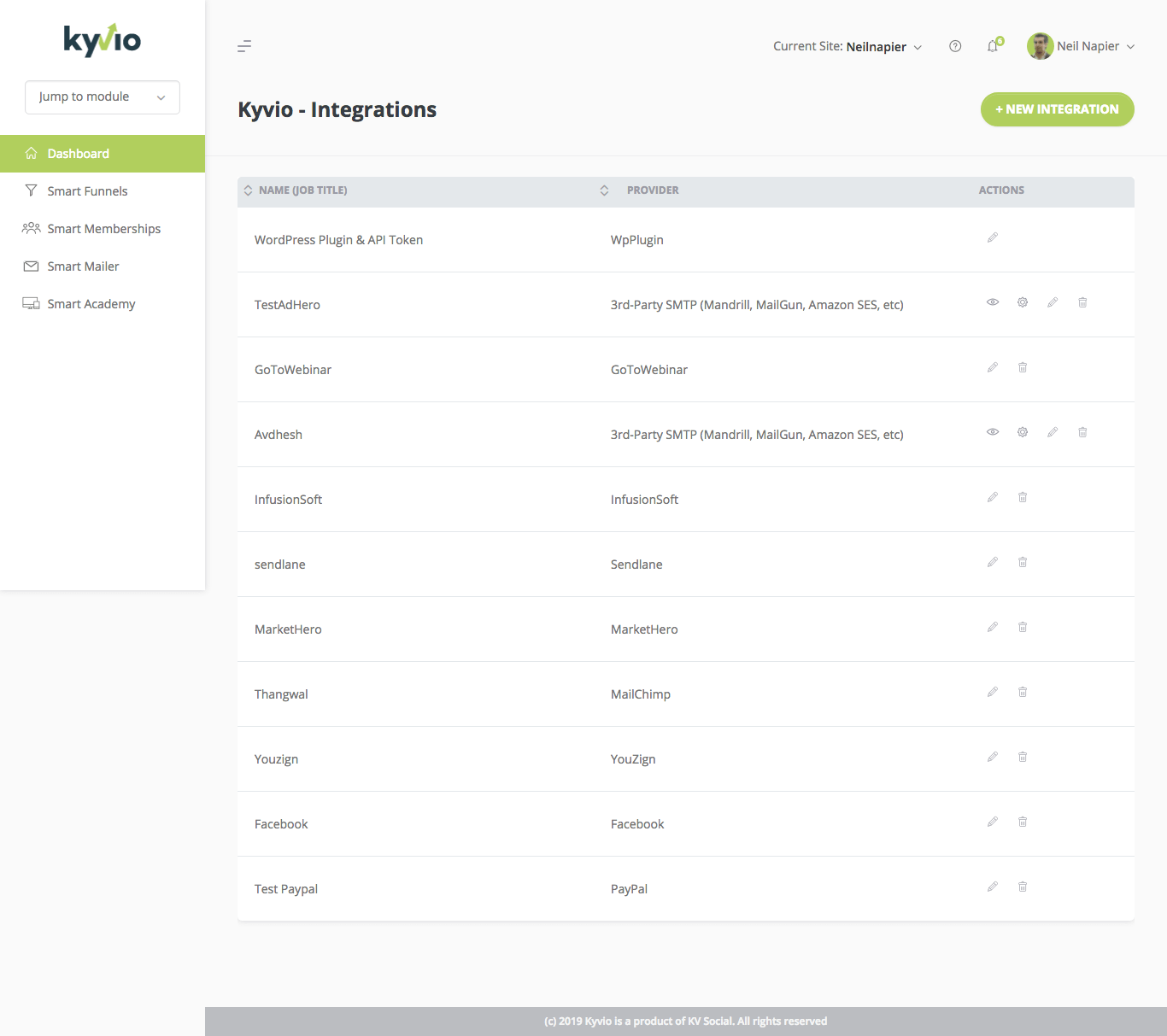 For Payment Processor,it works with Paypal and Stripe through API and Publish Key.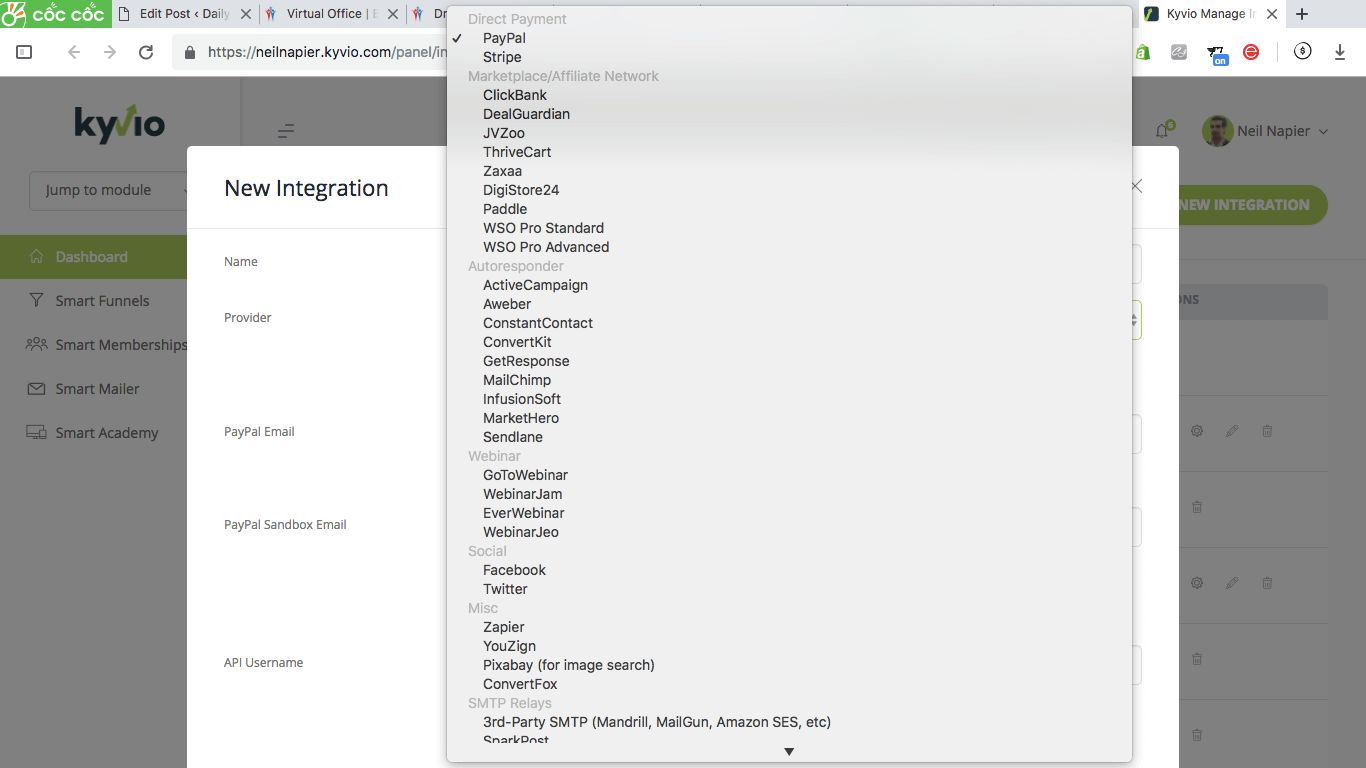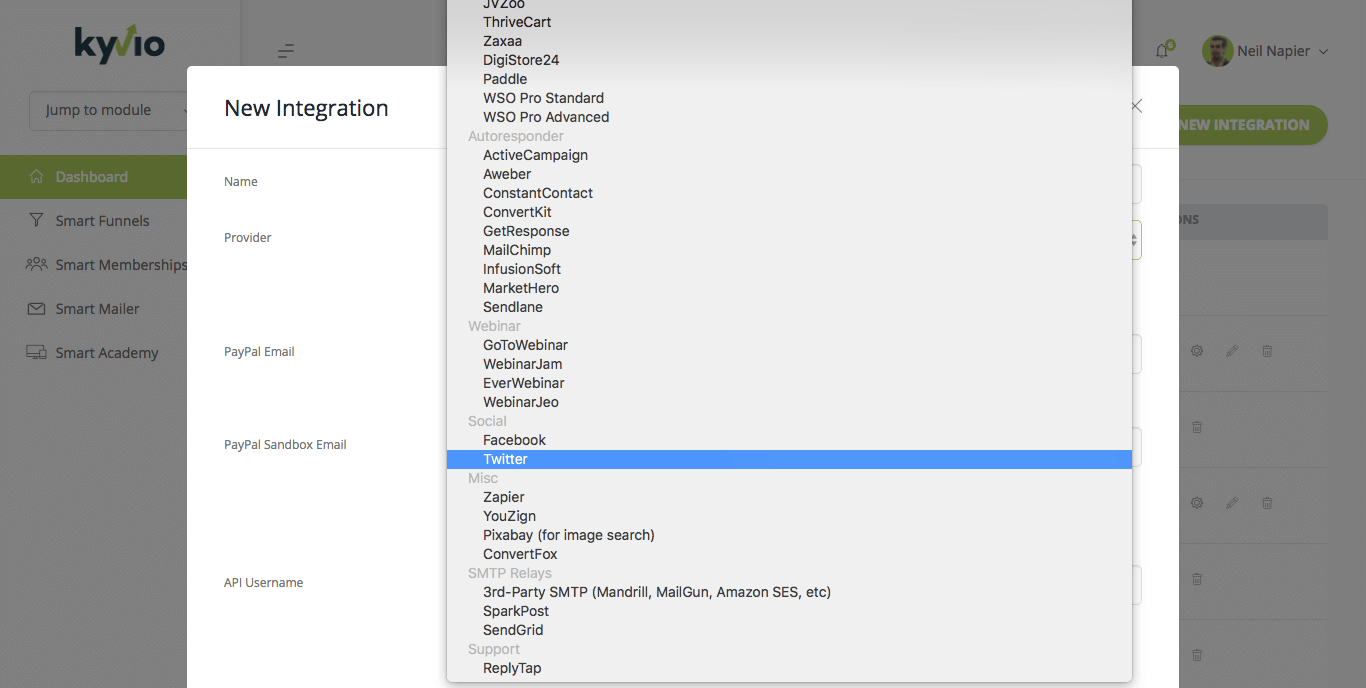 It has direct integration with FB to access your page or help you moderate FB Comment.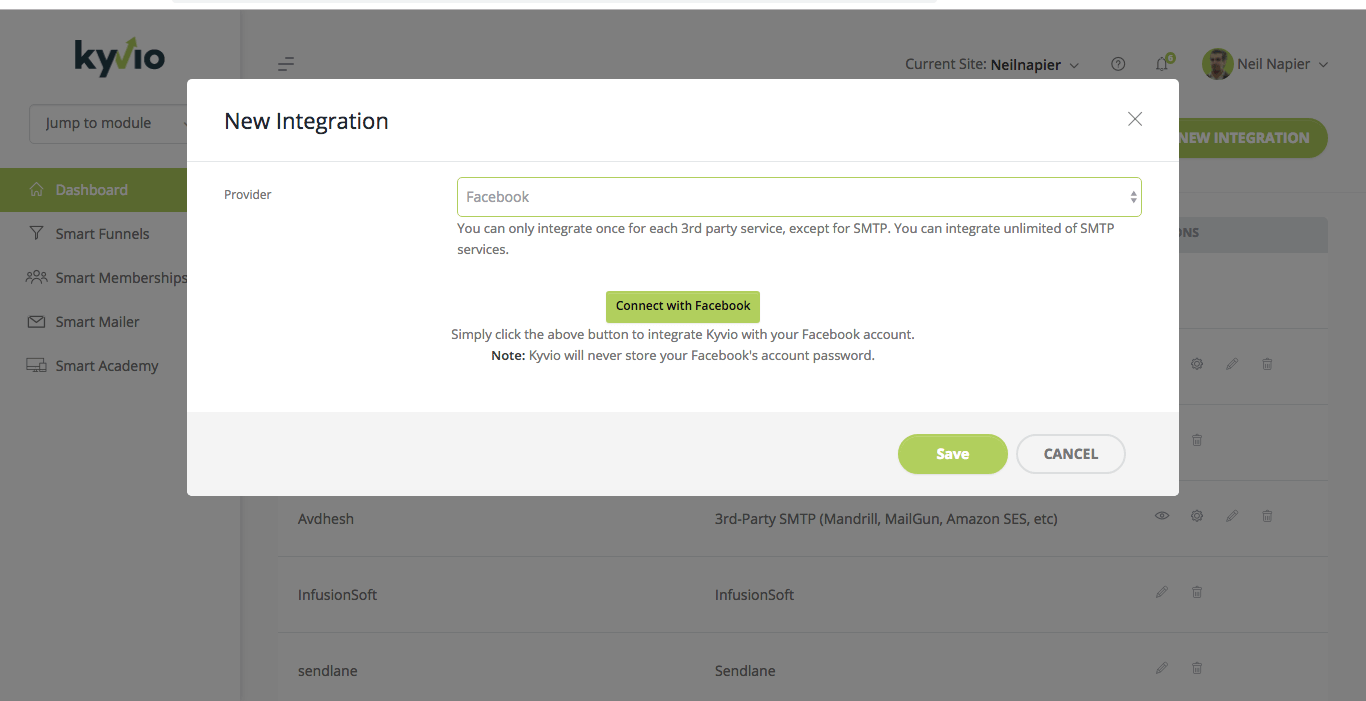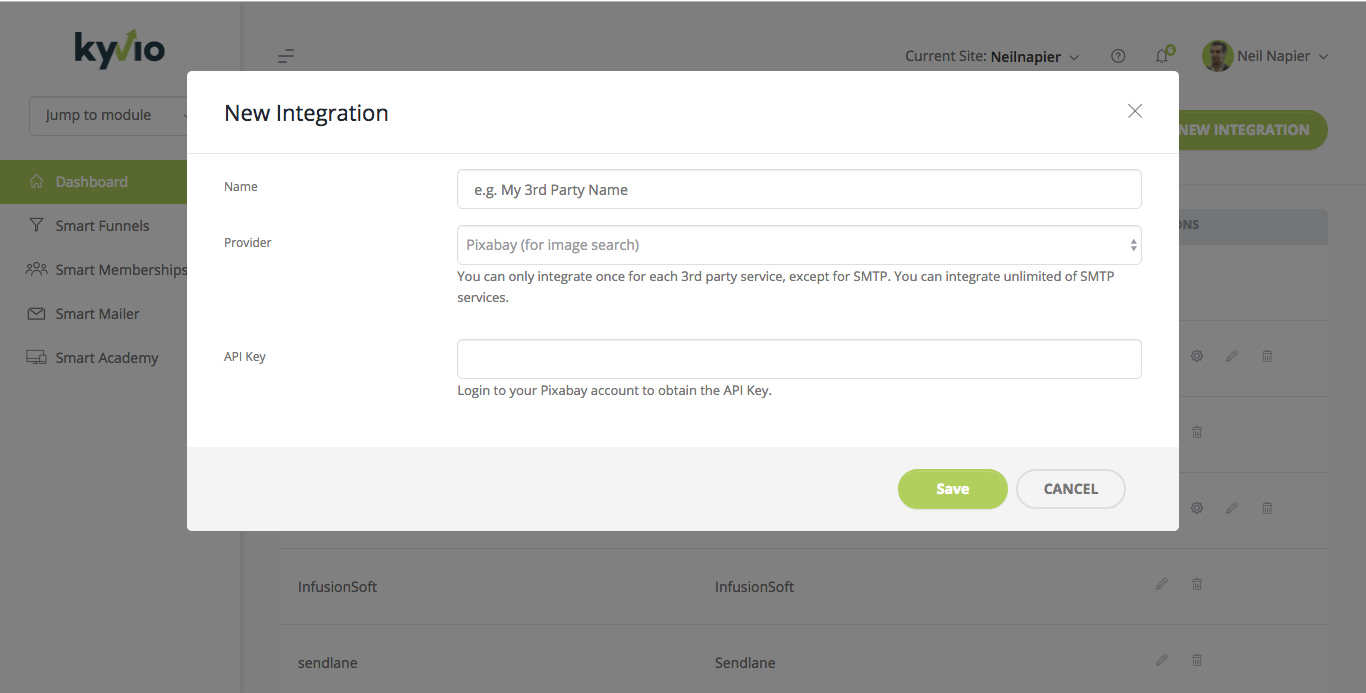 It integrates Pixabay so that you can upload images directly to server in the page builder.
SMTP is important here in order to use Smart Mailer,i recommend Amazon SES. If you have your own WP hosting,you can use their SMTP server connection.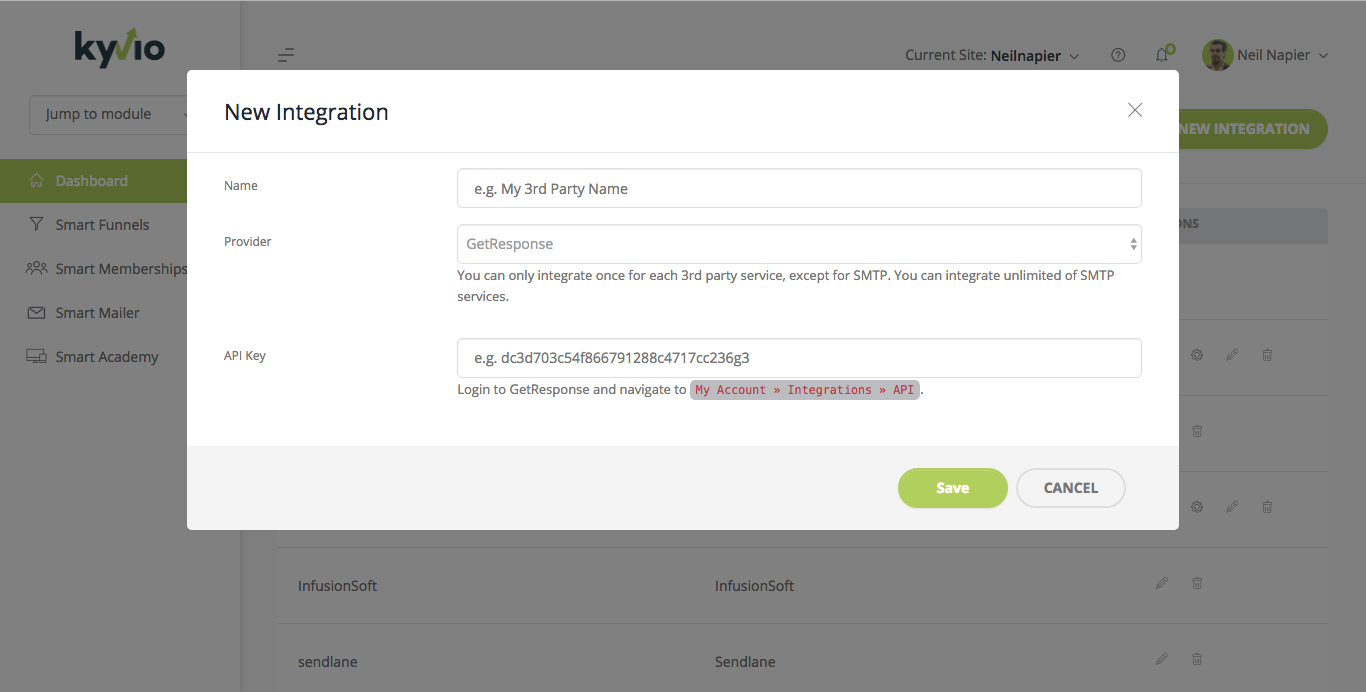 For Autoresponder software,just provide your API Key. However,on the page builder,it has custom HTML connection so this mean Kyvio works with any autoresponder.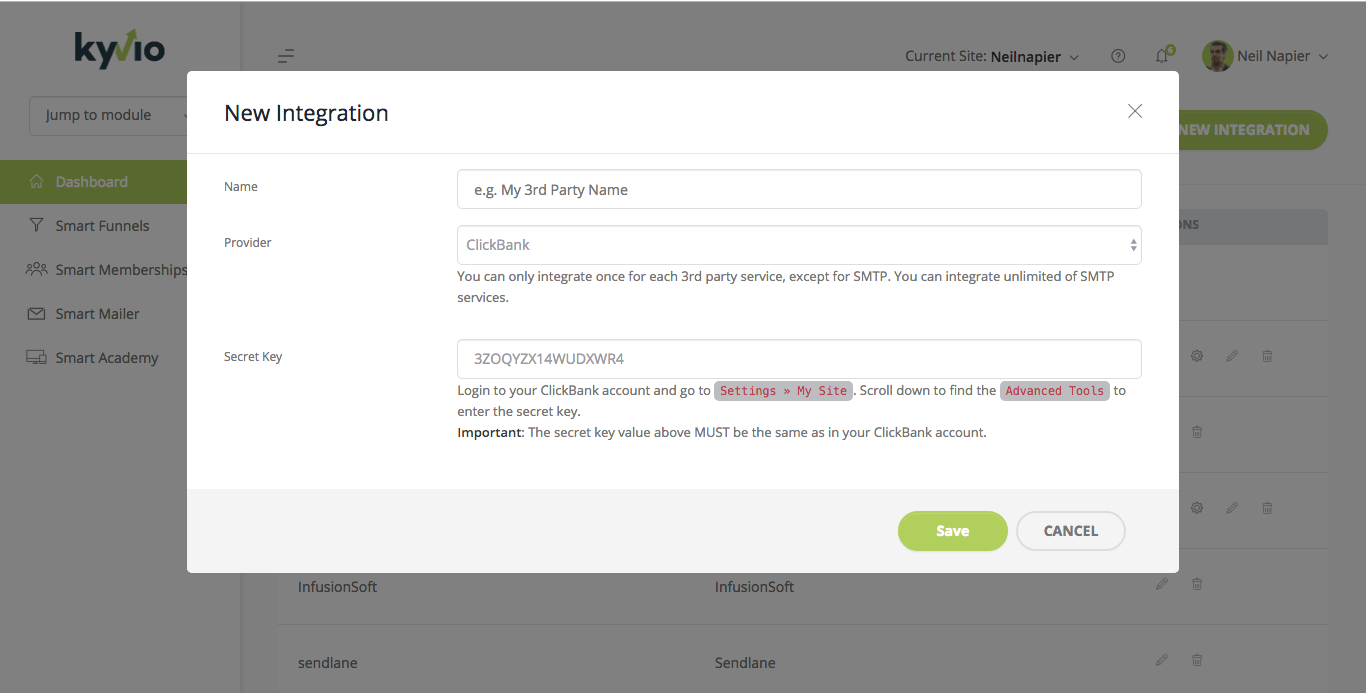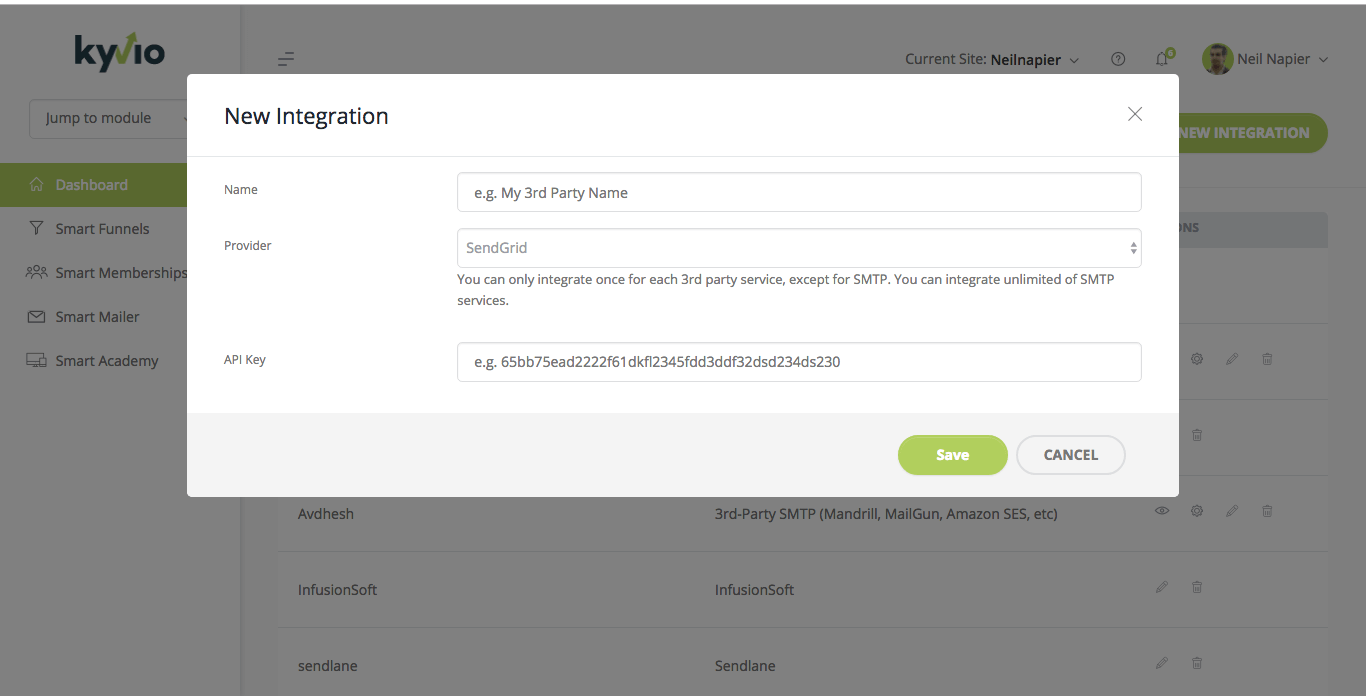 For SMTP,you can connect SendGrid through API. It has free version or you can buy premium version of them.
This is where you can manage subdomain.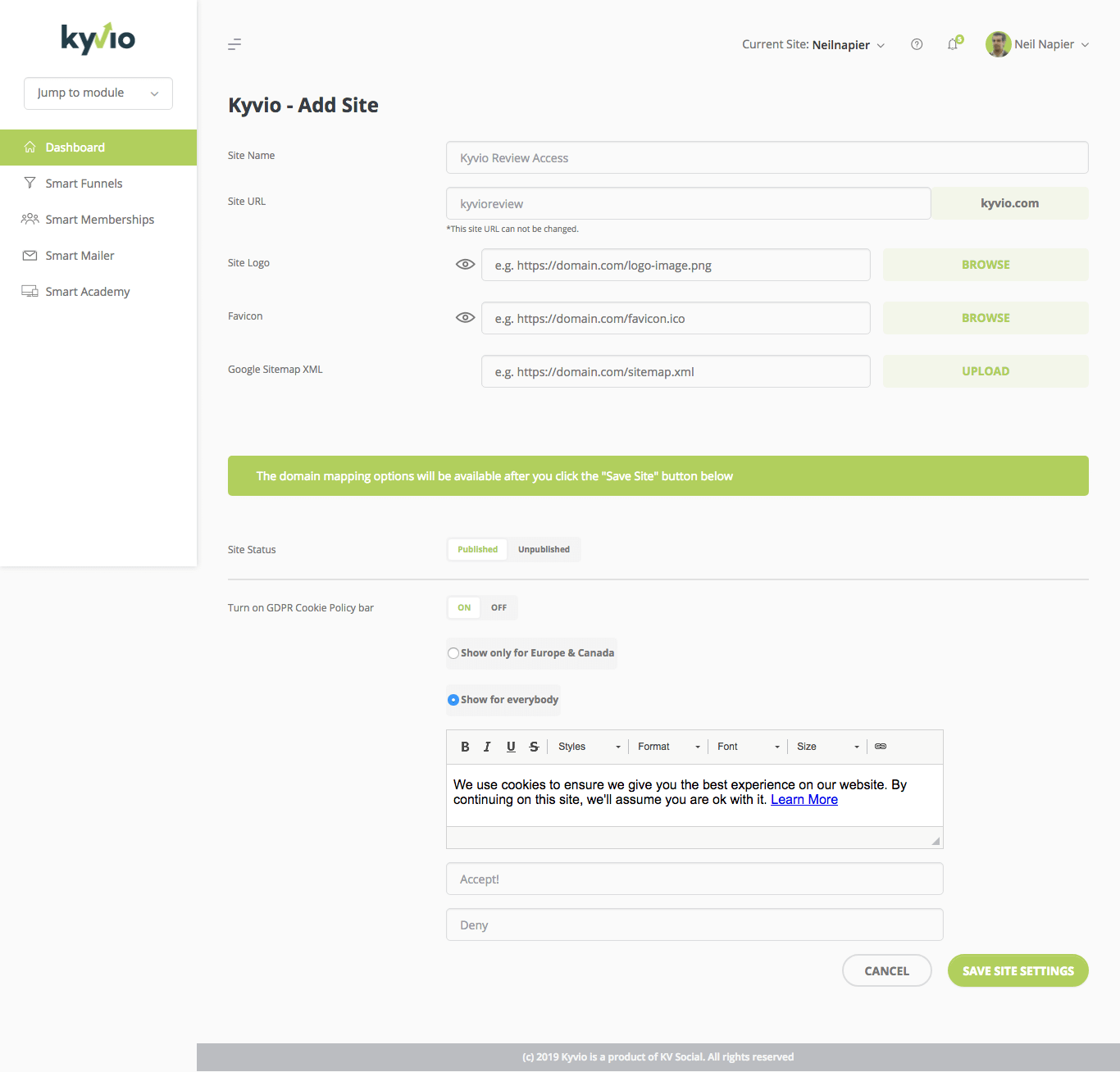 Besides,you can view your site's traffic.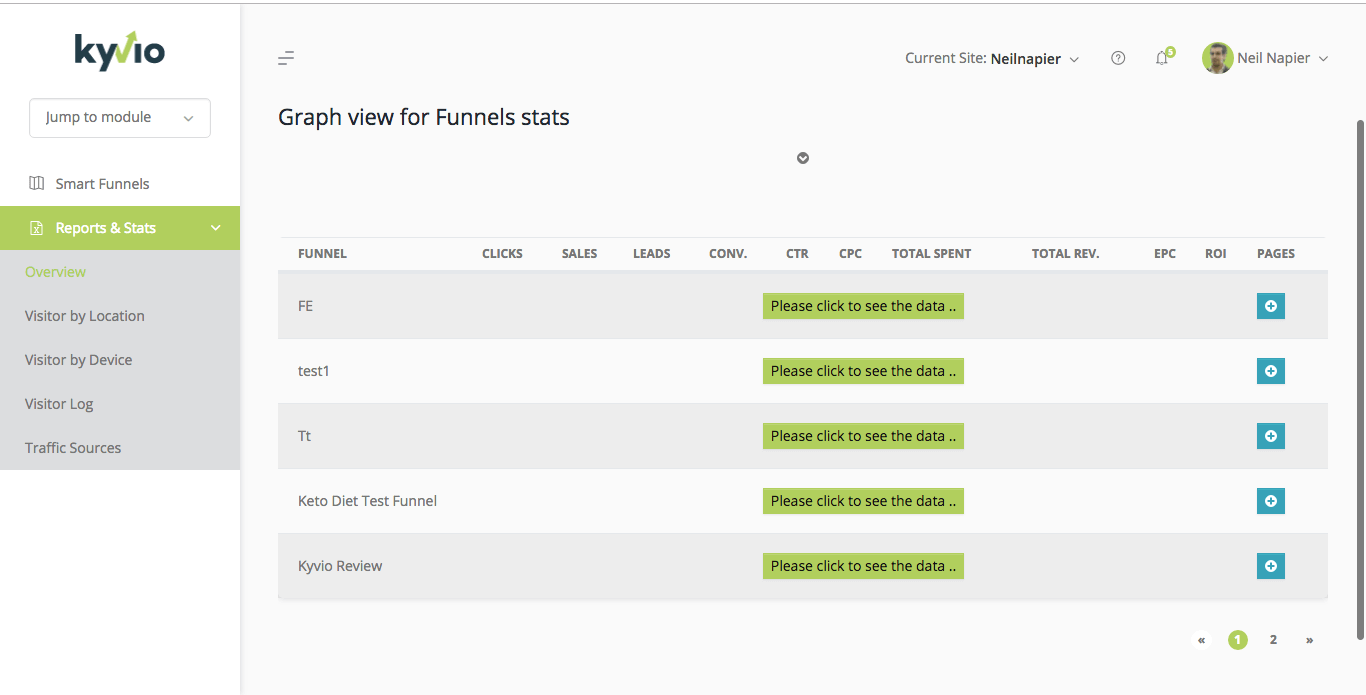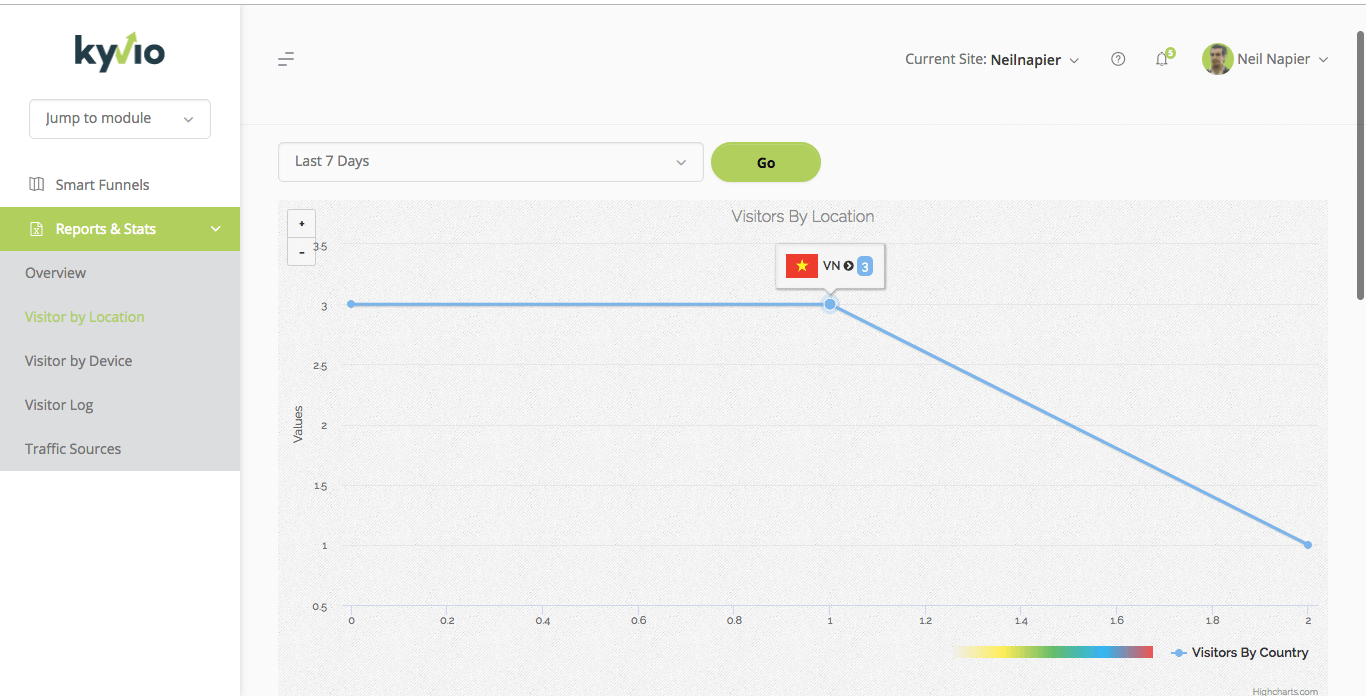 This is what makes Kyvio better than competitor such as Clickfunnels and Builderall.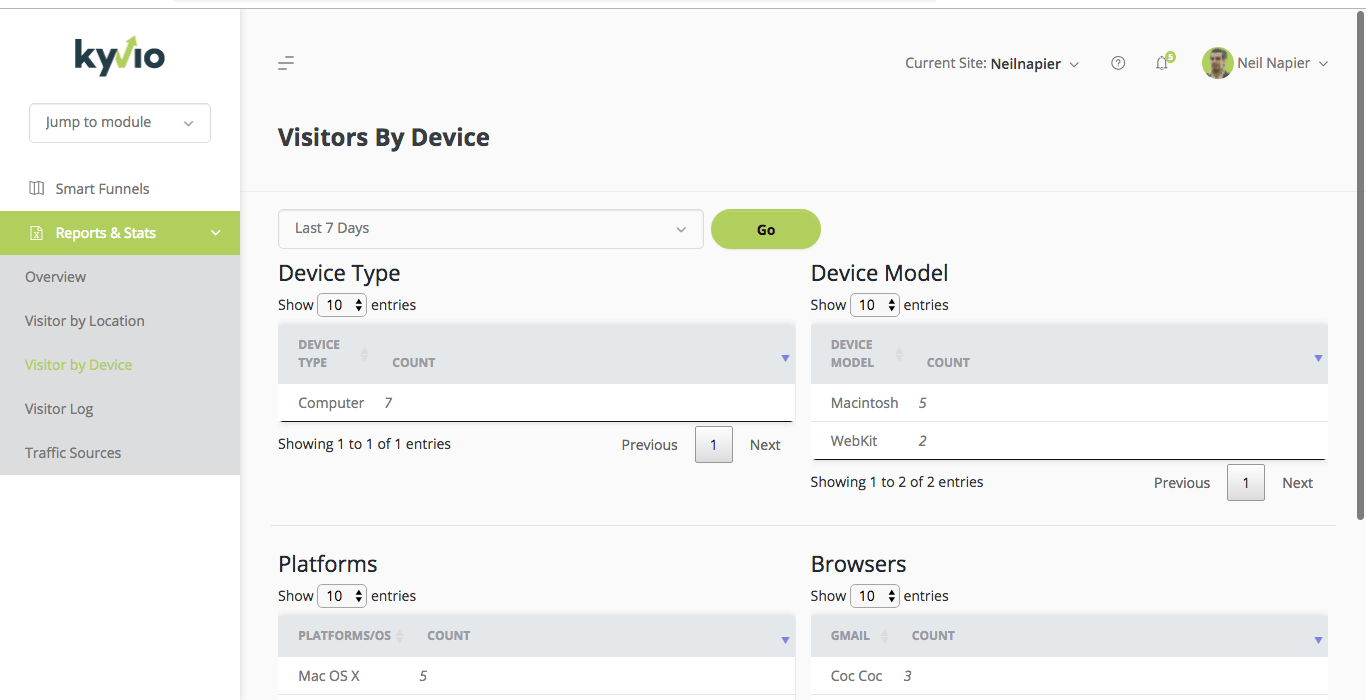 Best of all,you have the details like your traffic are from direct or search engine.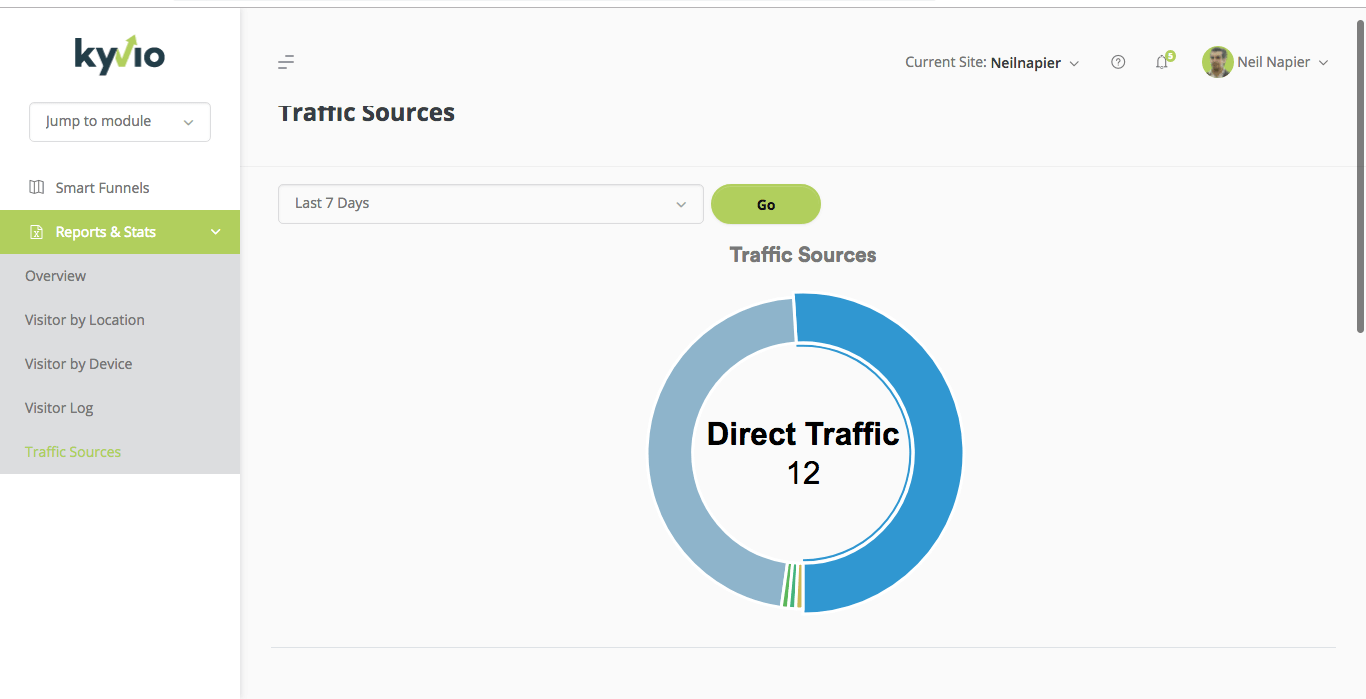 I have chatted with Neil Napier and according to him,most of the traffic his customers have are from cold traffic and organic traffic.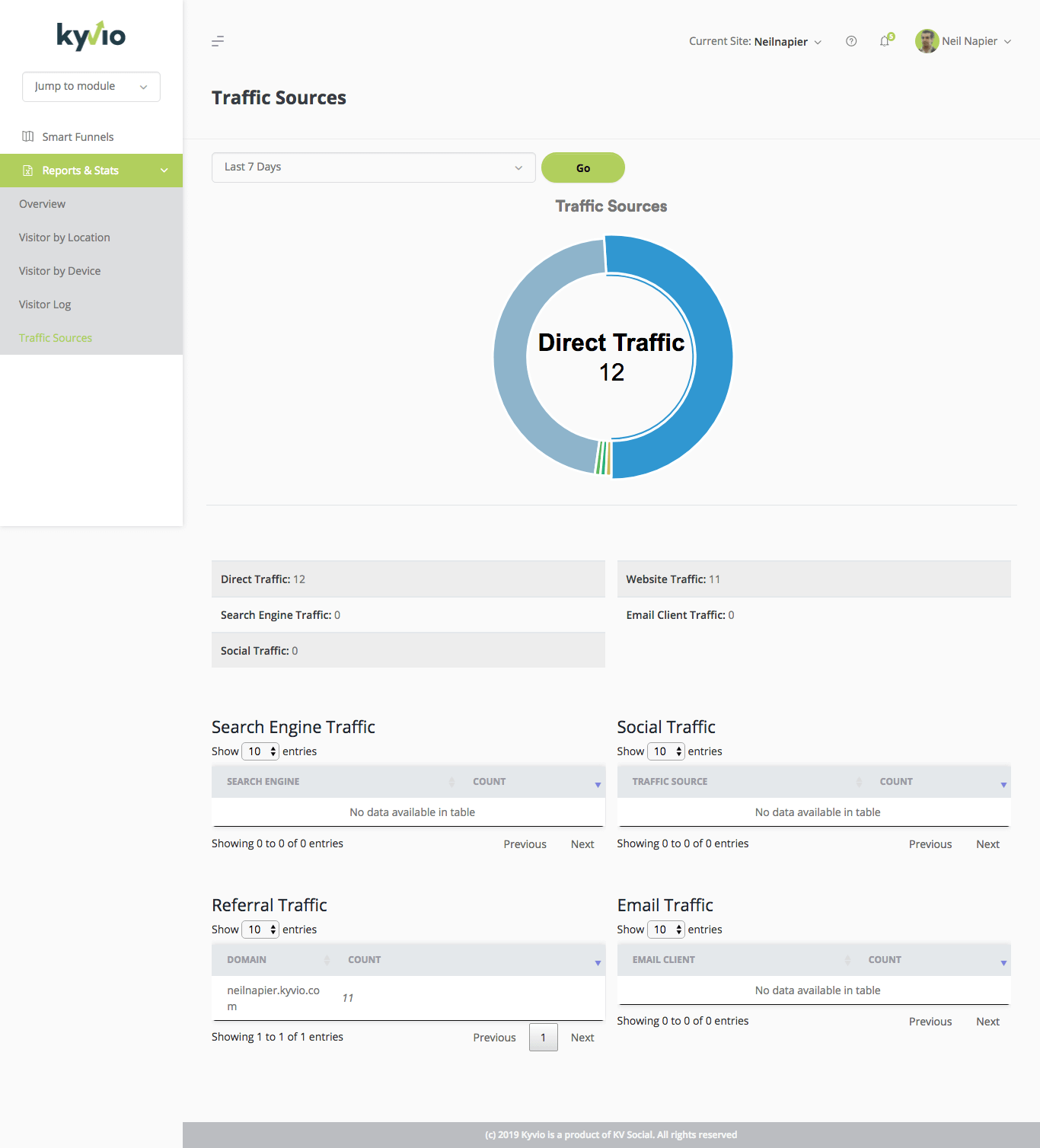 1.Smart Funnel
This feature is like a page builder but you can also add products and custom redirect after people take any action.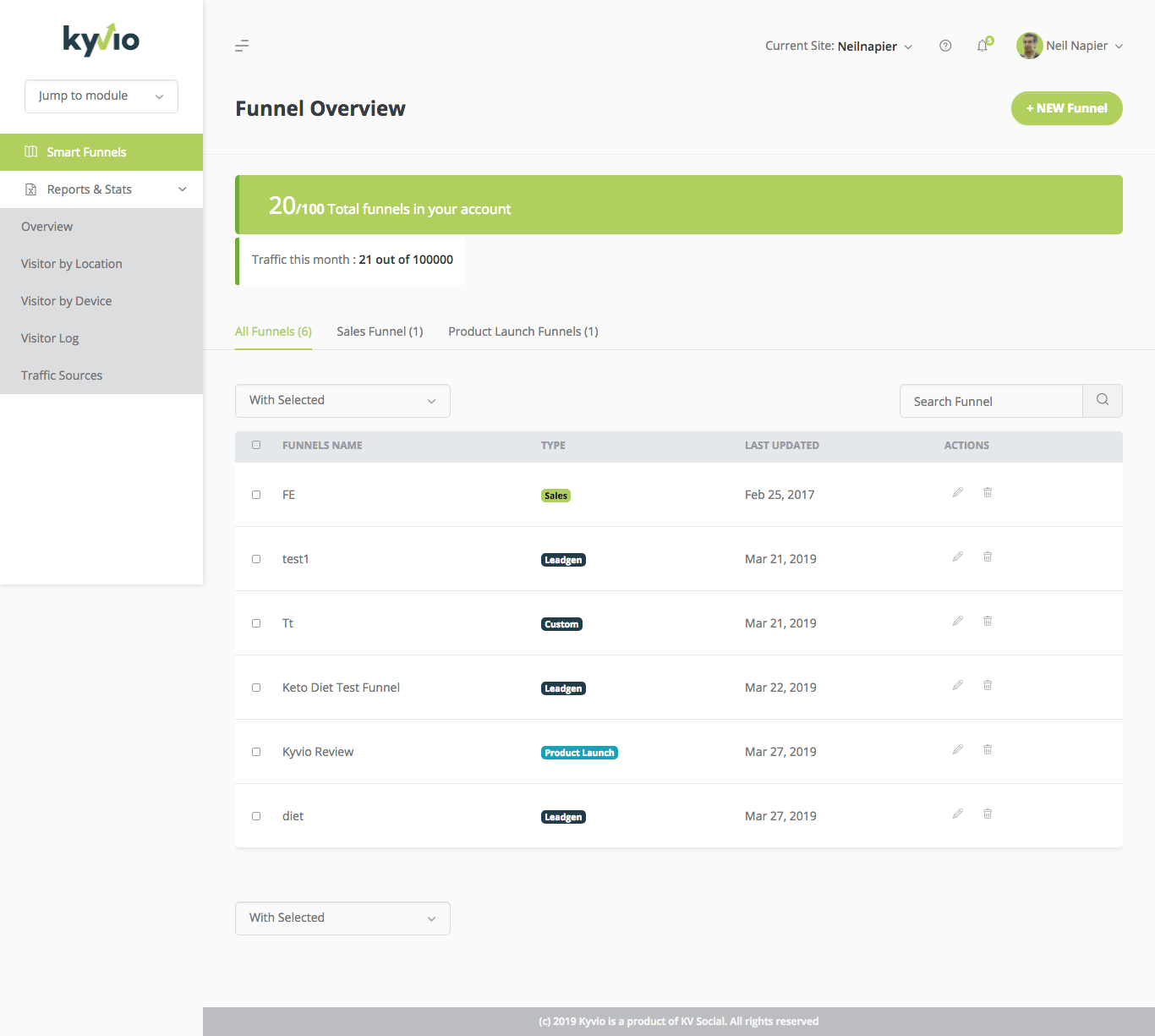 The usage of this page builder is almost similar with Instabuilder. But of course,this one loads faster because it has better hosting and it's not WordPress.
Funnel Setup
Before creating your sales funnel,you will need to perform basic setup.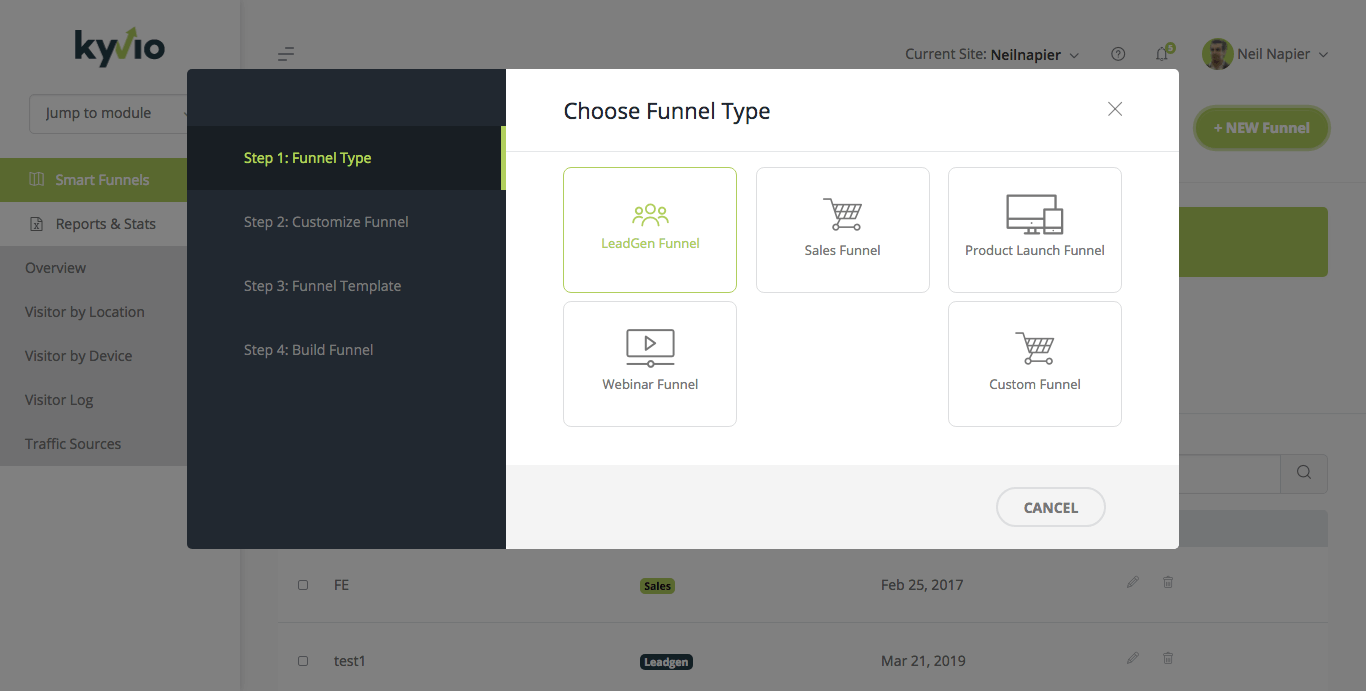 For each type of funnel,it will have multiple types of page templates.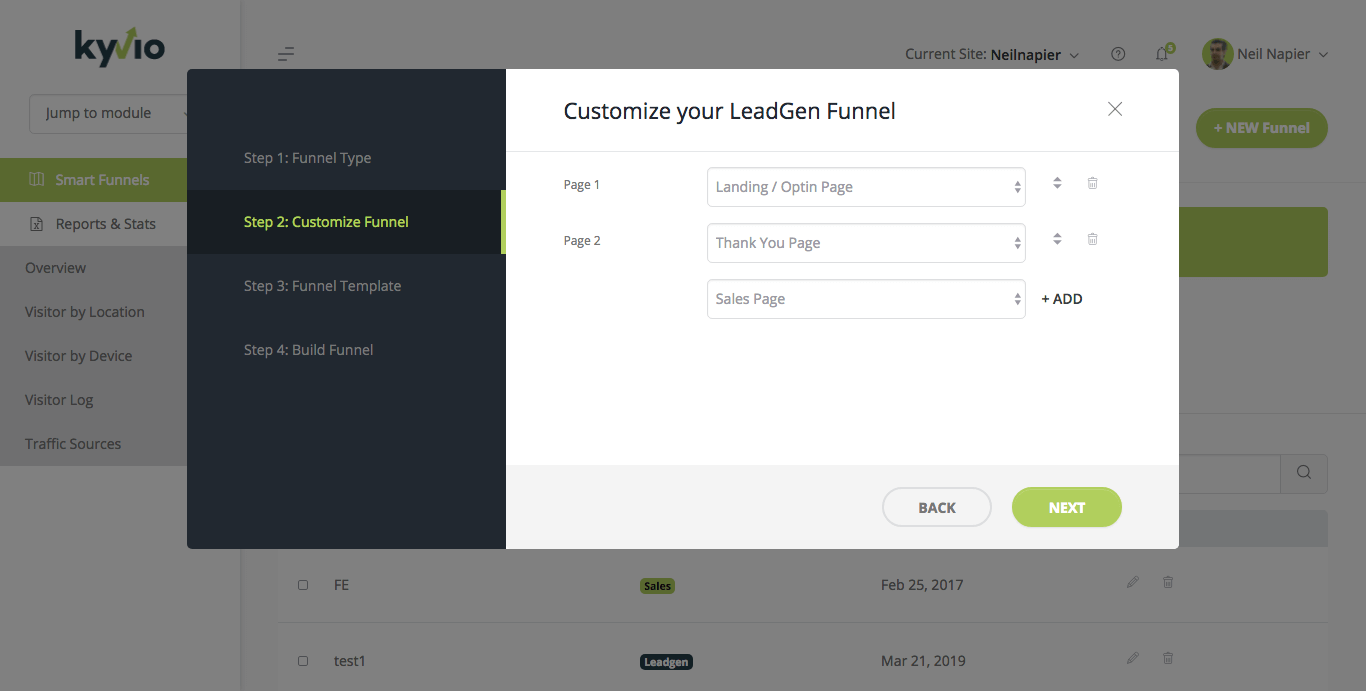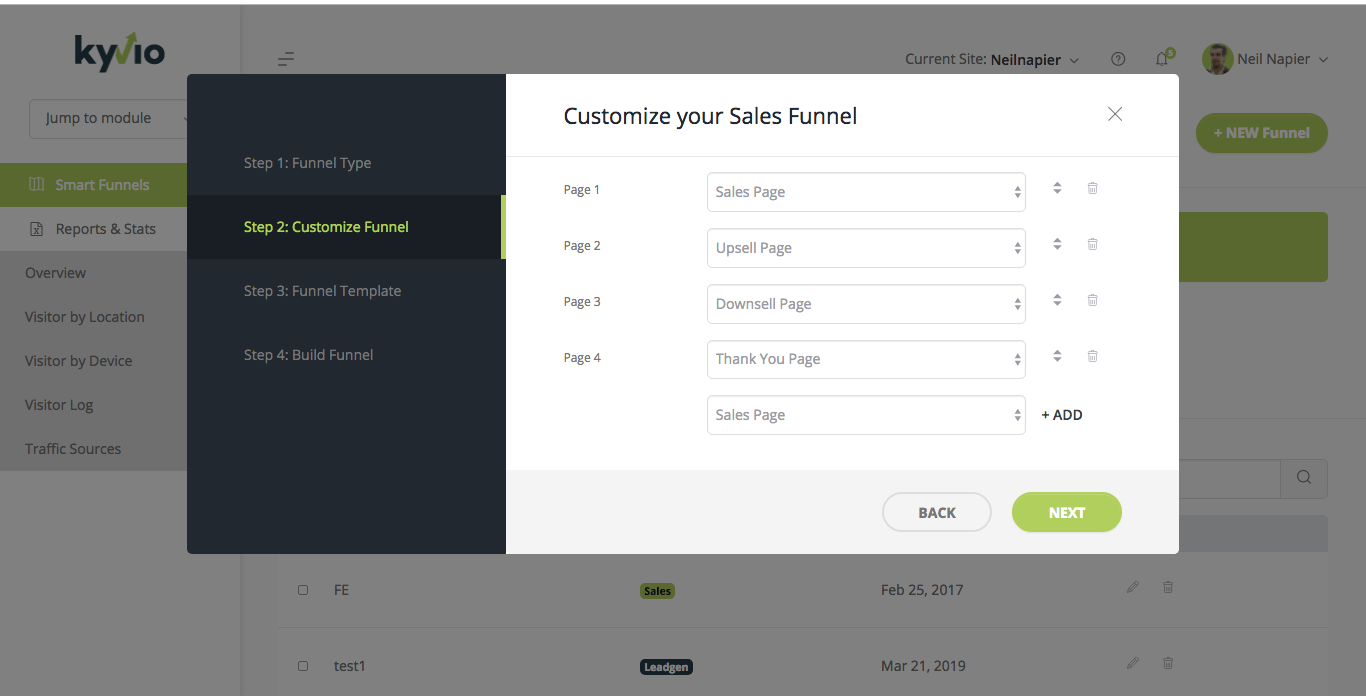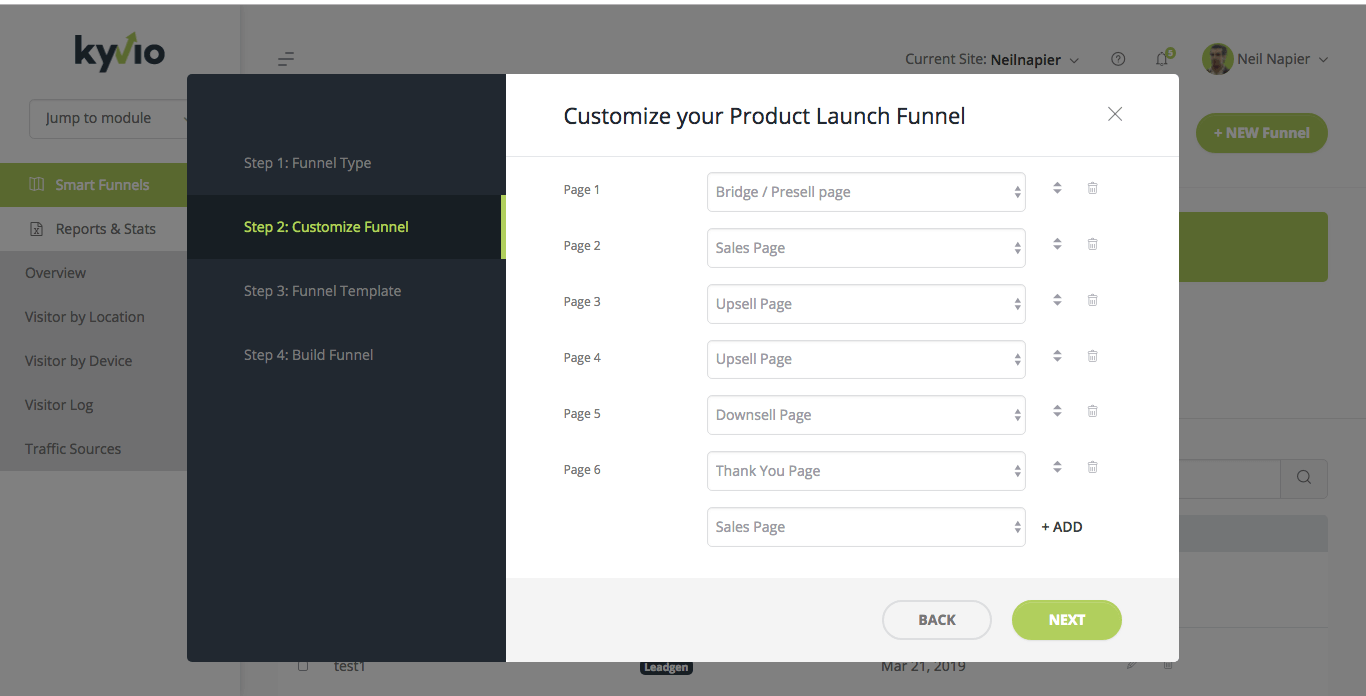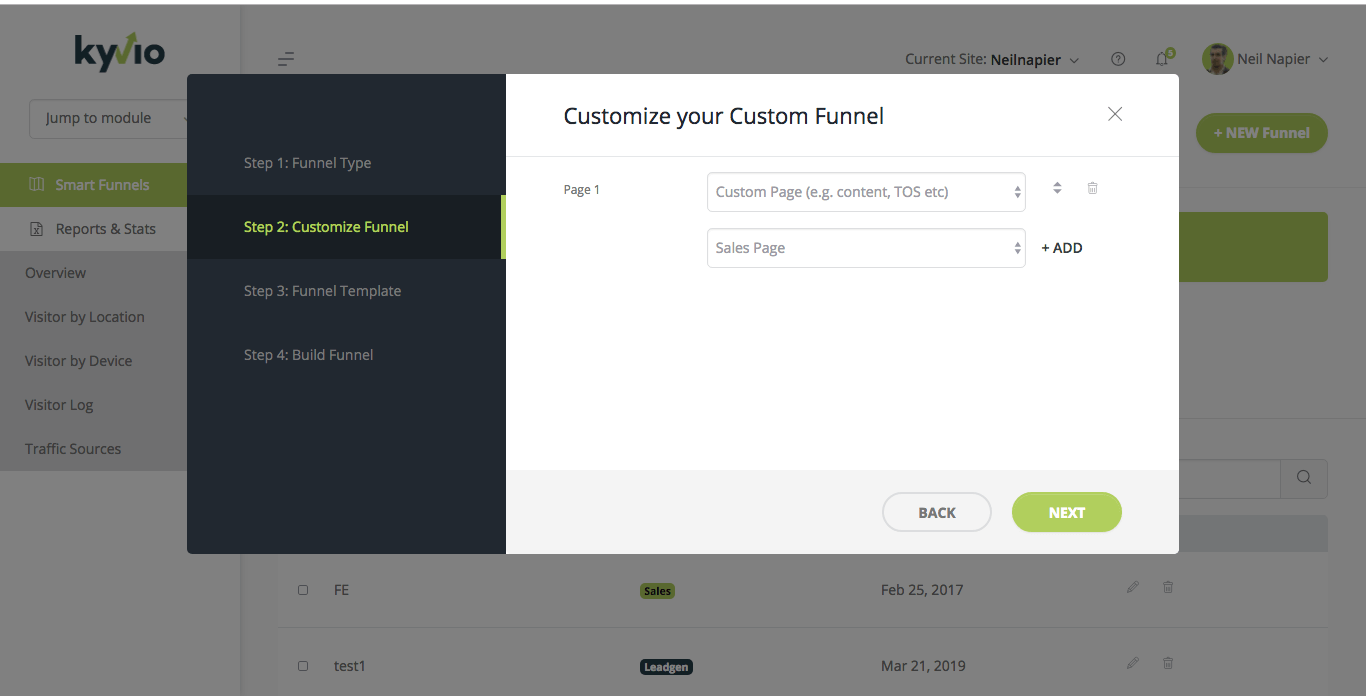 After you choose landing page templates,simply build your funnel.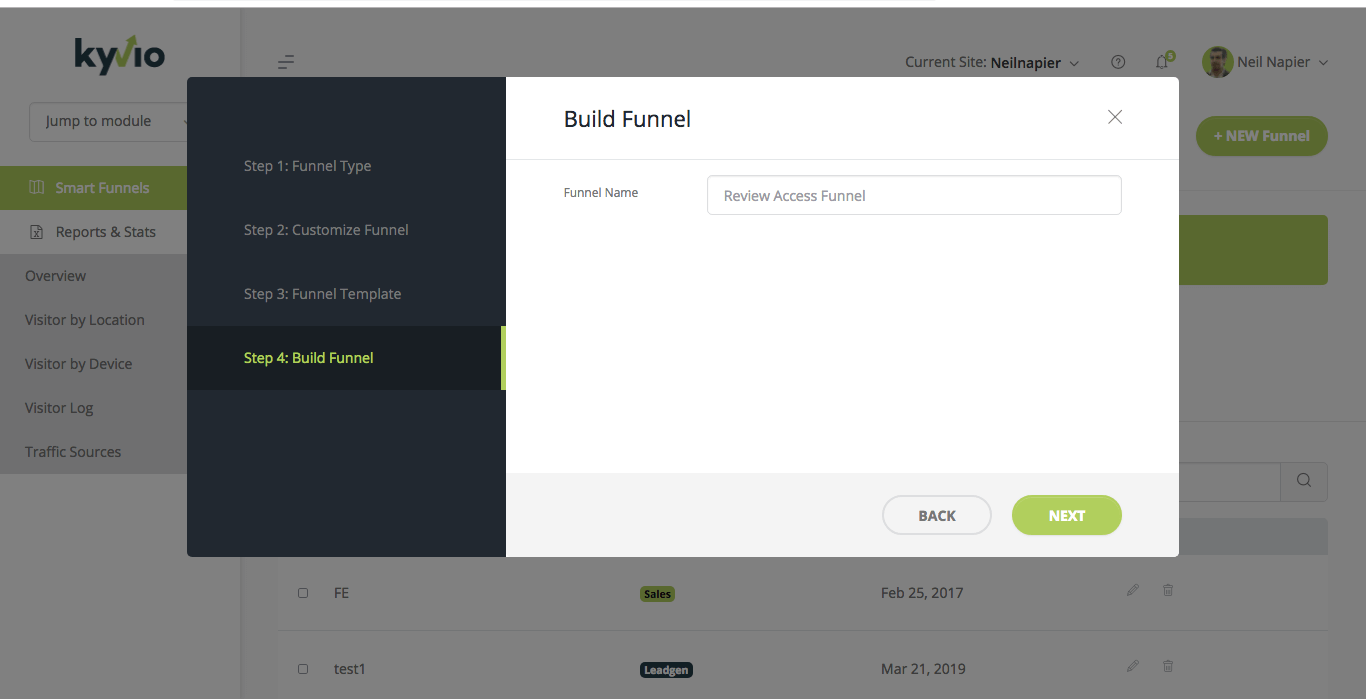 Just like competitors,Kyvio also has multiple pages for a single templates.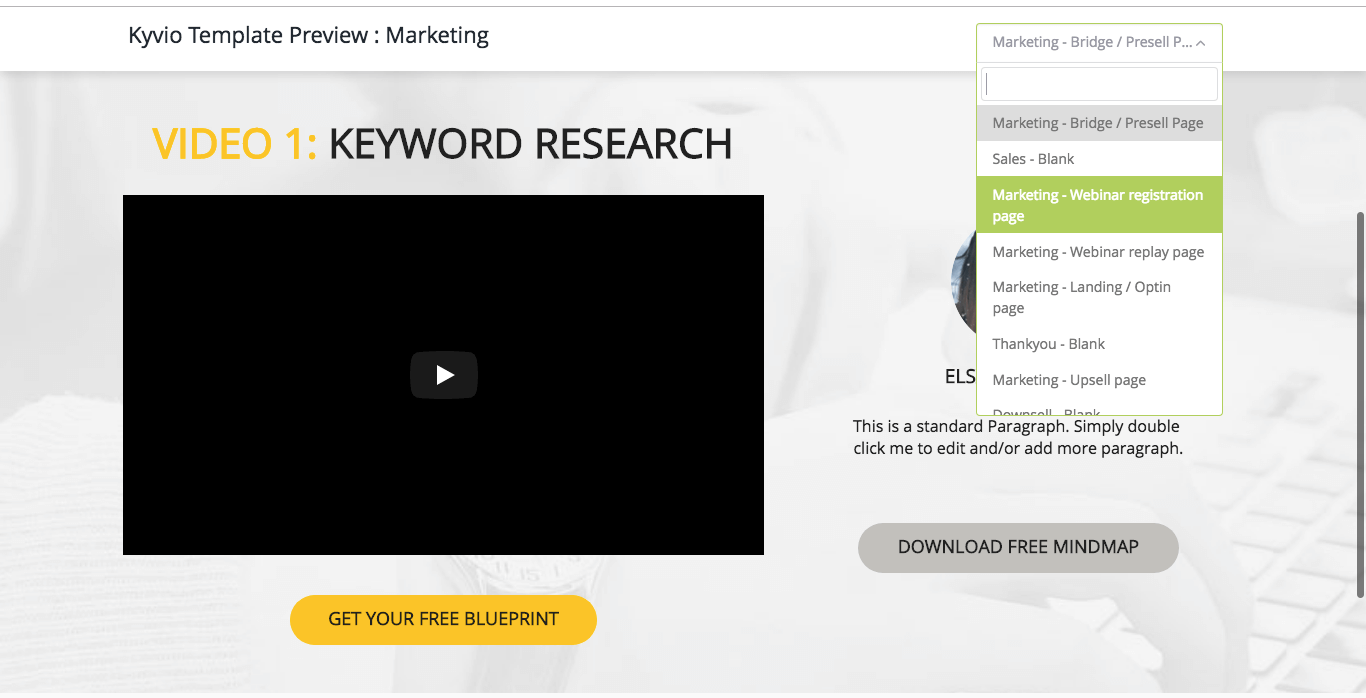 This works as a typical sales funnel from internet marketing expert. Of course,the key is to add multiple pages.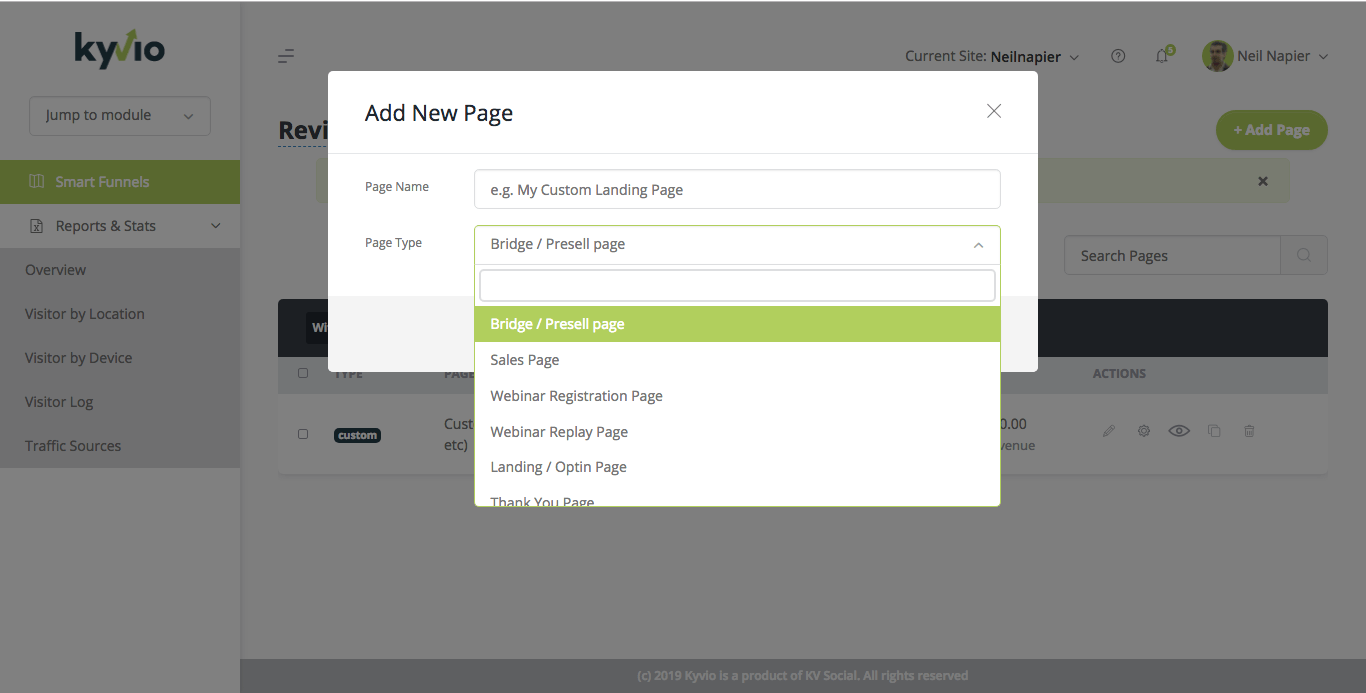 You can easily edit page Title and Slugs.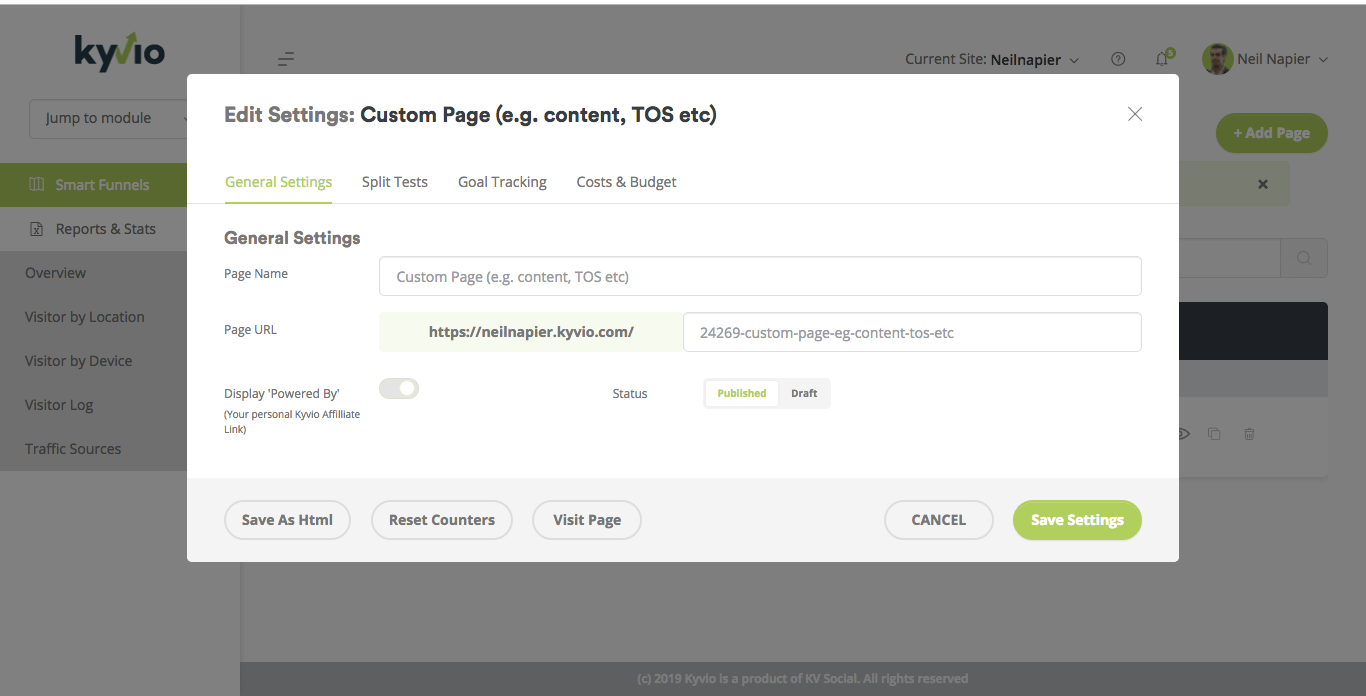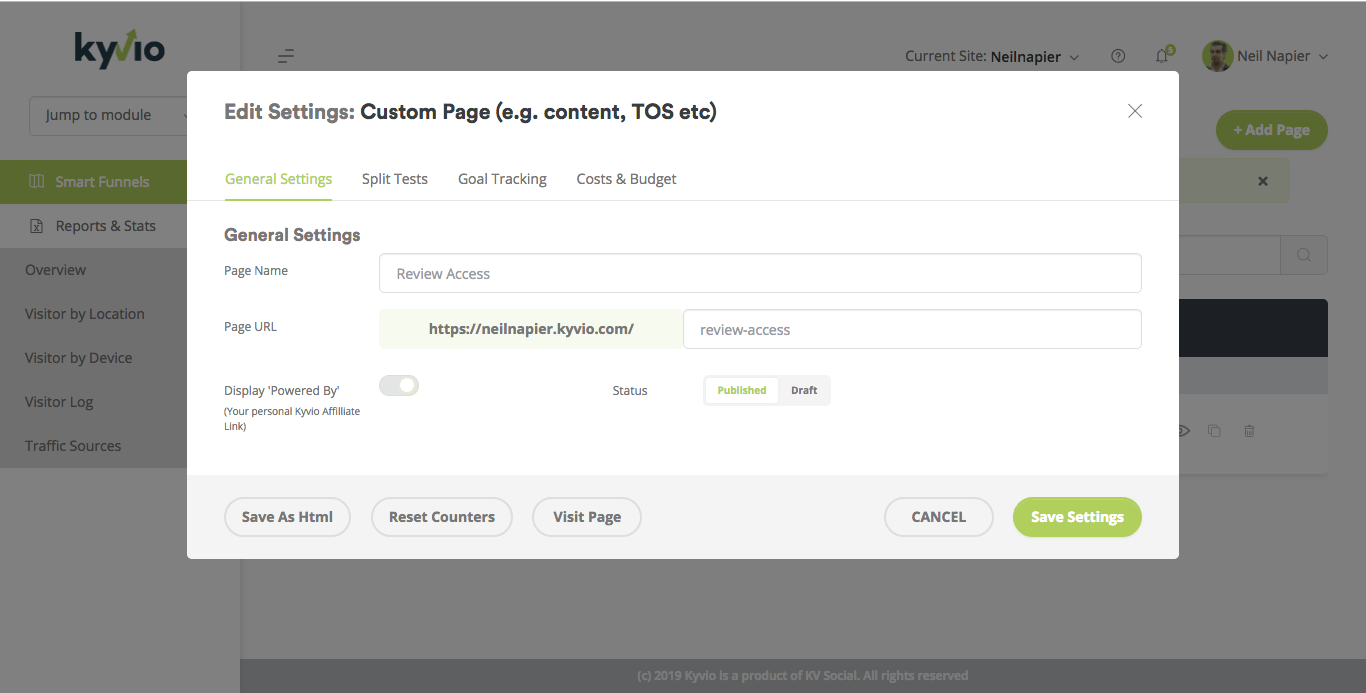 Another cool stuffs that makes Kyvio better than Competitor is that it has a built-in A/B Testing and Conversion Tracking Tool.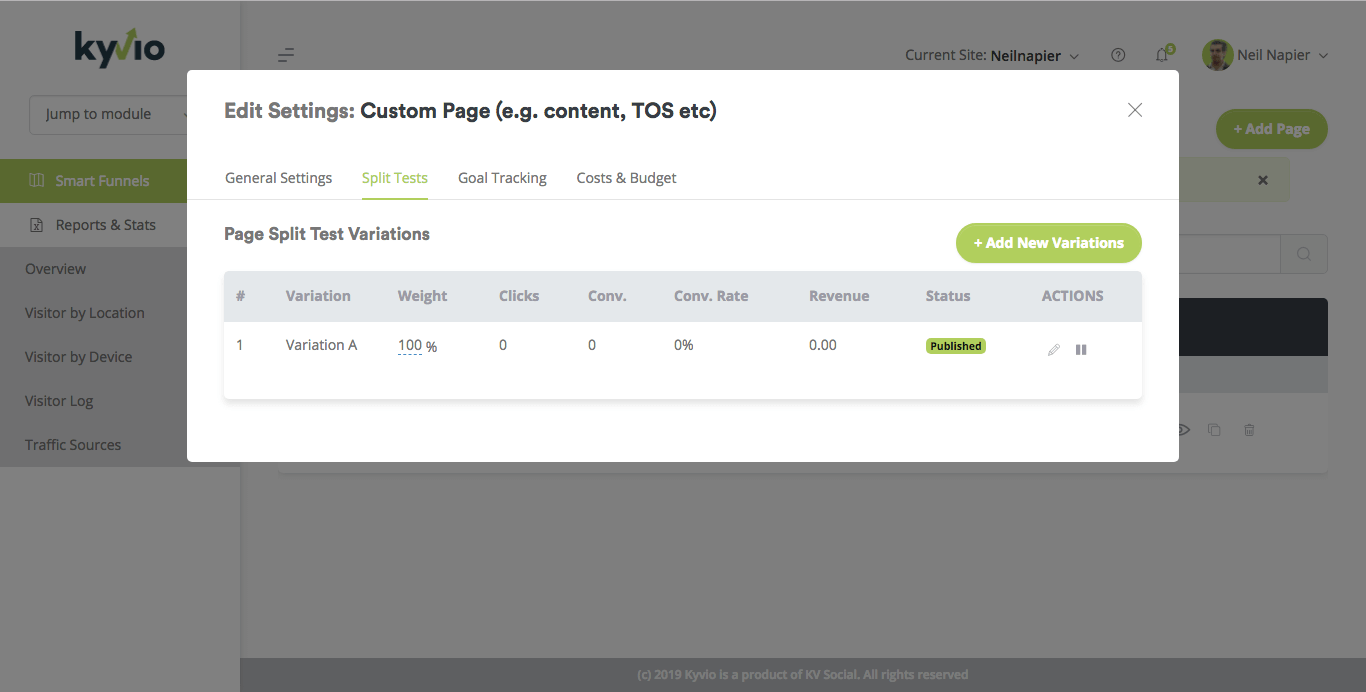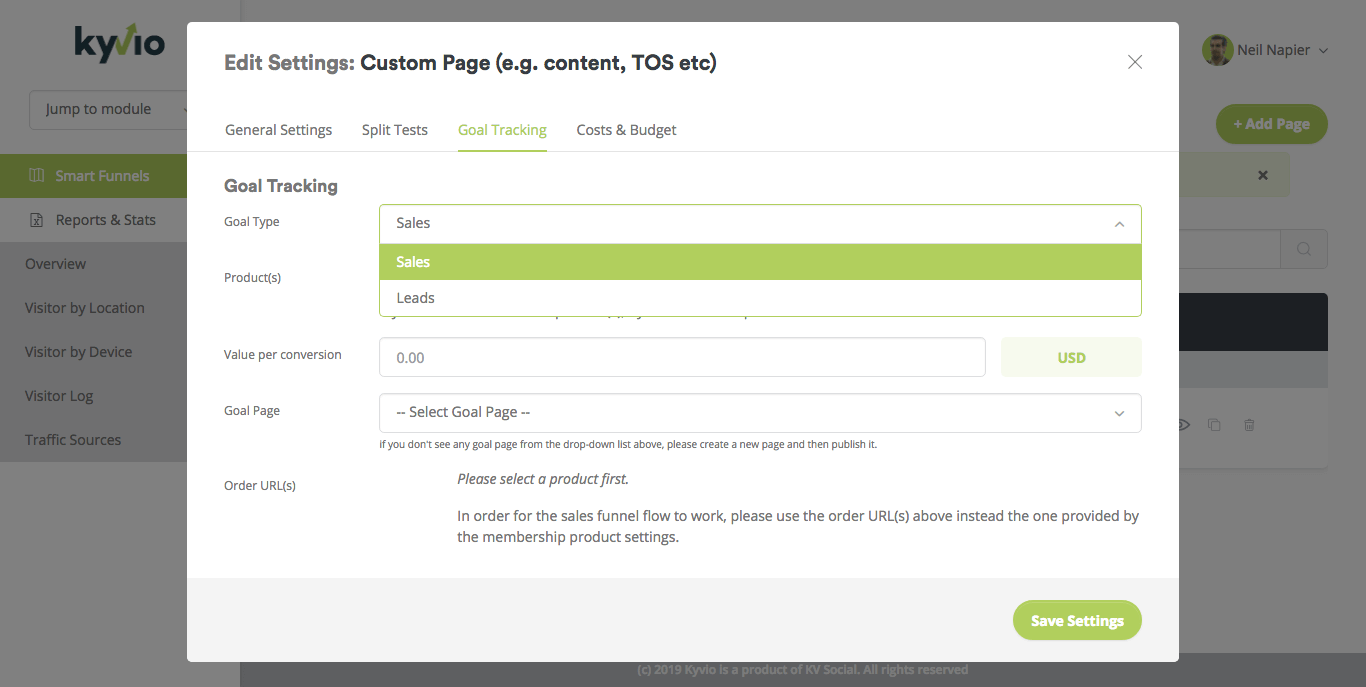 If you use PPC,it's easy to track conversion so you can manage cost and avoid losing money.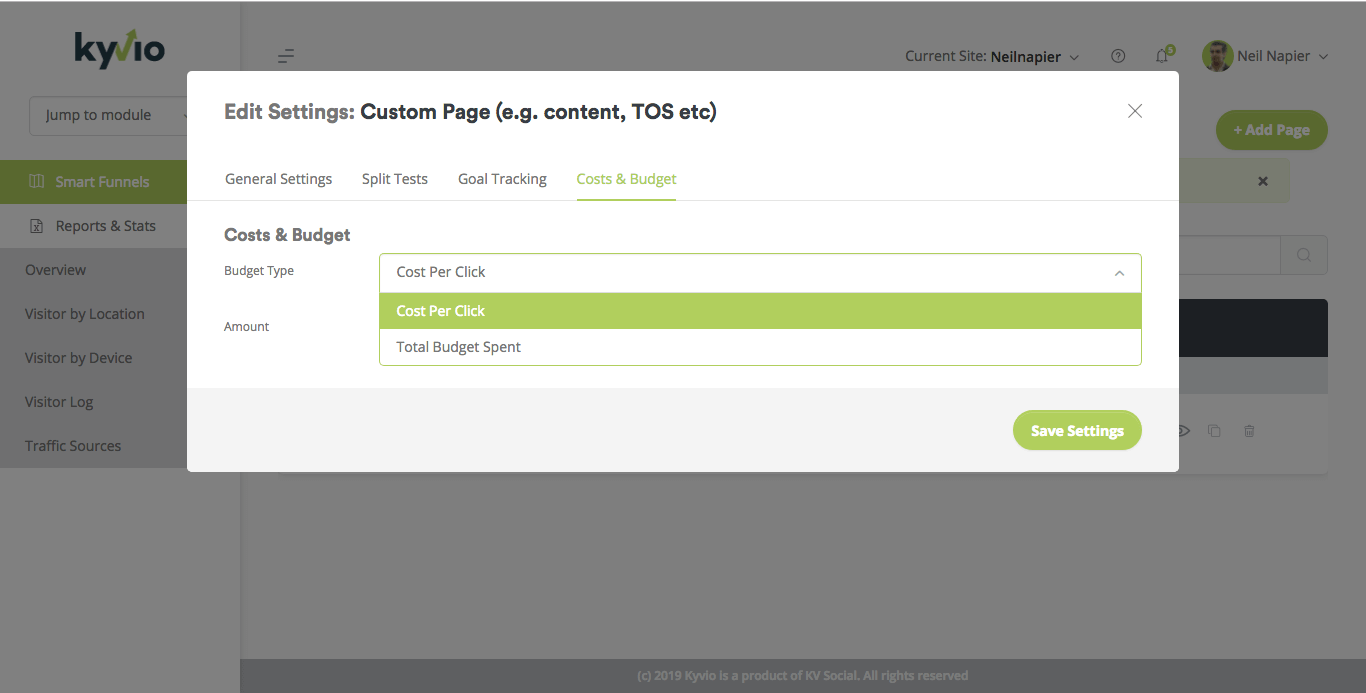 Sales Funnel Templates
You should understand the real meaning of sales funnel,it's like you create multiple landing page and setup redirection or triggered after action. So of course,page templates is very important for Kyvio.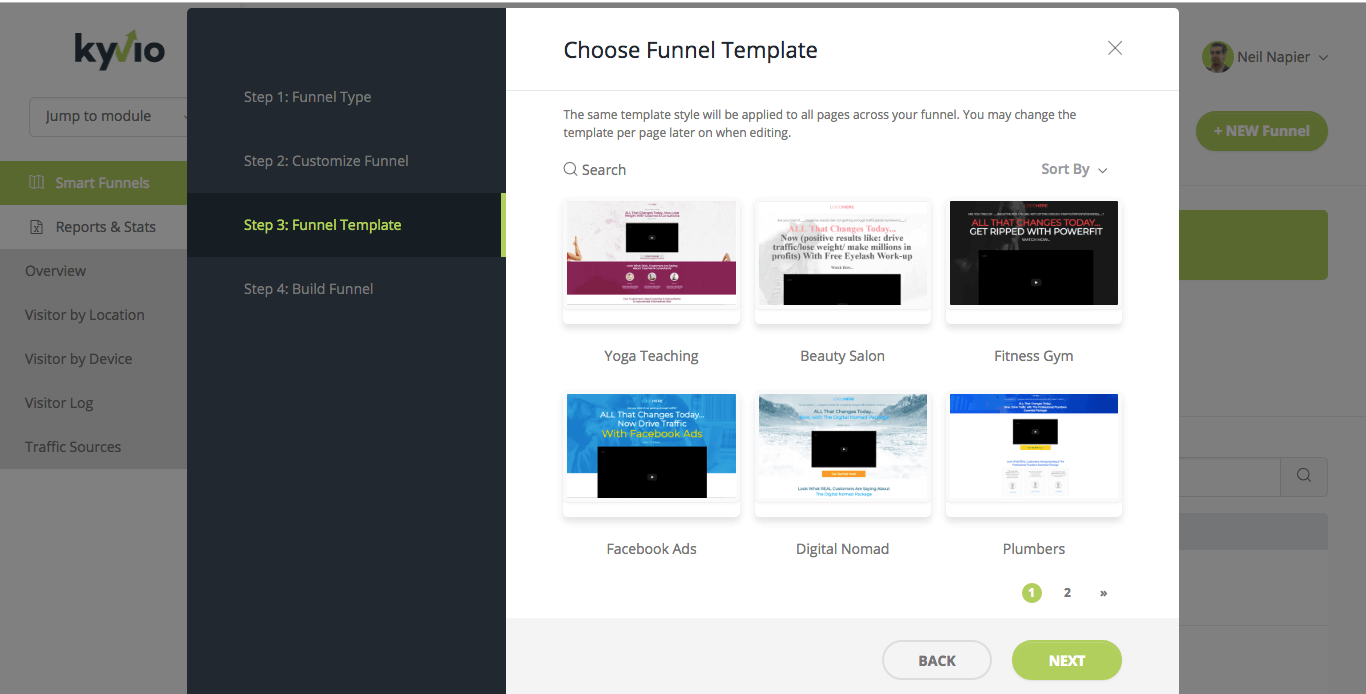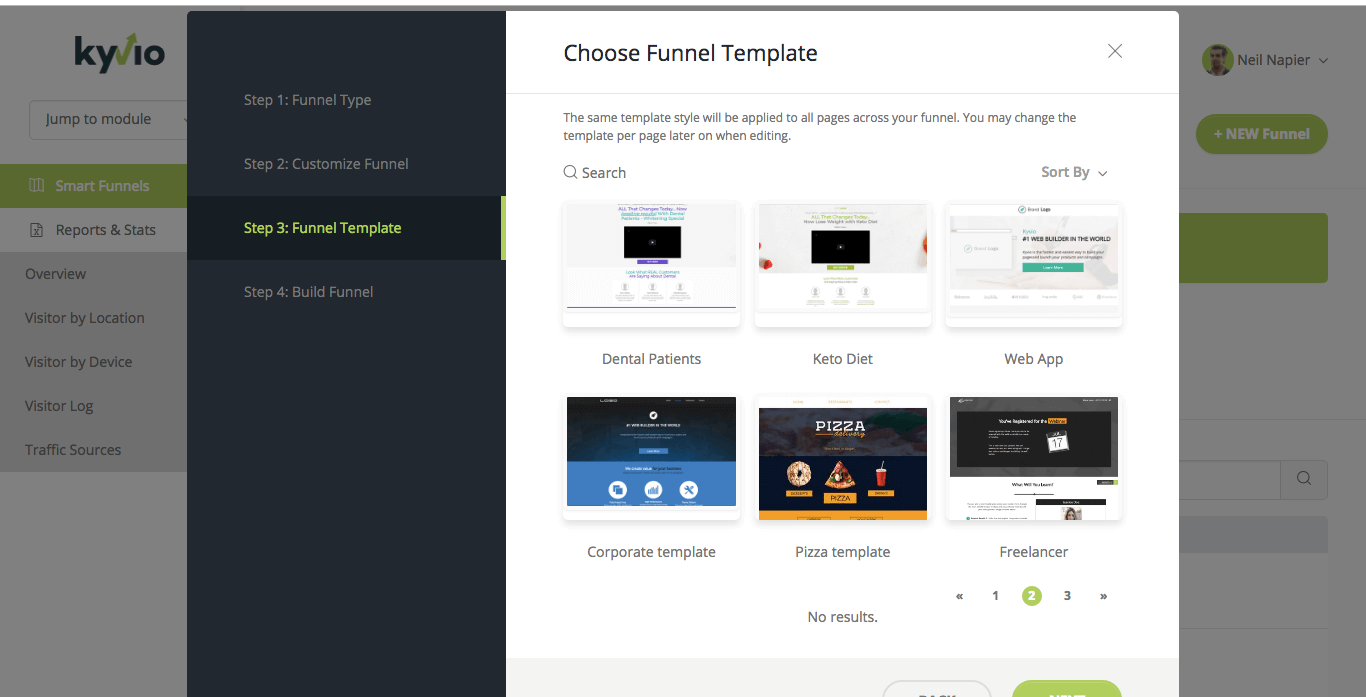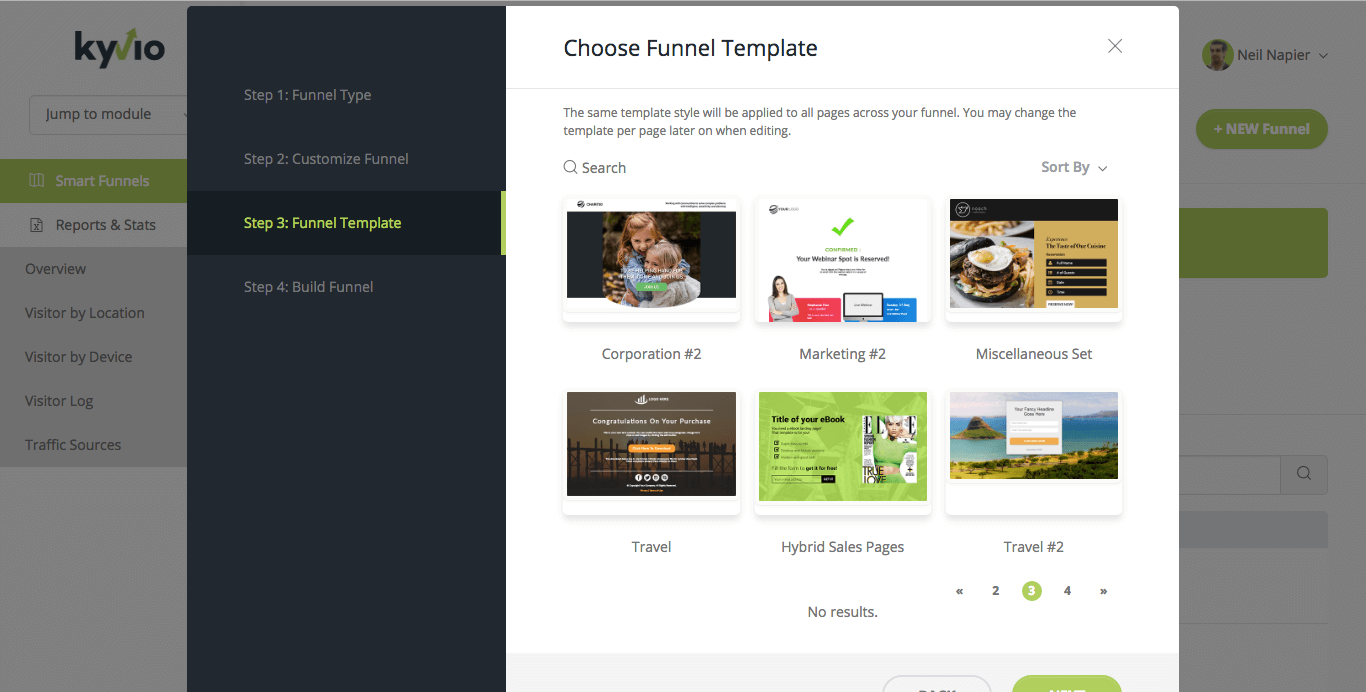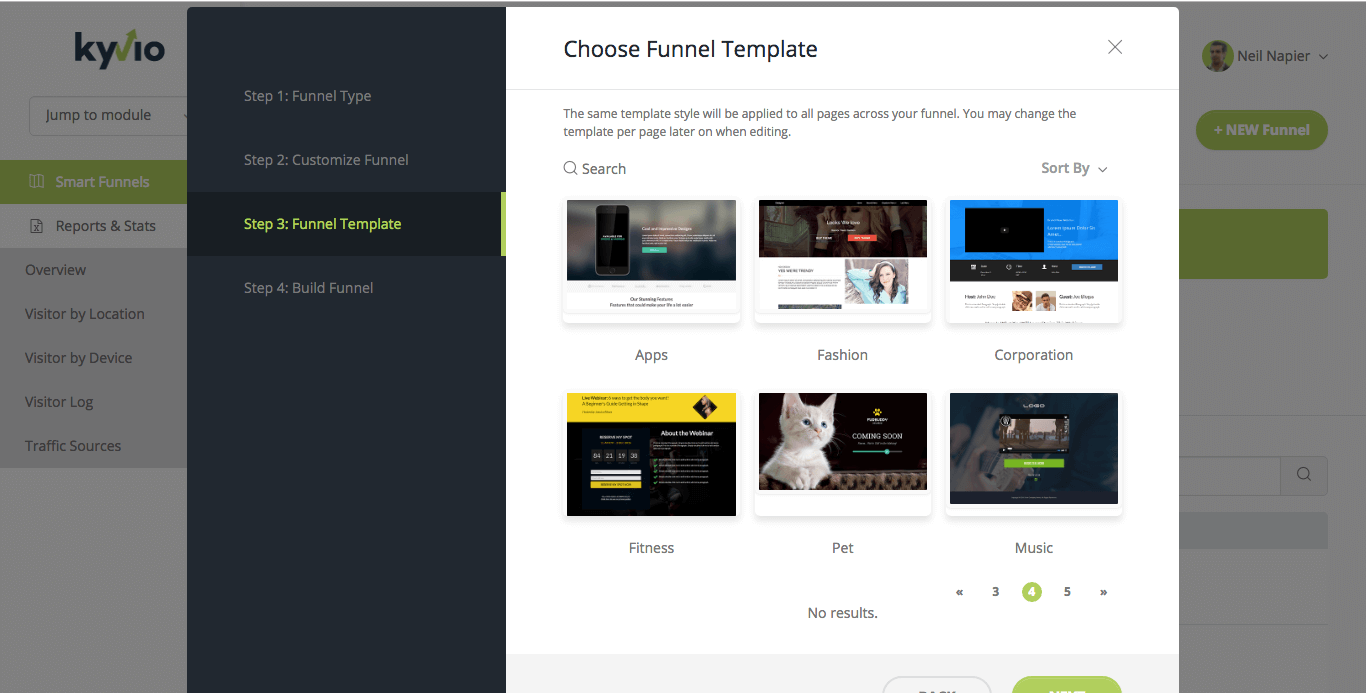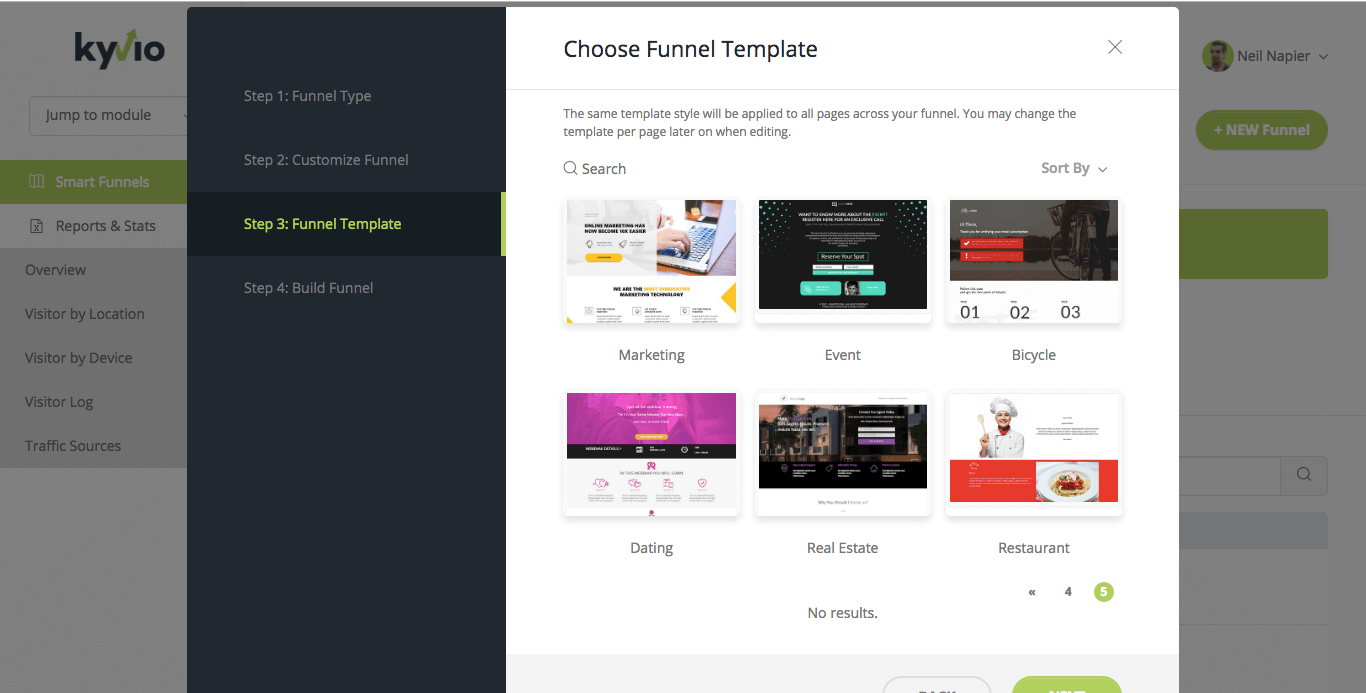 It has over 100 ready to go templates and i think that's enough for an online business. After all,you can see the builder in reality.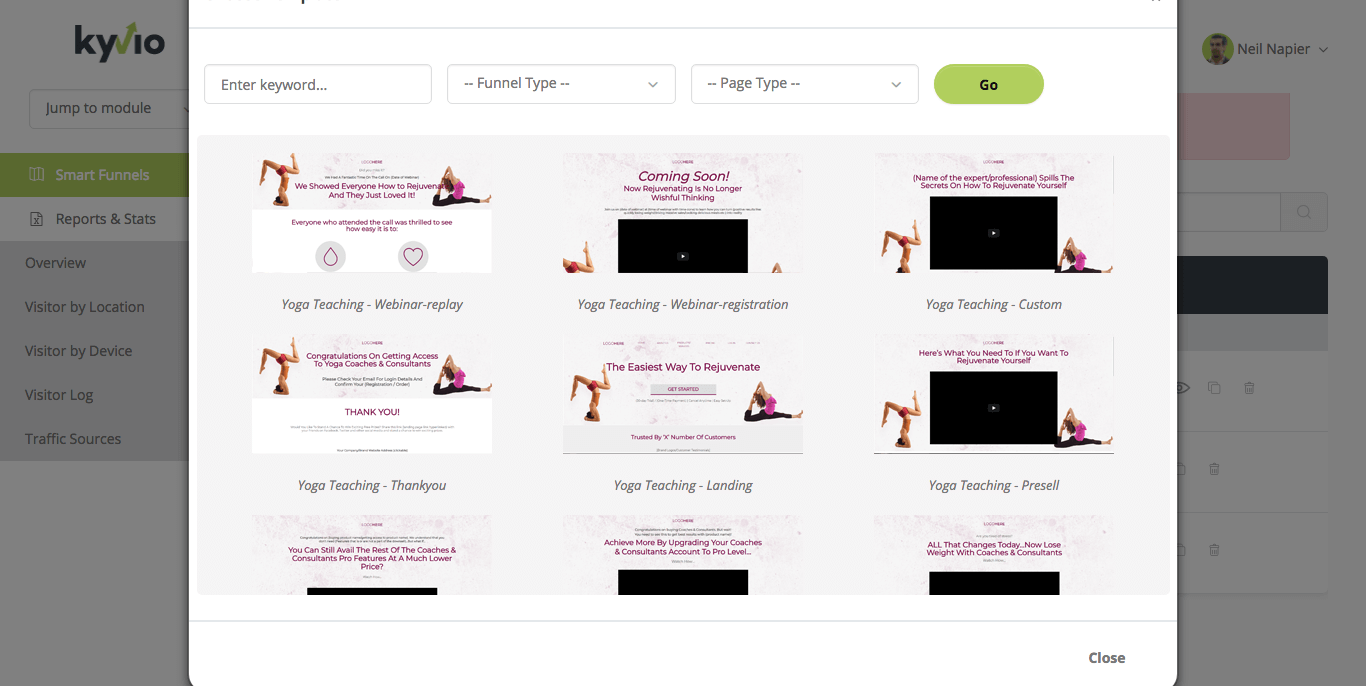 If you don't belive me,just see these images 🙂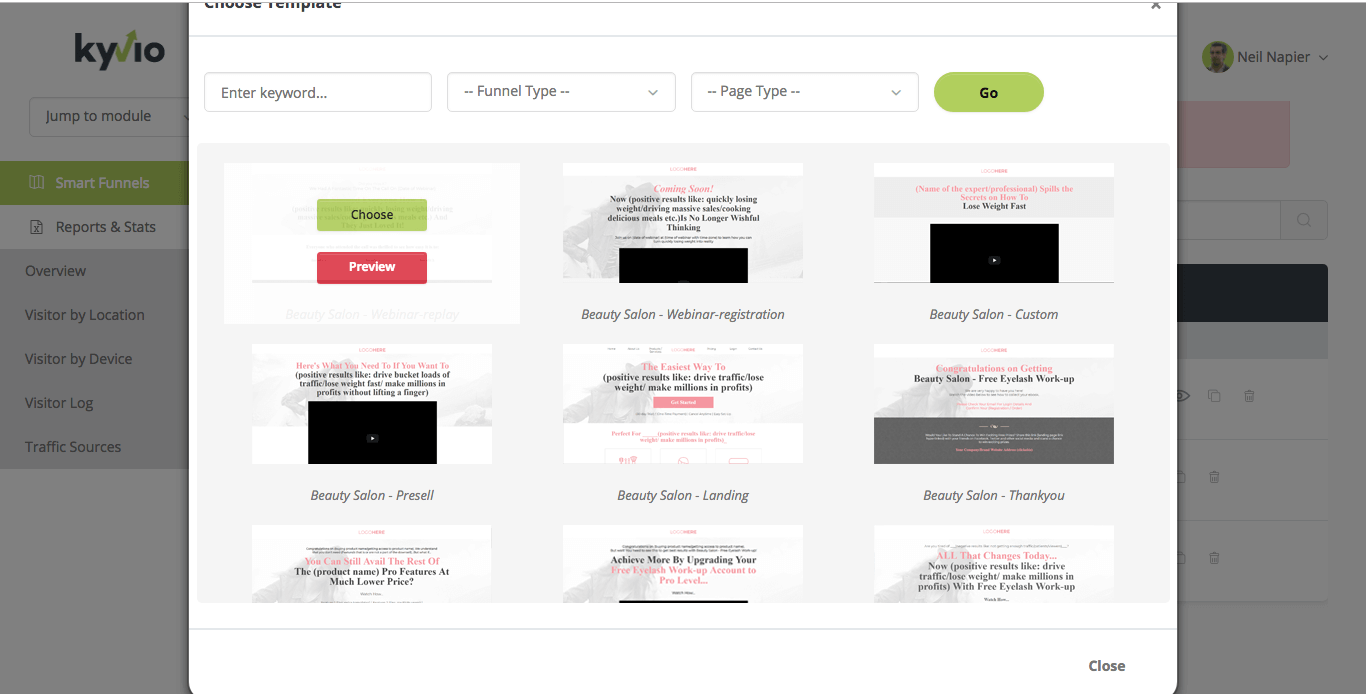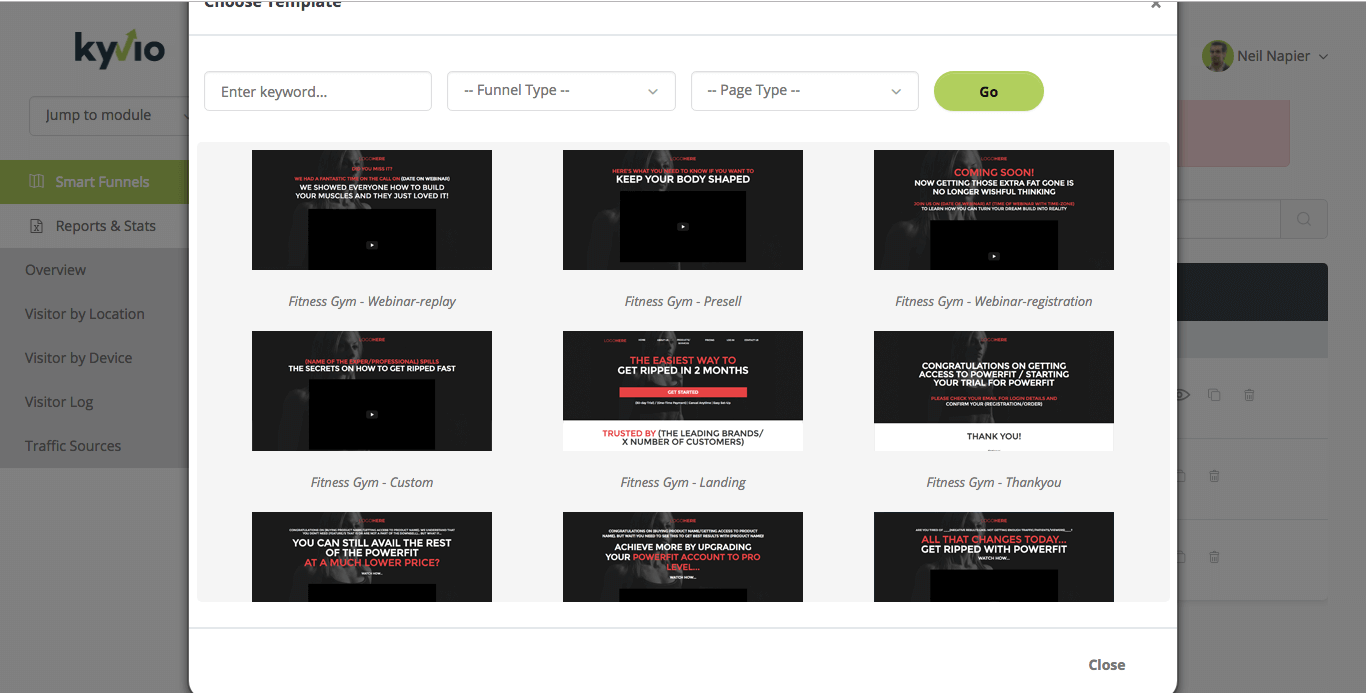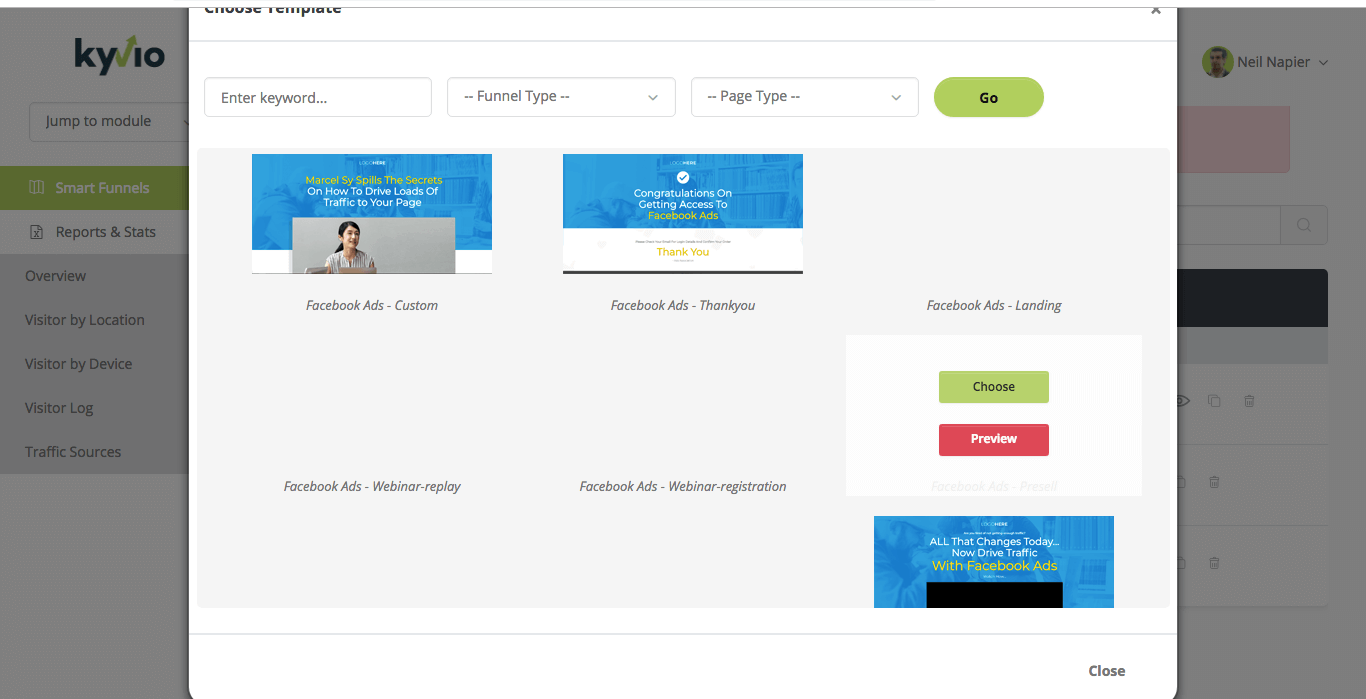 Normally,most of the users from Kyvio are local business,consulting or course creator. That's why some of these templates are mostly for those business.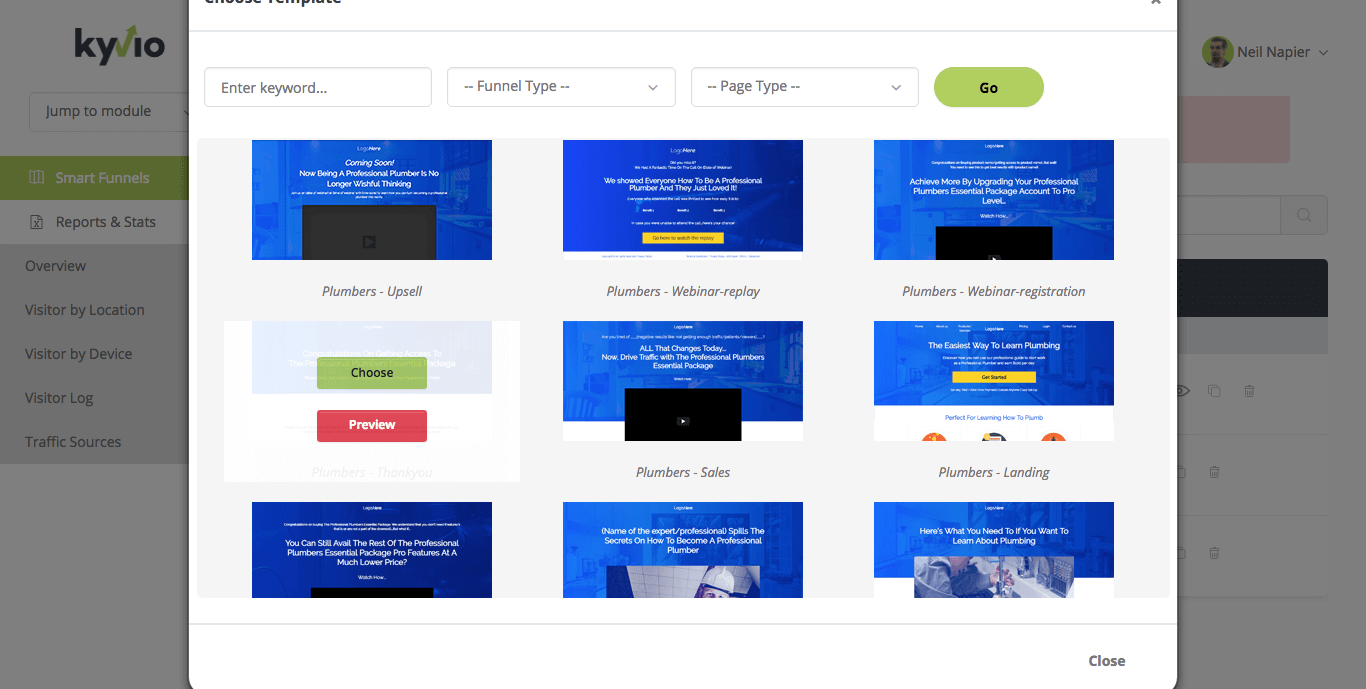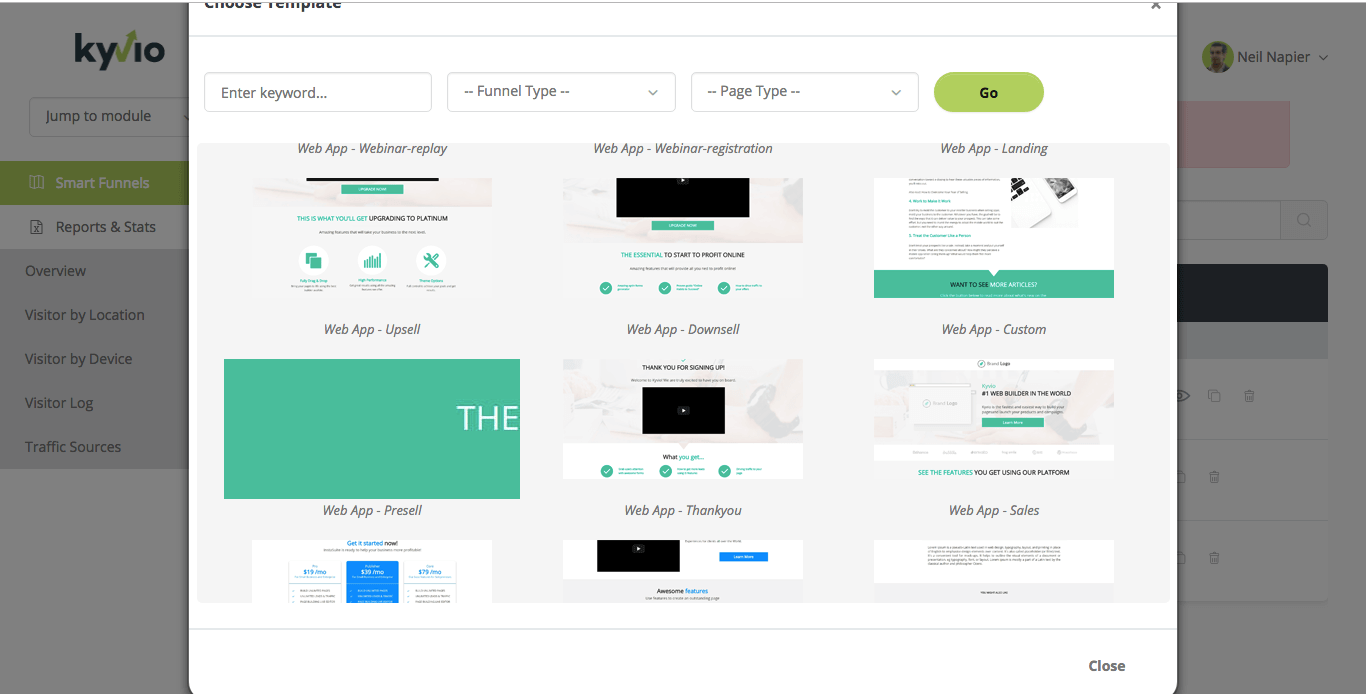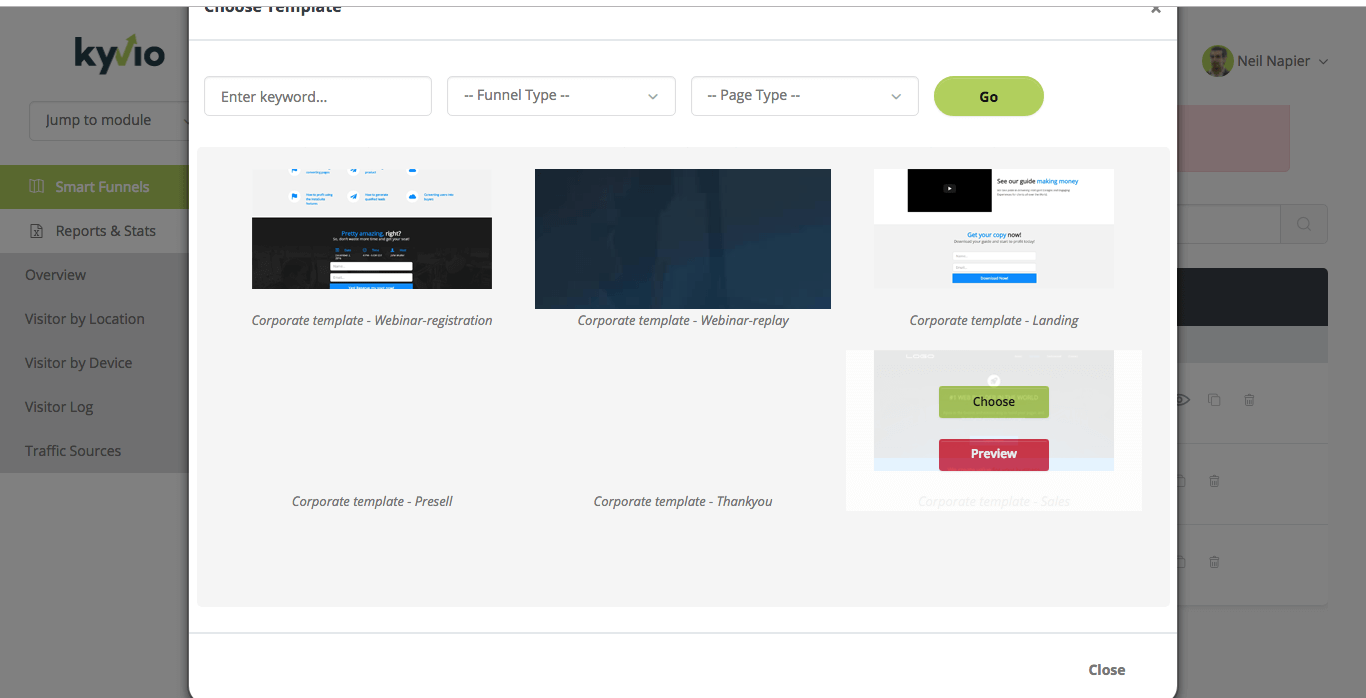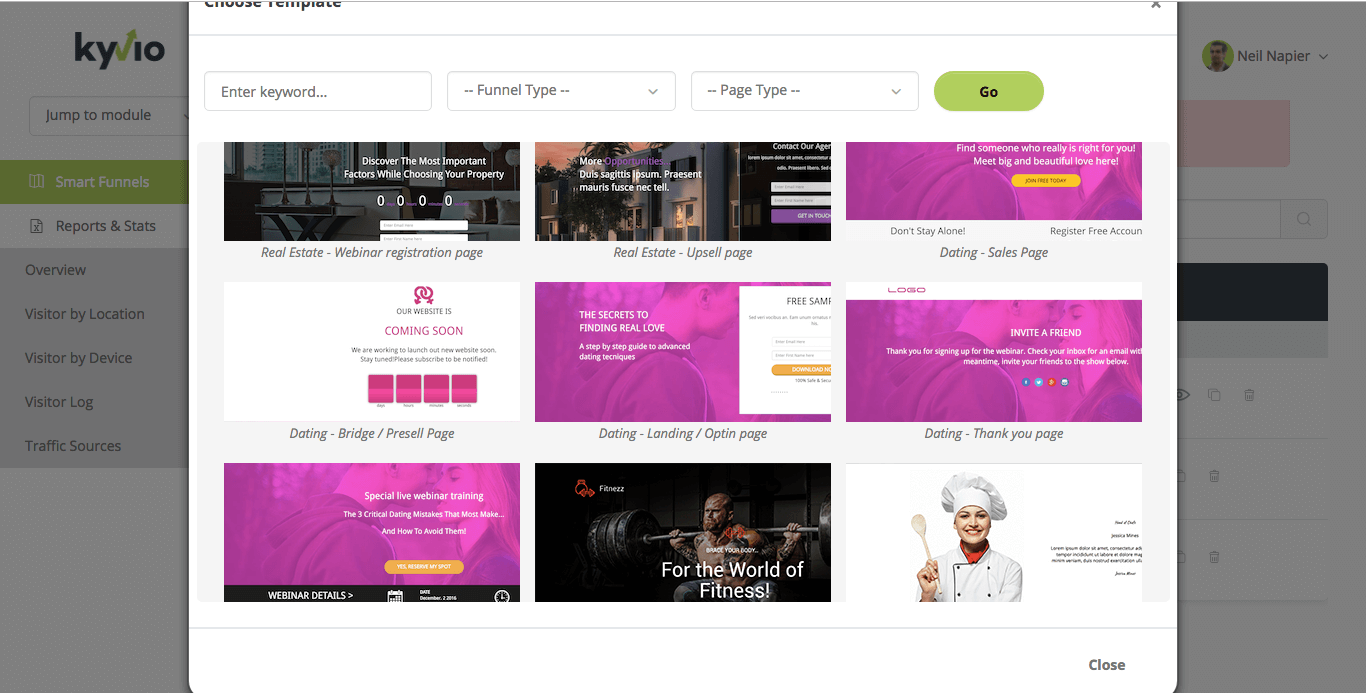 But i think that's enough for you,it's never needed to have too much templates.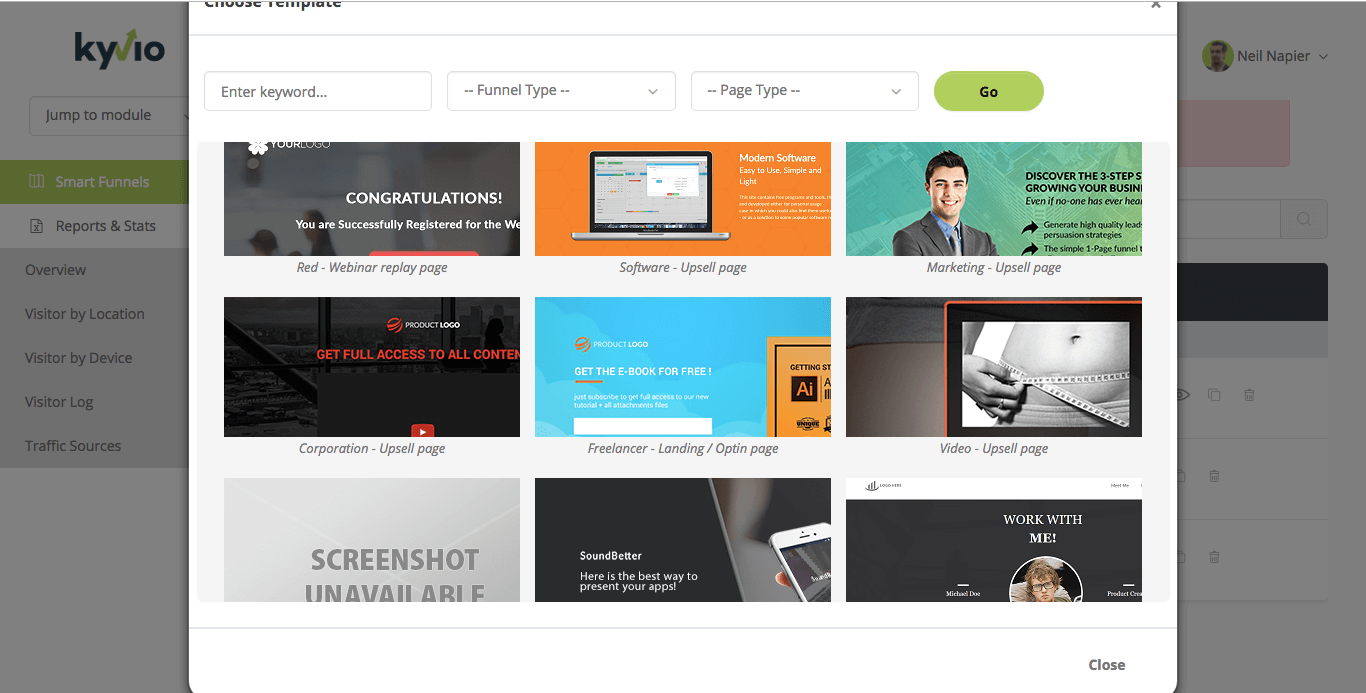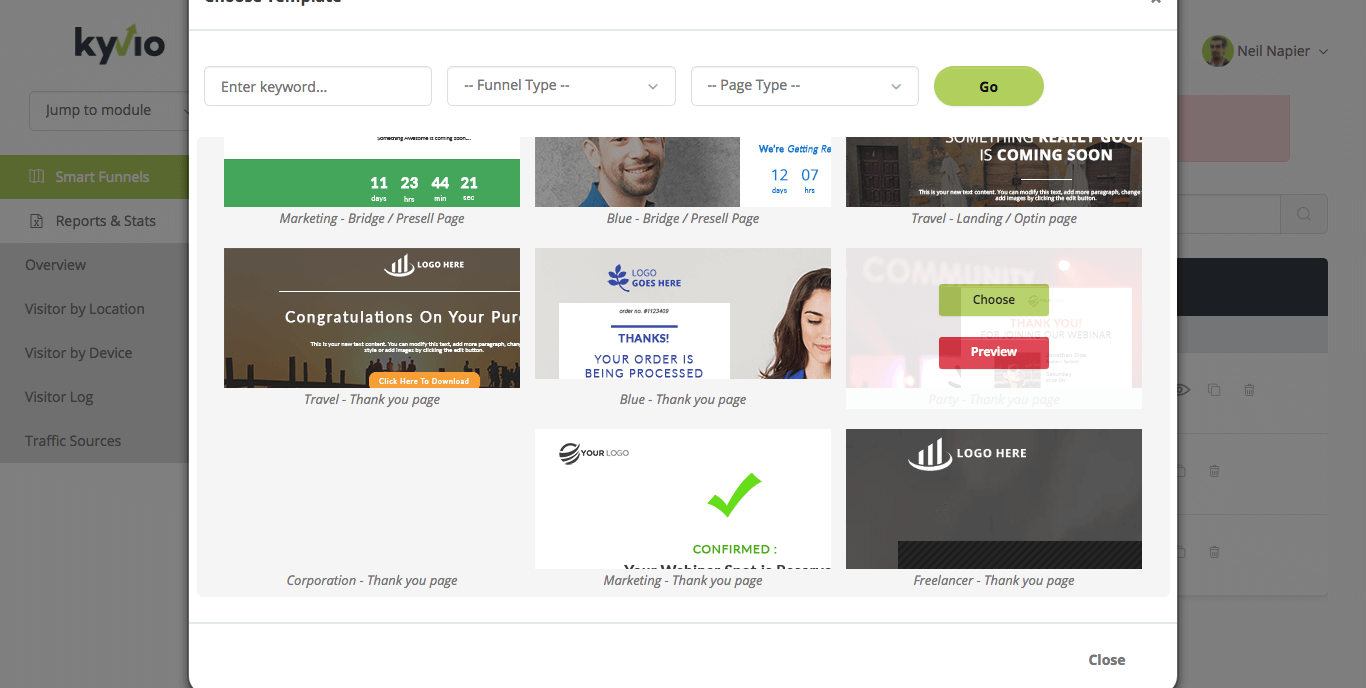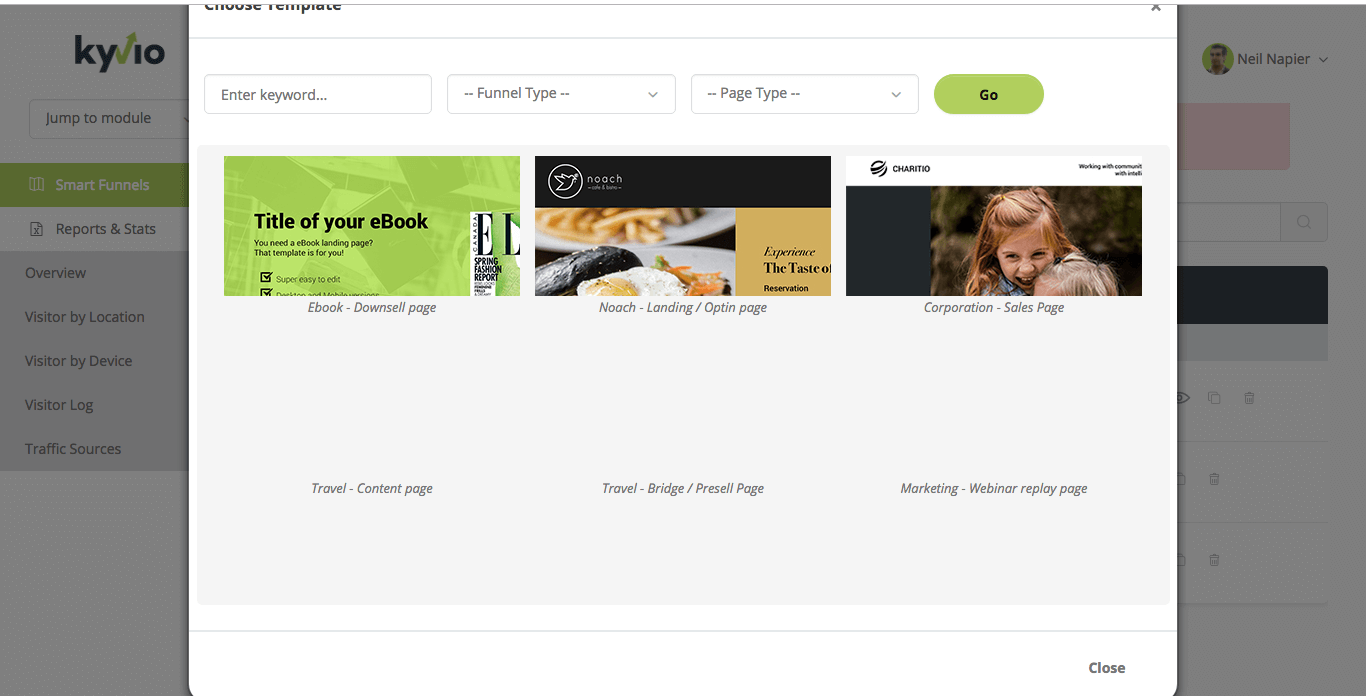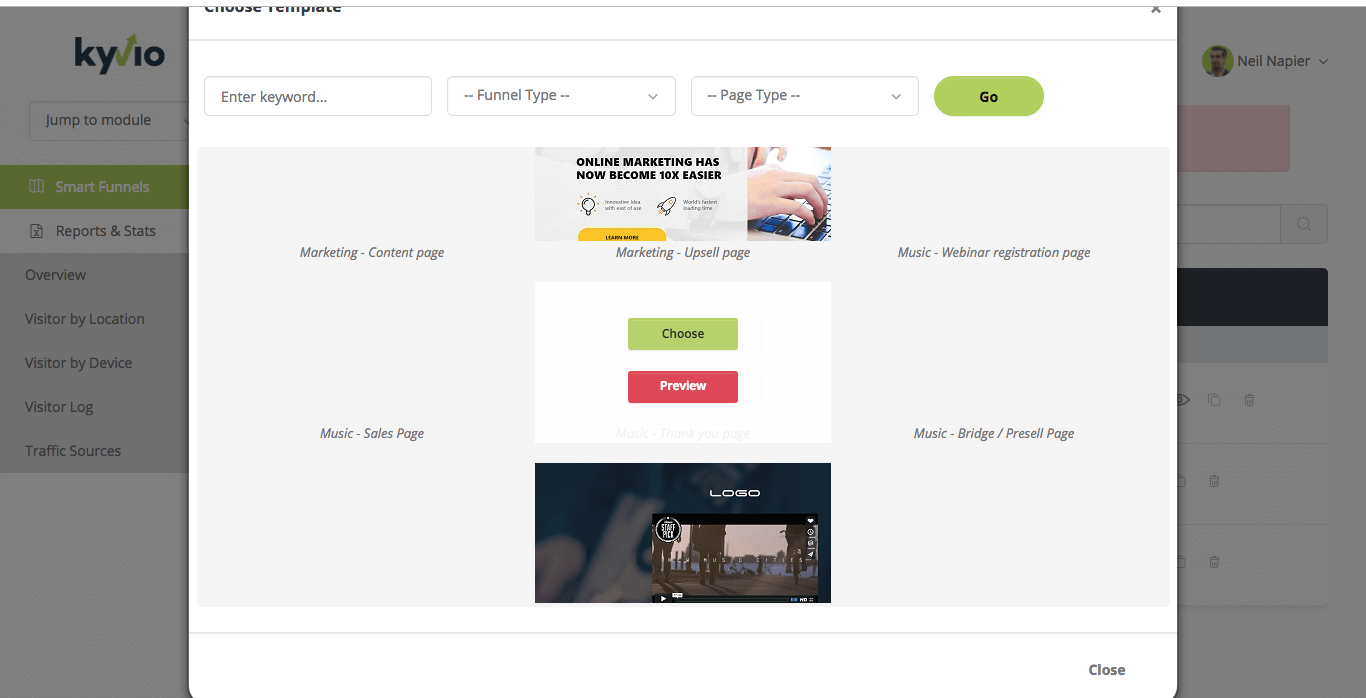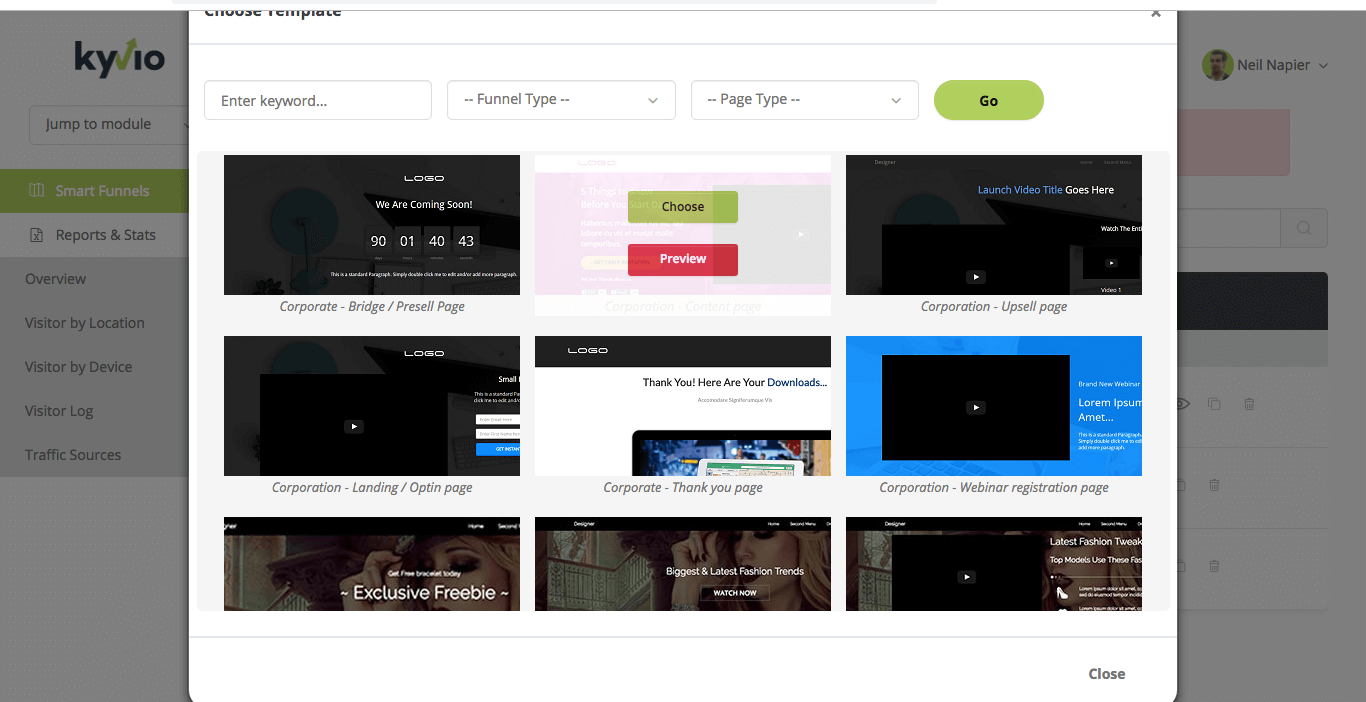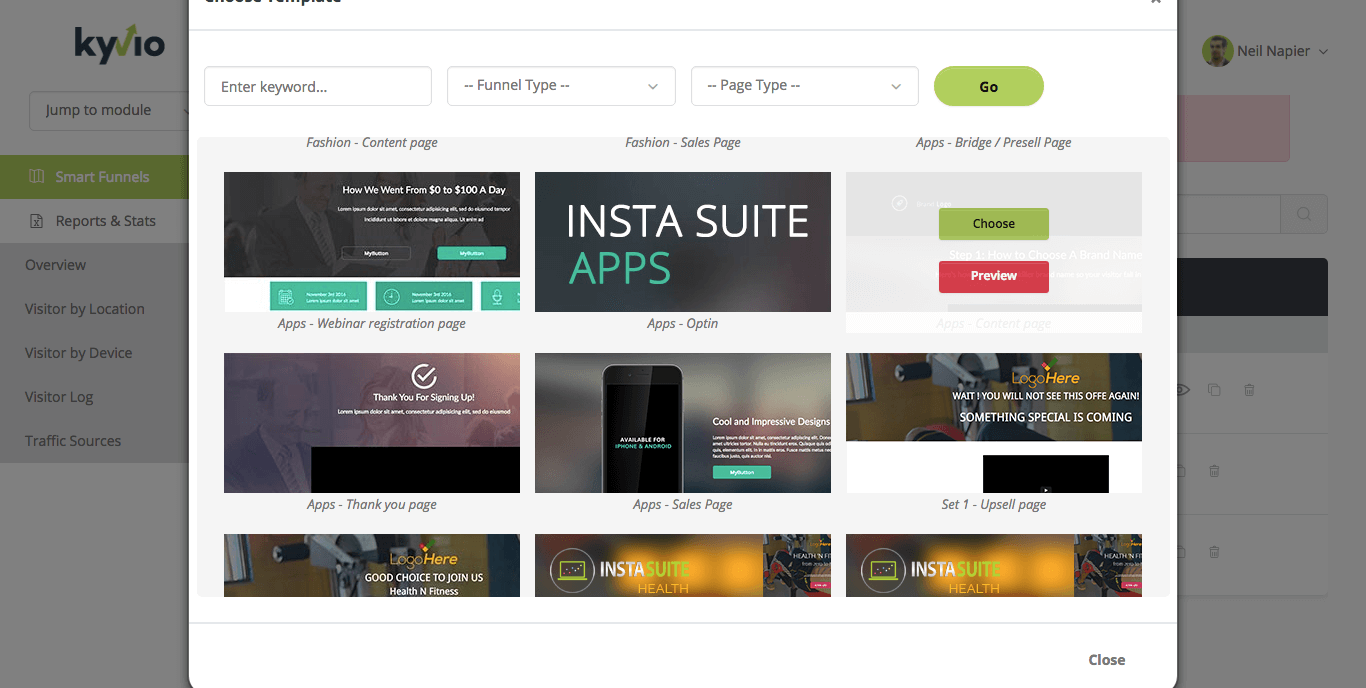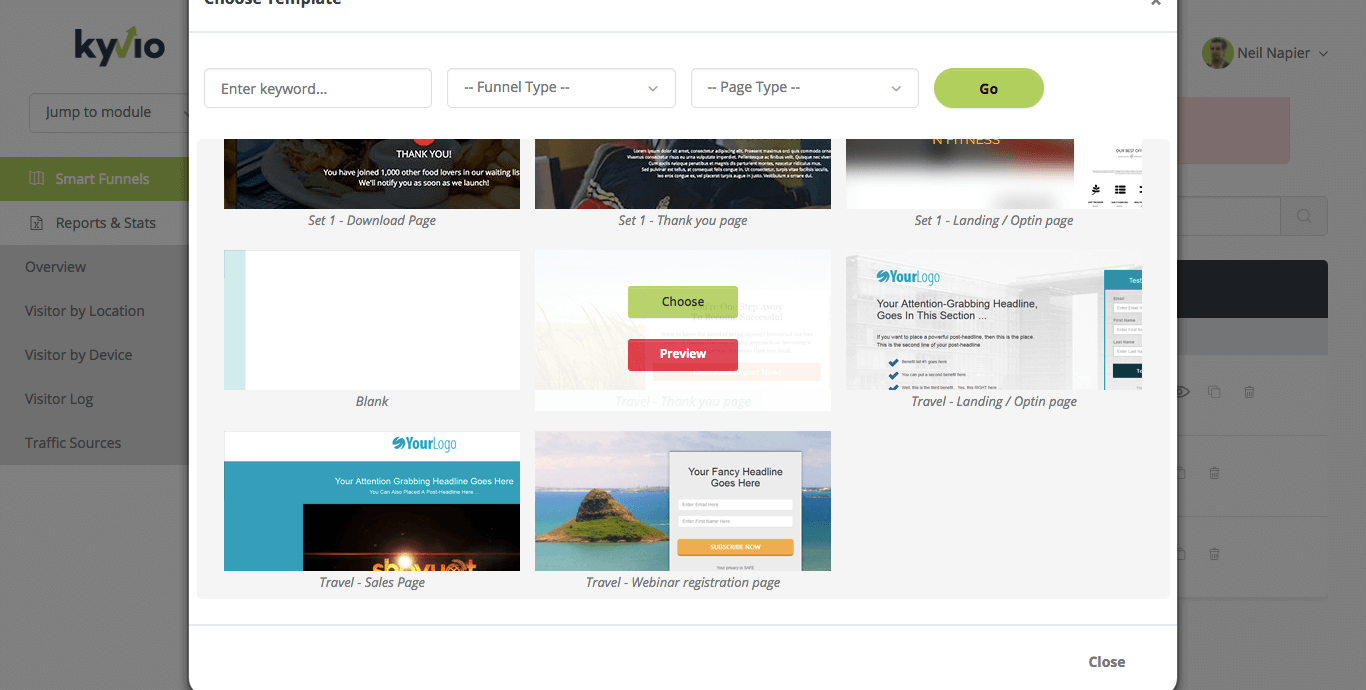 That's everything you need for the Kyvio's page templates.
a.Page Builder
This is the page editor in reality,in fact,it's a block-based editor.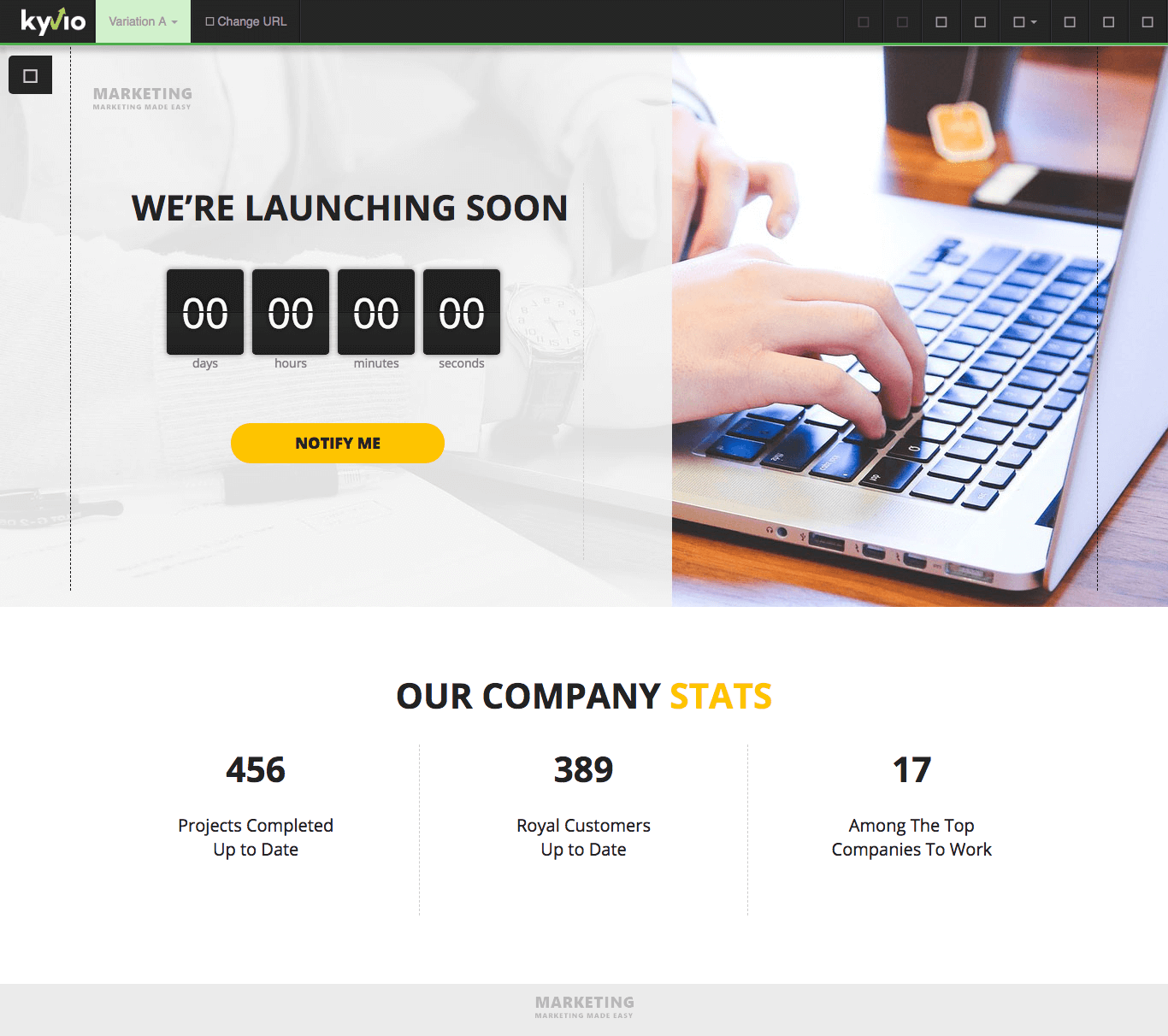 You can insert elements into your page very simple.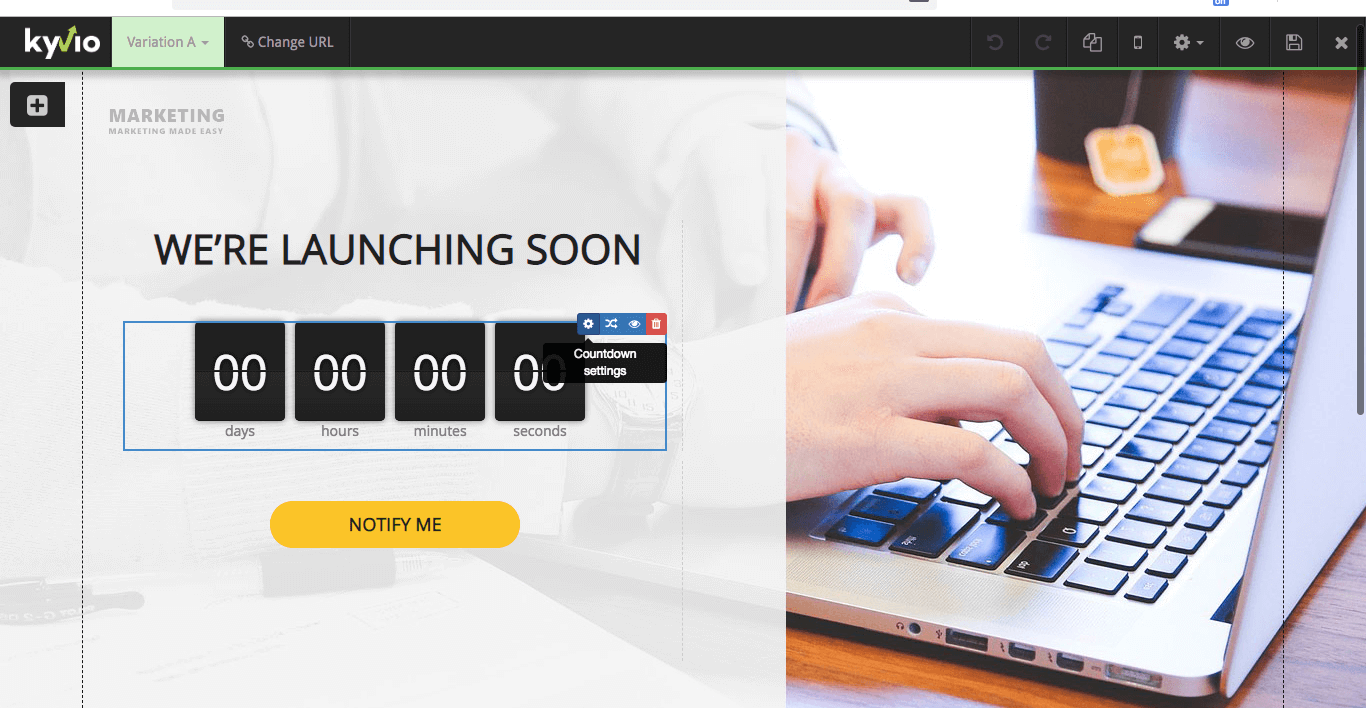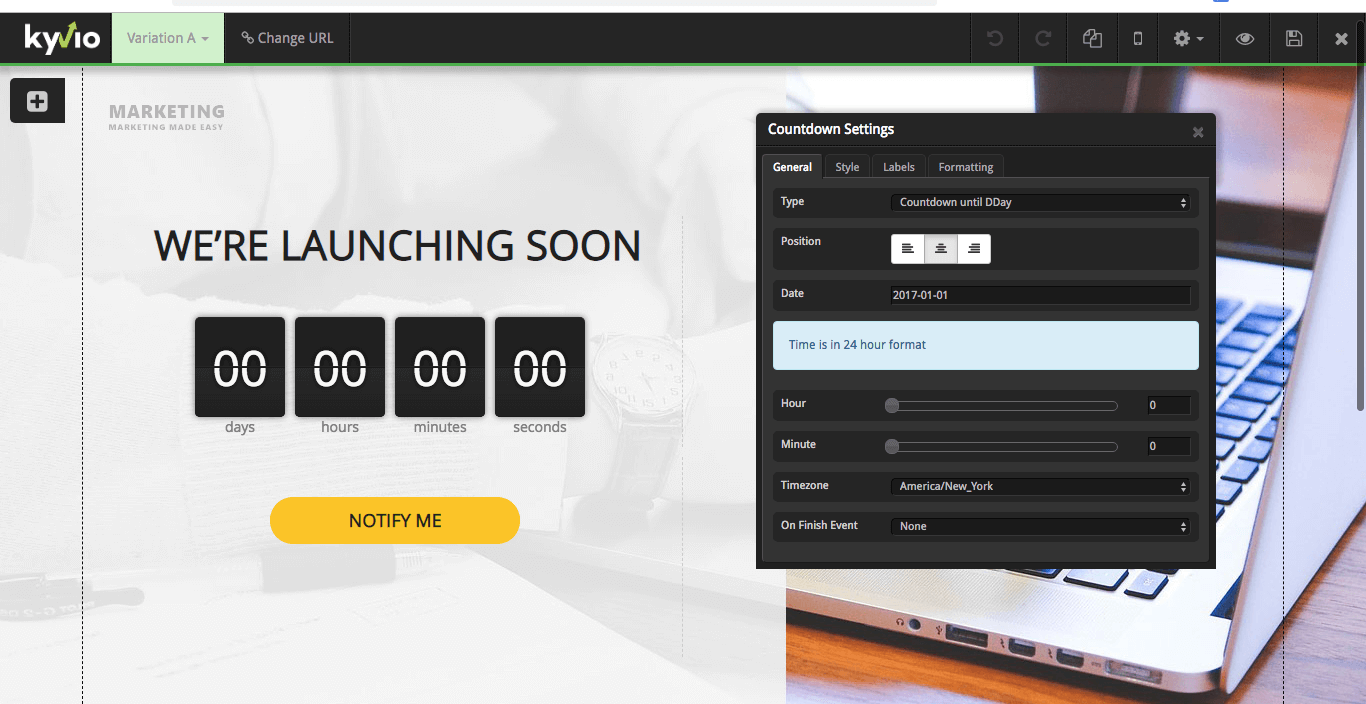 Page Builder Block Elements

At the page here,you can customize as whatever you want. Of course,you will need to know the block and sessions.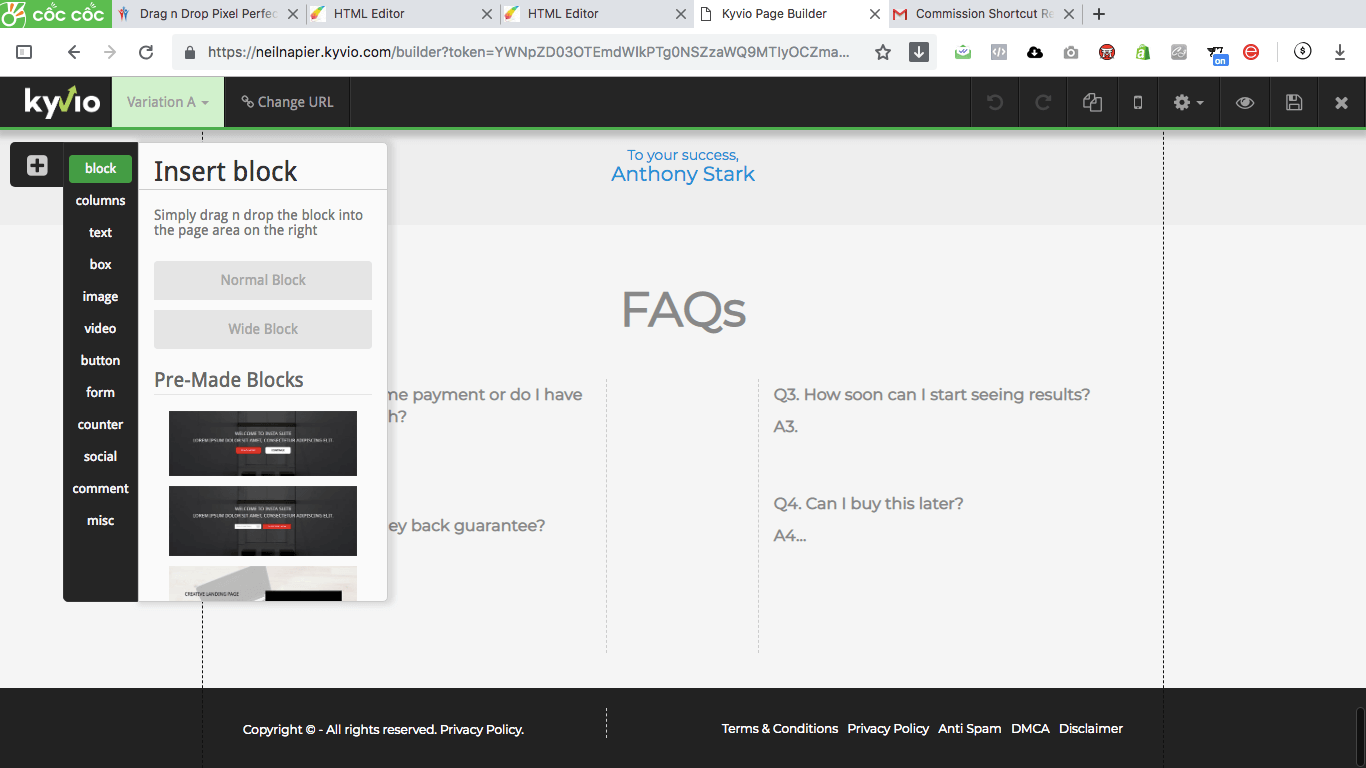 It has Pre-Made Blocks so as to help you build page faster.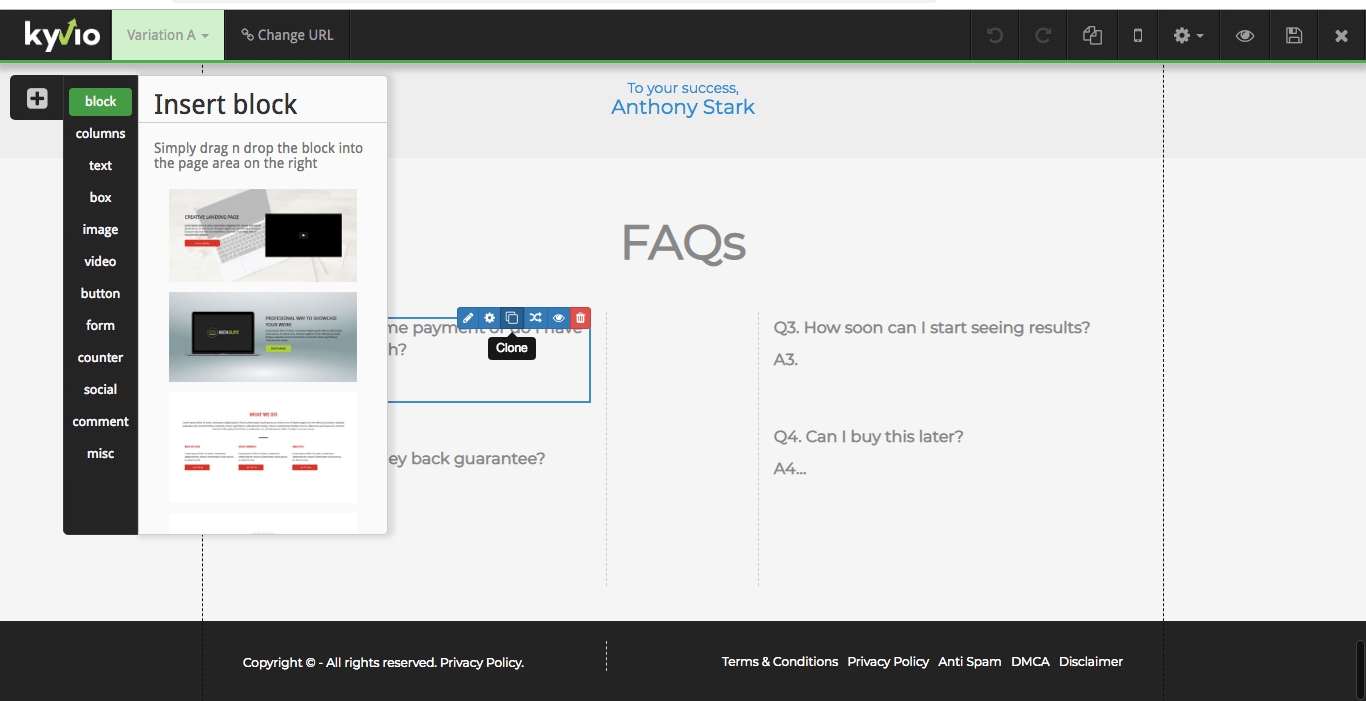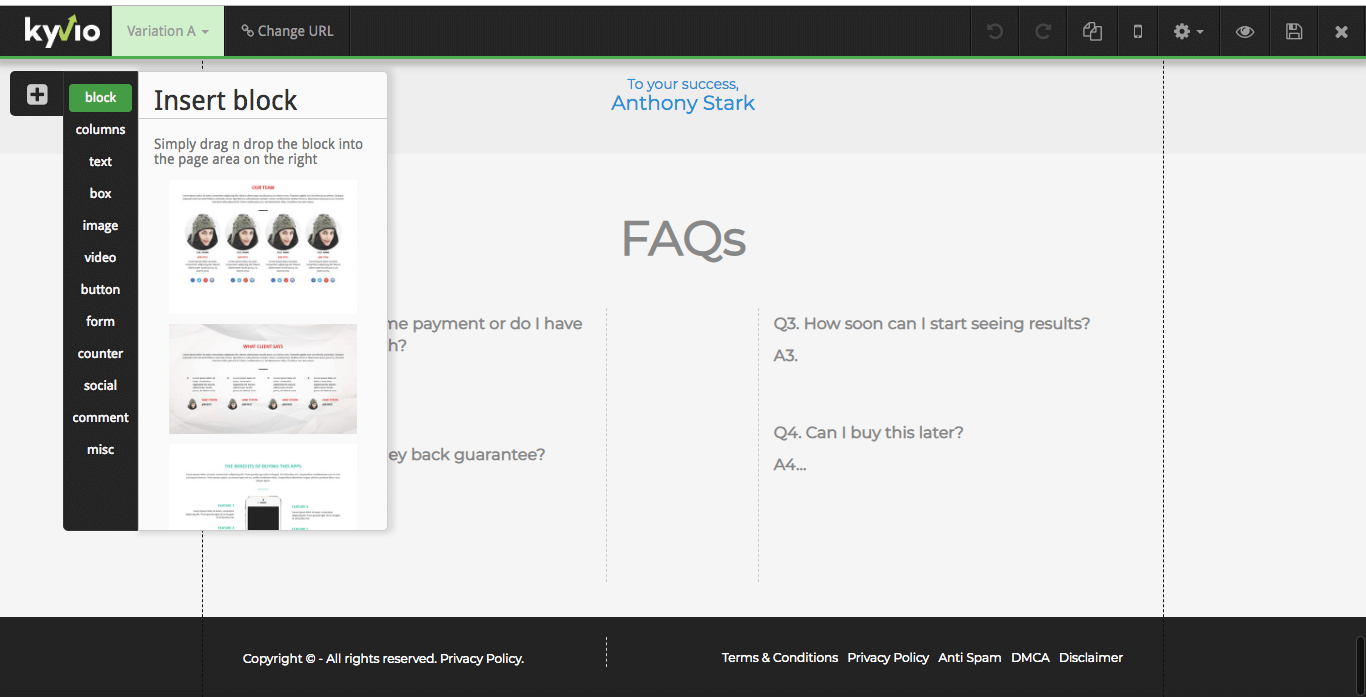 Just insert a Blank Block and then insert Pre-Made Block.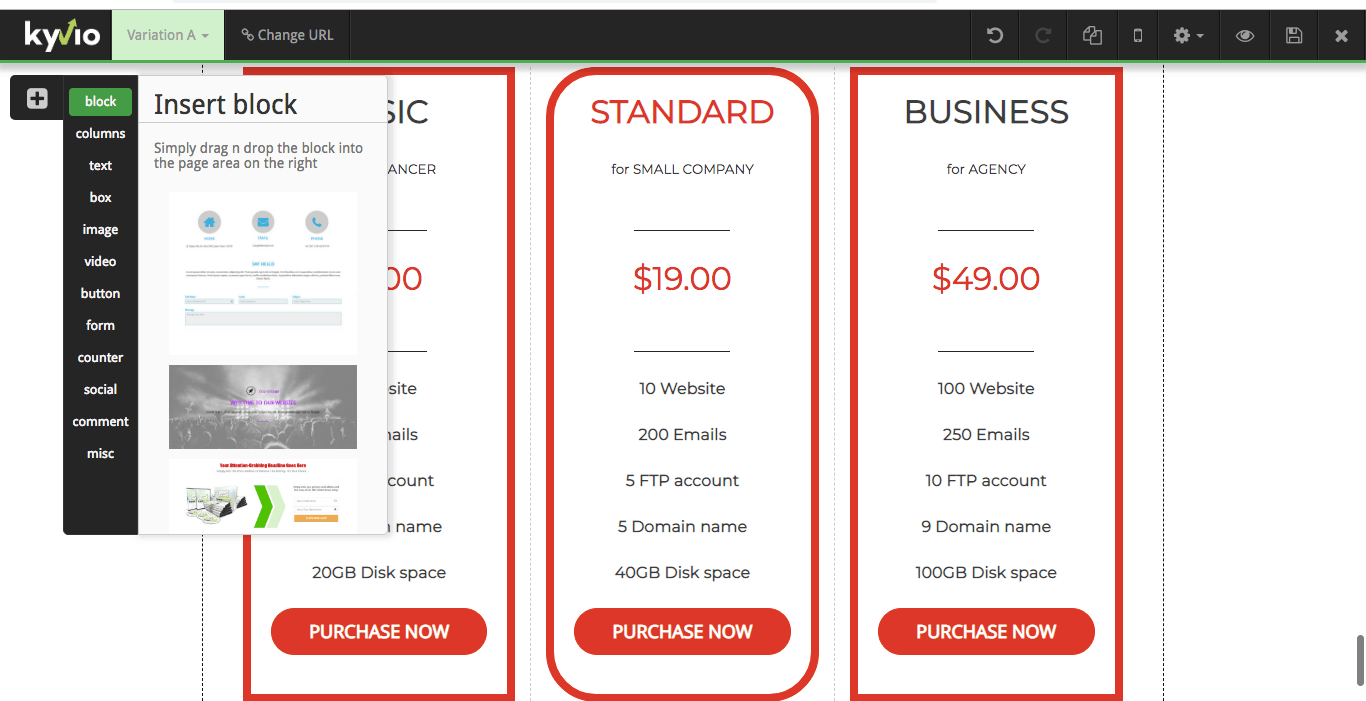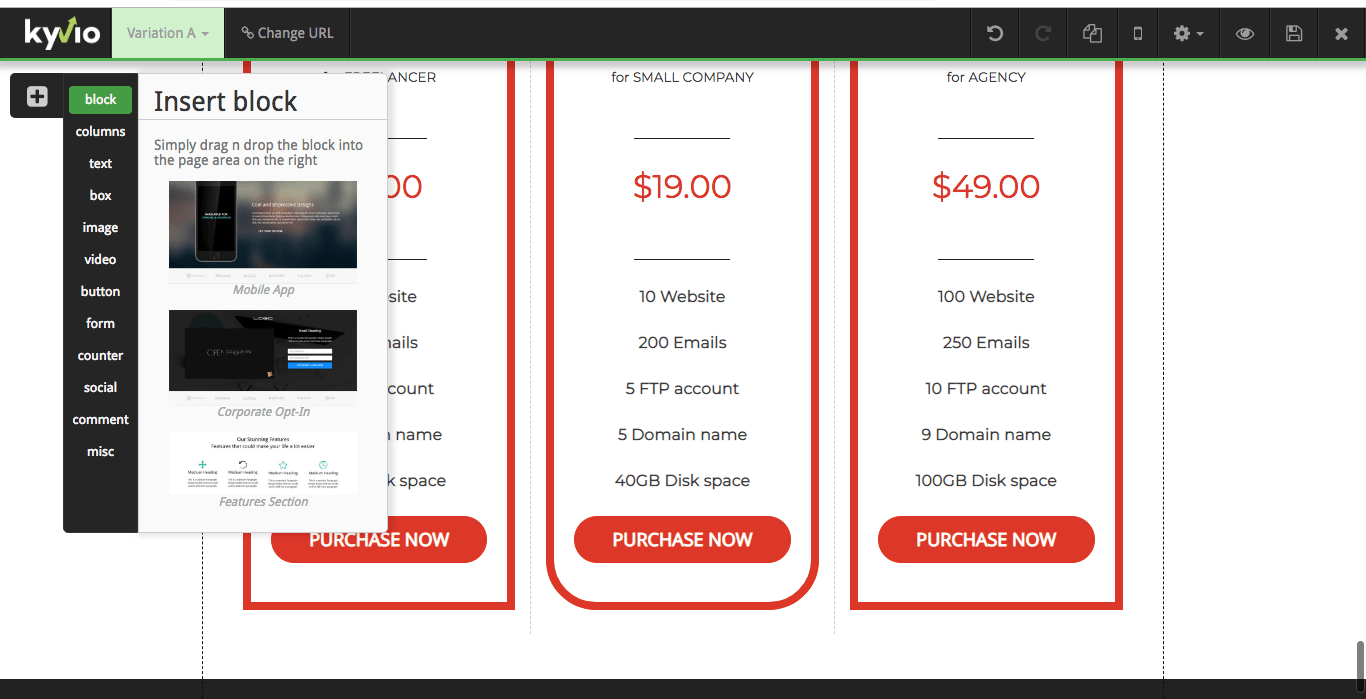 It's not as smooth as free form page editor but it can be faster page building for you.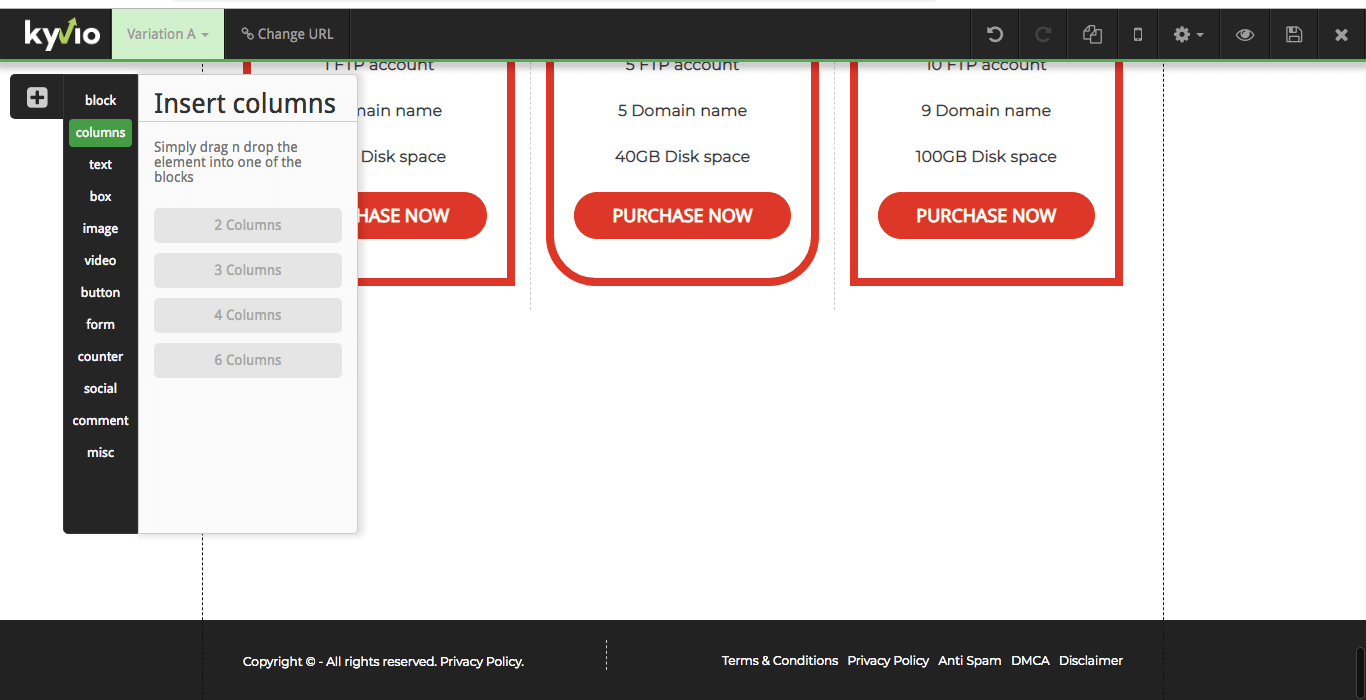 As you know,speed is money.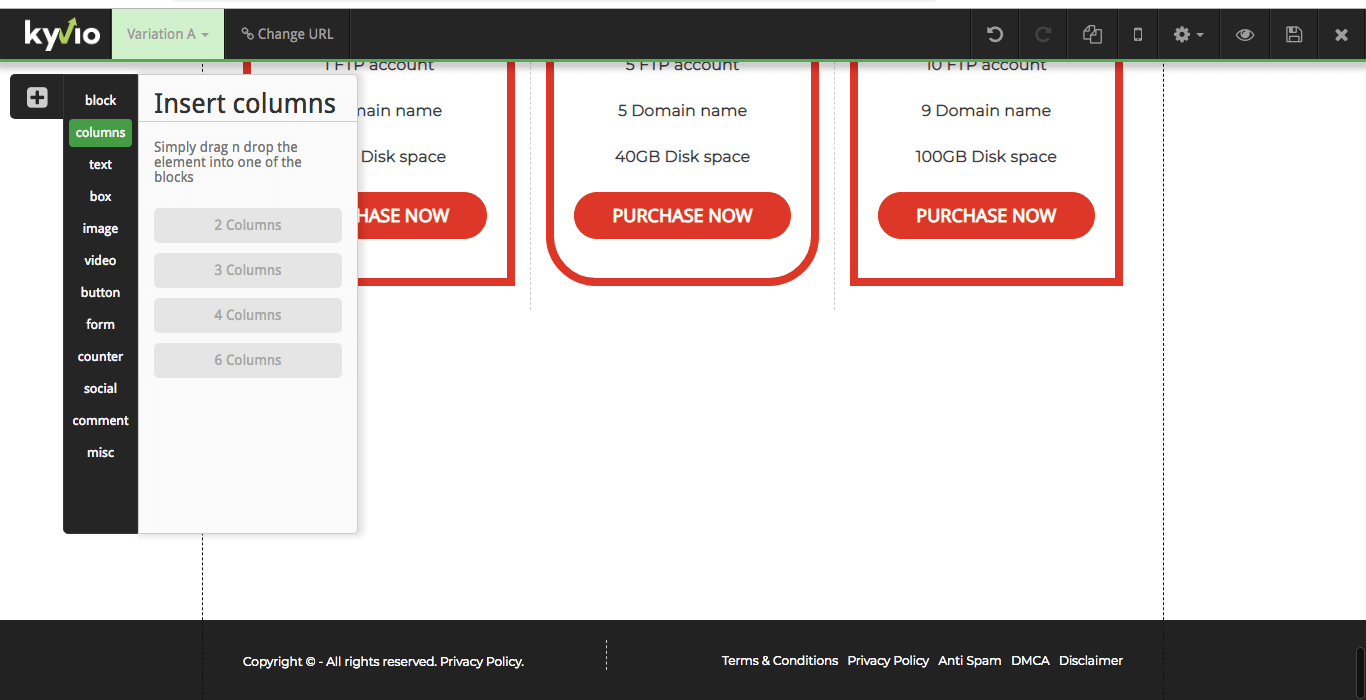 With Coluum,you can display Text,Image,Video and others in a same block.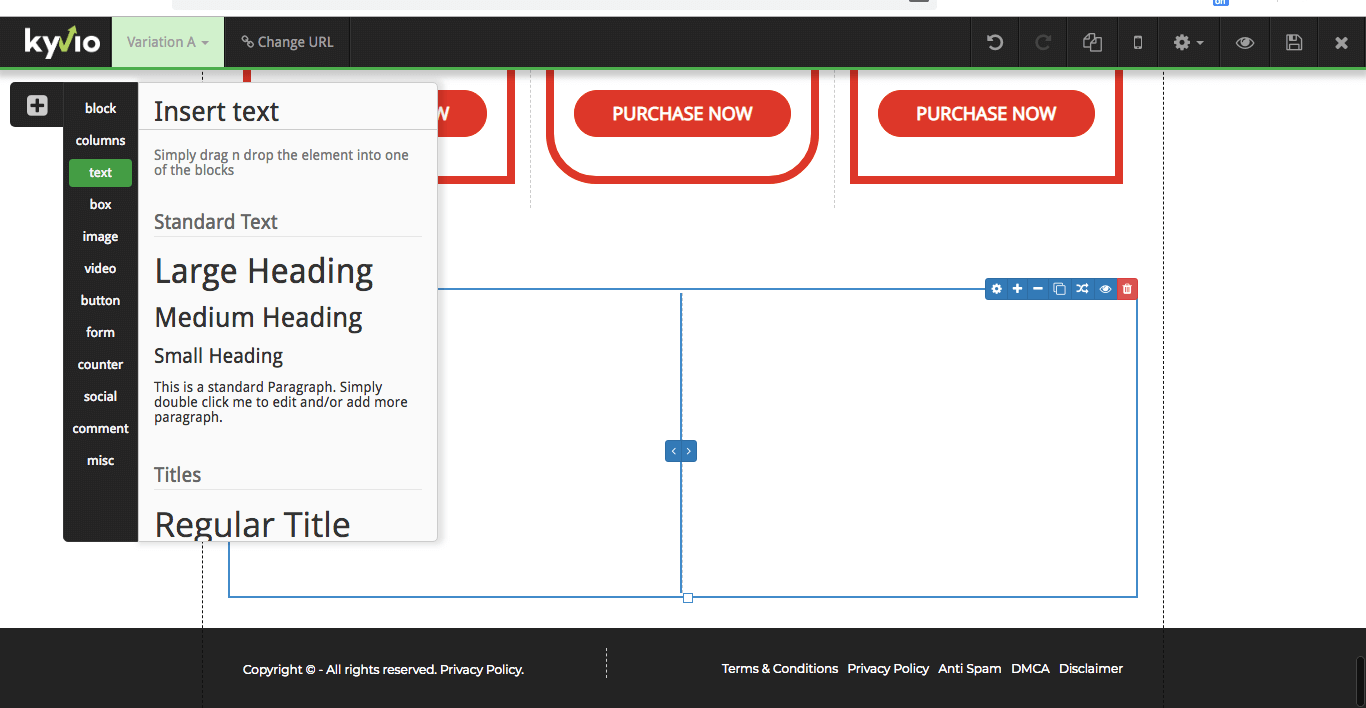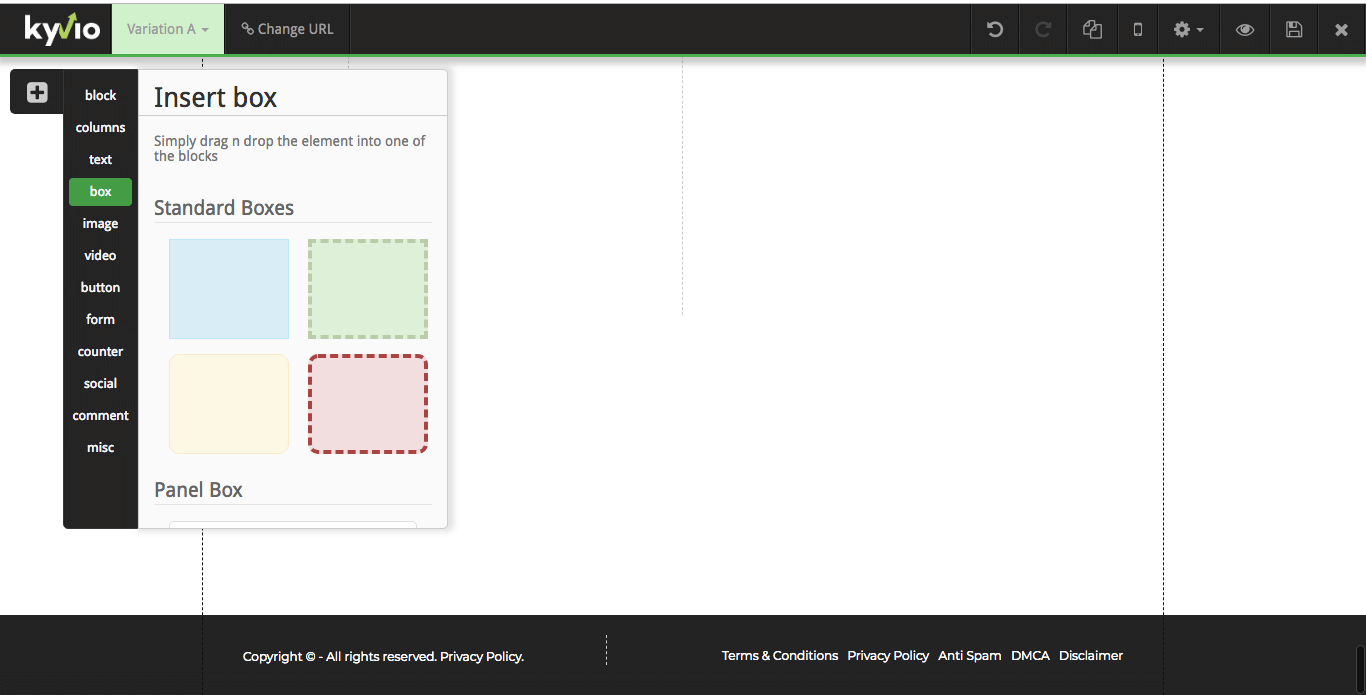 With Custom Box like this,you can easily represent your product features.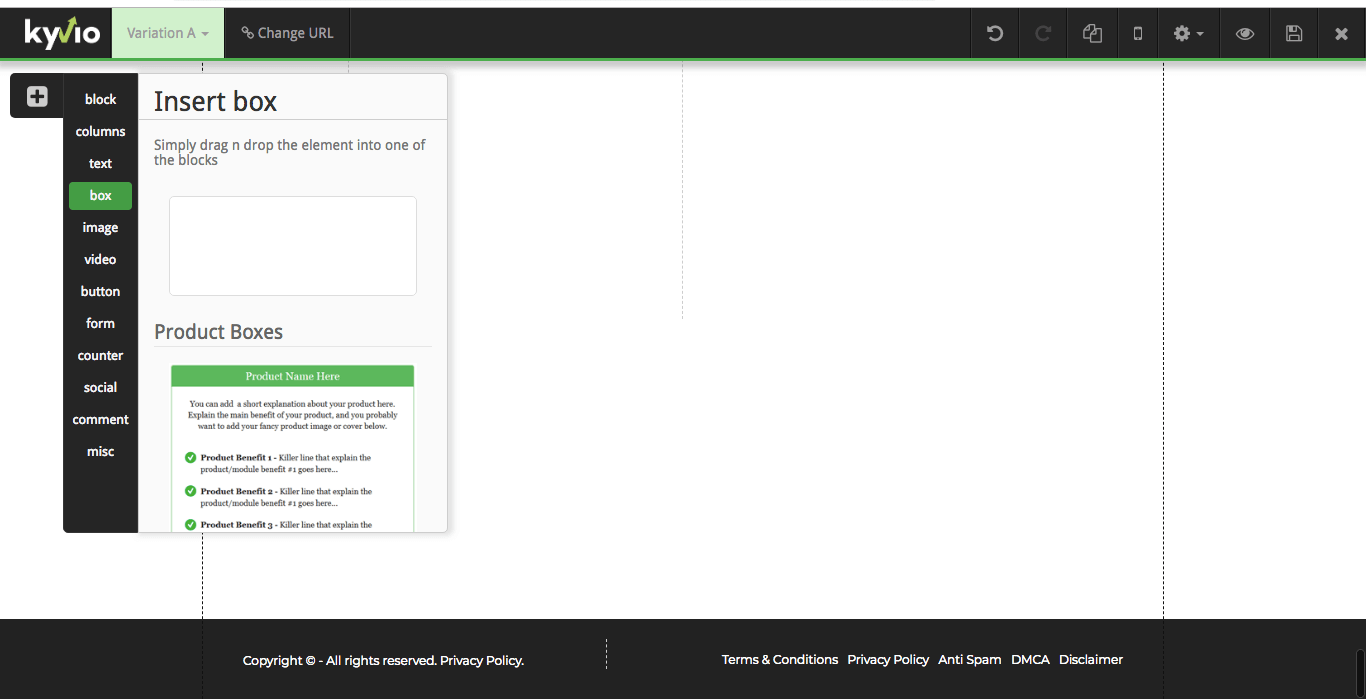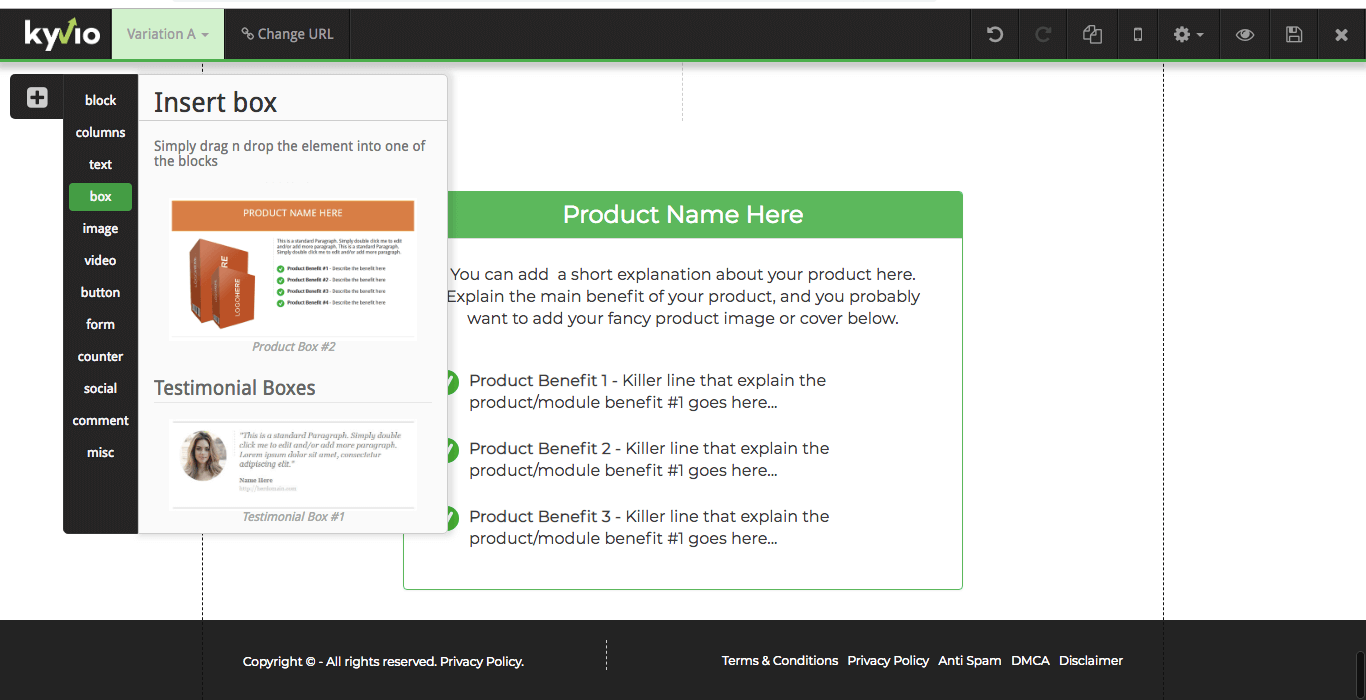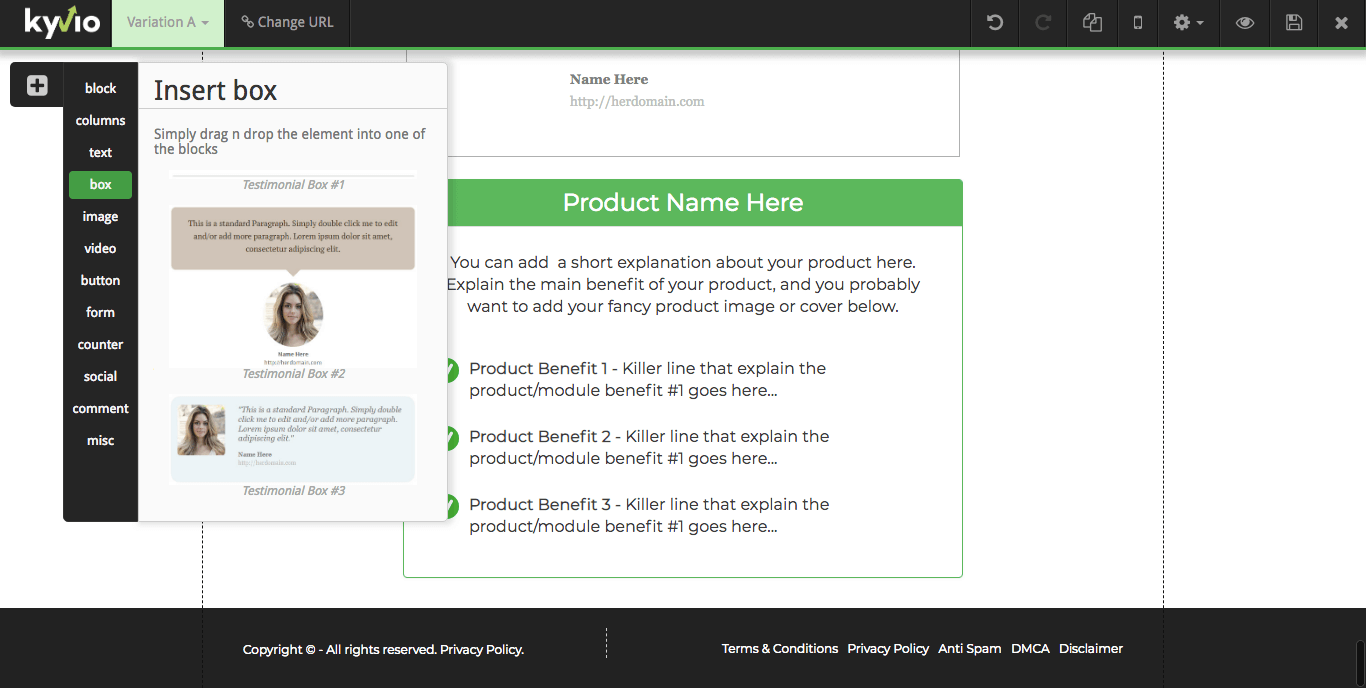 Thanks to the power of Testimonial here,you can increase trust from customer.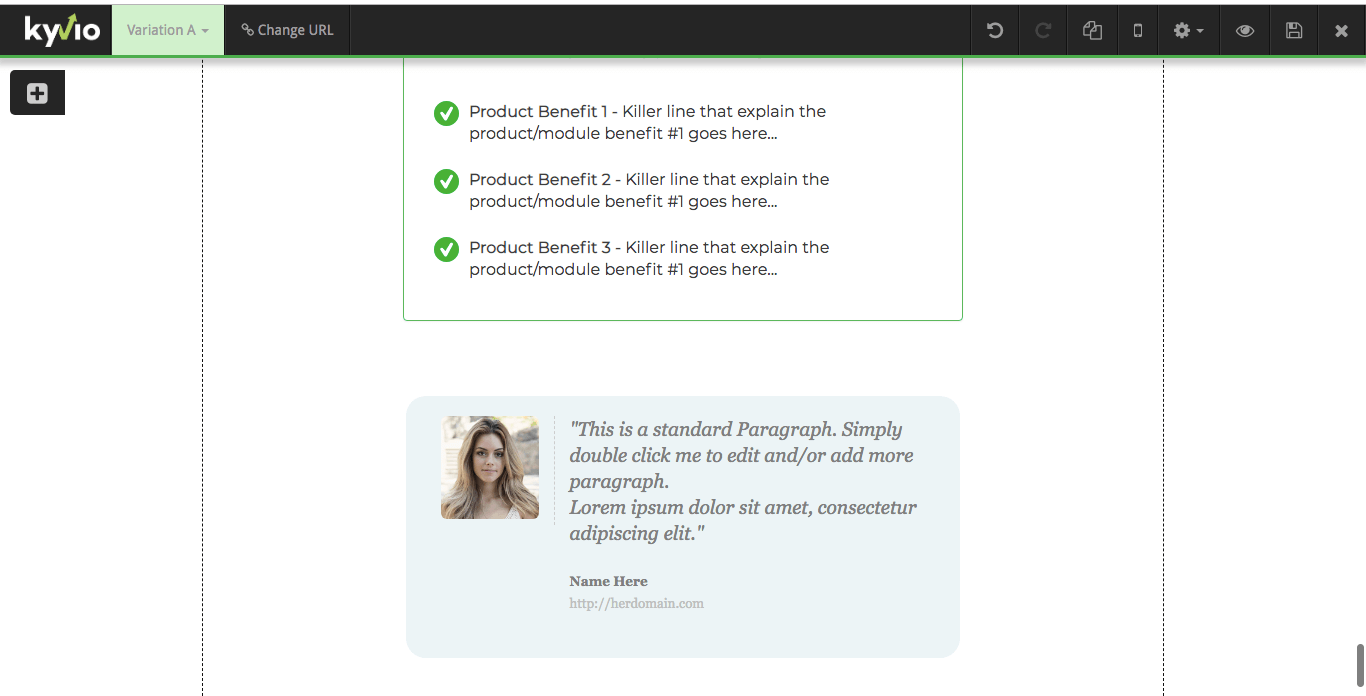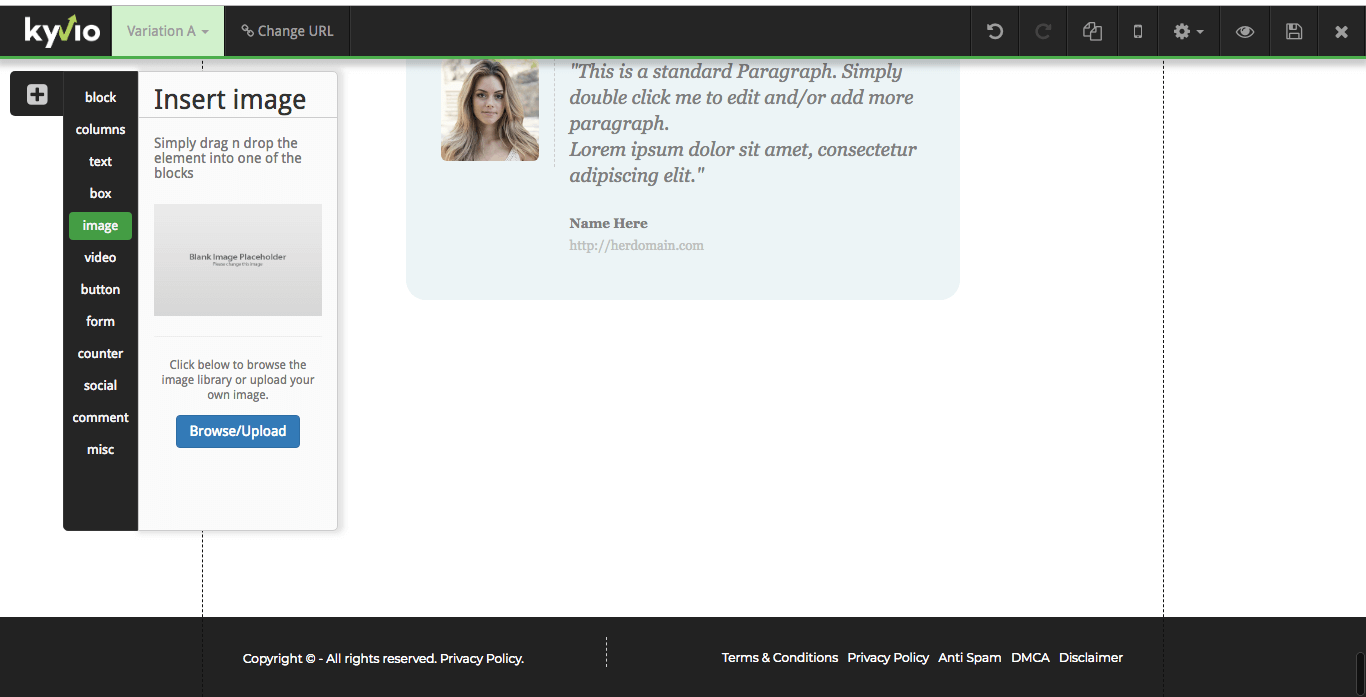 For image,you can upload image to their data or use Pixabay API,Youzin Access Key.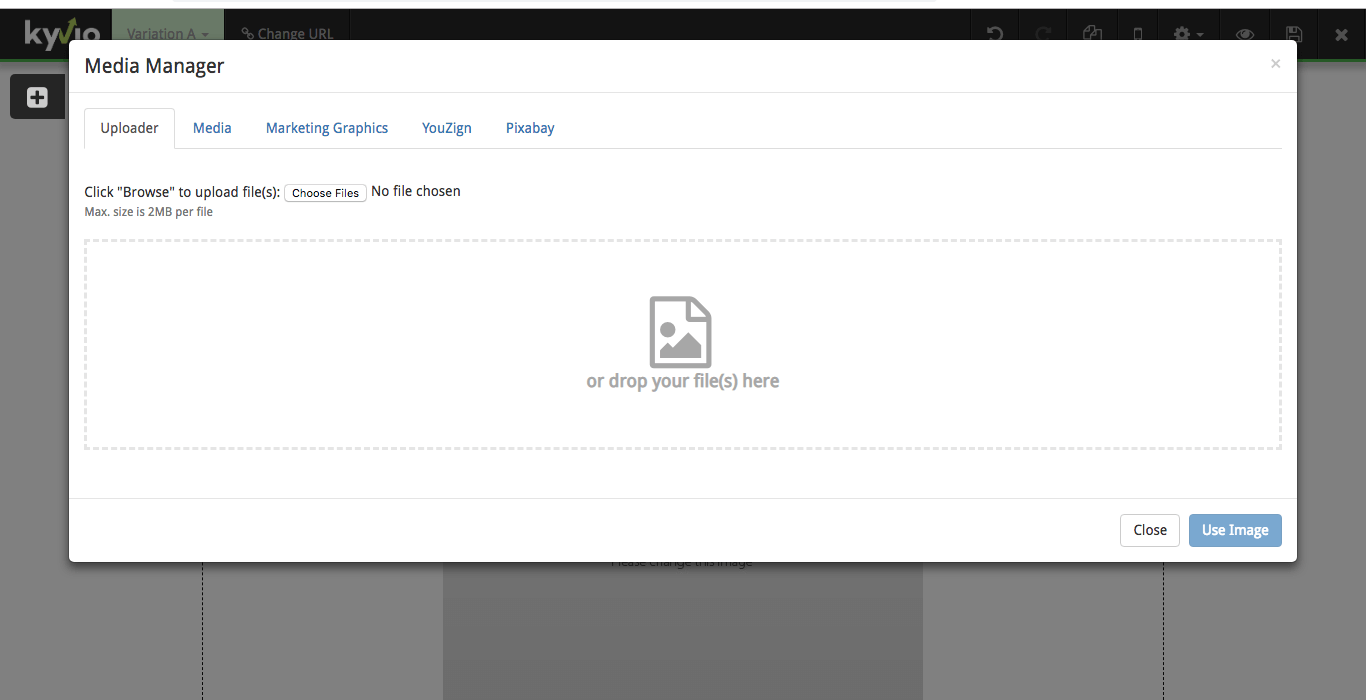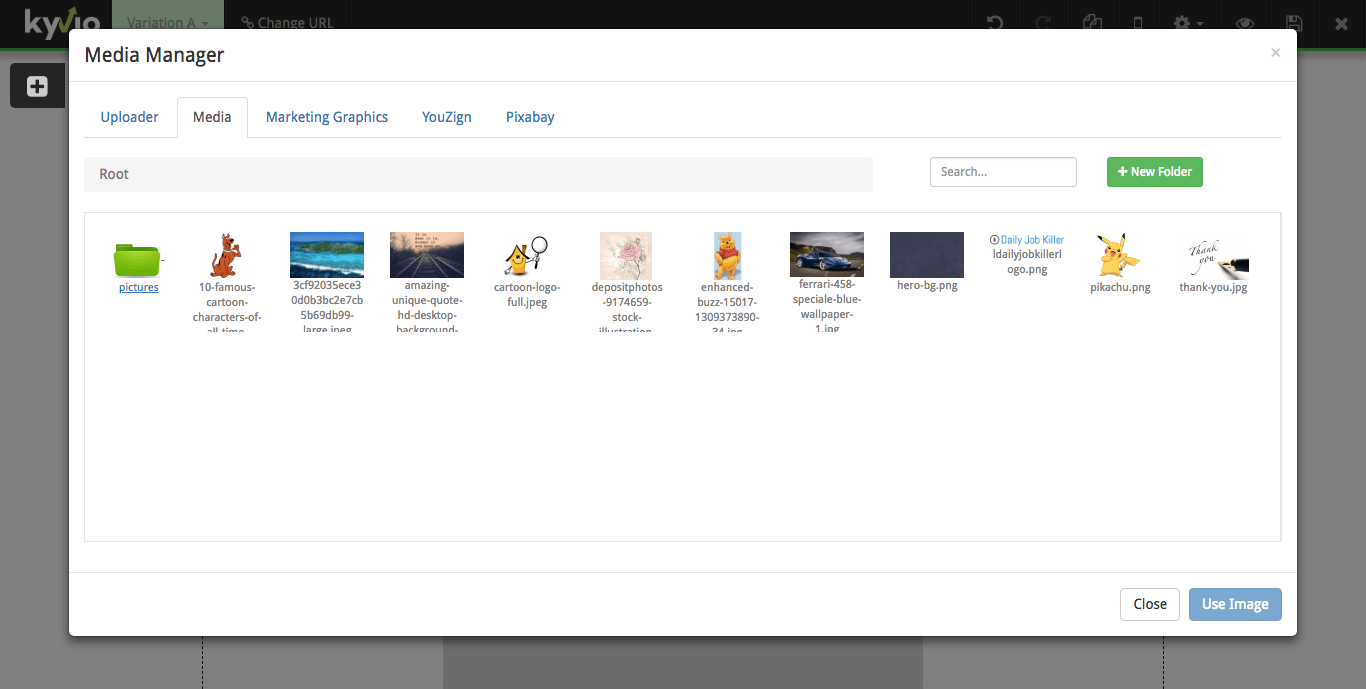 They also have premium graphics in library that you can use whenever you want.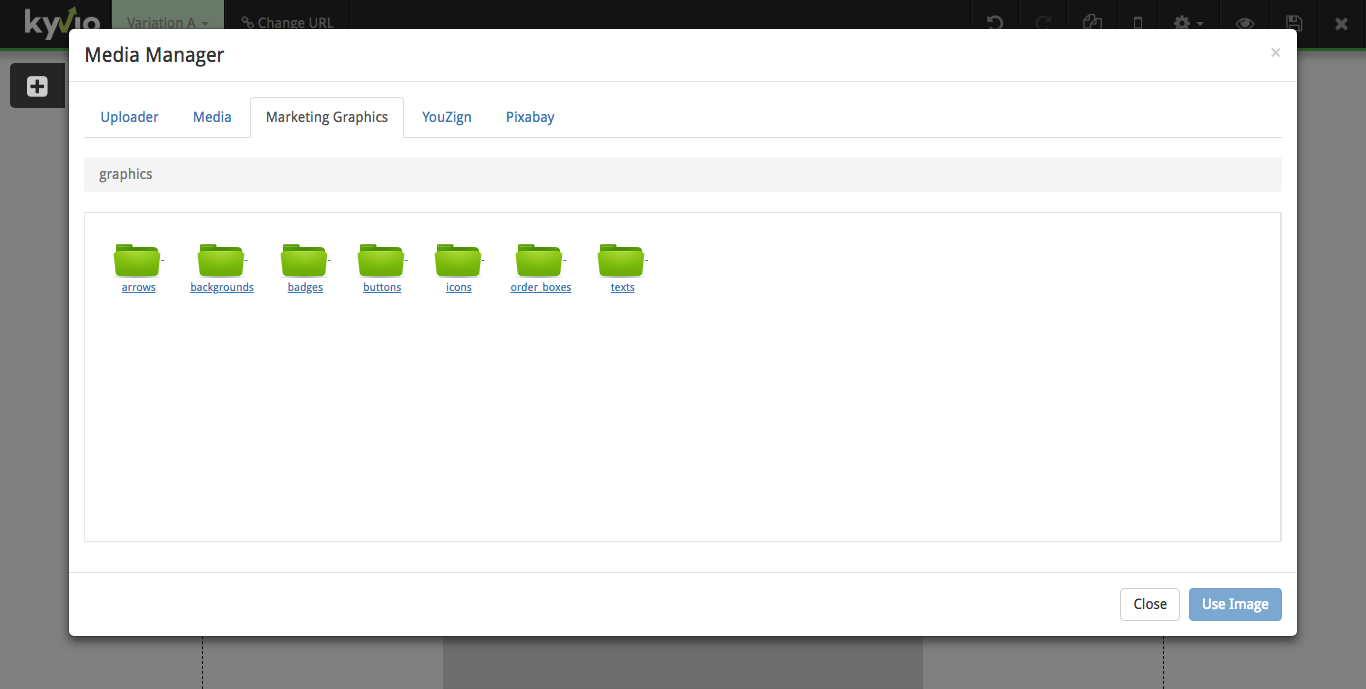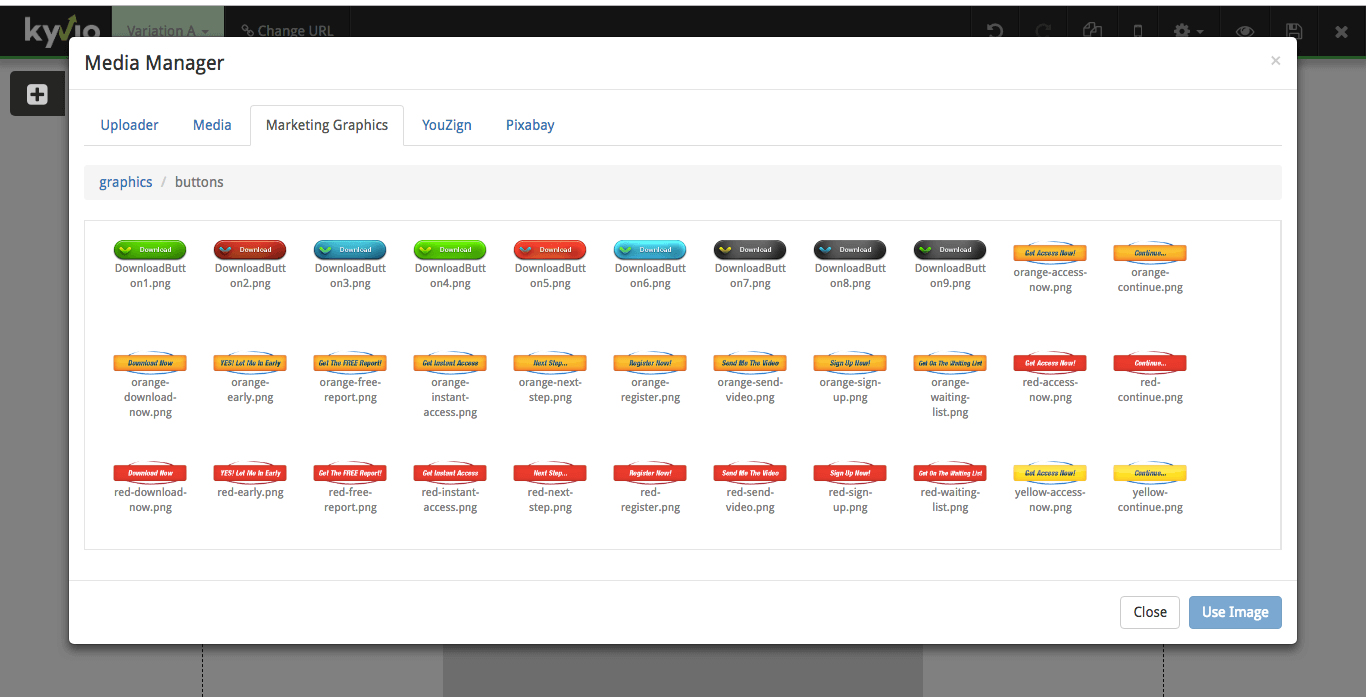 With Searchable Image,you can quickly build high converting salespage.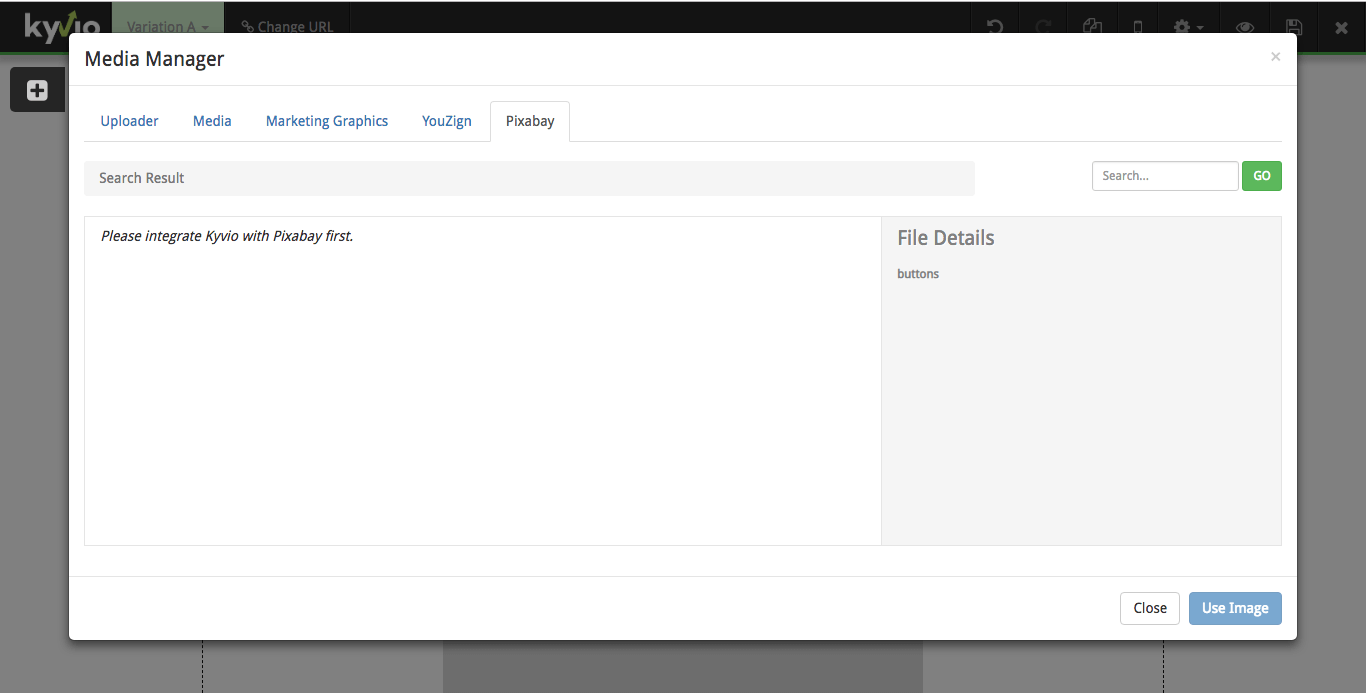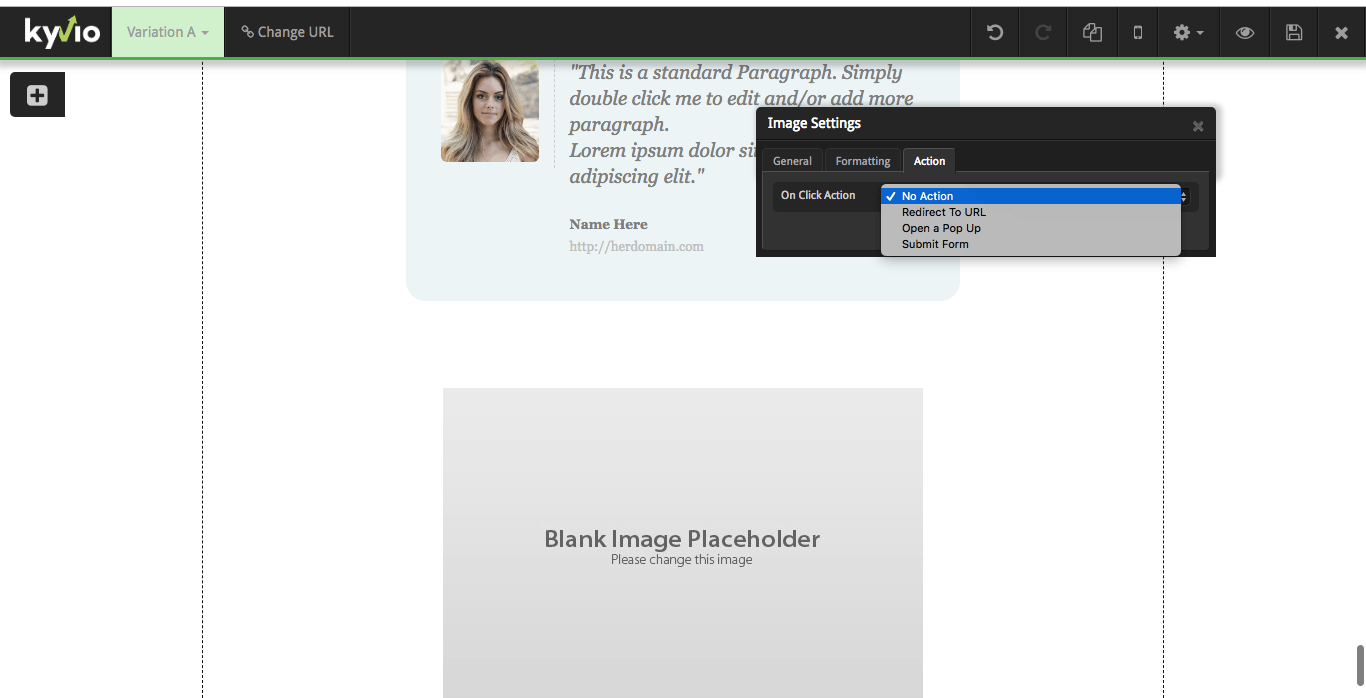 Just like other page builder,you can setup action for image.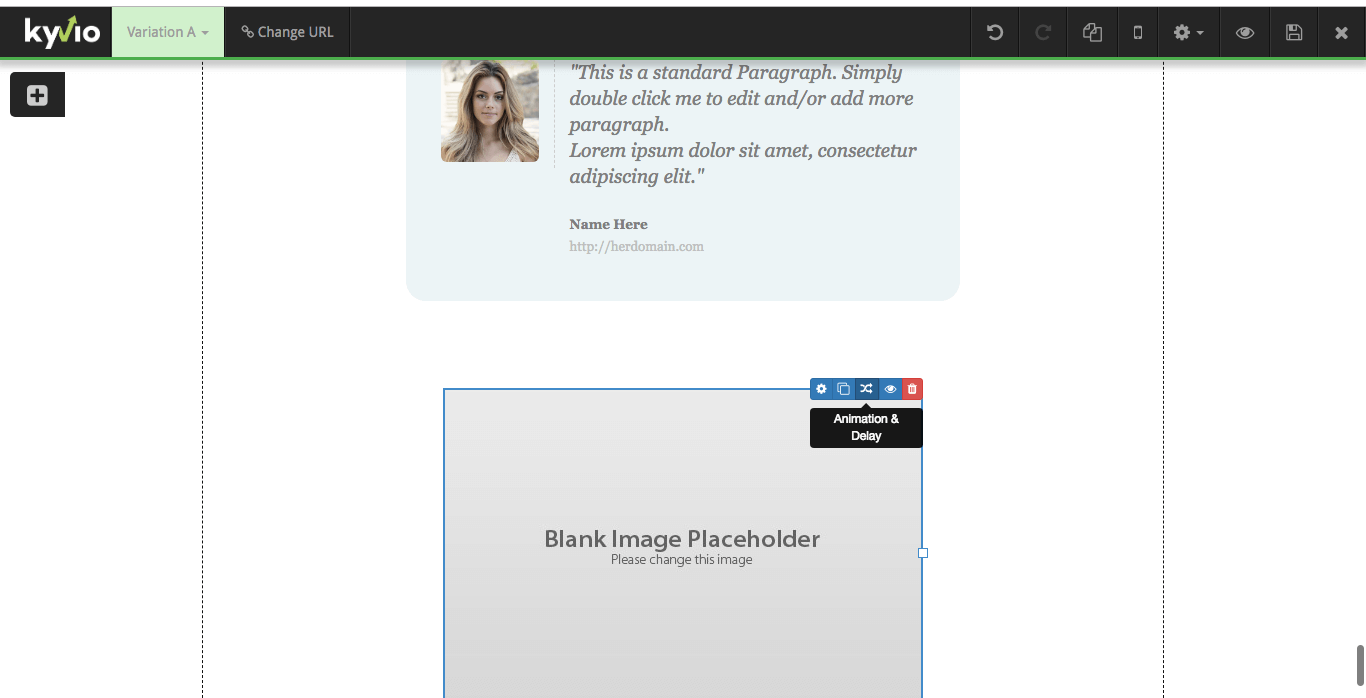 On the other hand,you can insert video to your landing page.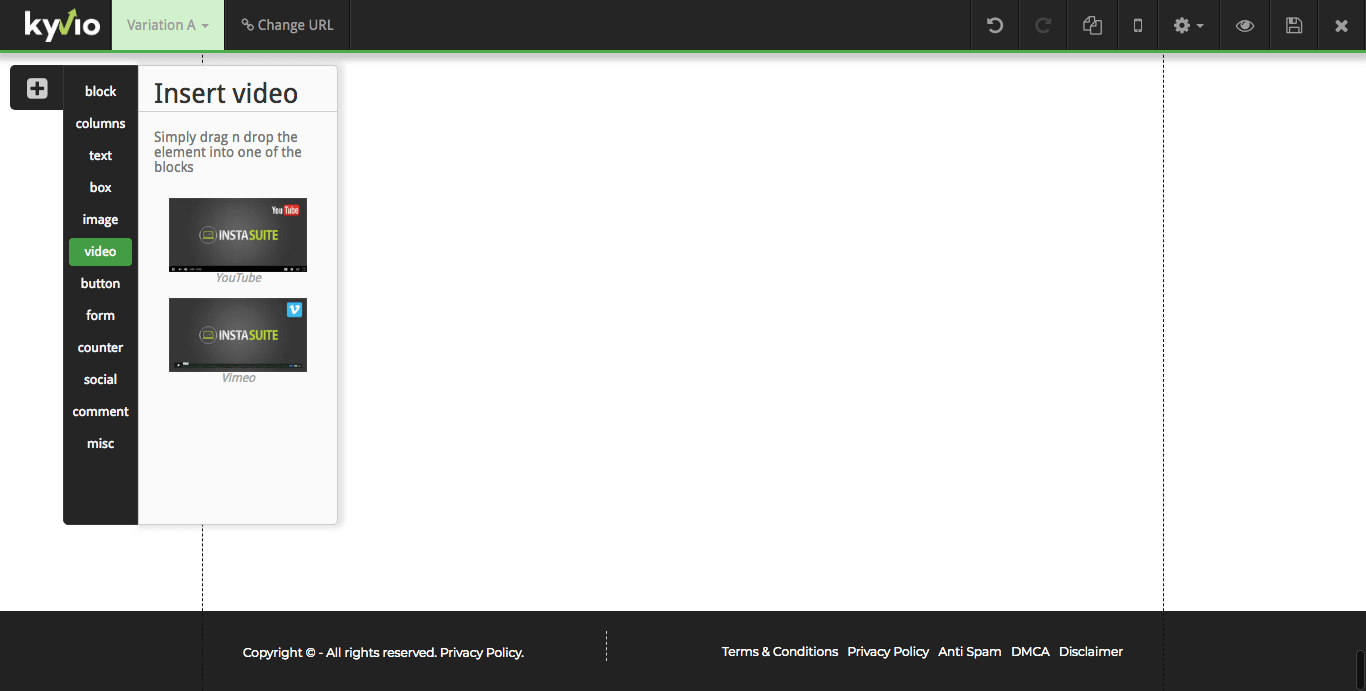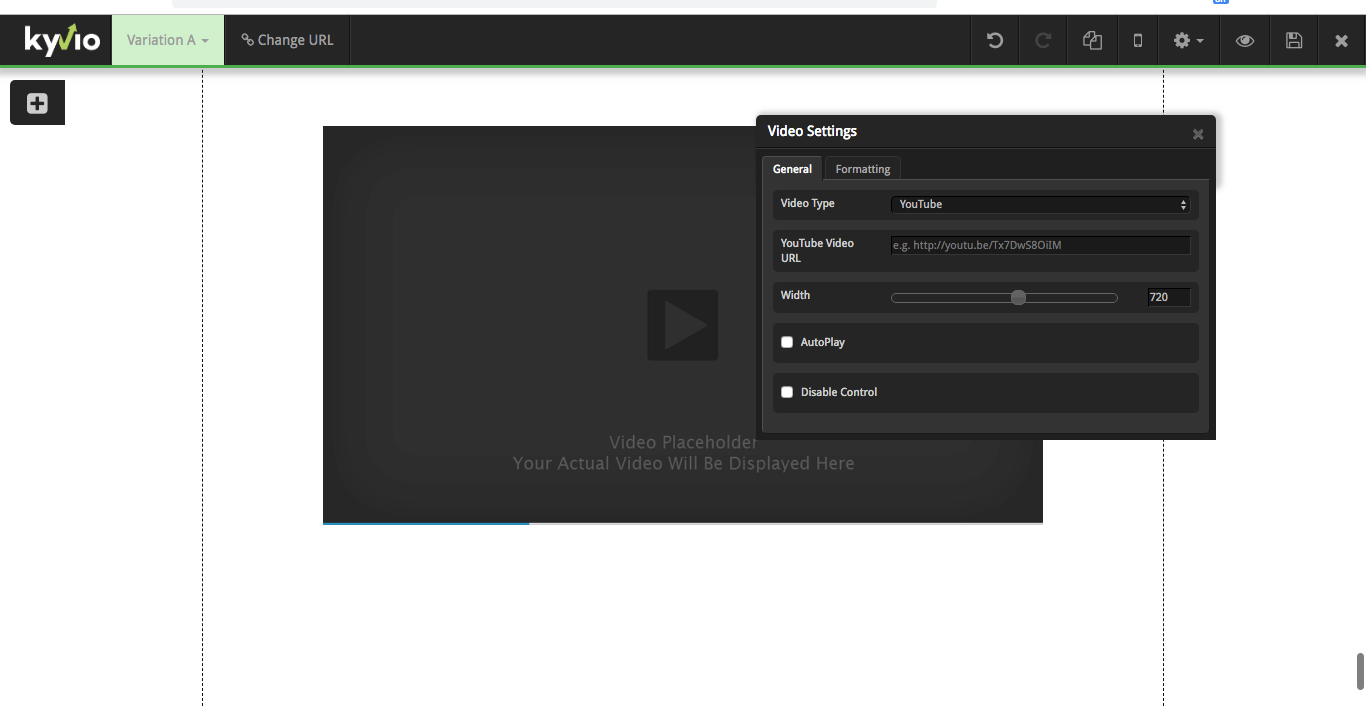 It should work with all kind of video hosting.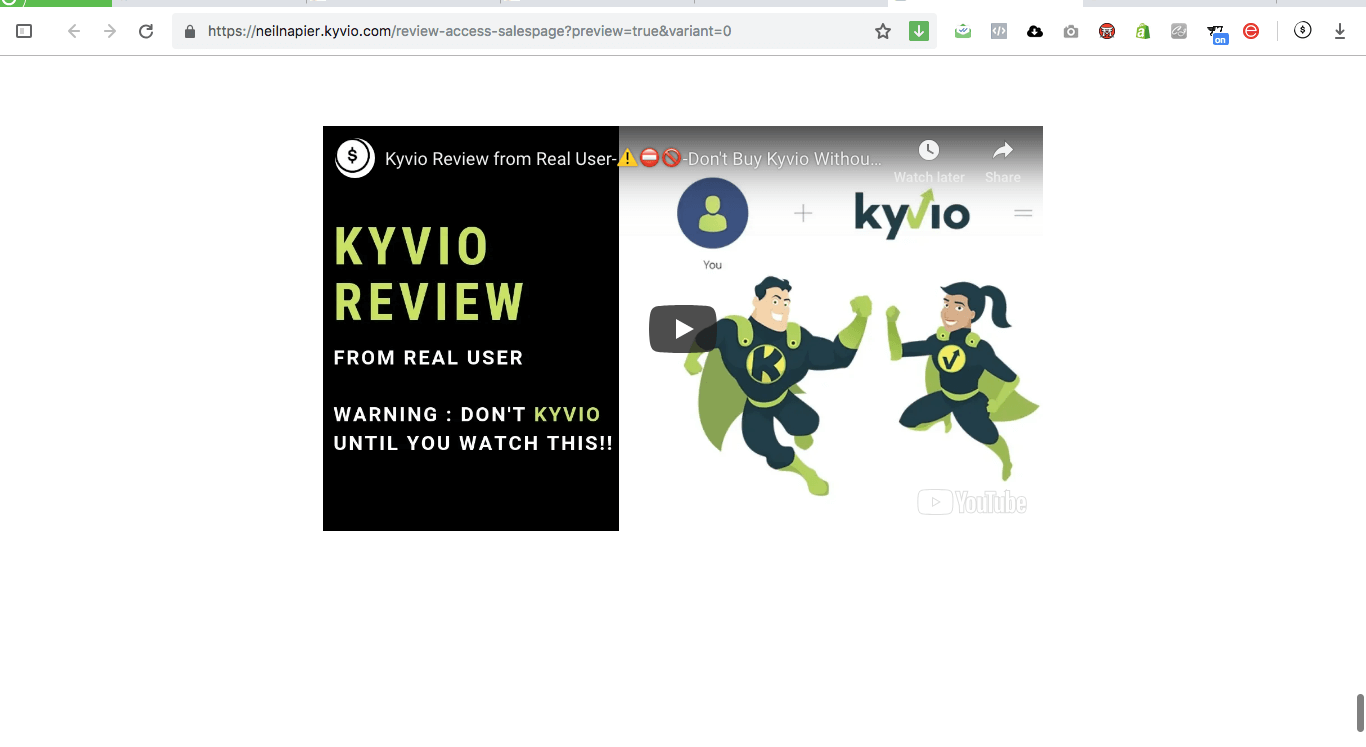 Besides,you can add Button.
And make it to be more beautiful.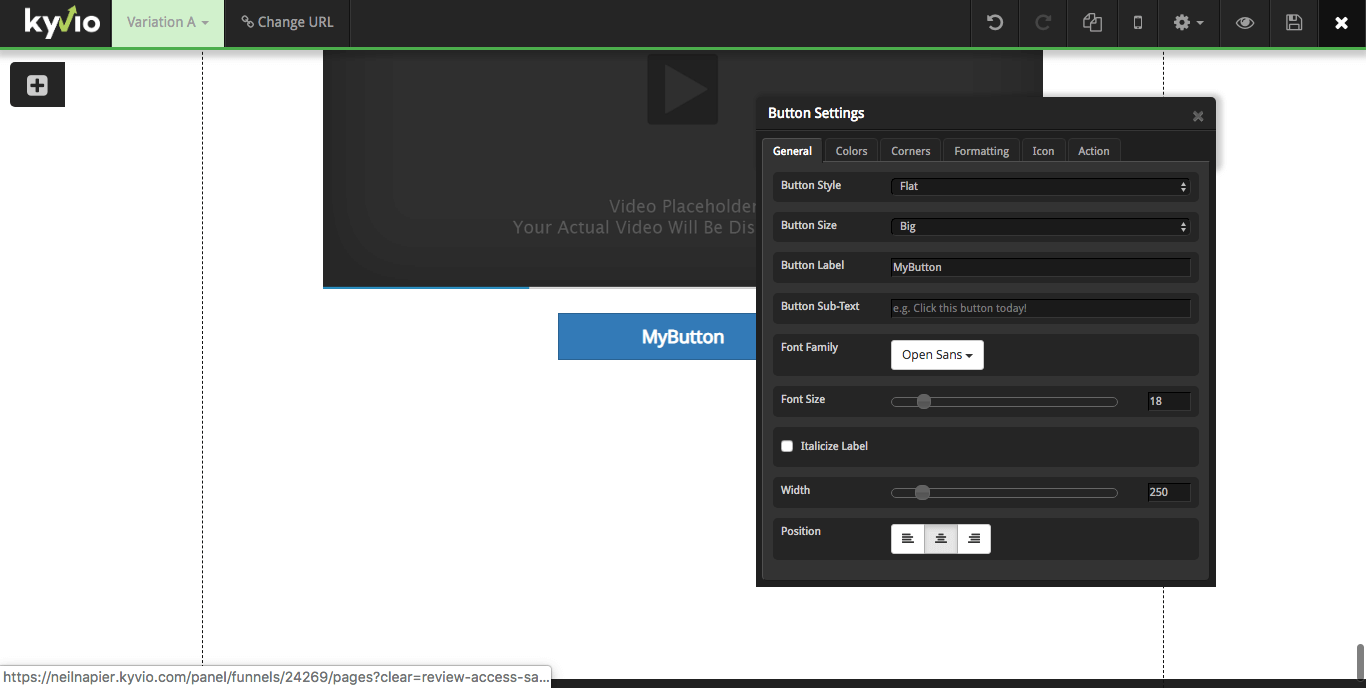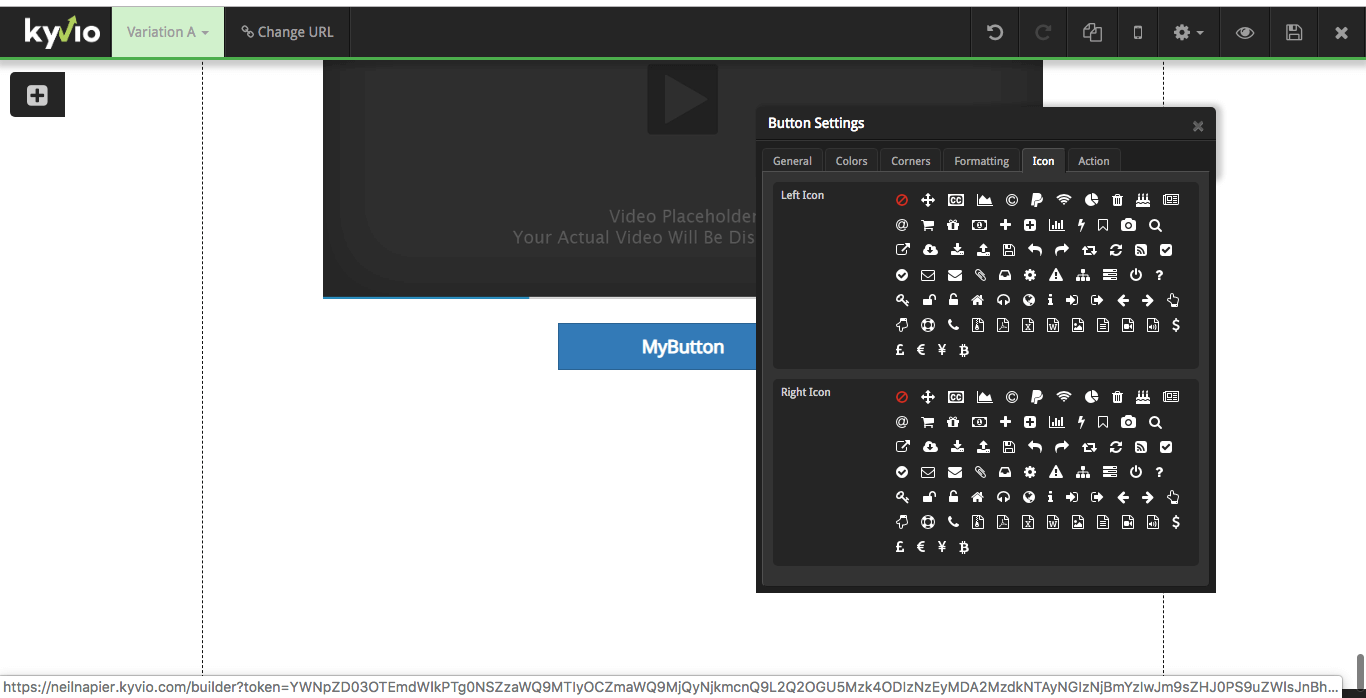 If you have optin-form,it's OK to use this one.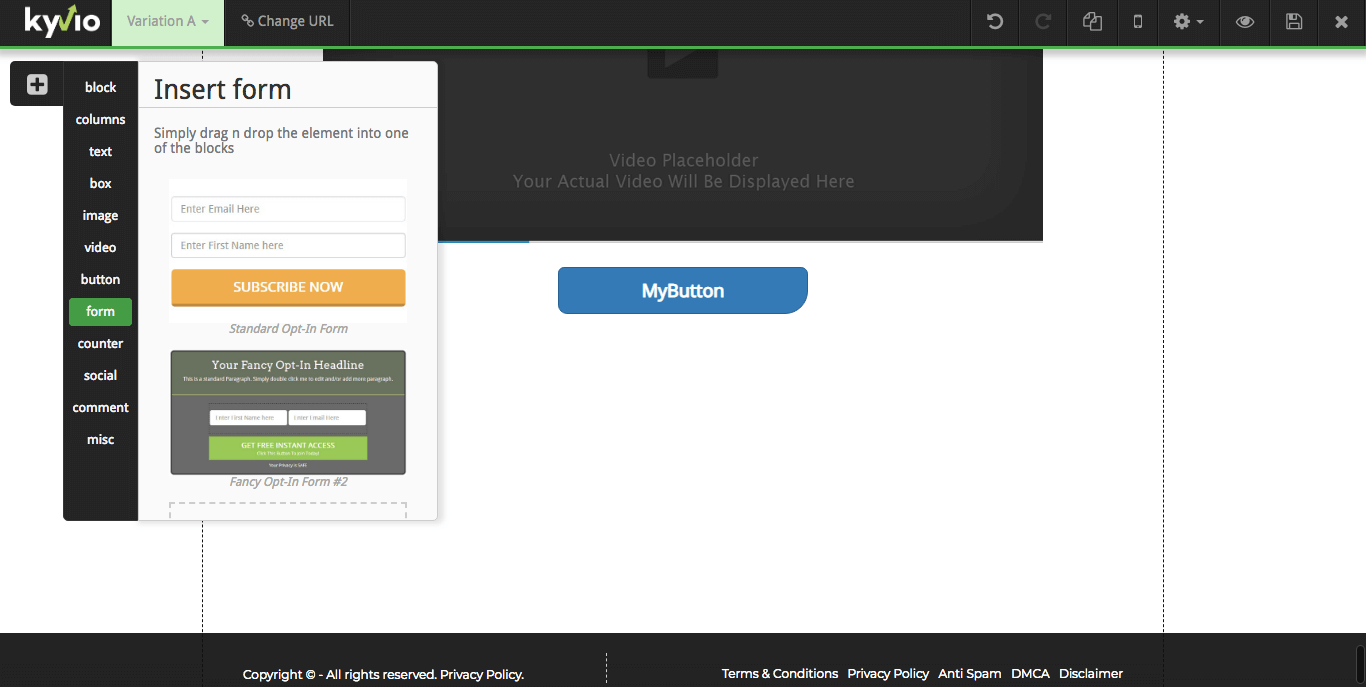 In order to integrate autoresponder,you will need HTML form. So,as a result,Kyvio works with all autoresponders.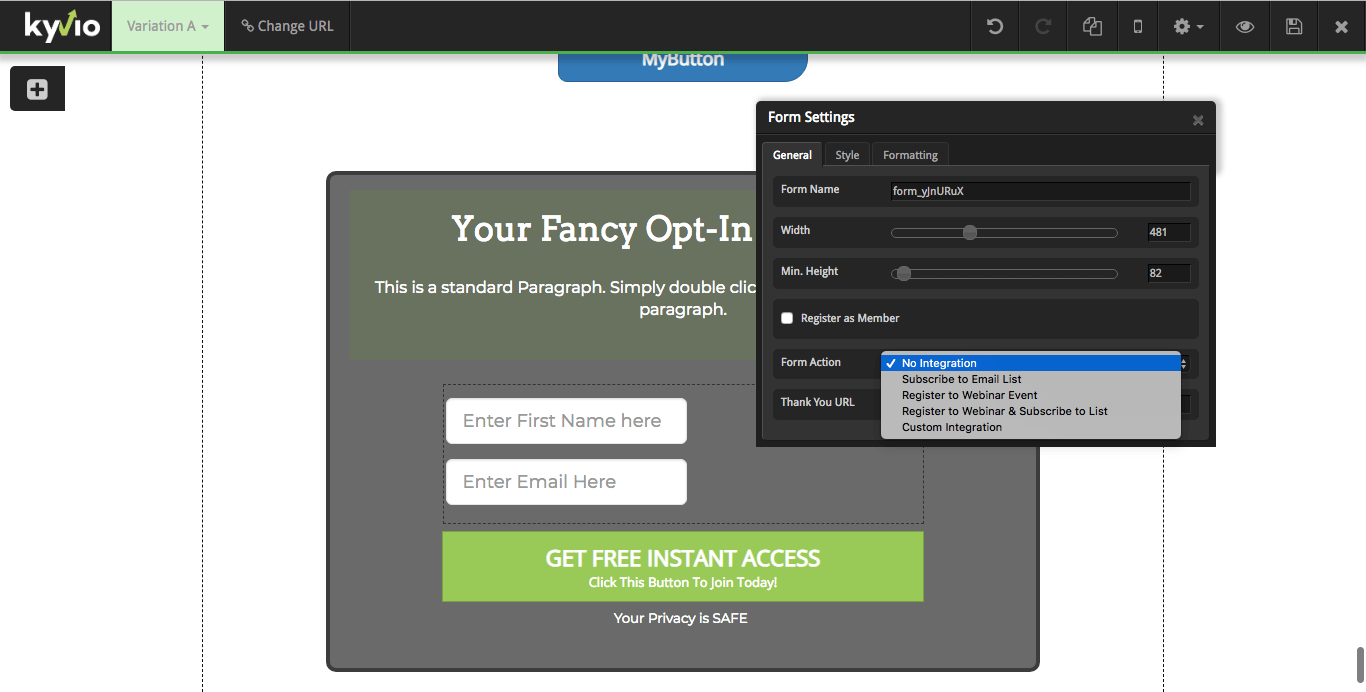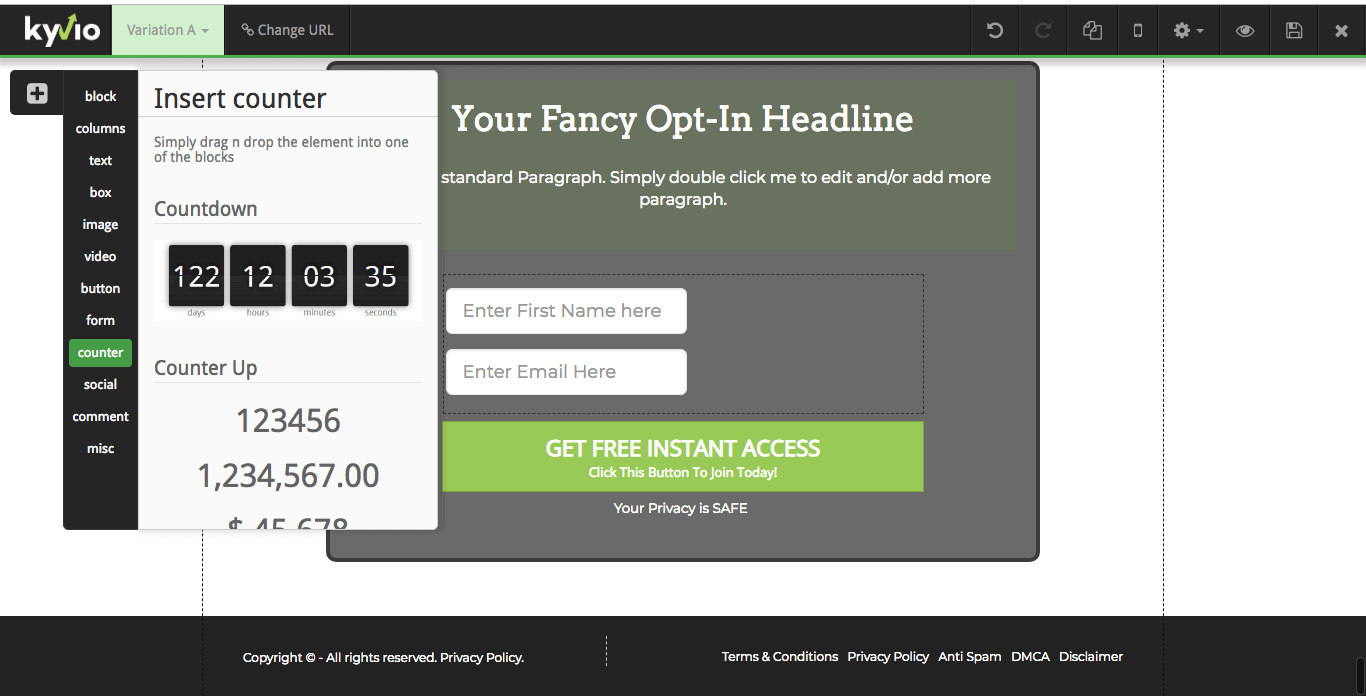 Kyvio does come with Countdown Timer and Social Sharing.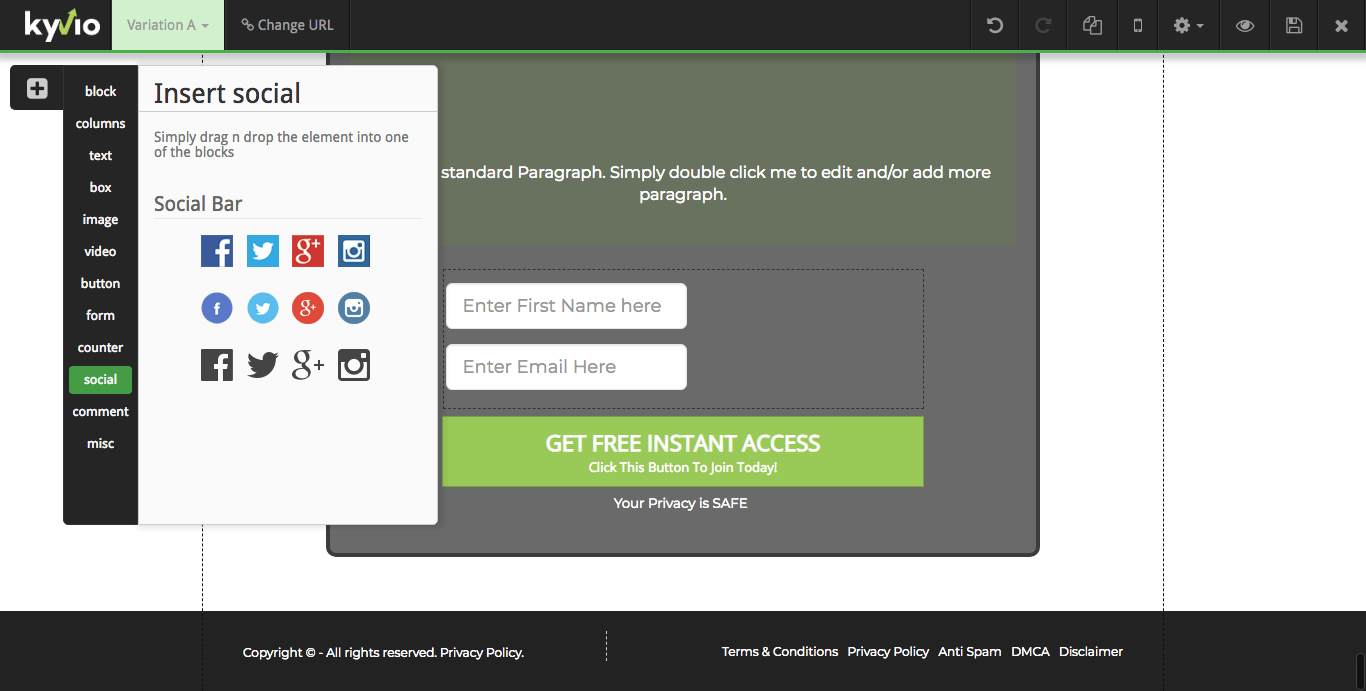 In order to make your page even more trustable,it has Comment Section.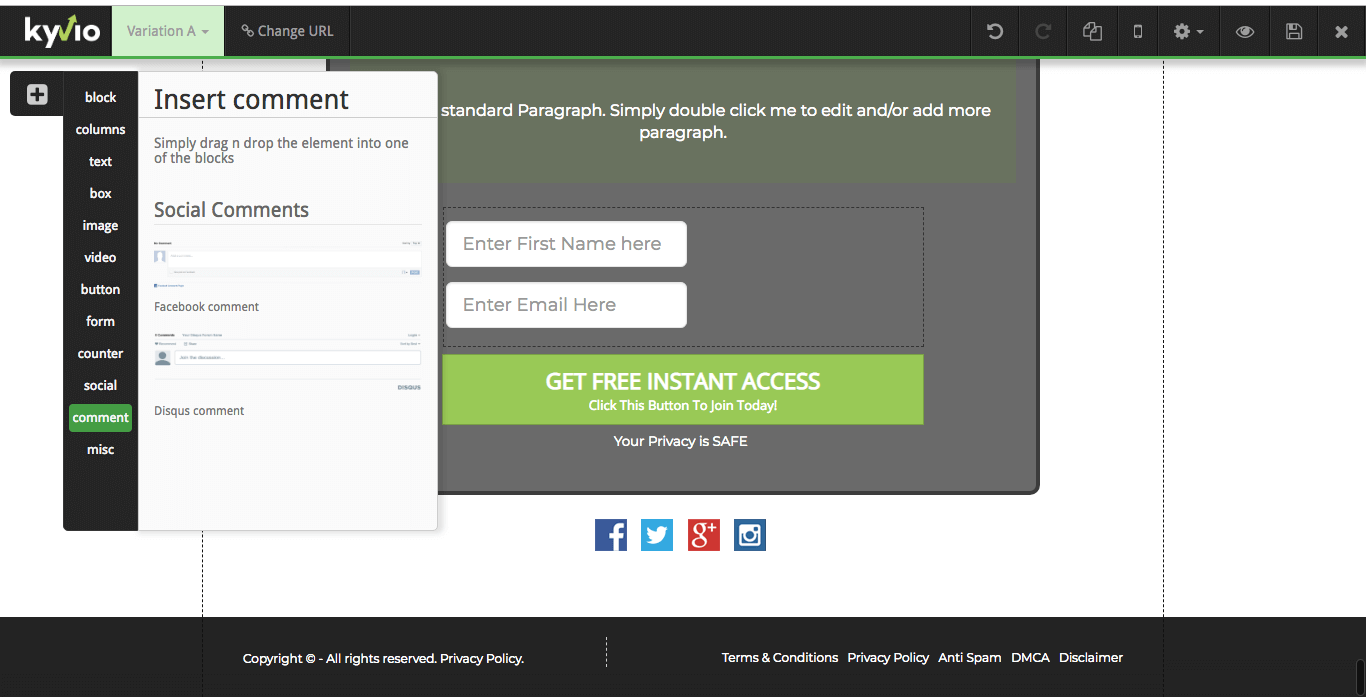 For FB Comment,you don't have to enter ID if you don't like.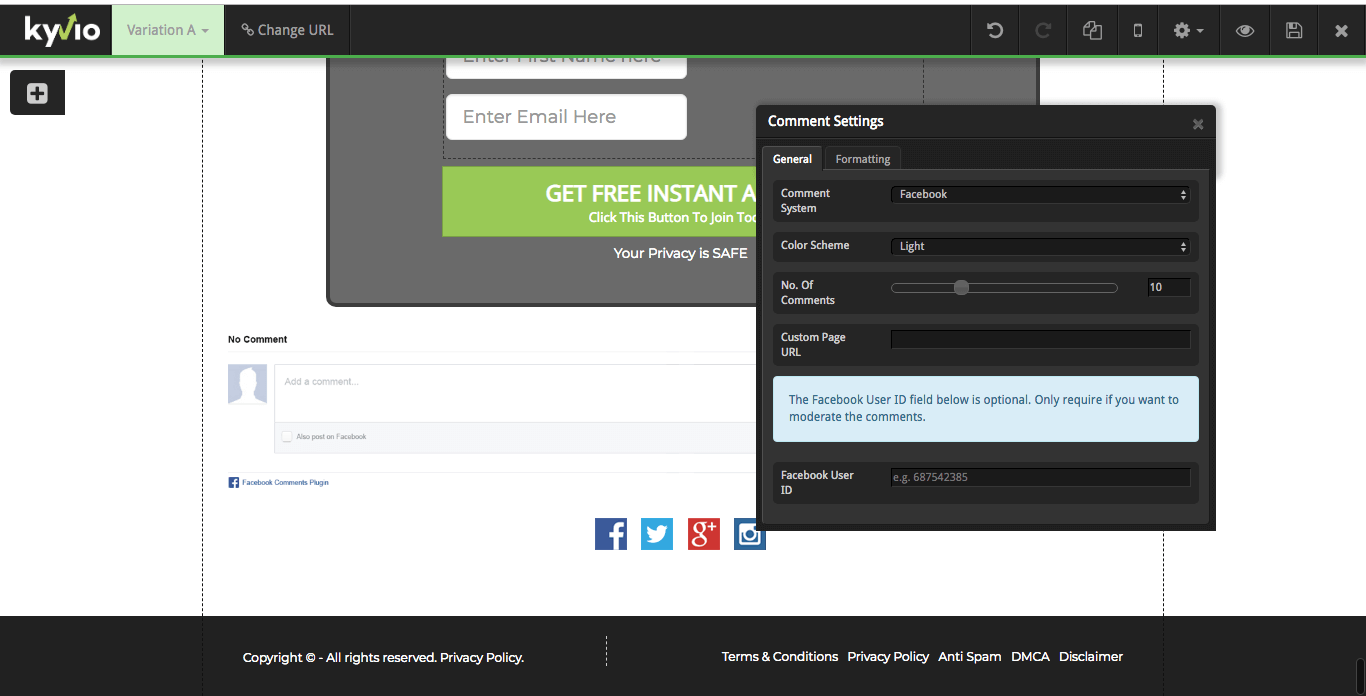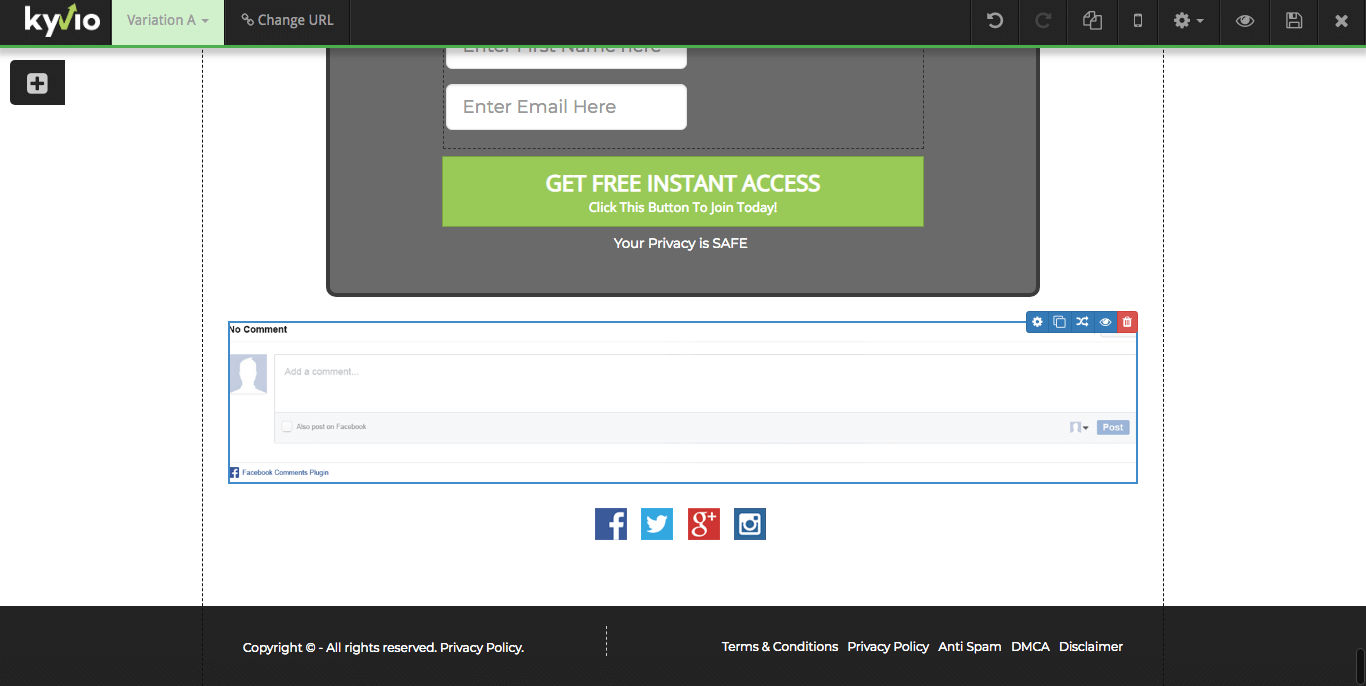 If you have custom HTML form,you can insert too.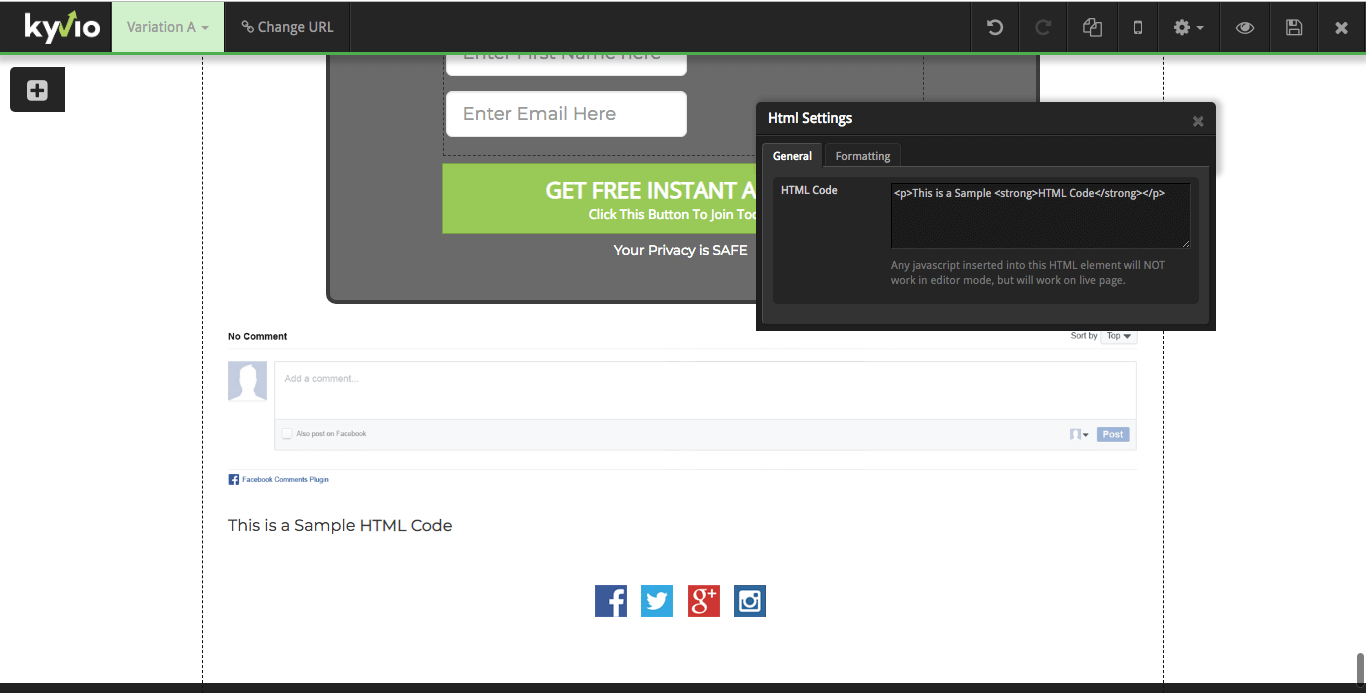 b.Funnel Customization
As i mentioned before,most of the sales Kyvio users make are from Cold and Organic Traffic.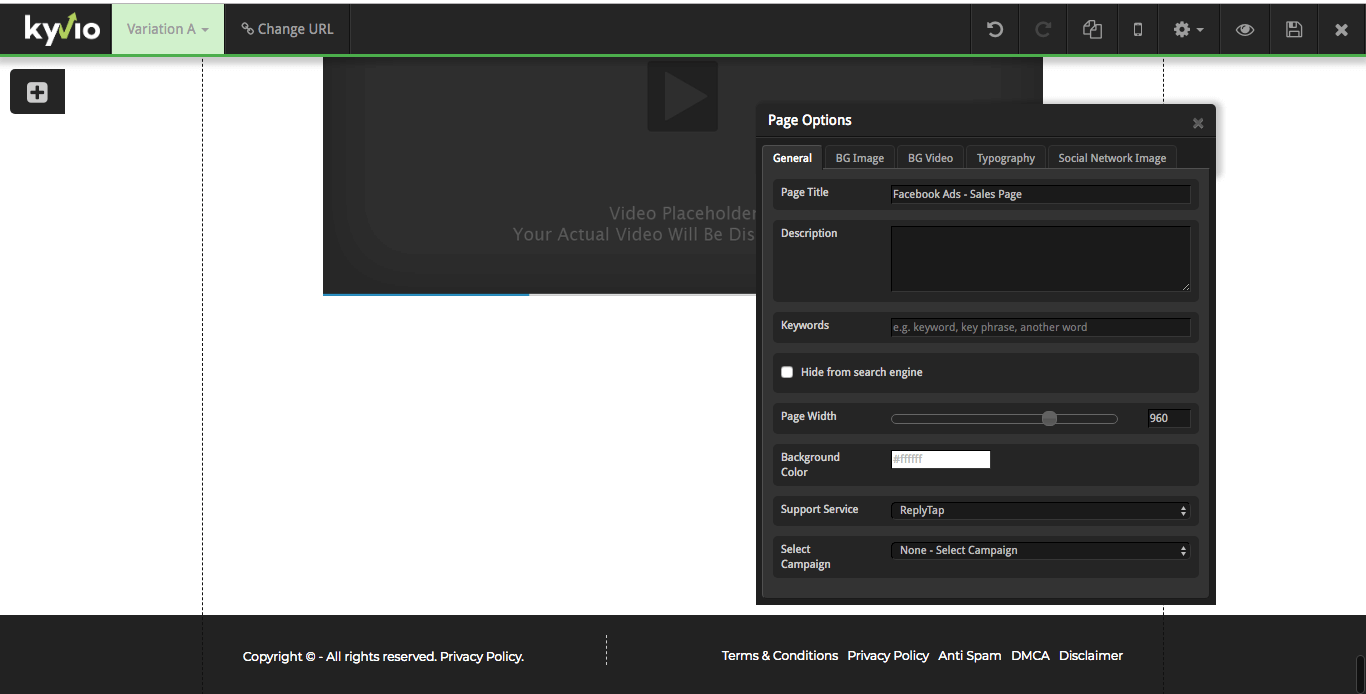 Of course,the product is built-in to be SEO Friendly. In order to have maximum SEO,it's better to have your custom domain name instead of subdomain. But using subdomain is still OK.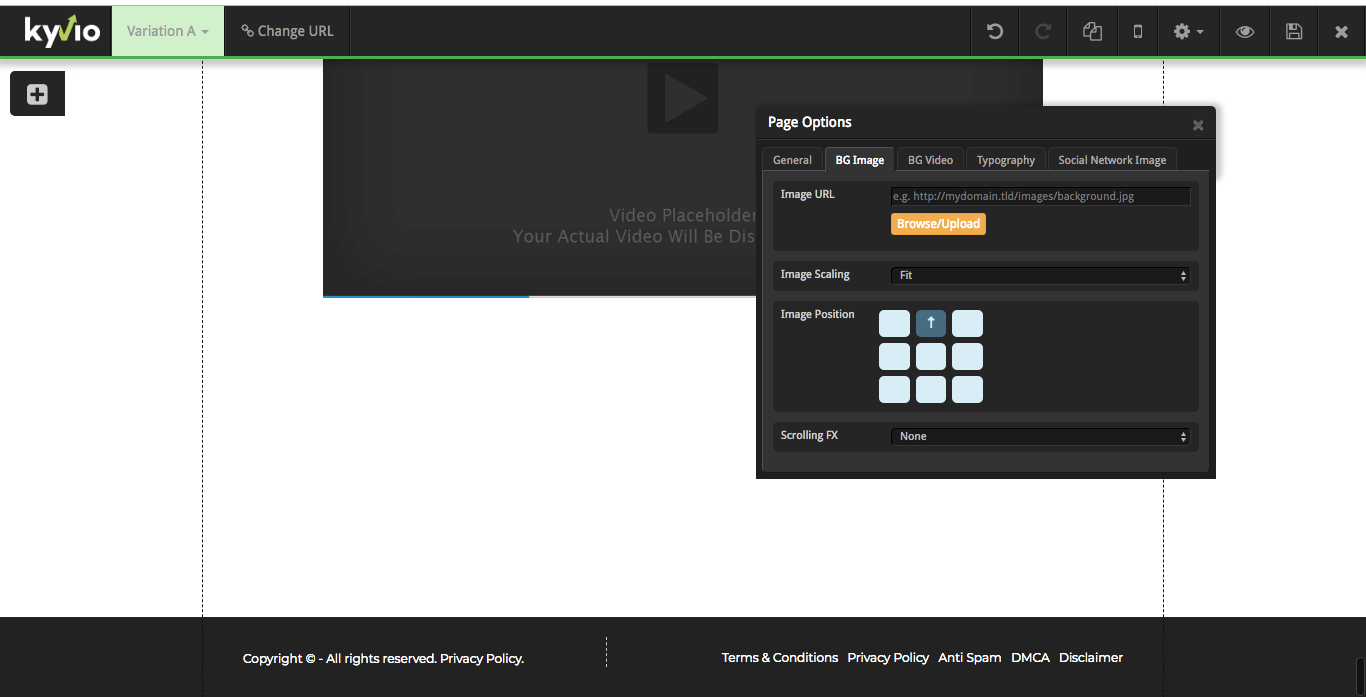 You can edit the page option for best conversion.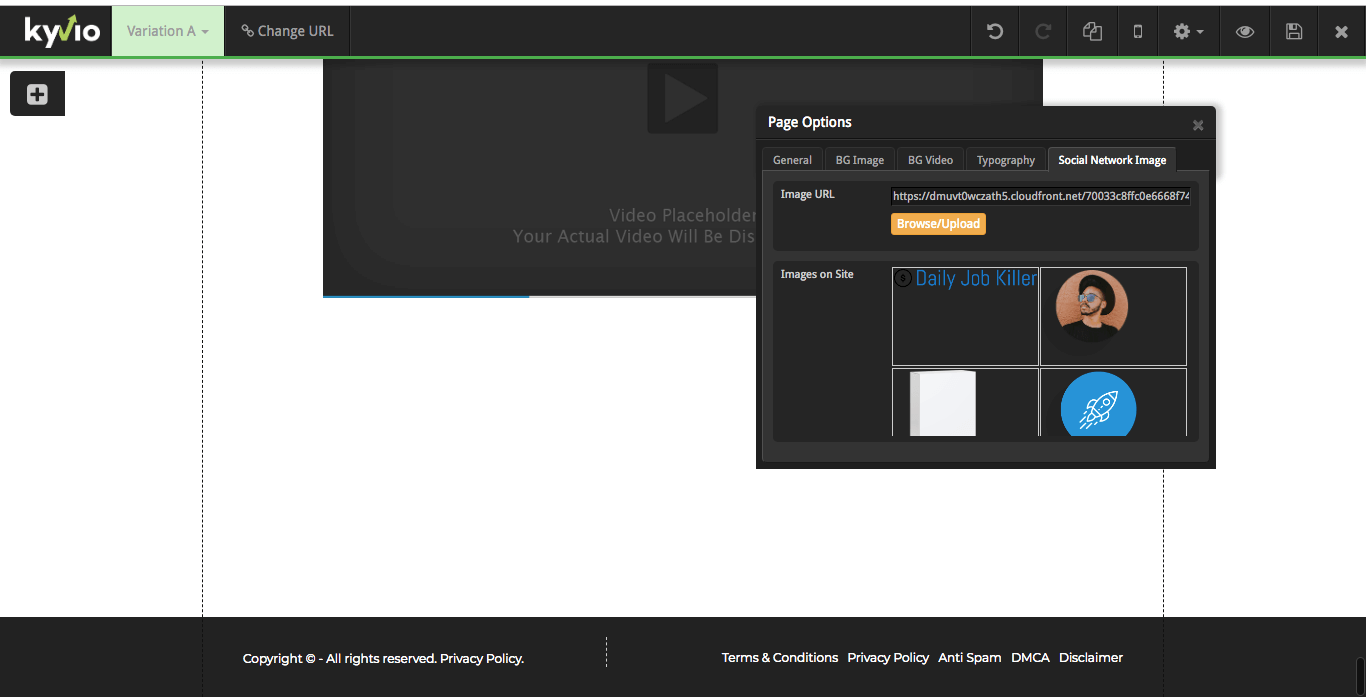 It also comes with Mega Menu or Floating Header.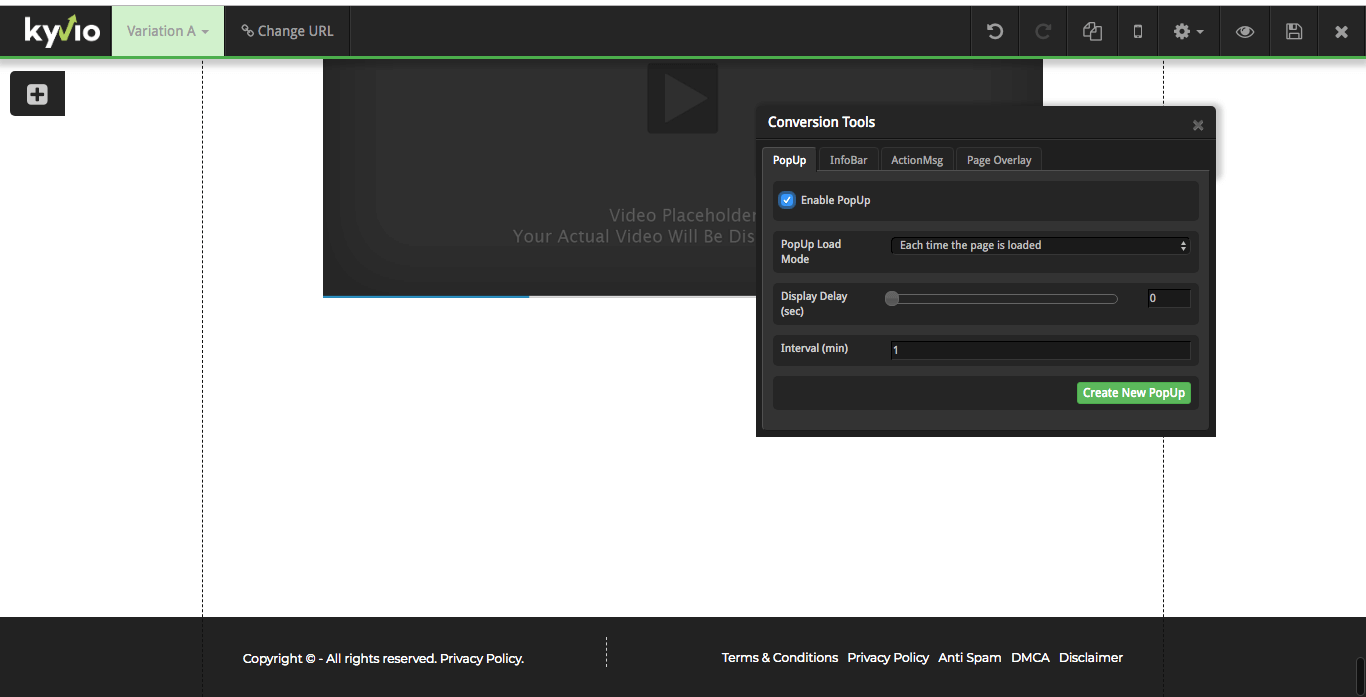 What makes Kyvio stands out is that it has a conversion tool such as Popup,Info Bar and Page Overlay.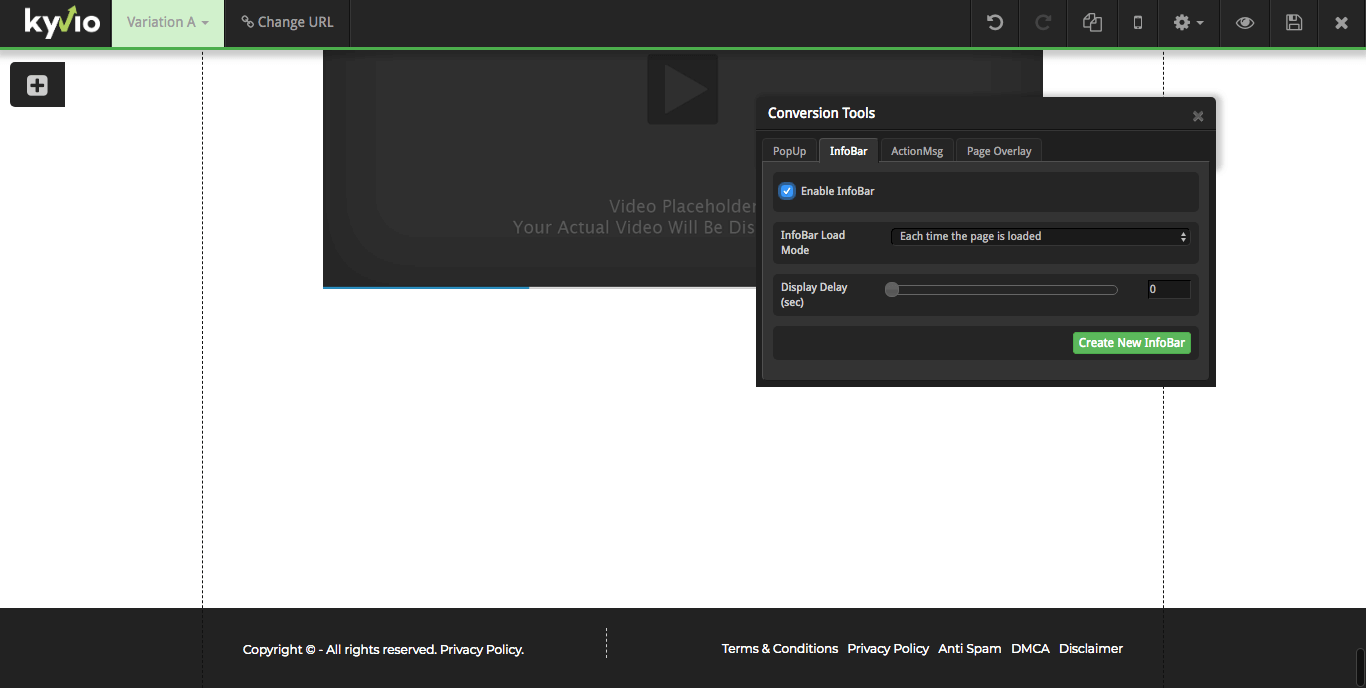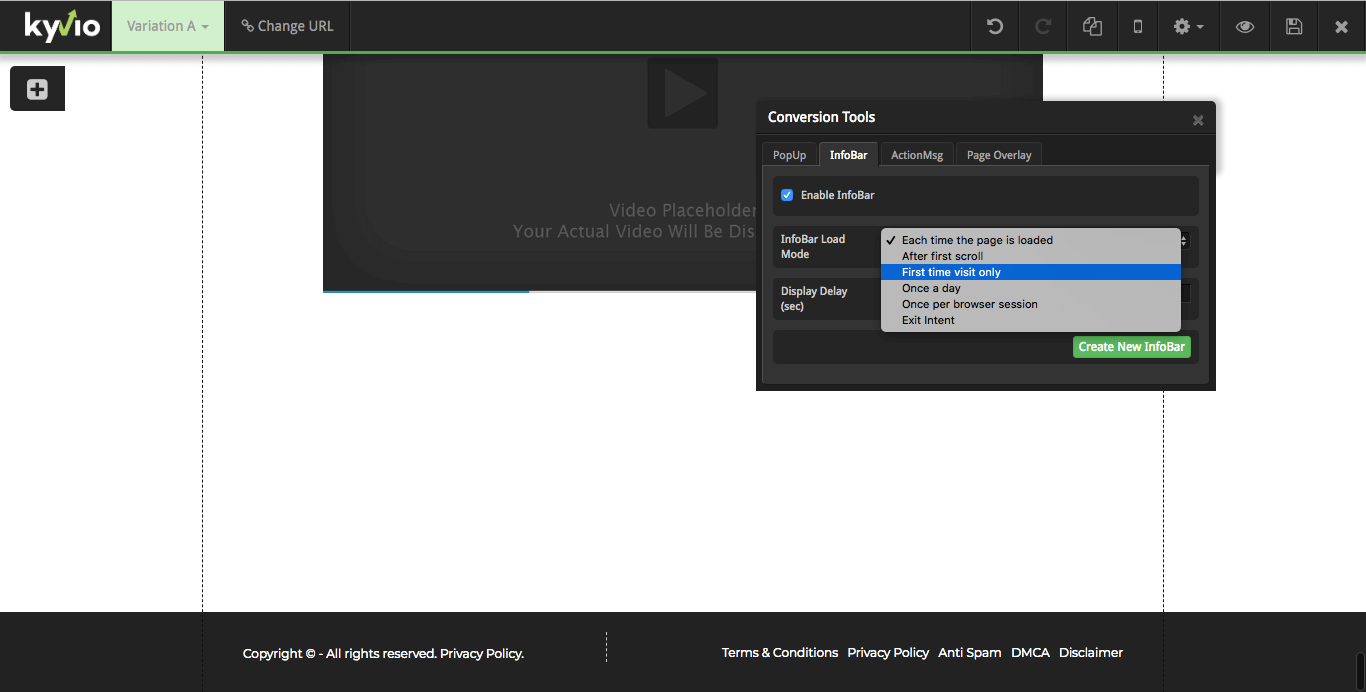 As you can see here,there are multiple displaying option.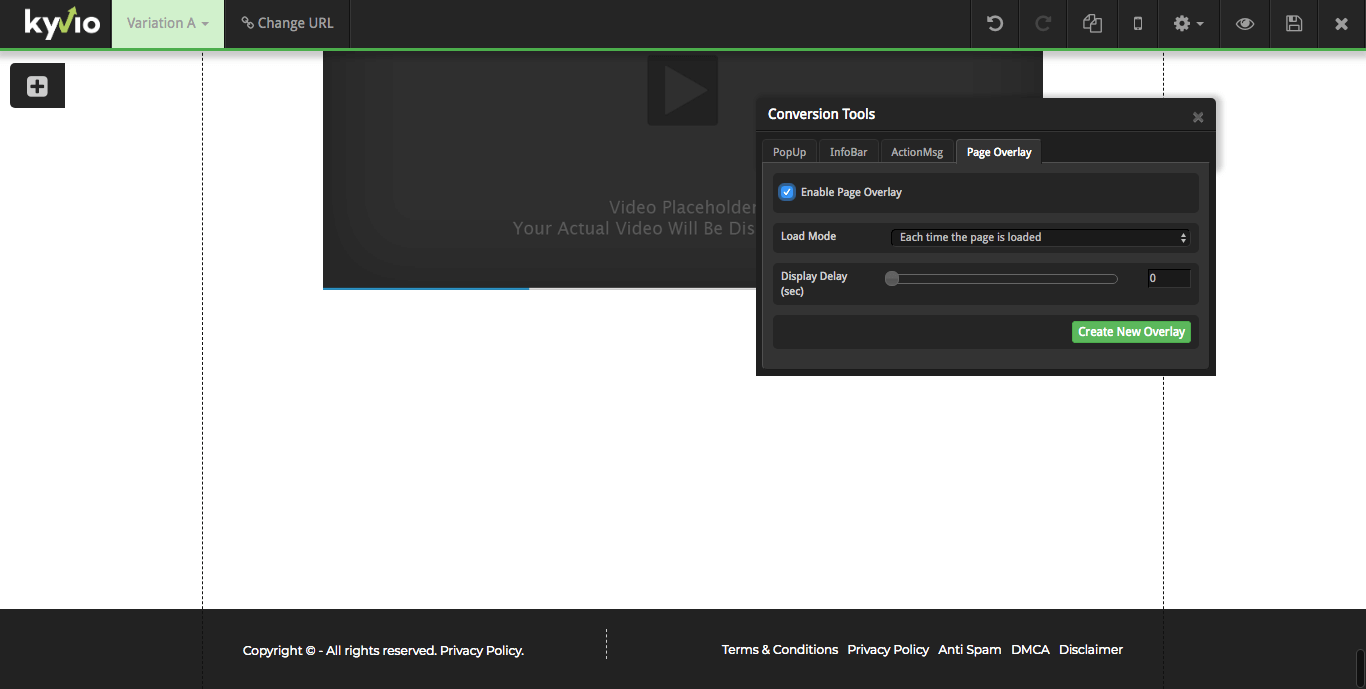 If you setup tracking or you have external script like Messenger Bot,etc,you can insert to Kyvio Builder.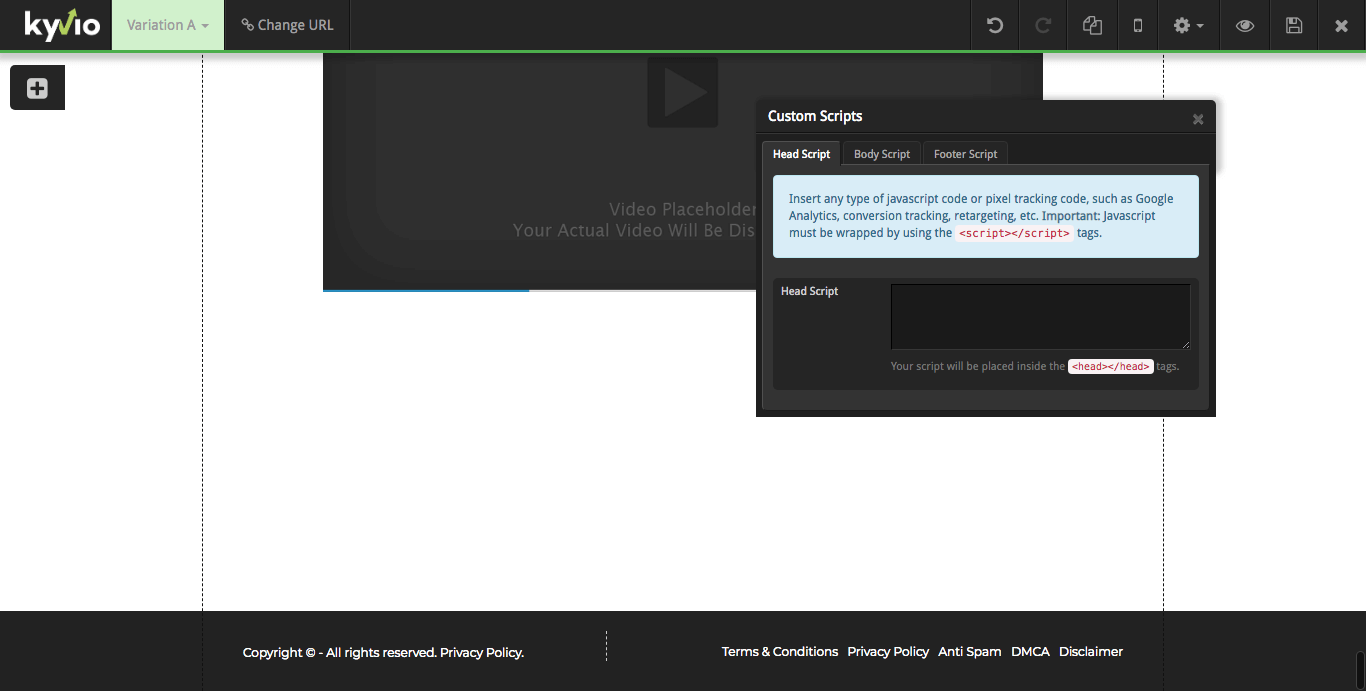 Here's the popup builder,just drag & drop like the page builder.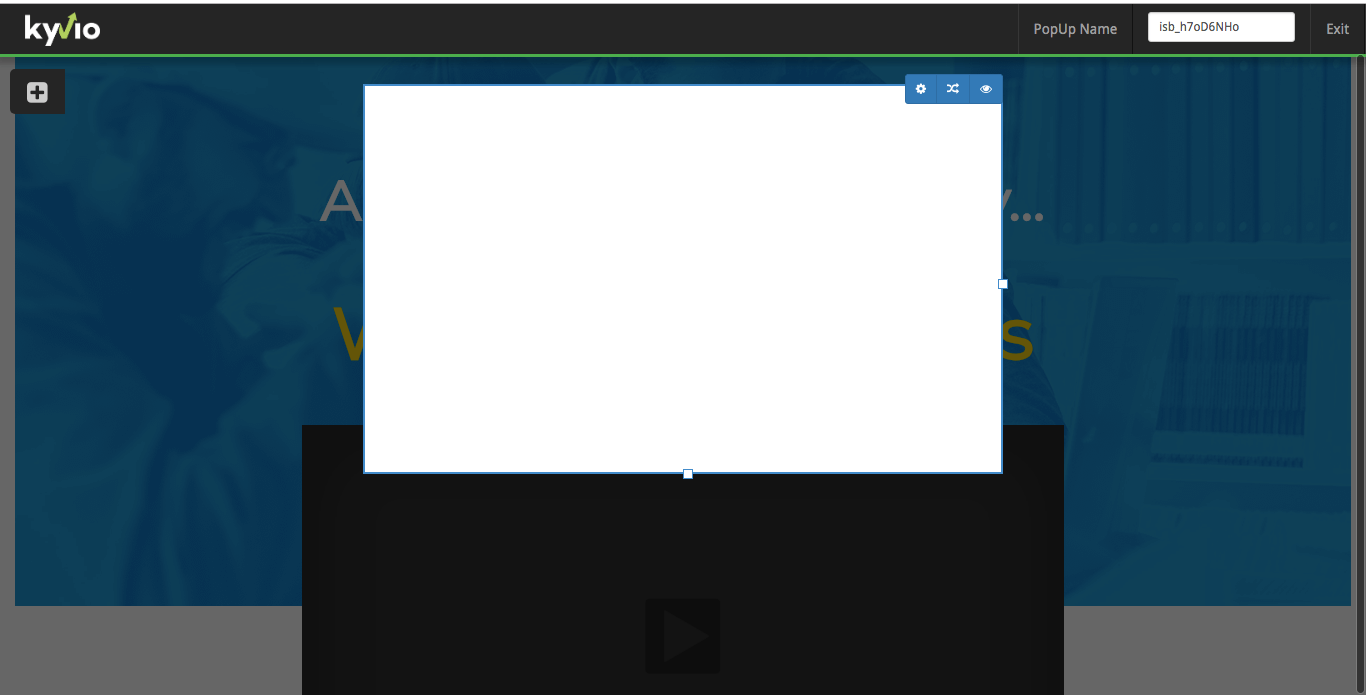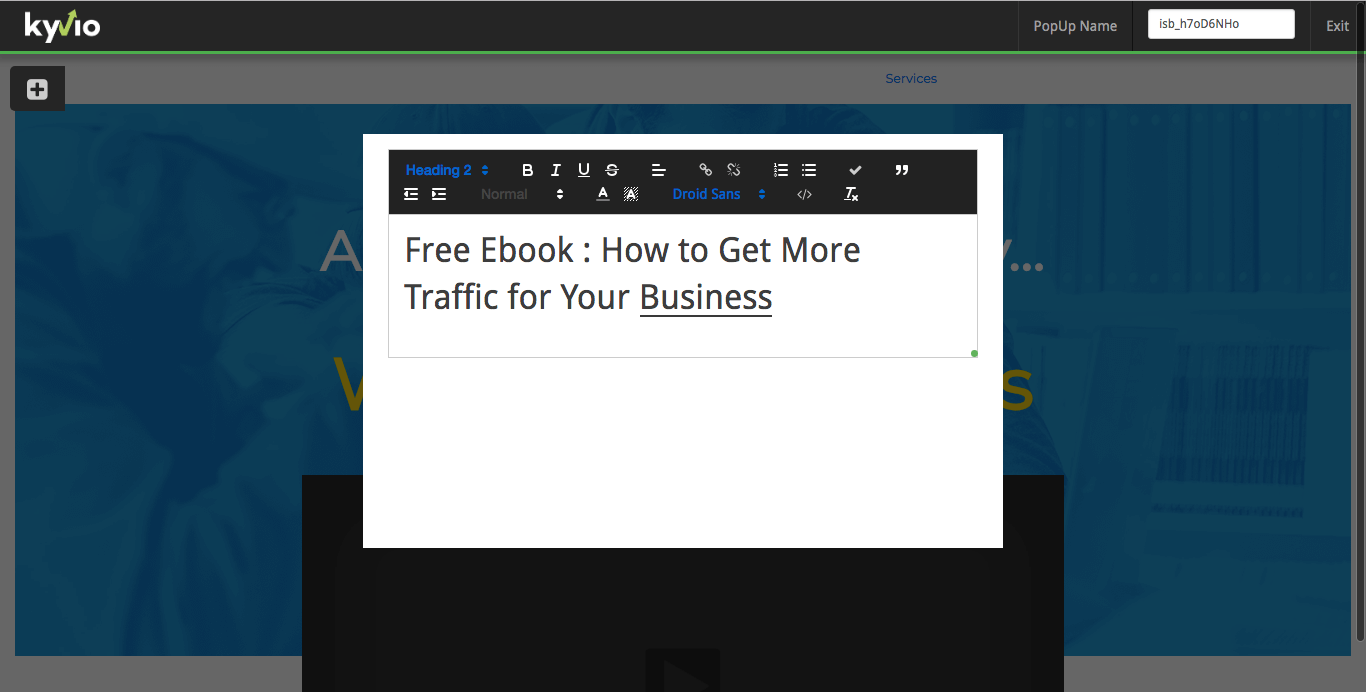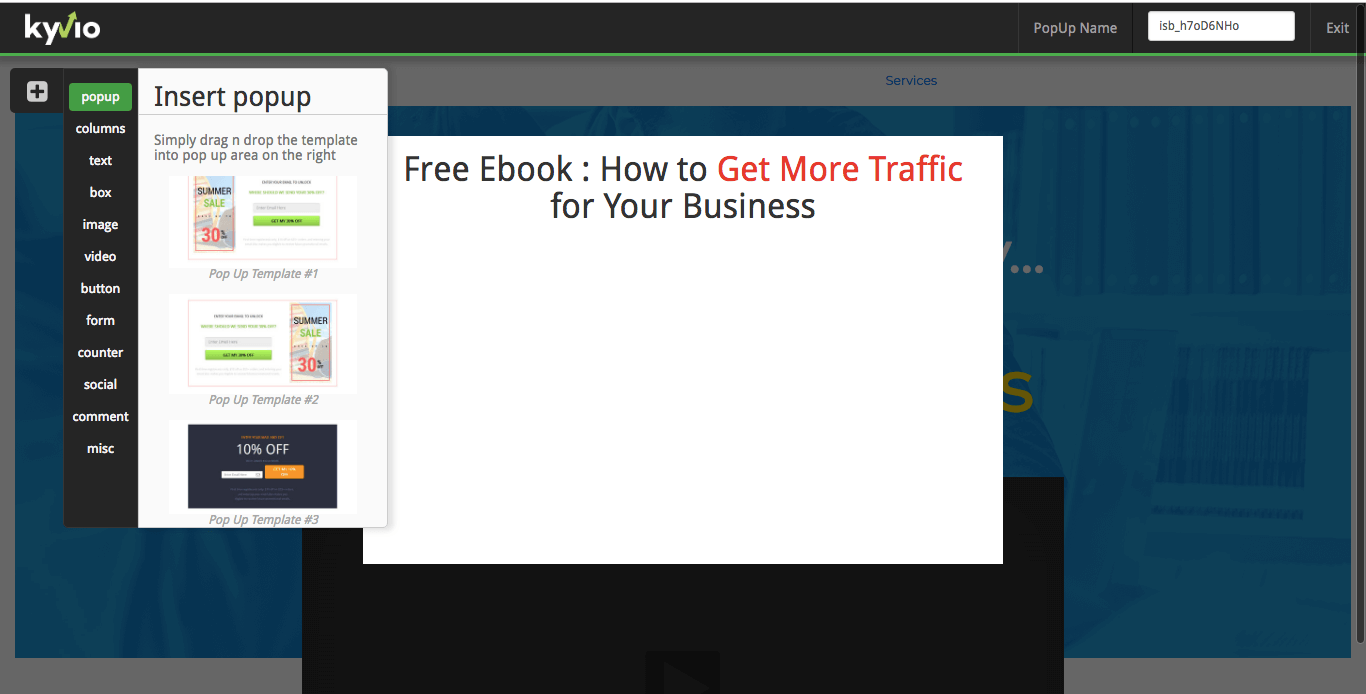 Basically,you can either design yourself or insert their existing popup.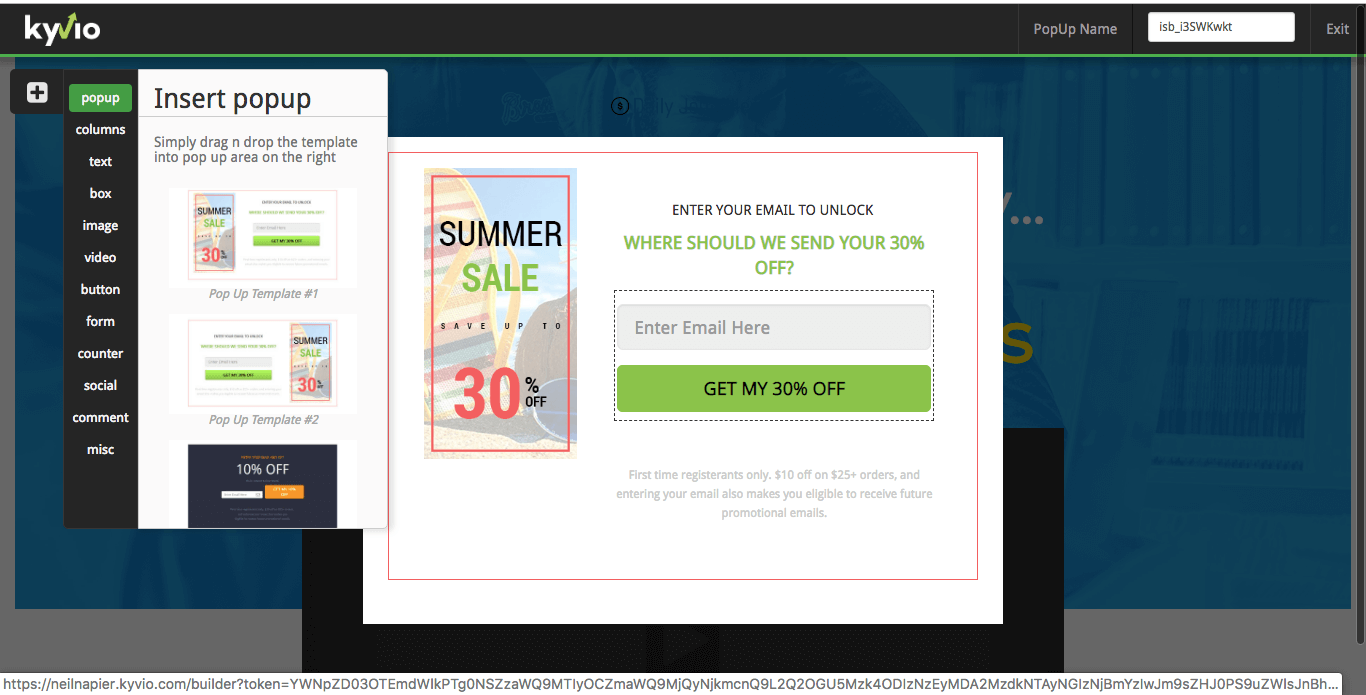 Here's how it looks like in reality.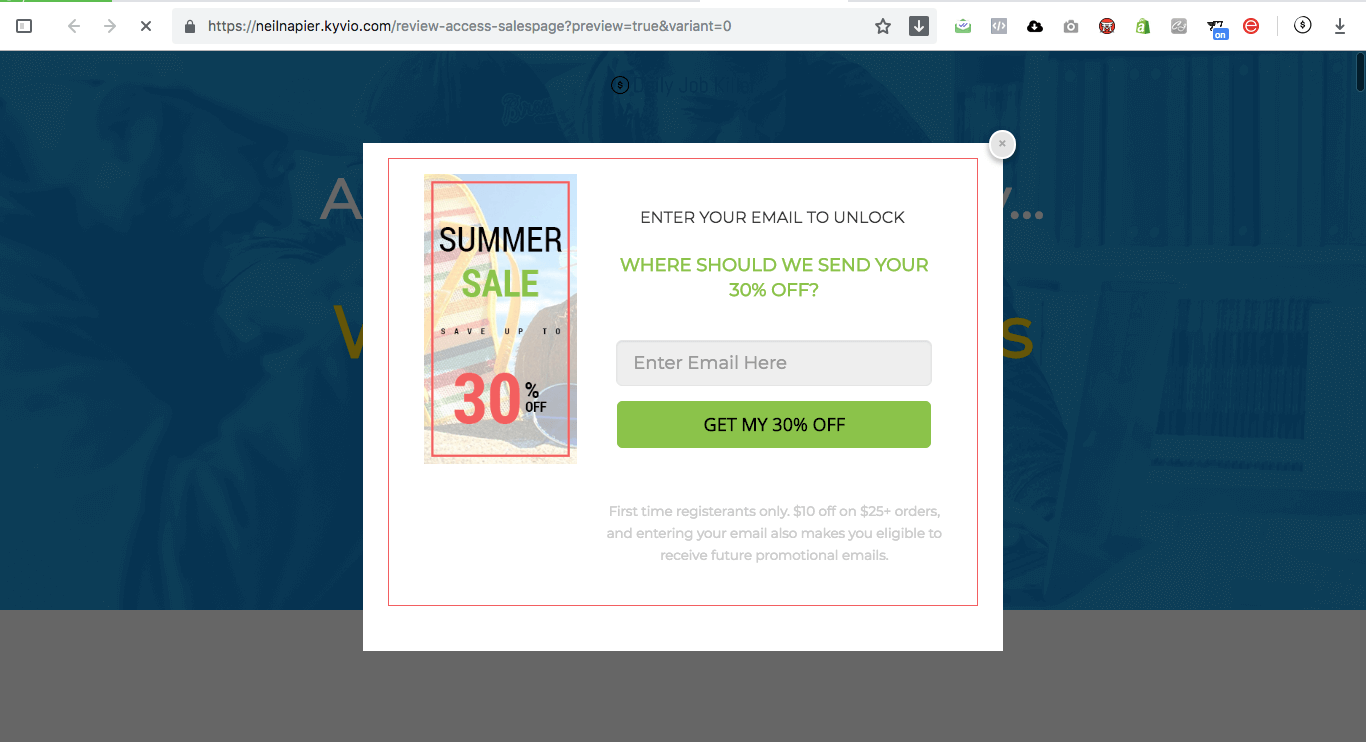 For Infobar,it can display either at top and bottom.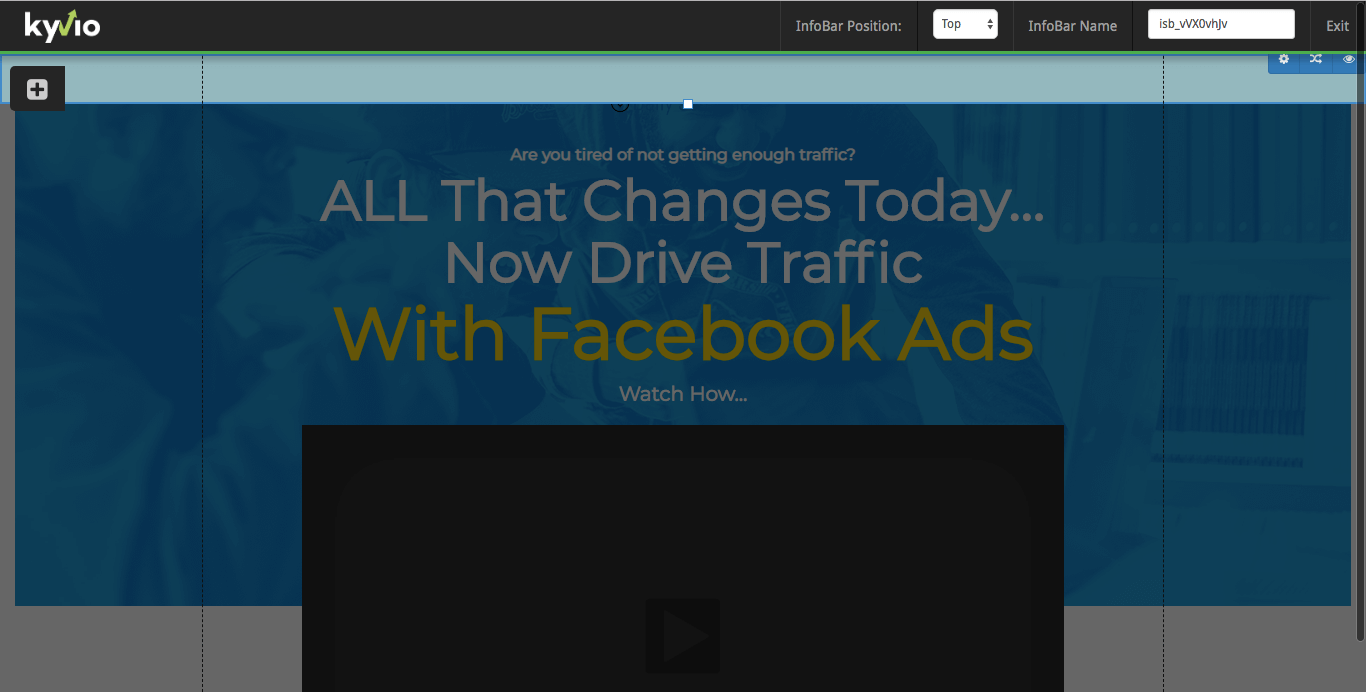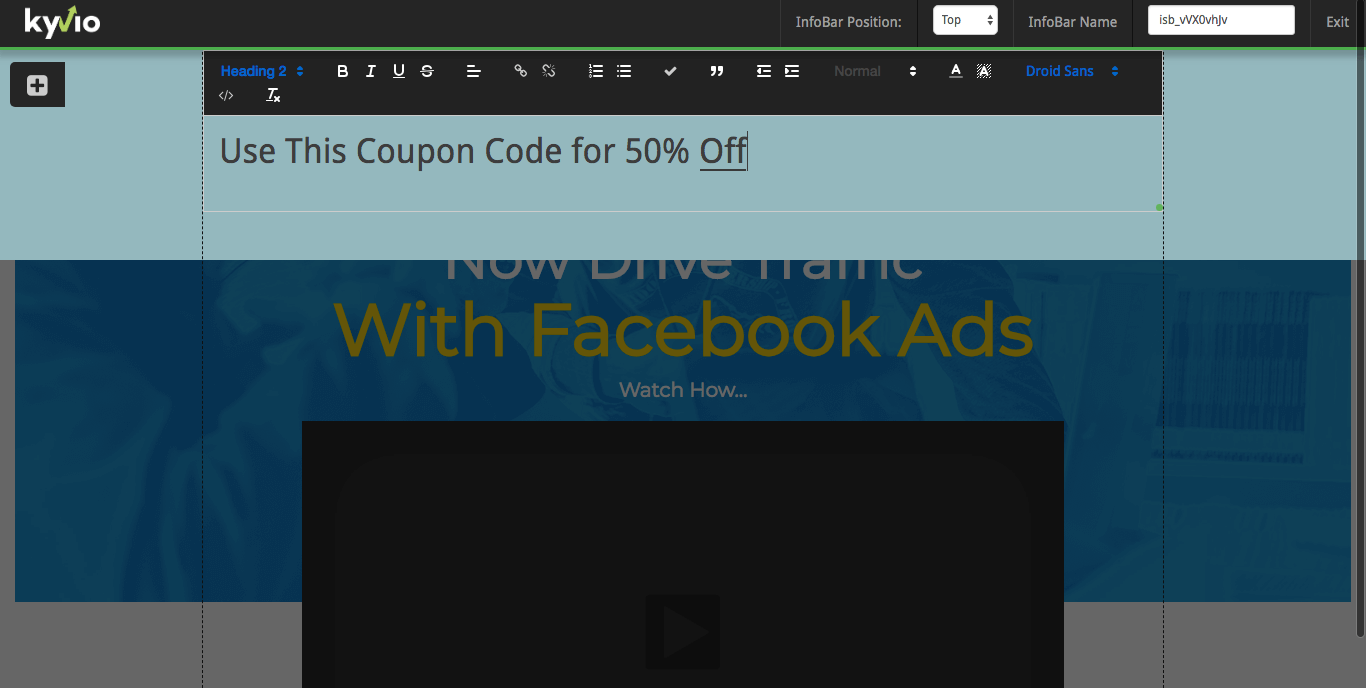 About Overlay,it will display for the entire page.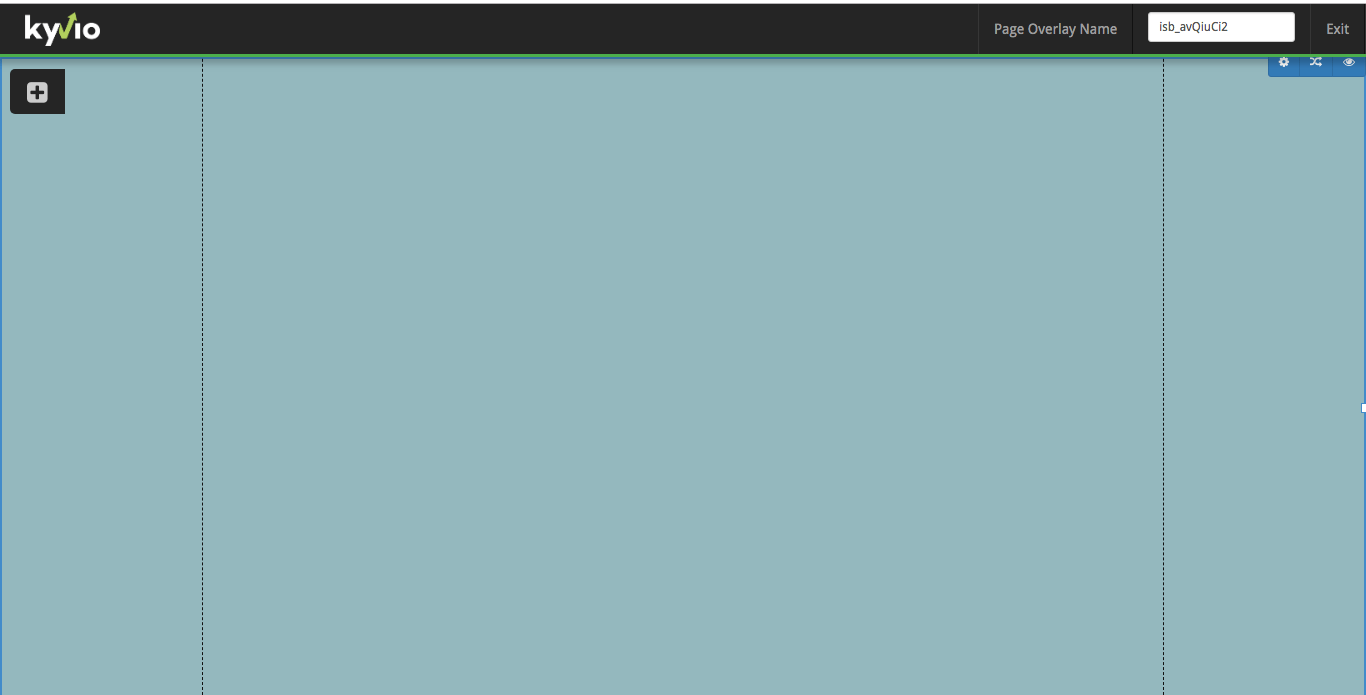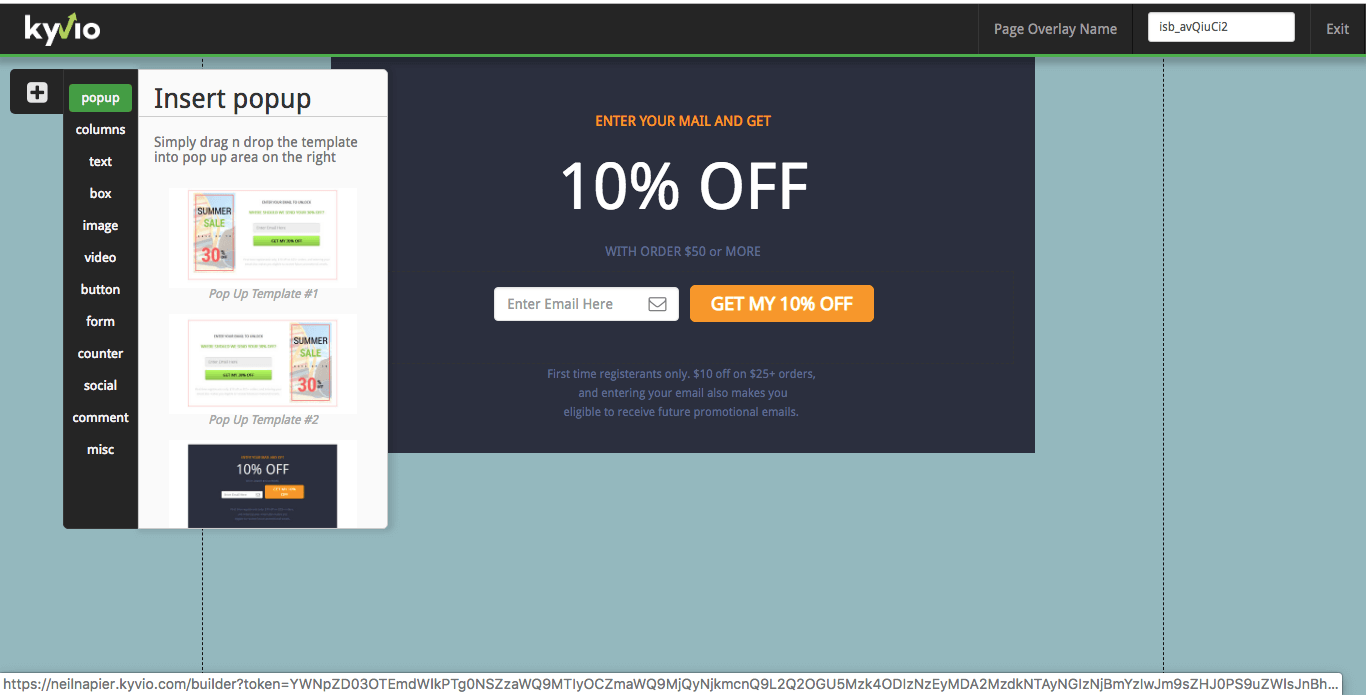 This is the notification bar in reality.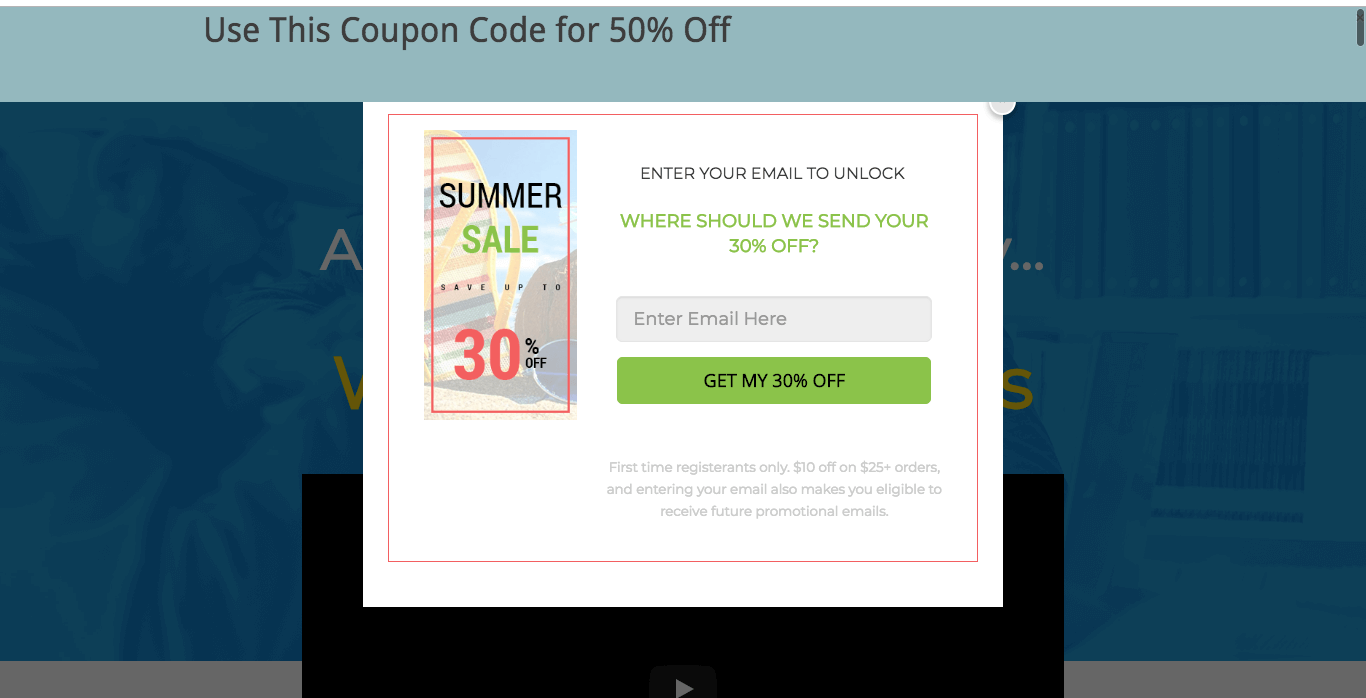 It's the page overlay and people can close it of course.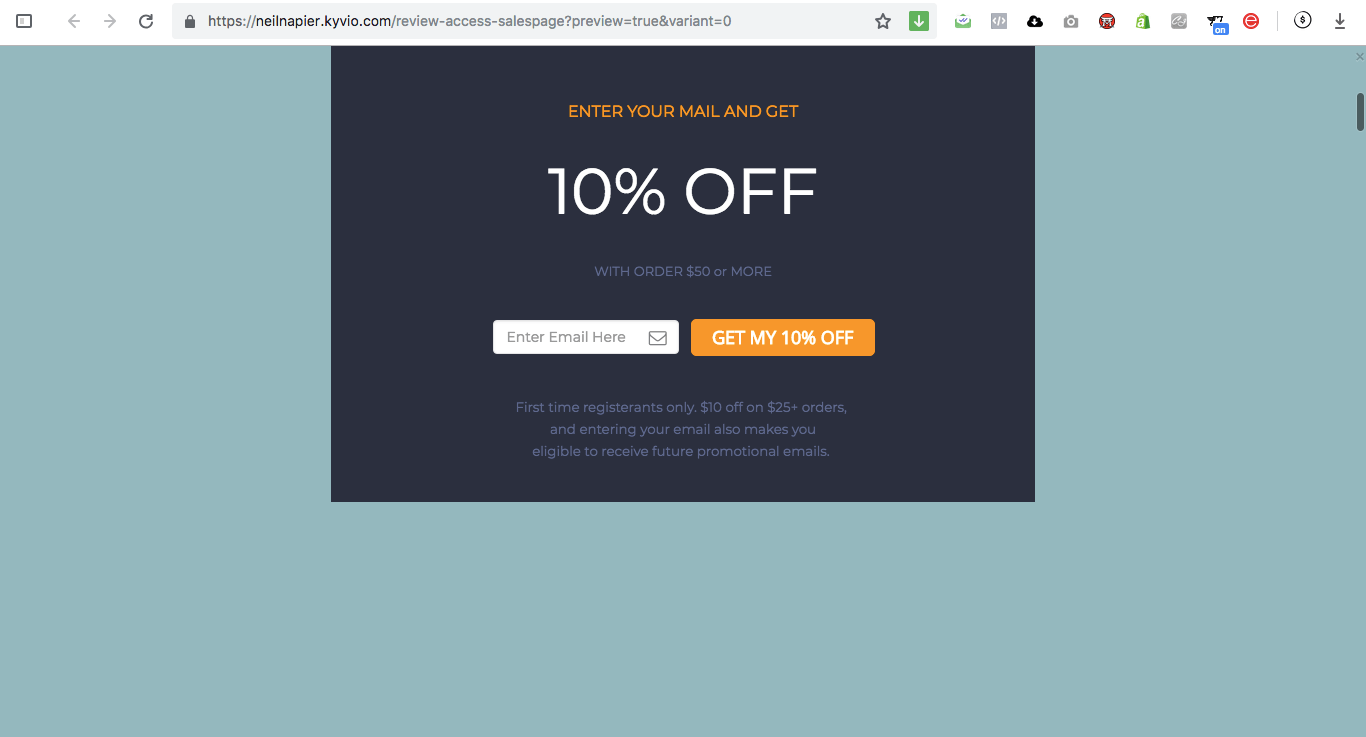 2.Smart Product and Membership
You can sell both physical and digital products. Kyvio can help you sell physical products but it's not a tool or store like Shopify and i don't think it's a replacement for Shopify,it's better as a combination.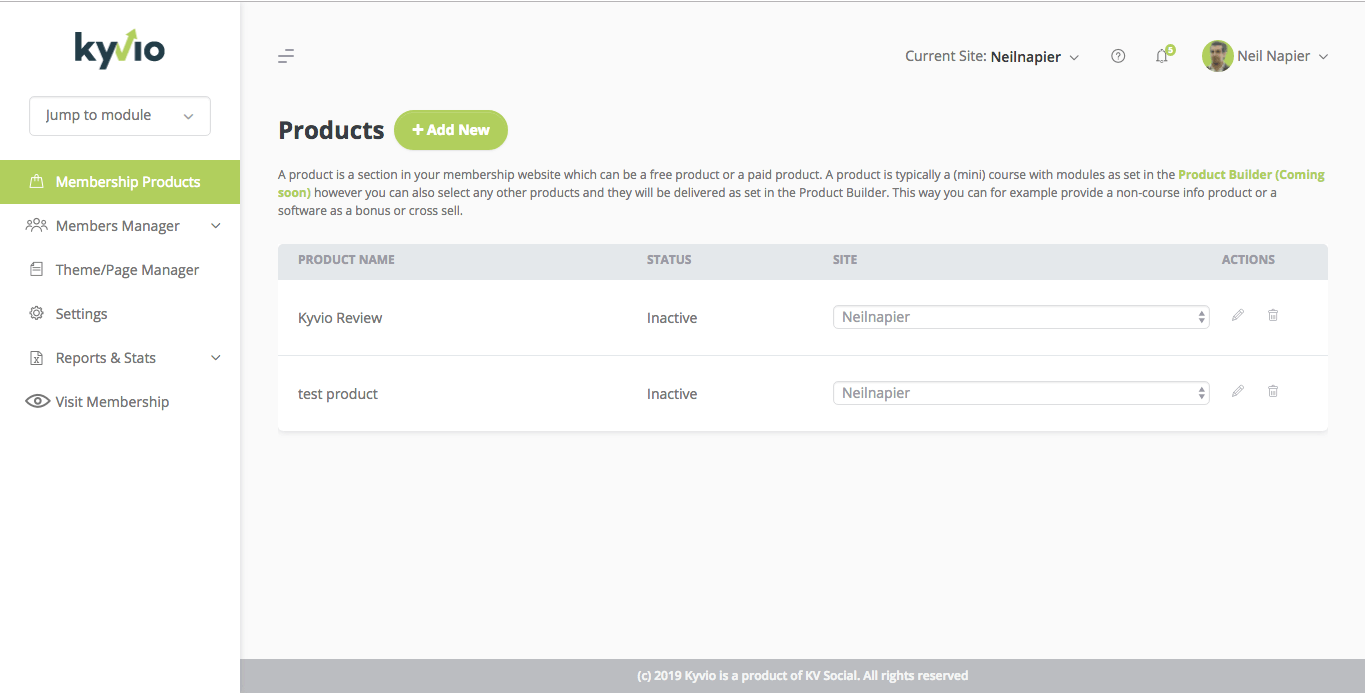 The majority of successful users from Kyvio are those who sell courses,softwares,services and online,offline business.
You have 2 options : sell it directly on Kyvio or sell it using shopping cart with tool like Samcart,Paykickstart,Thrivecart,etc.
It has DFY Automated Email and triggered after people buy products or do something,etc.

At the membership course page,you can drag & drop as well insert multiple courses.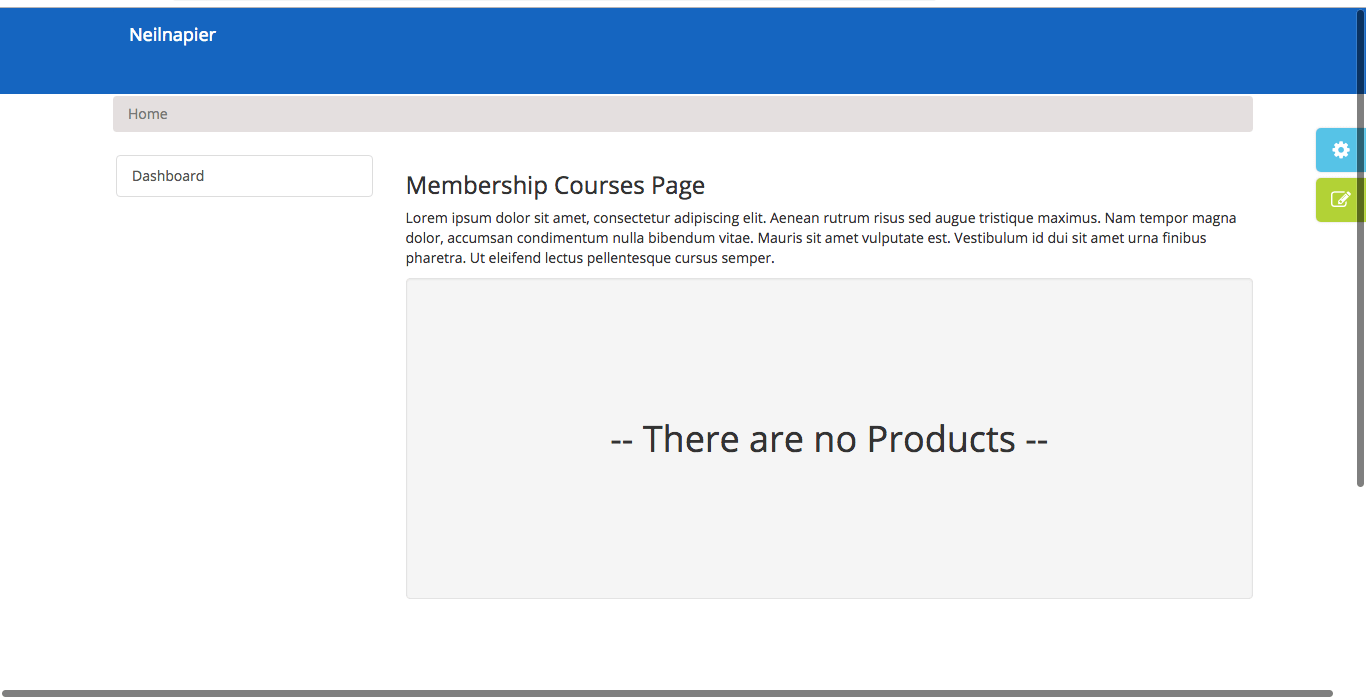 Here's the membership theme.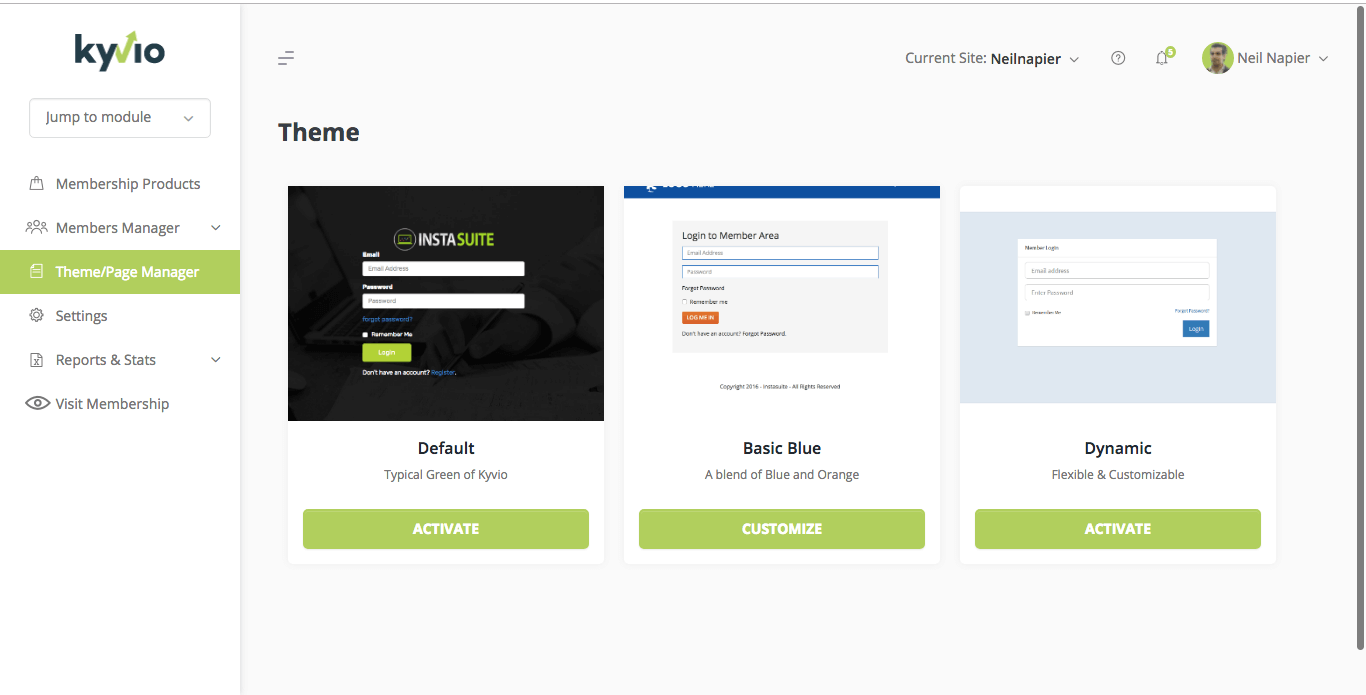 When you add your new product,you will see this.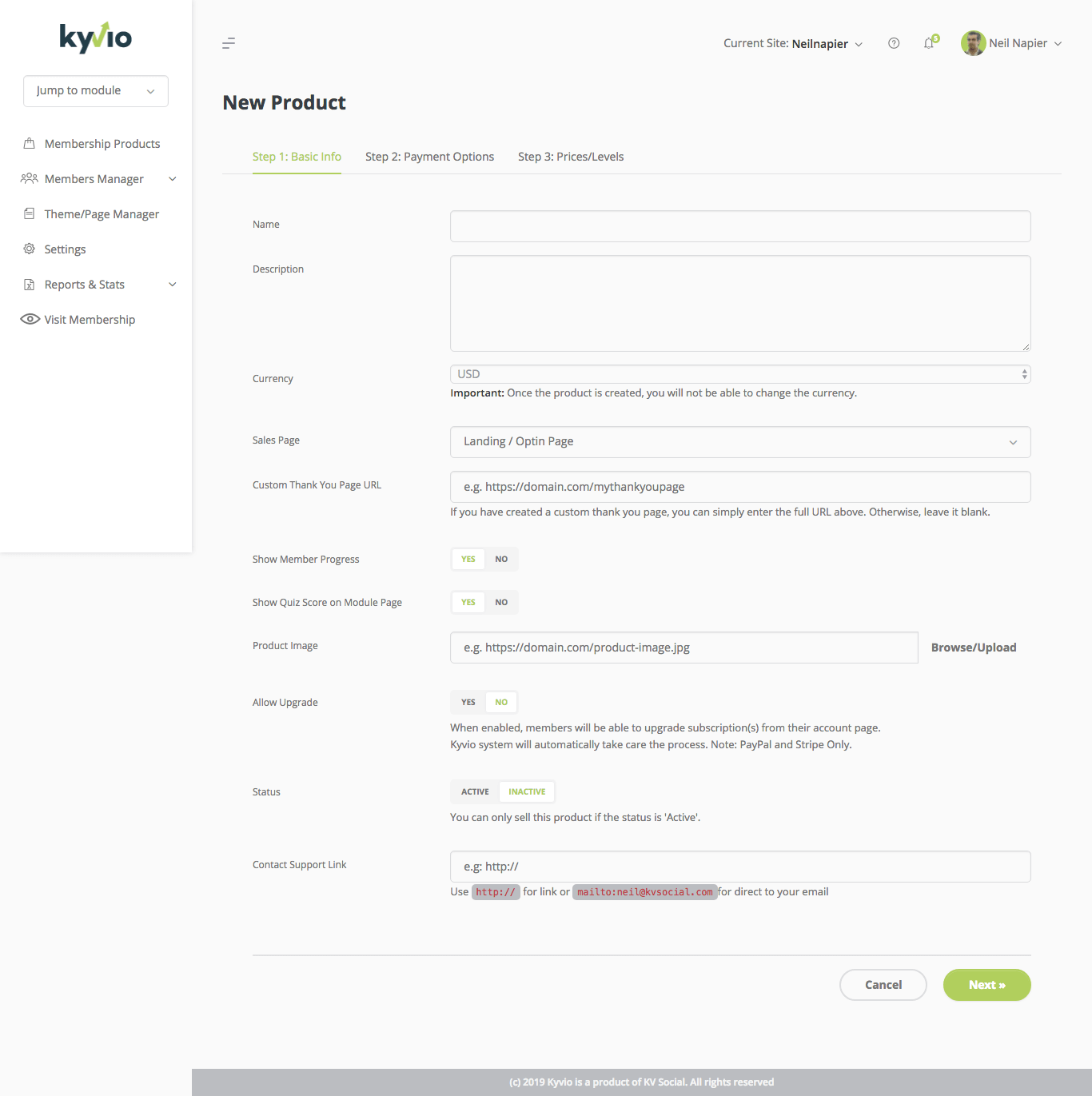 Payment here is a must and once again,you can use Paypal,Stripe or Other Payment Processor.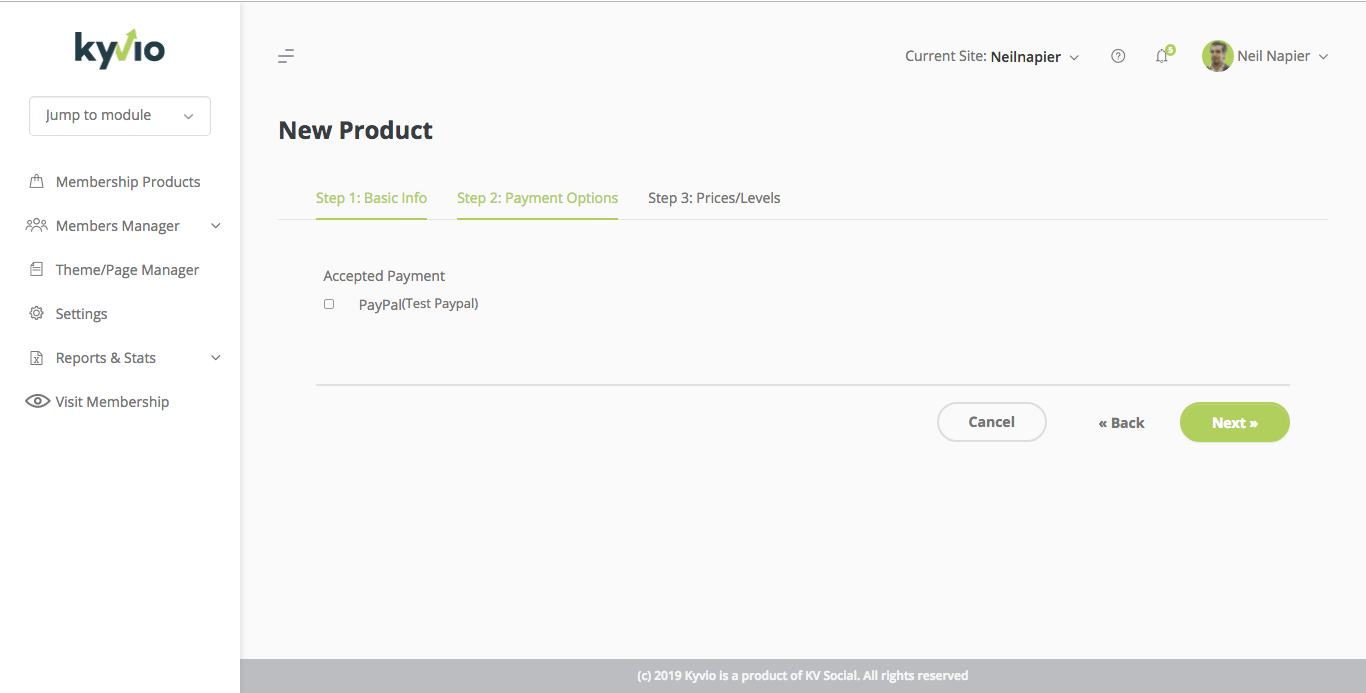 Of course,you can setup multiple price variant.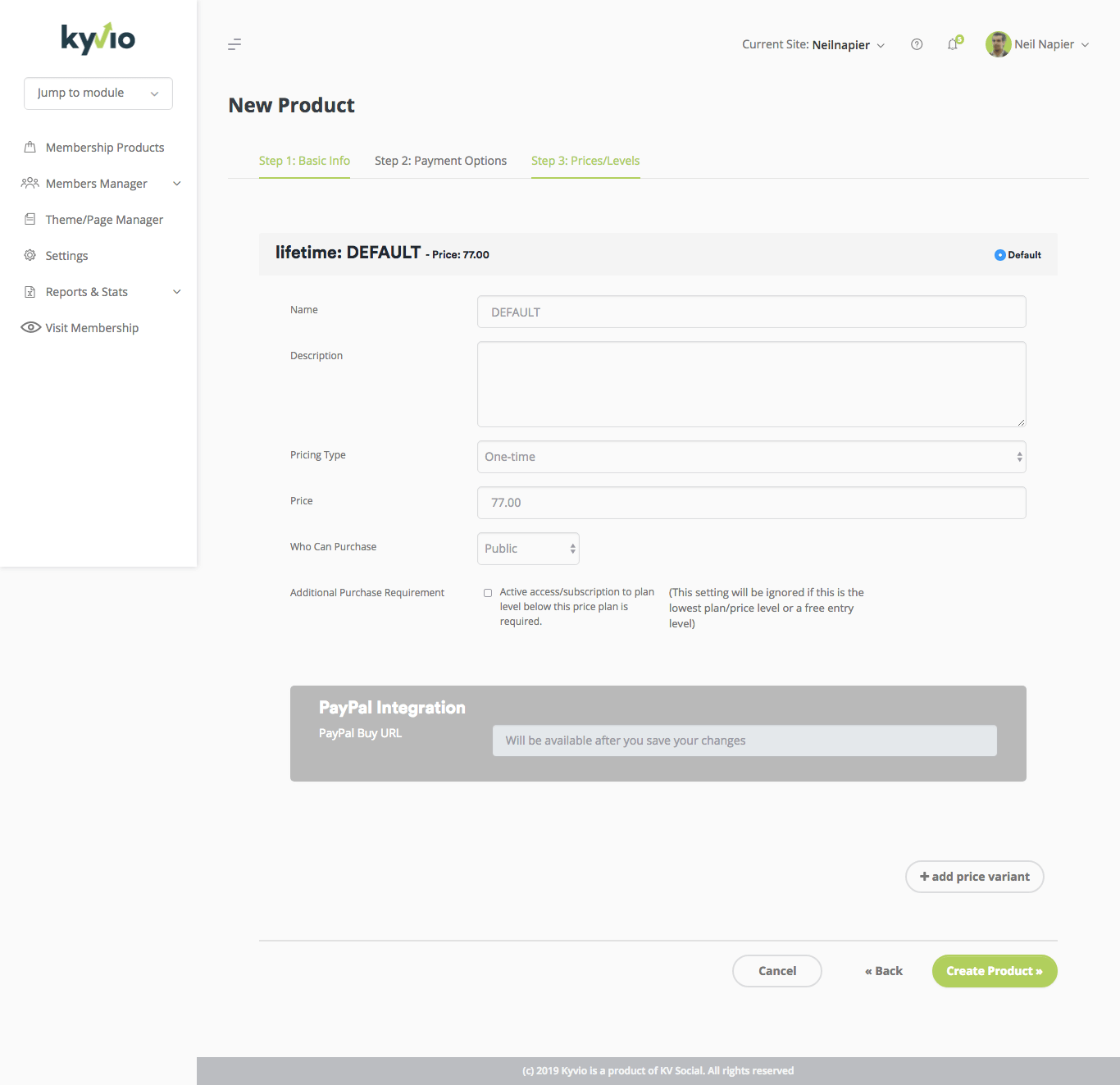 Price can be free,one time or Subscription.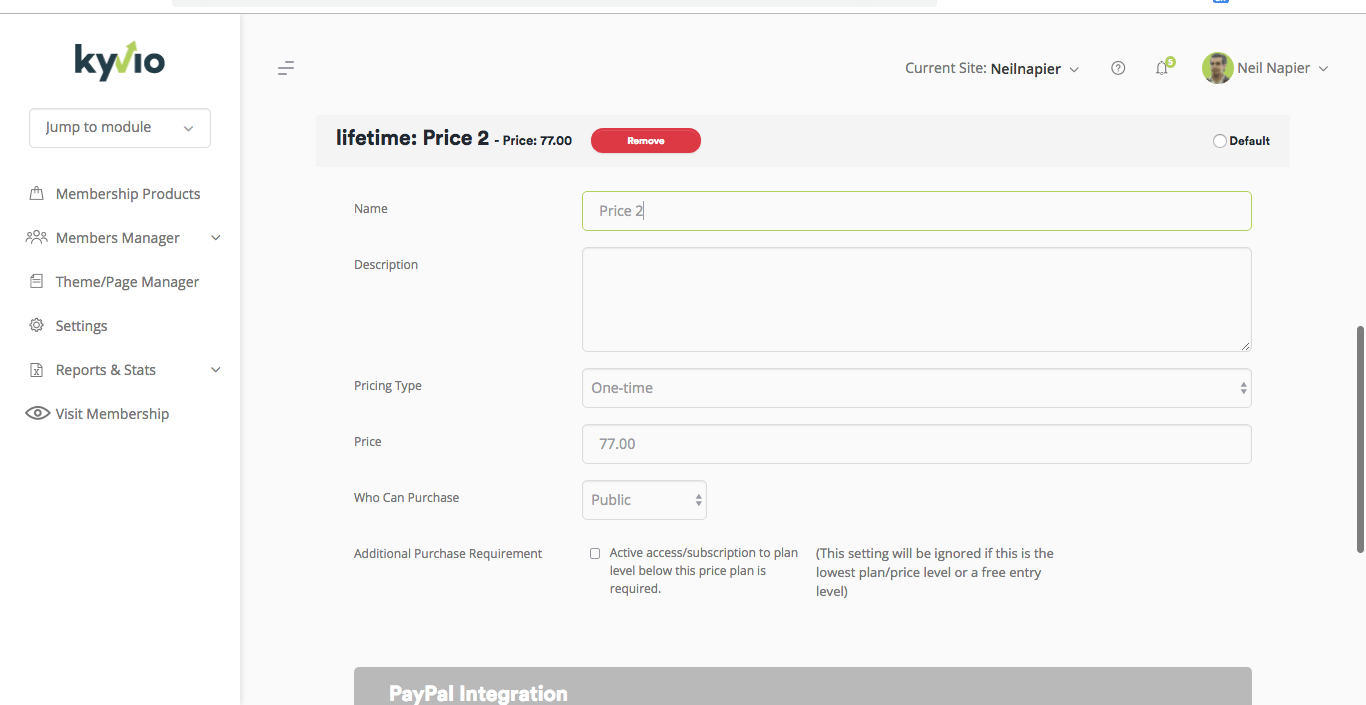 If someone buy your products,you can add custom Action,this is what a funnel about.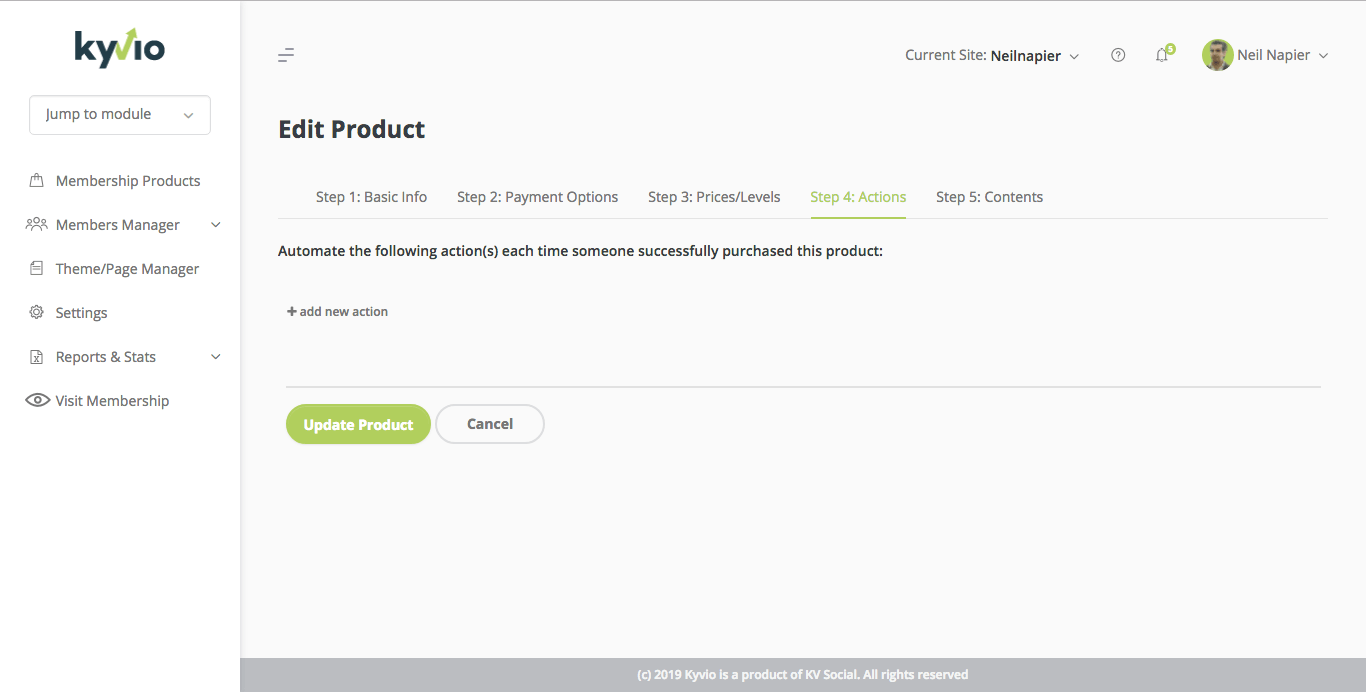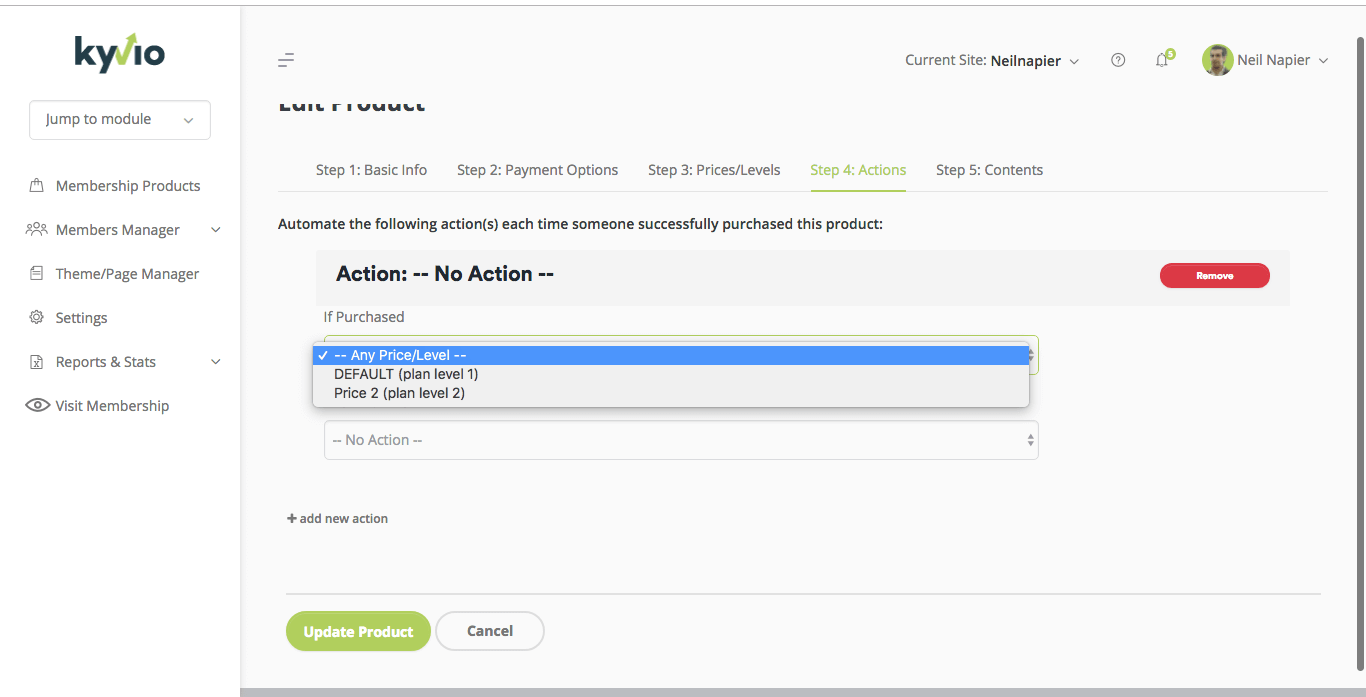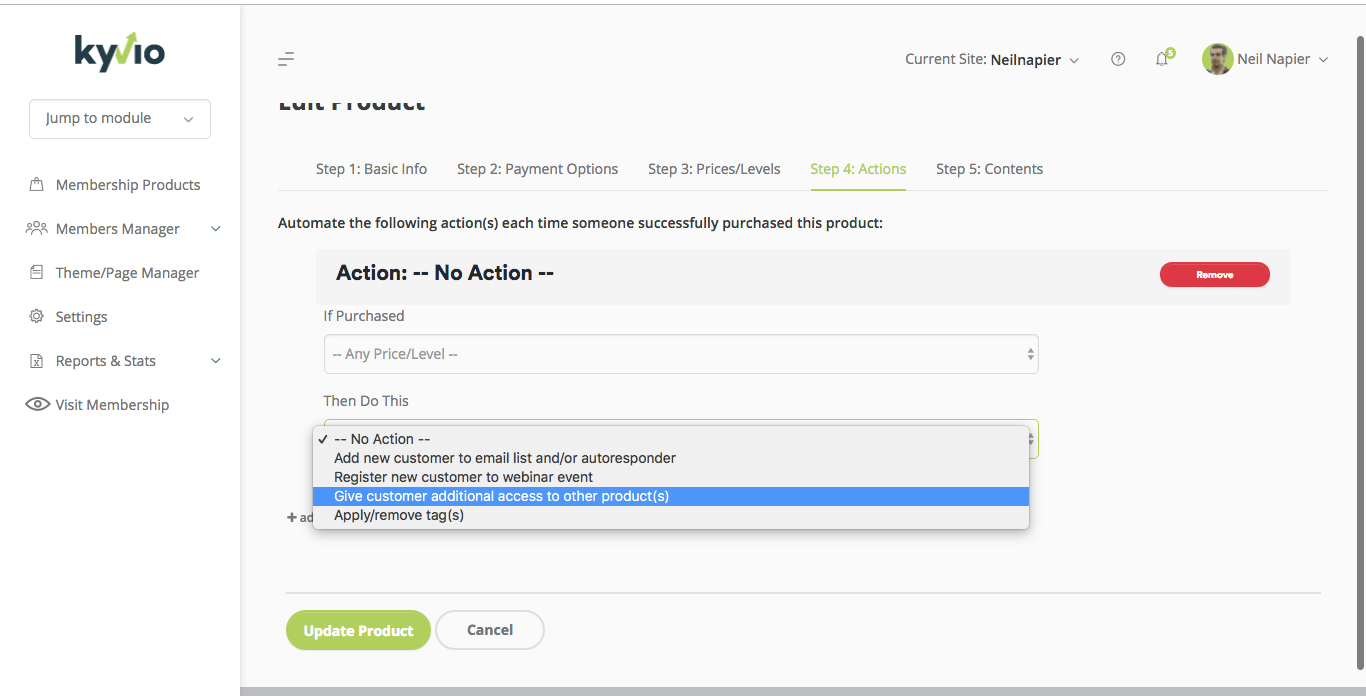 Now,you will come to the course editor,this is where you insert module and lesson.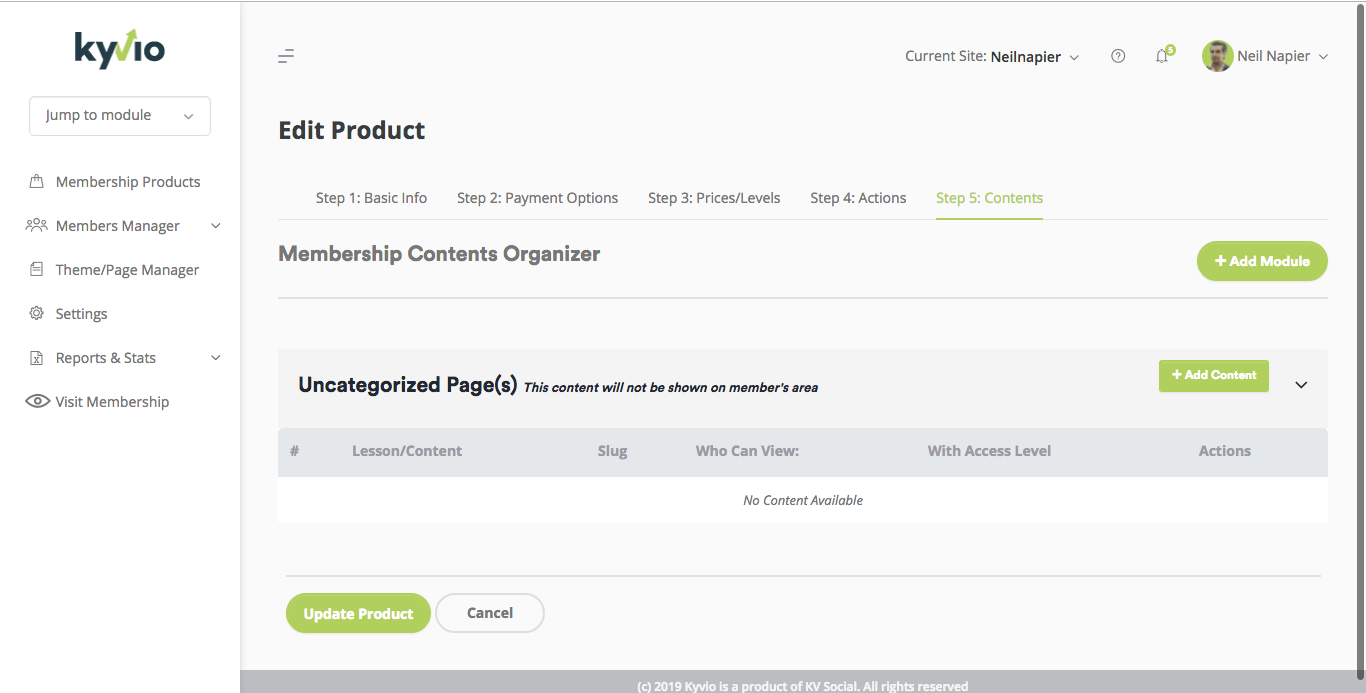 I recommend you to insert pretty slug.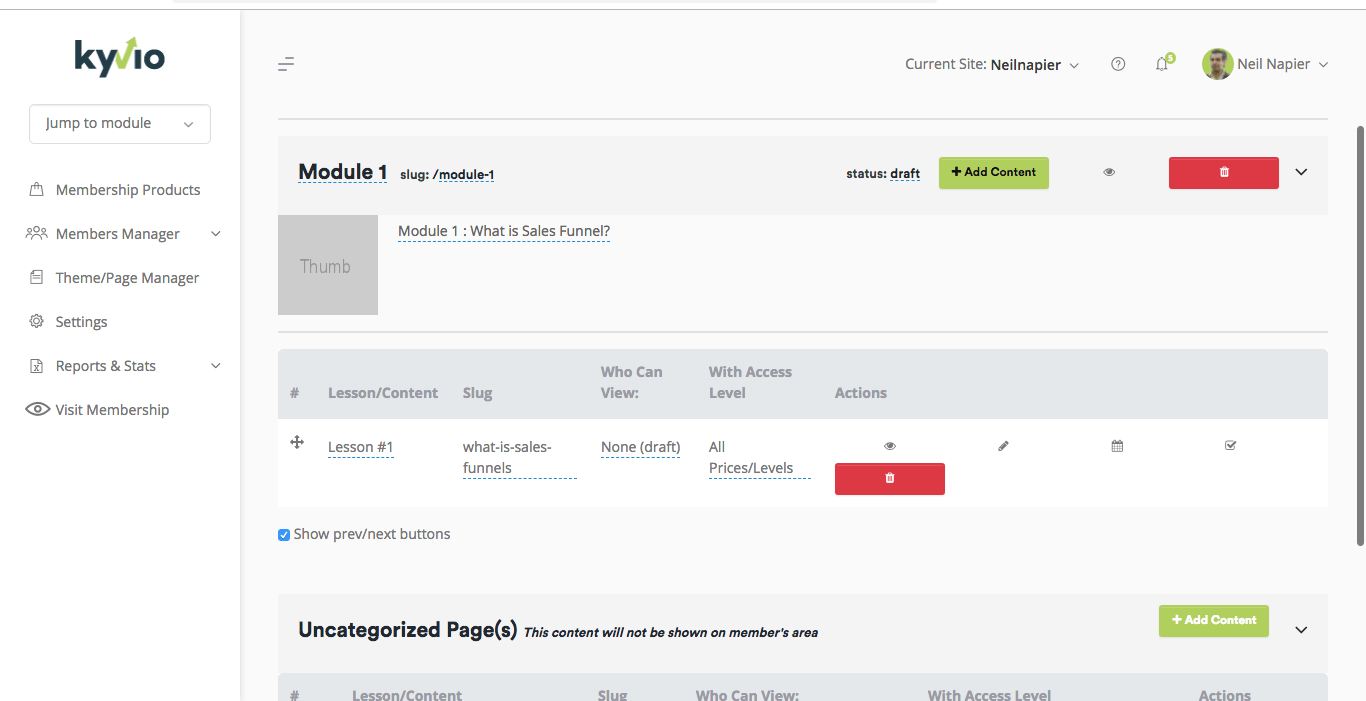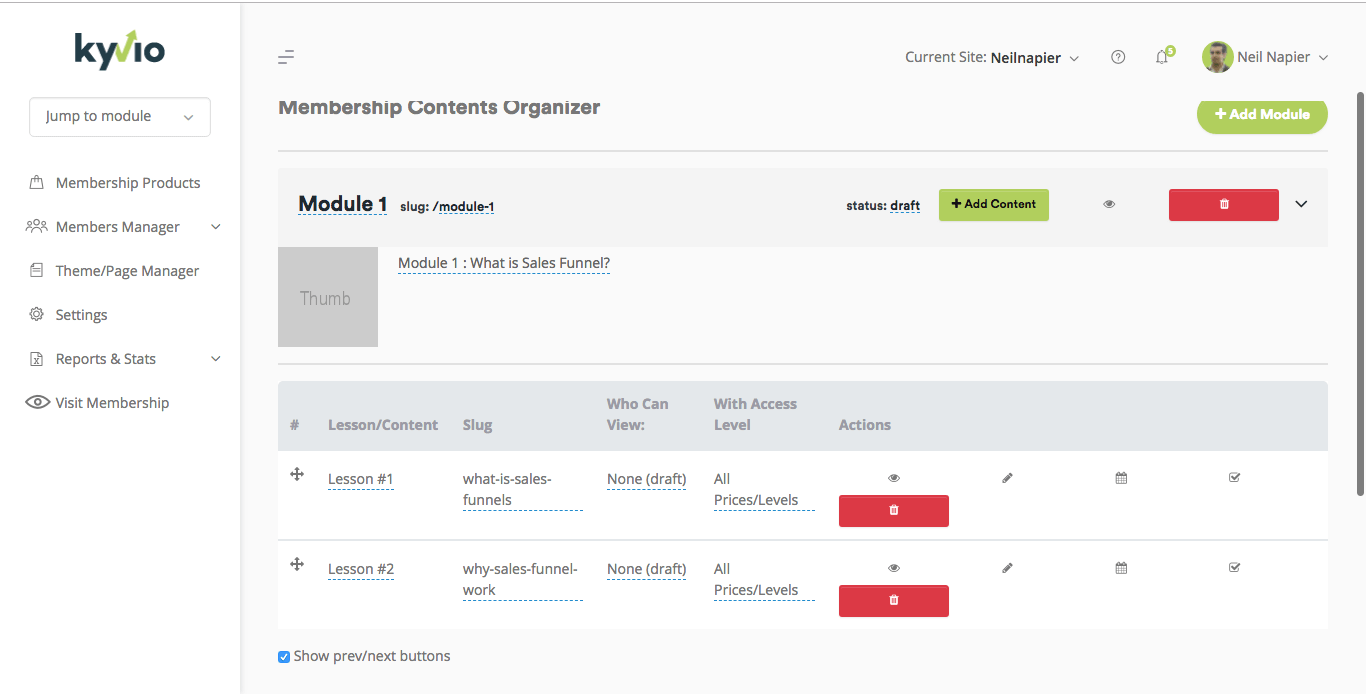 When talking about membership,i think Kyvio is better than Builderall and Clickfunels.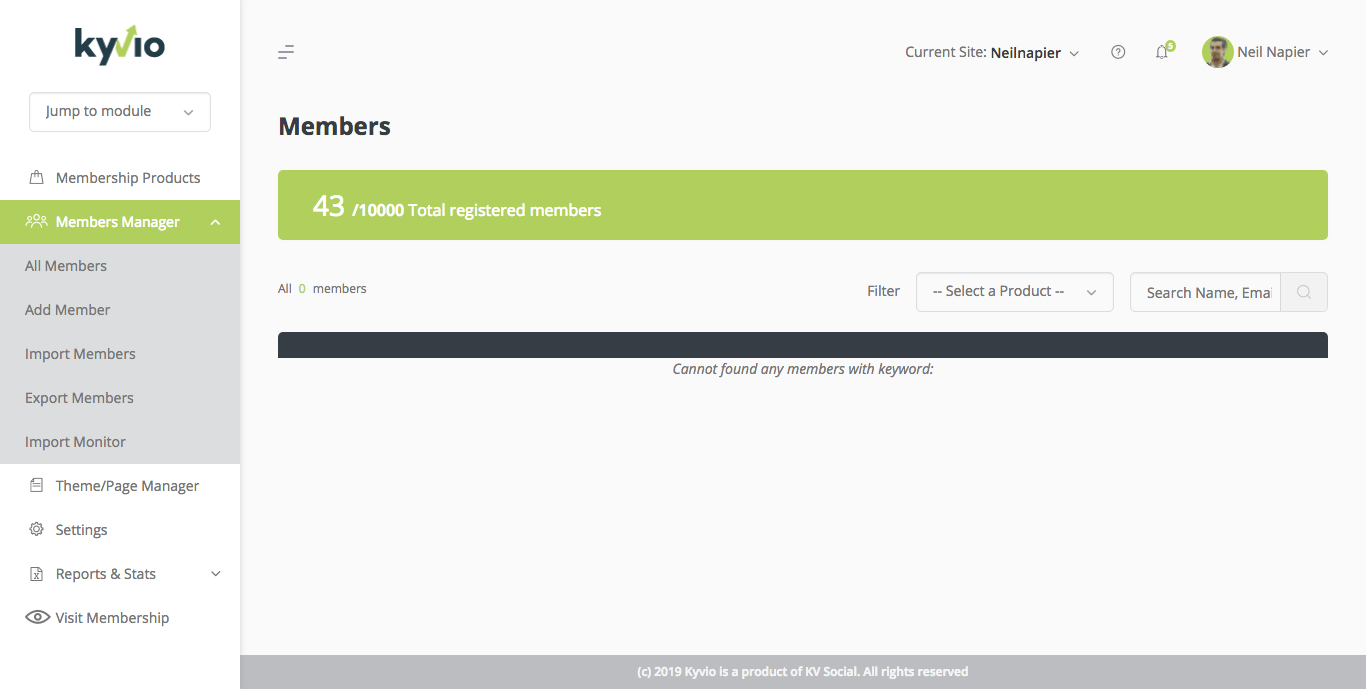 As a training course,you can manage quiz and lessons for subscribers. So,think it as a way to replace MyKajabi and Teachable.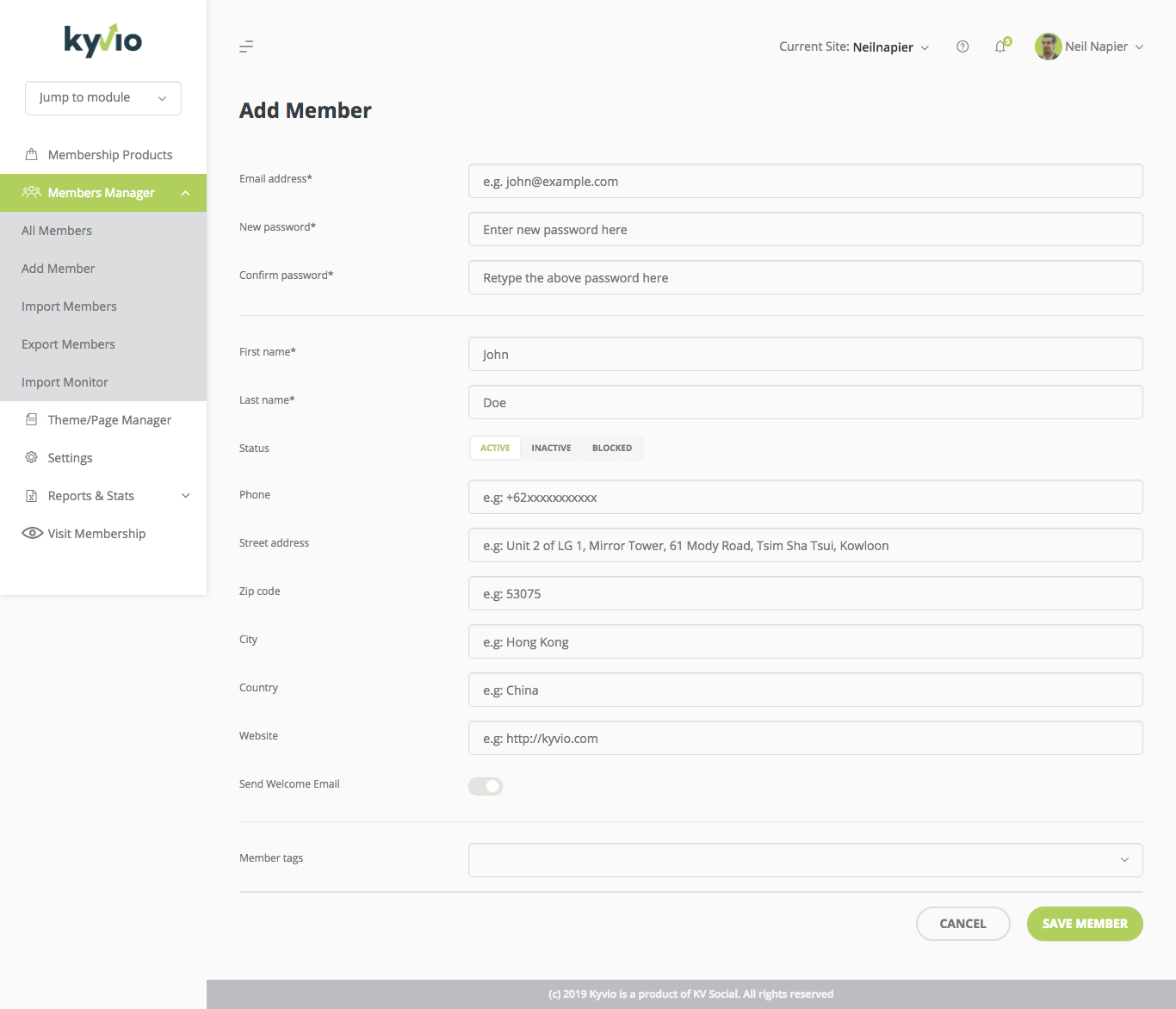 One of the best stuff from this product is to manage your students. As you know,when people join or purchase your course,it doesn't mean he will complete the course. But you also know,if they don't see anything that can guarantee their results,they will normally claim a refund.
So,you can view this as a reason to see does your student actually learn the training. That's the point because refund request are unavoidable.
Membership Course
It will display multiple course inside the membership course page.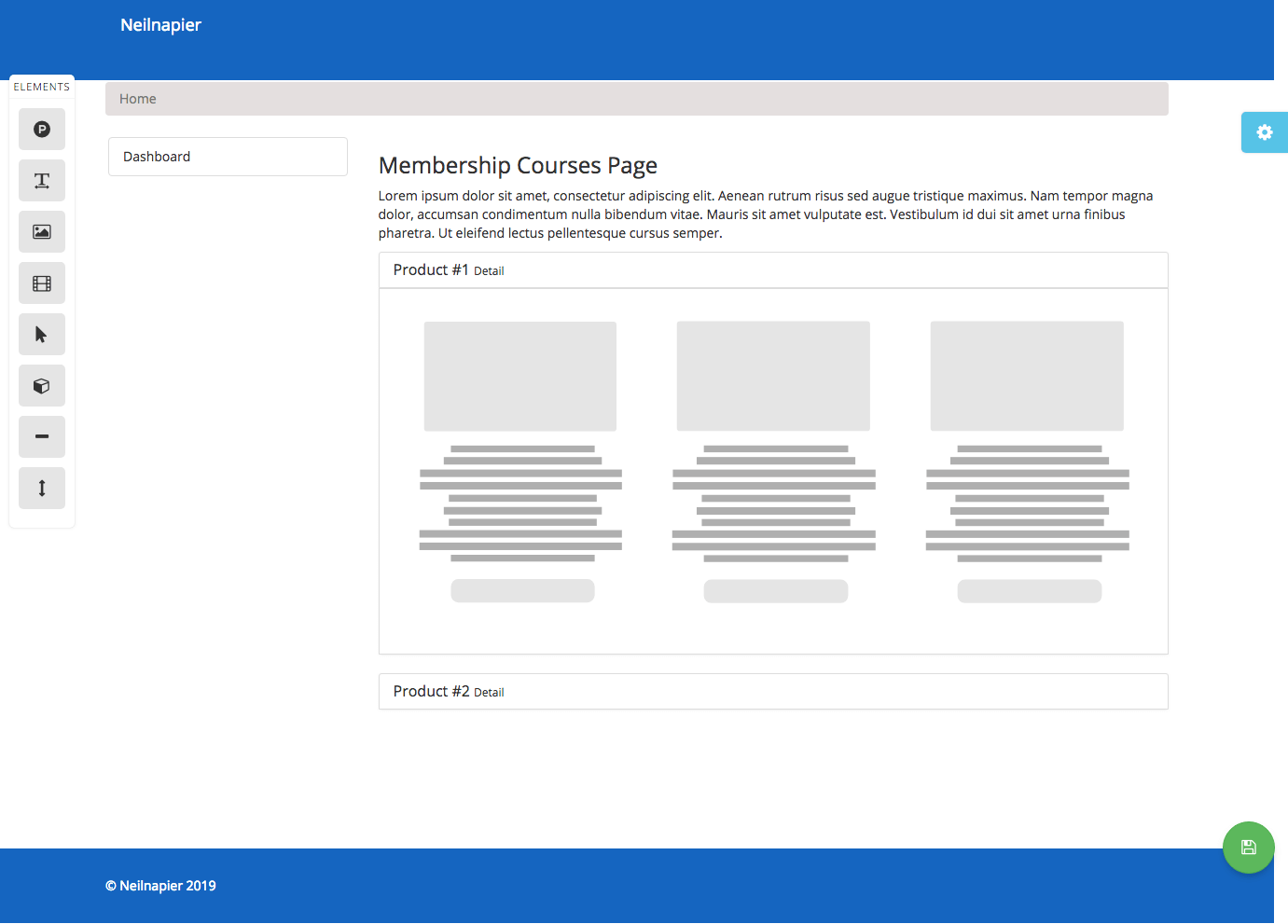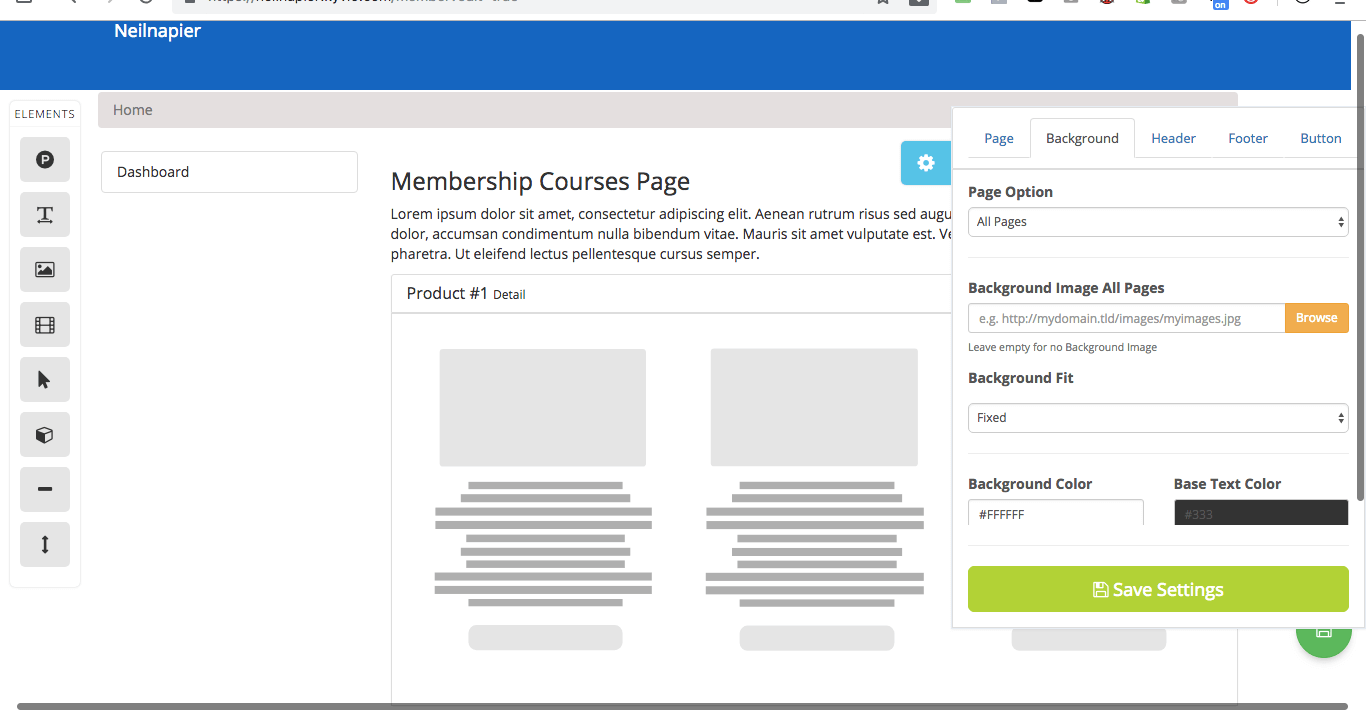 At here,you can drag & drop introduction or edit for better visual.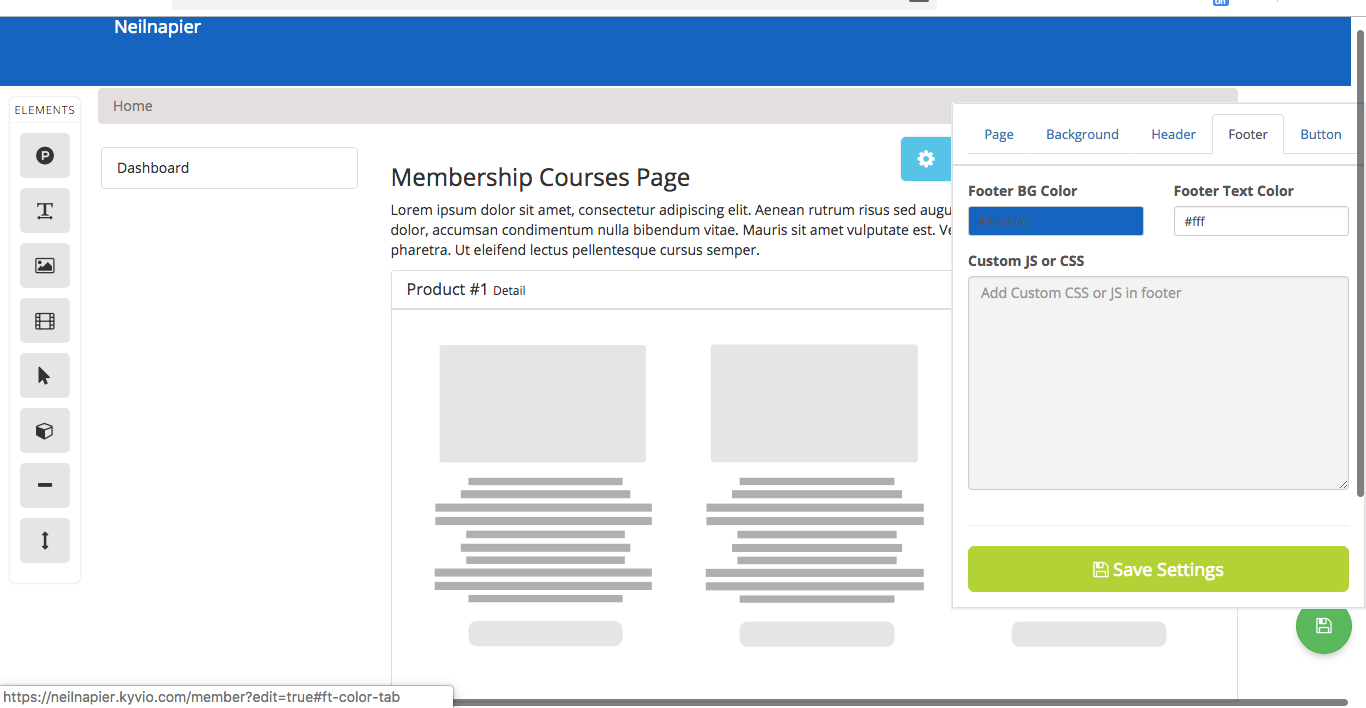 The idea is like when people come here first time,they see multiple courses. After that,they have interests and maybe some of them will want to purchase course.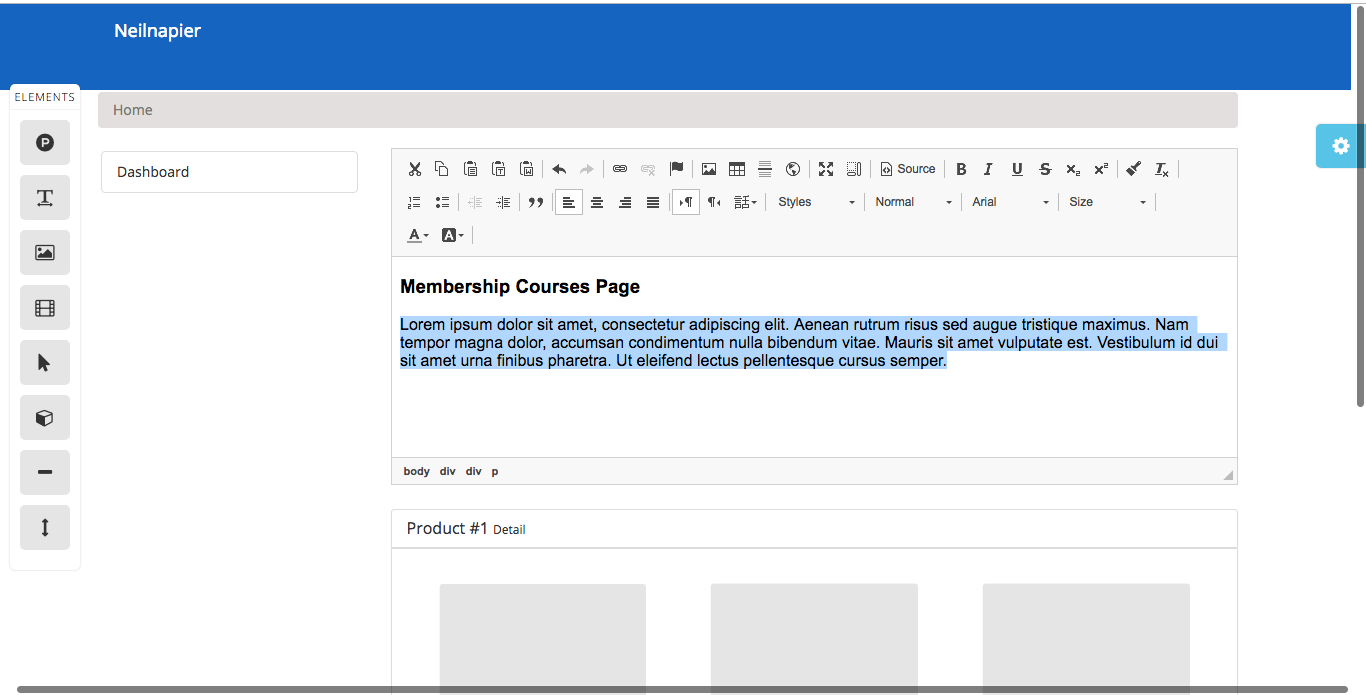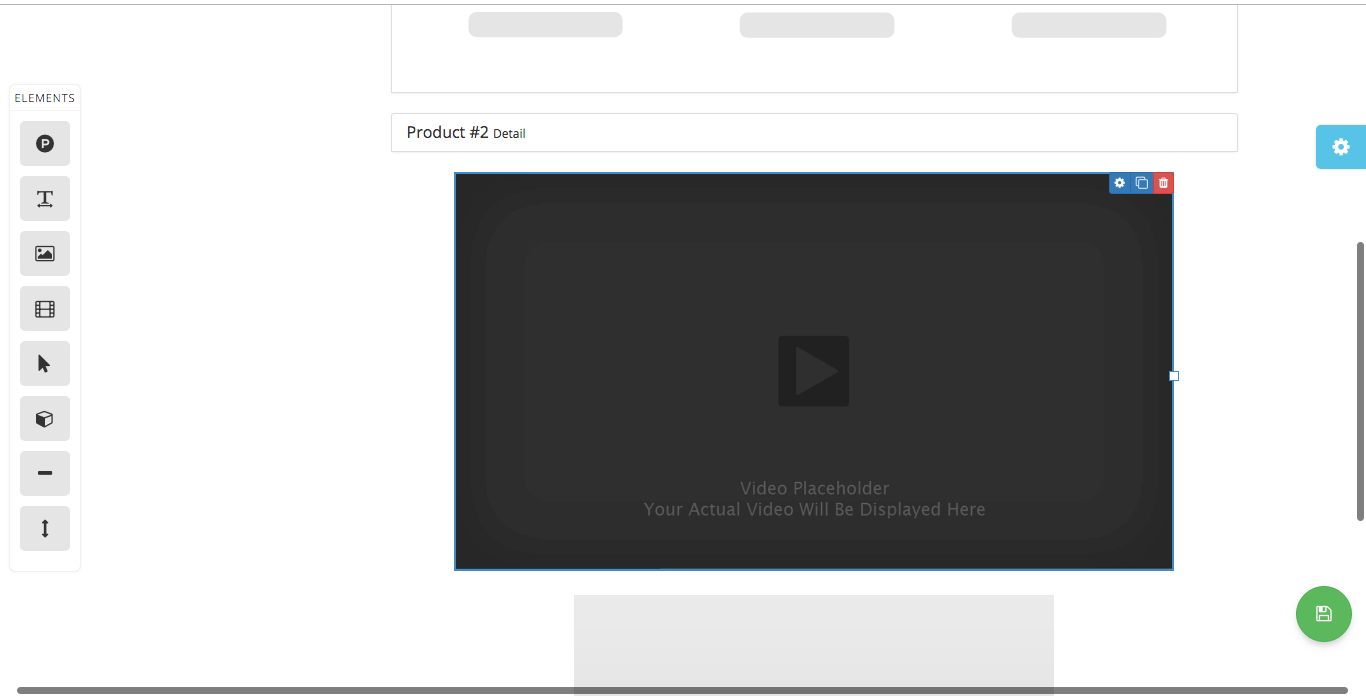 So,create a high converting Sales Video to make people feel they want to buy.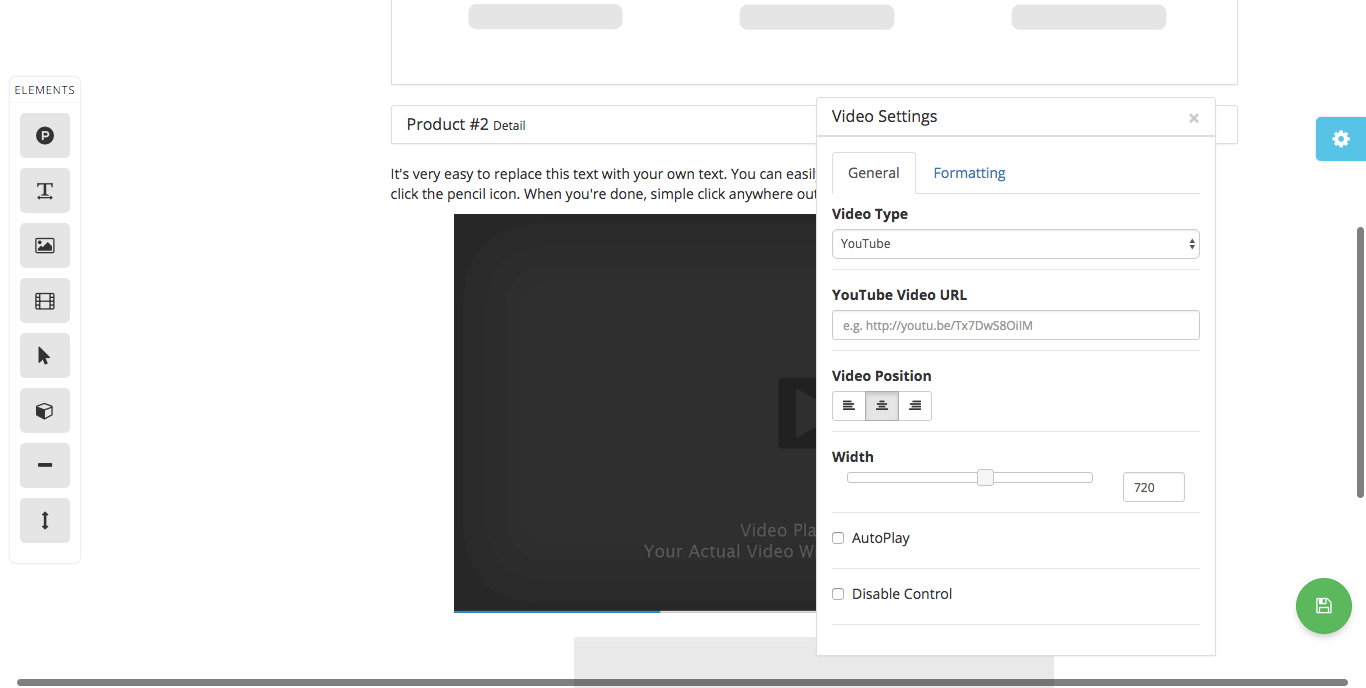 Also don't forget to customize for multiple products.
In fact,customers of Kyvio create a lot online courses and profit from them. They can either sales as an upsell or a product or sell directly on the member dashboard page.
Lesson Editor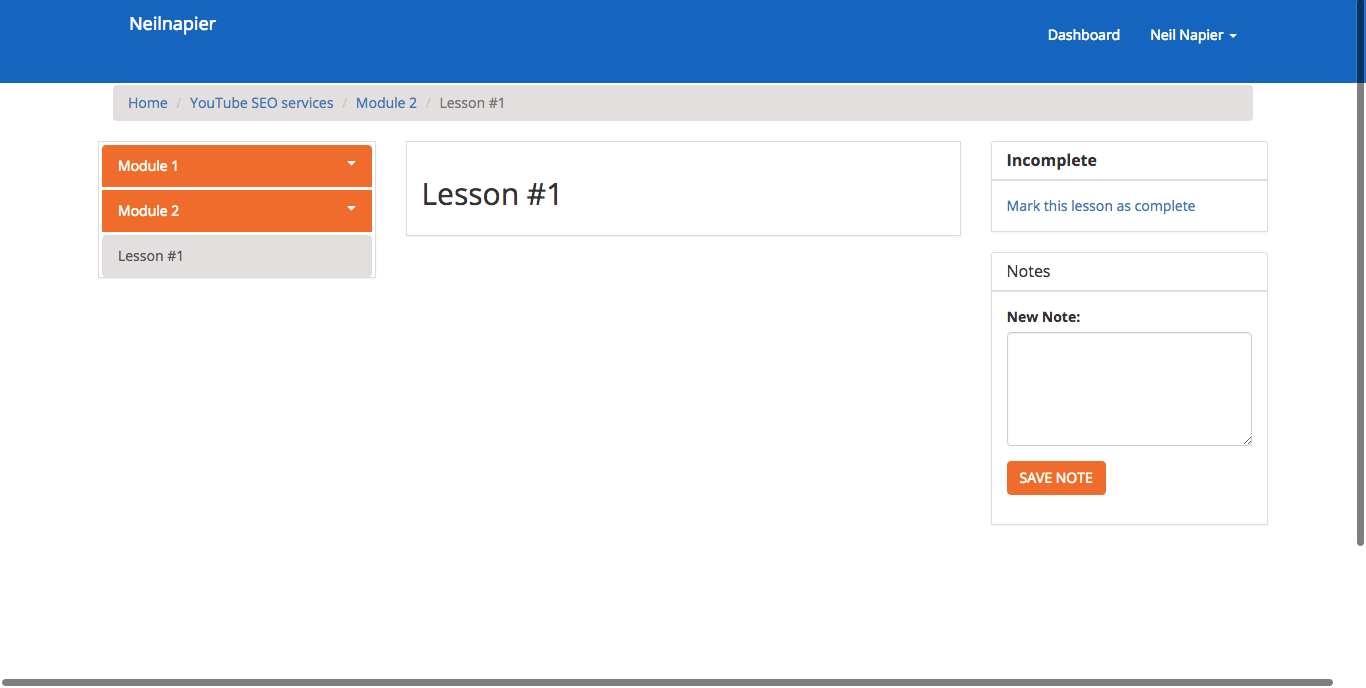 The usage of this one is actually the same with page builder where you can drag & drop.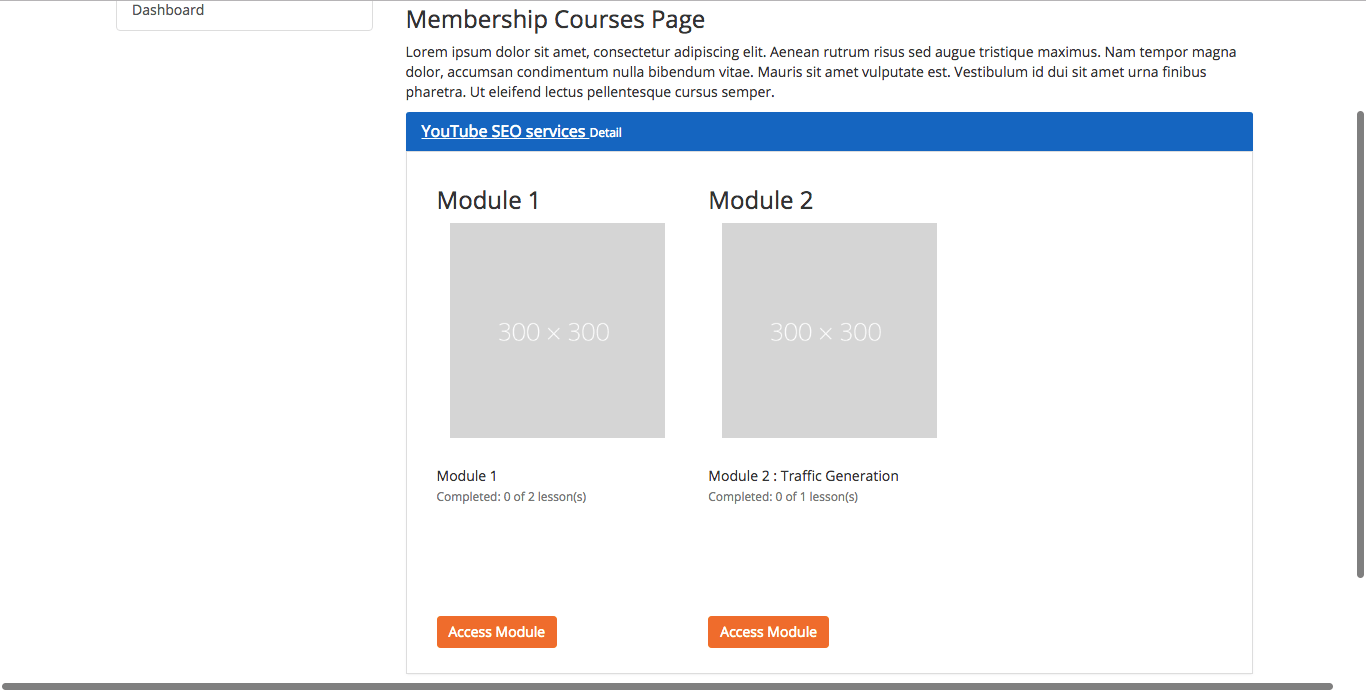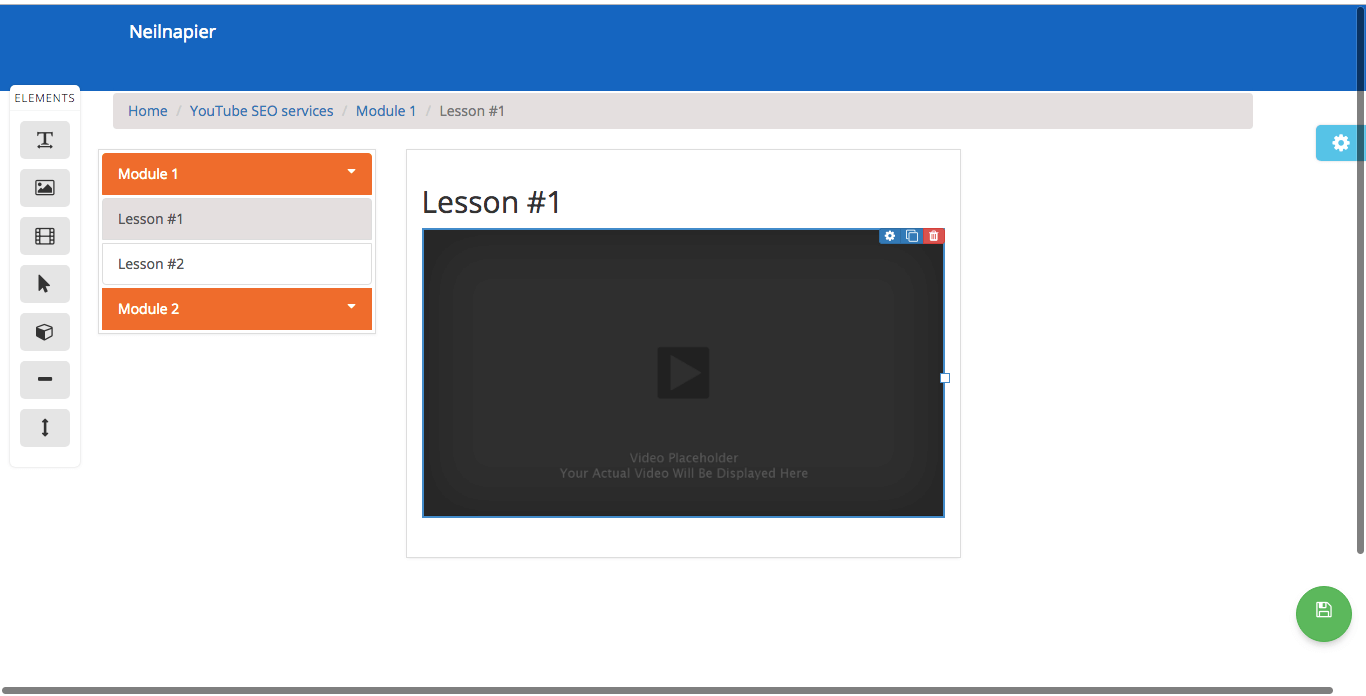 So,lesson can be a text lesson or a video lesson,choice is up to you.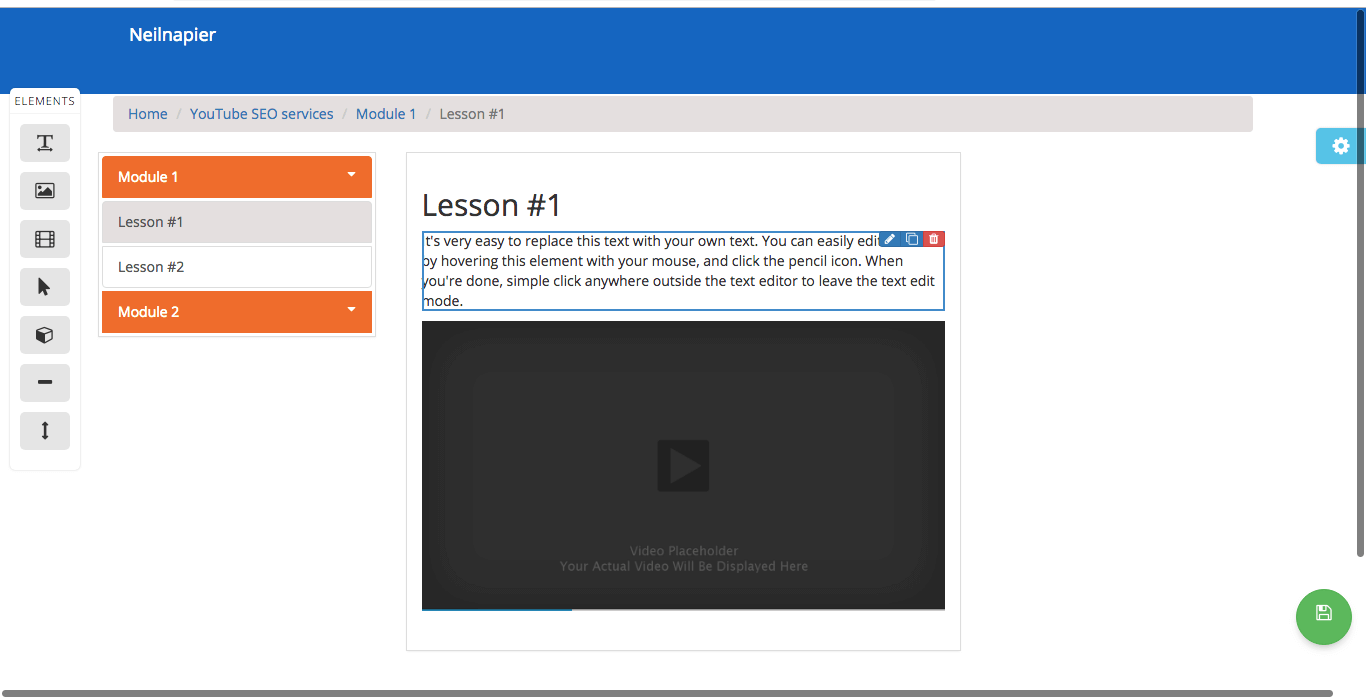 Of course,it will work with any video hosting.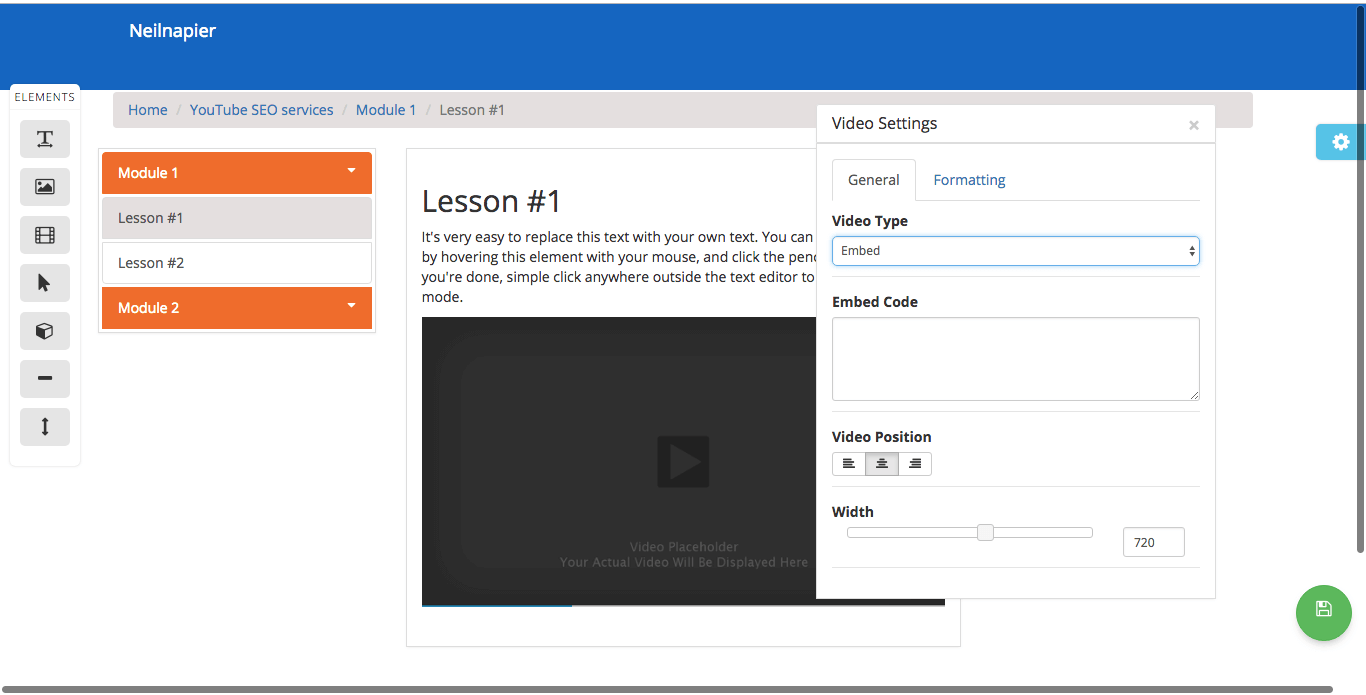 In order to engage with customer,you should have lesson quiz.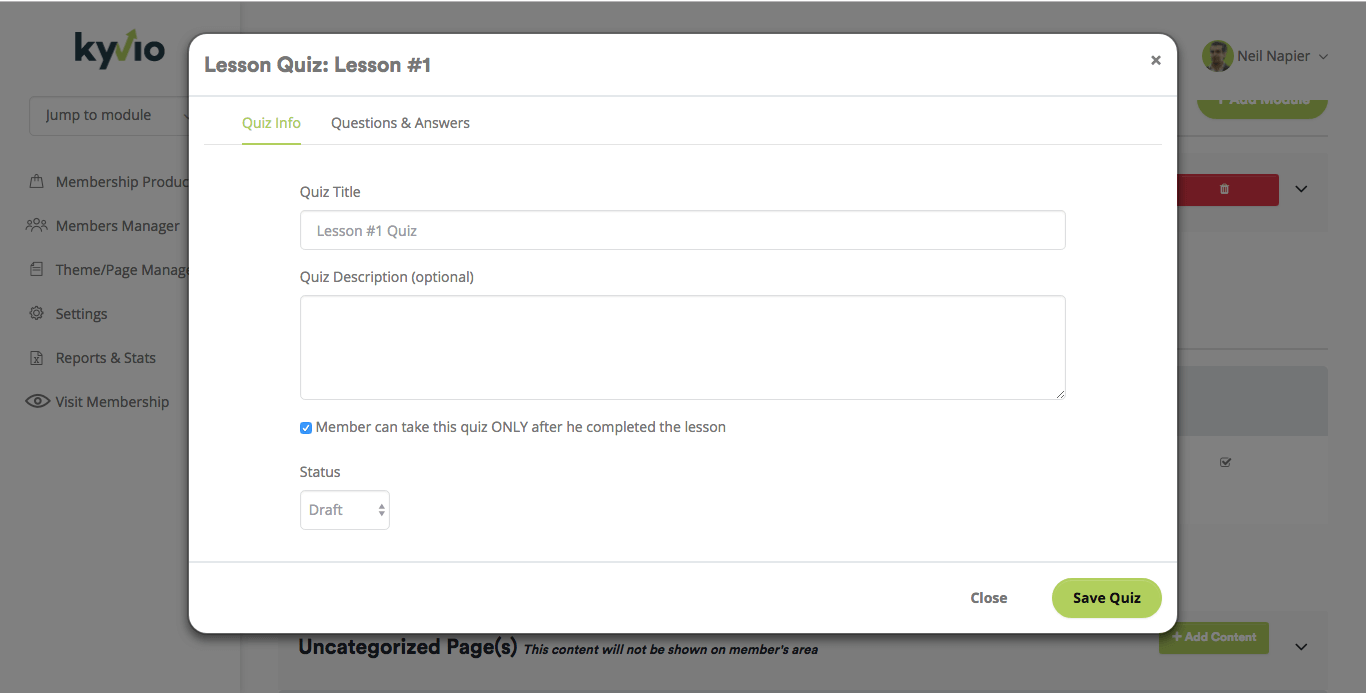 And you can add as many question as you want.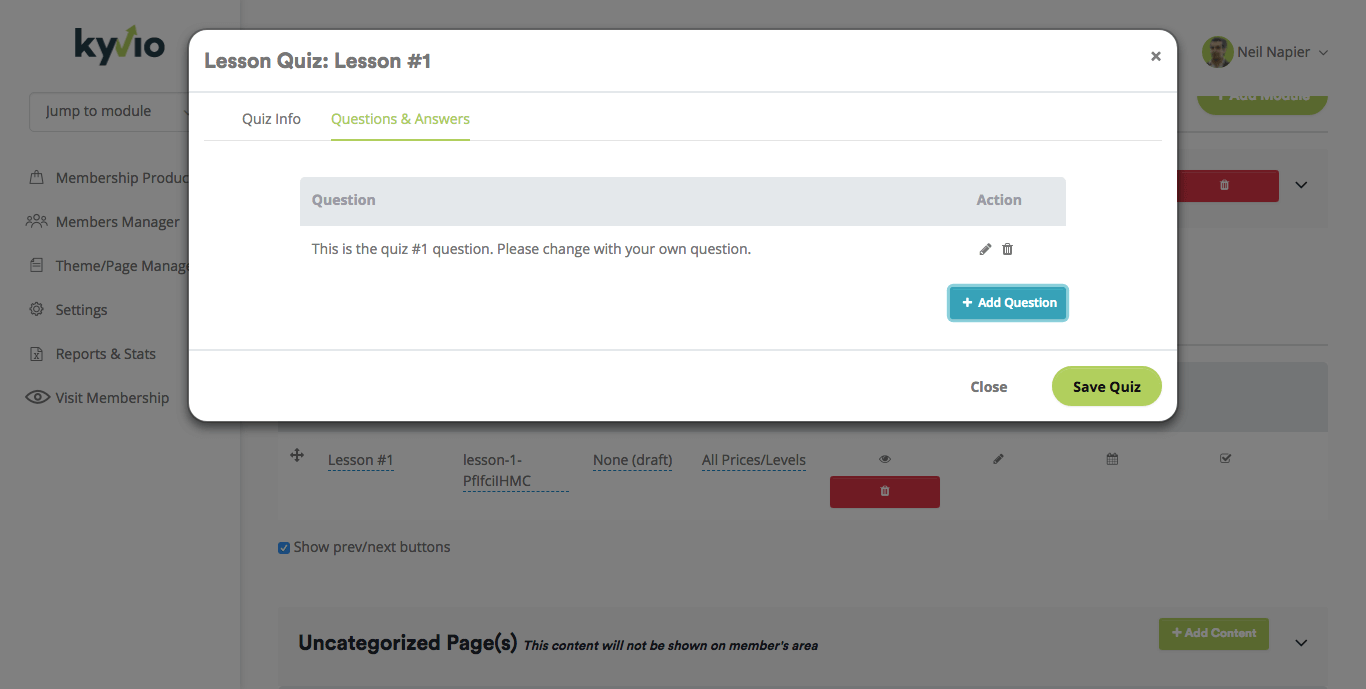 In fact,Neil's methods and features of Kyvio helps a lot business owners make real money selling courses online.
3.Smart Email
Neil Napier is the founder and co-creator of Instamailer so that the usage of this tool is really similar. The main reason why email service provider cost you monthly is because you are paying for the hosting and sending server. That's the big value of Kyvio,it hosts your sending server and you can now manage email marketing campaigns.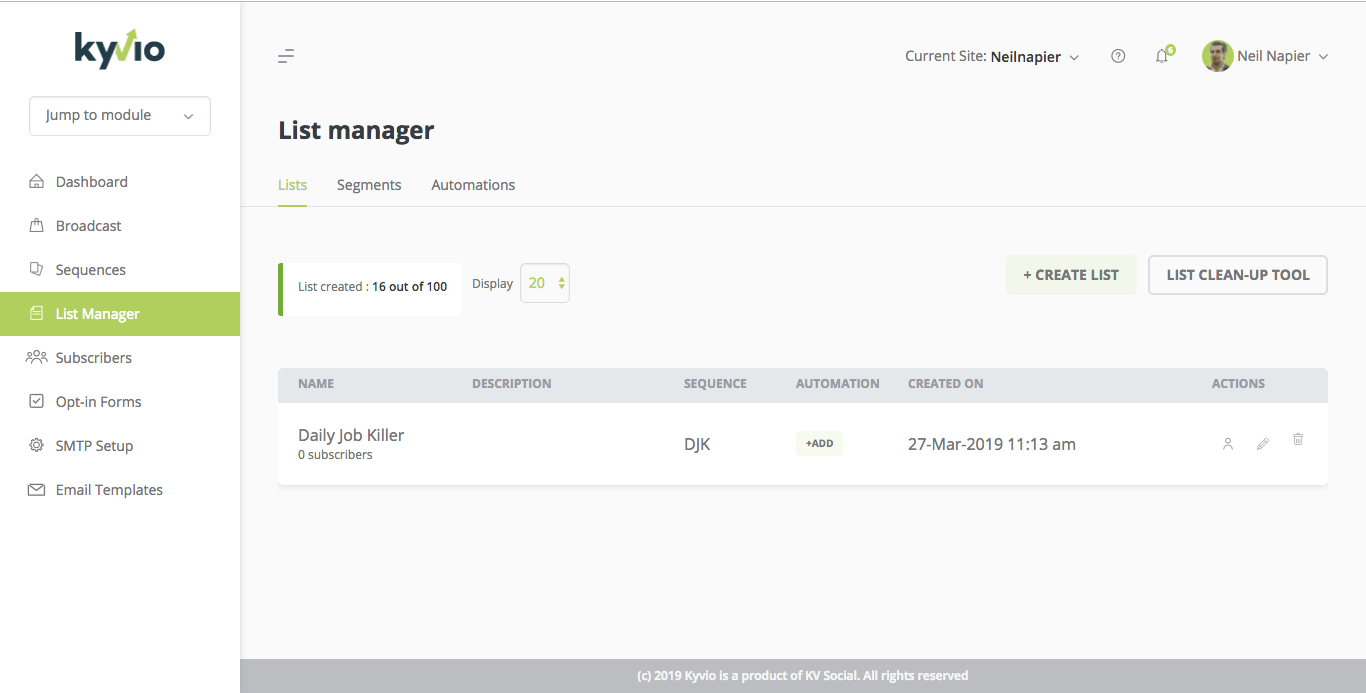 You can both sending email newsletter and email autoresponder.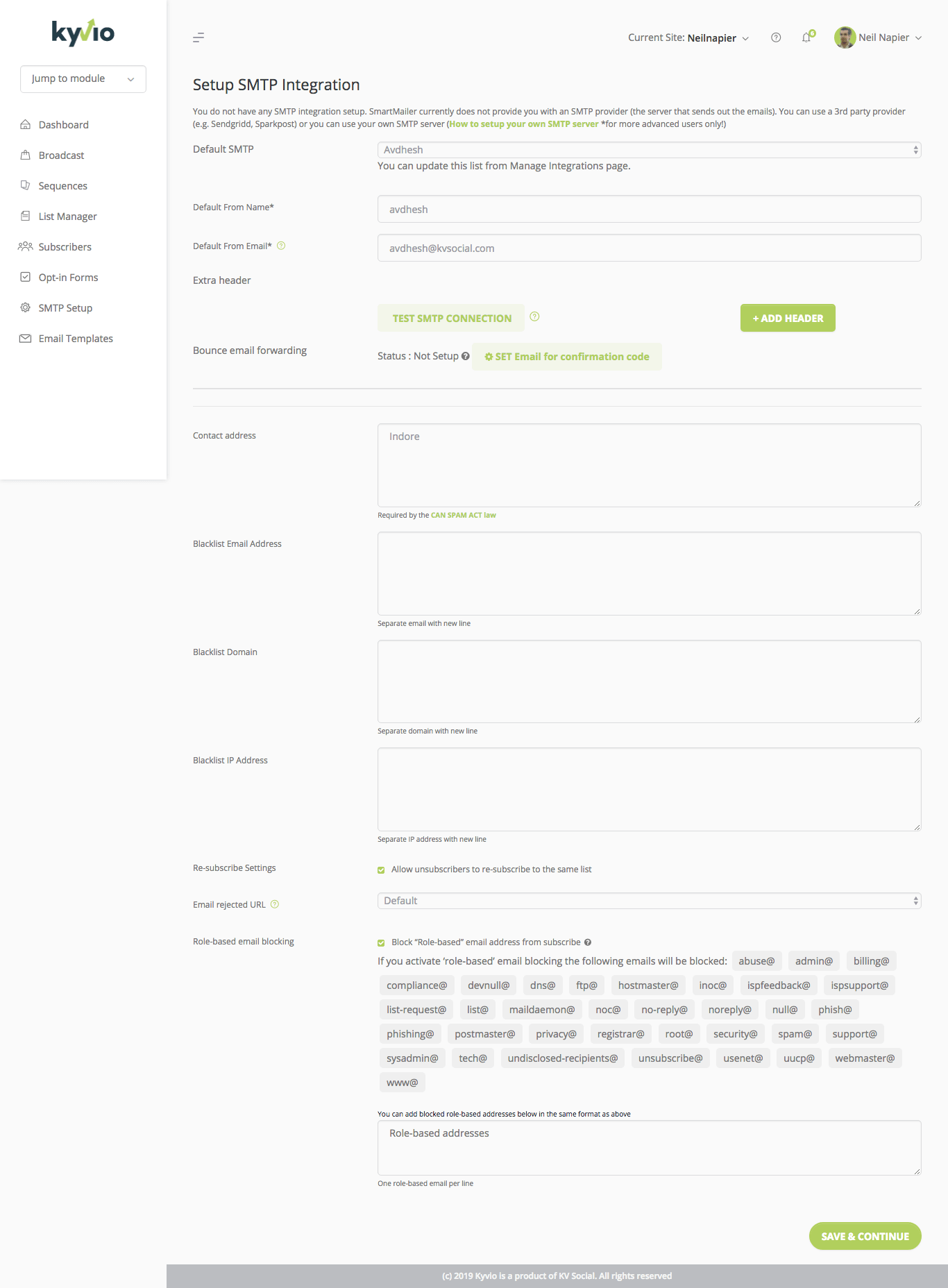 And besides,you can also send via its own server or SMTP server. Normally,SMTP will deliver your email better as they are transactional mail.
This is automation campaign. And this one is Broadcast message,where you can send email to all subscribers.
The Smart Funnel features has optin -built-in but you can also create optin form right with this features.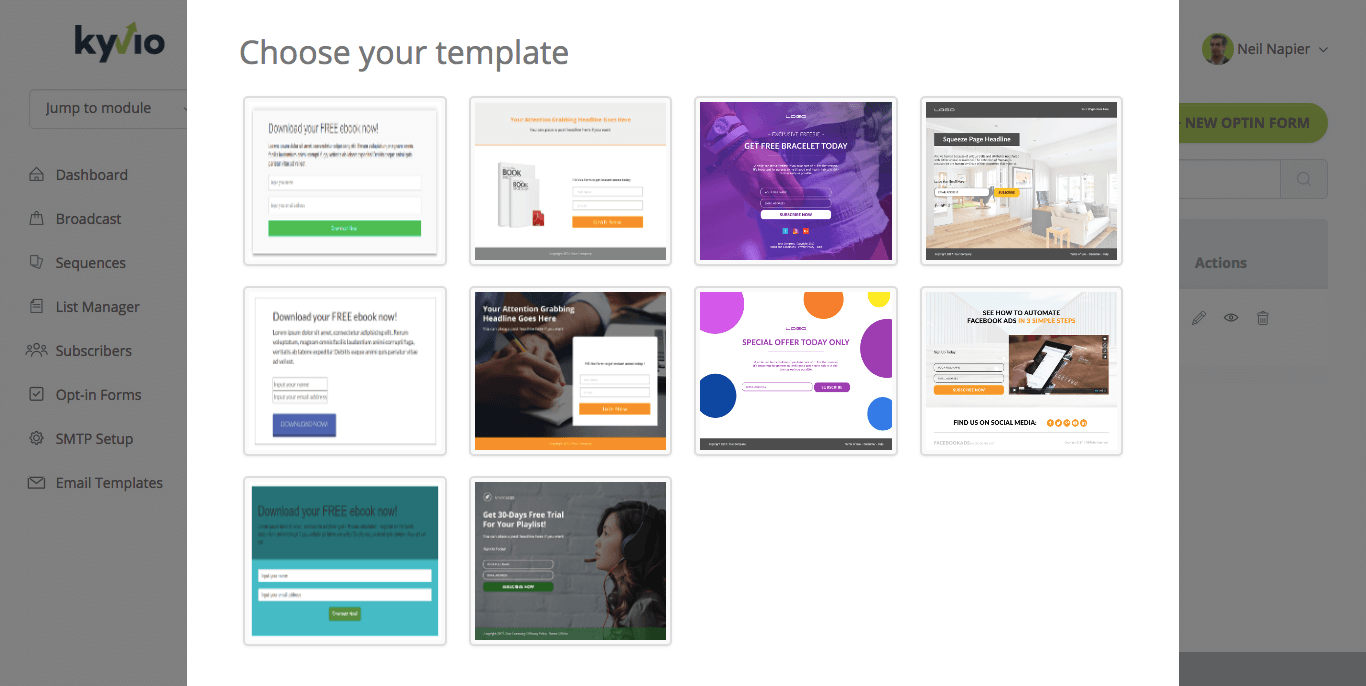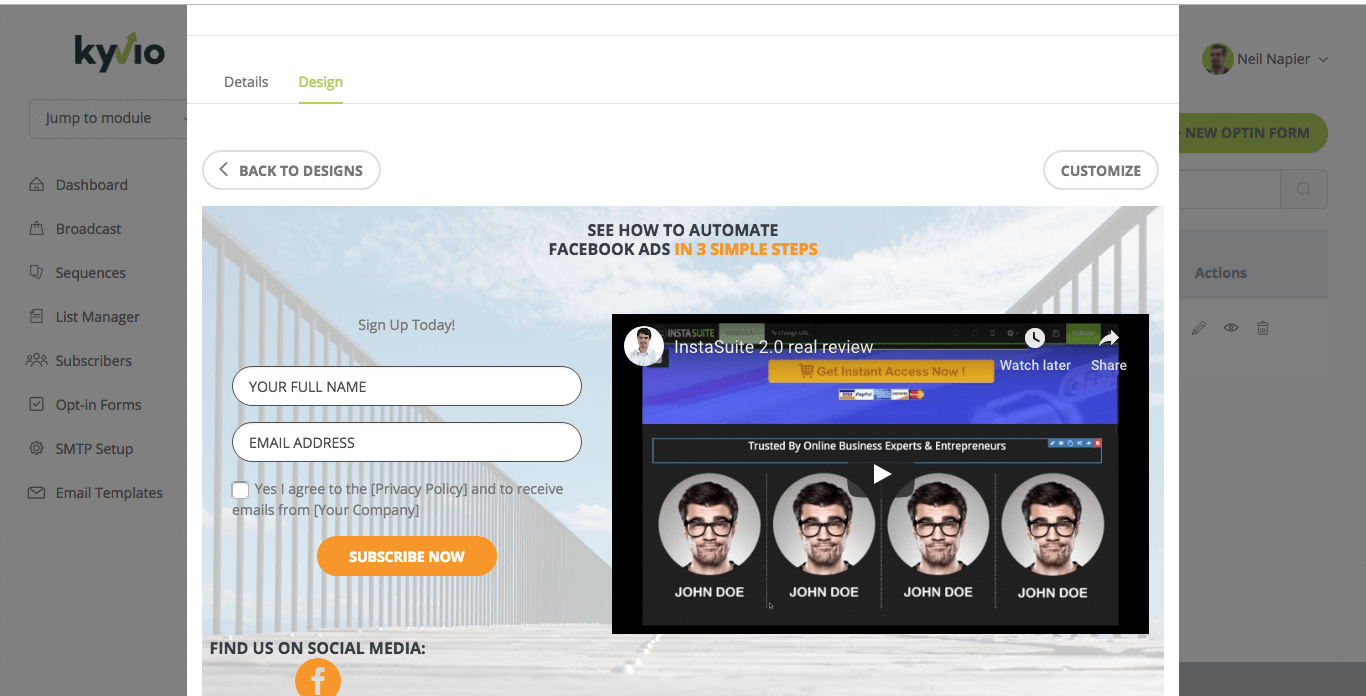 There's a lot beautiful optin templates here.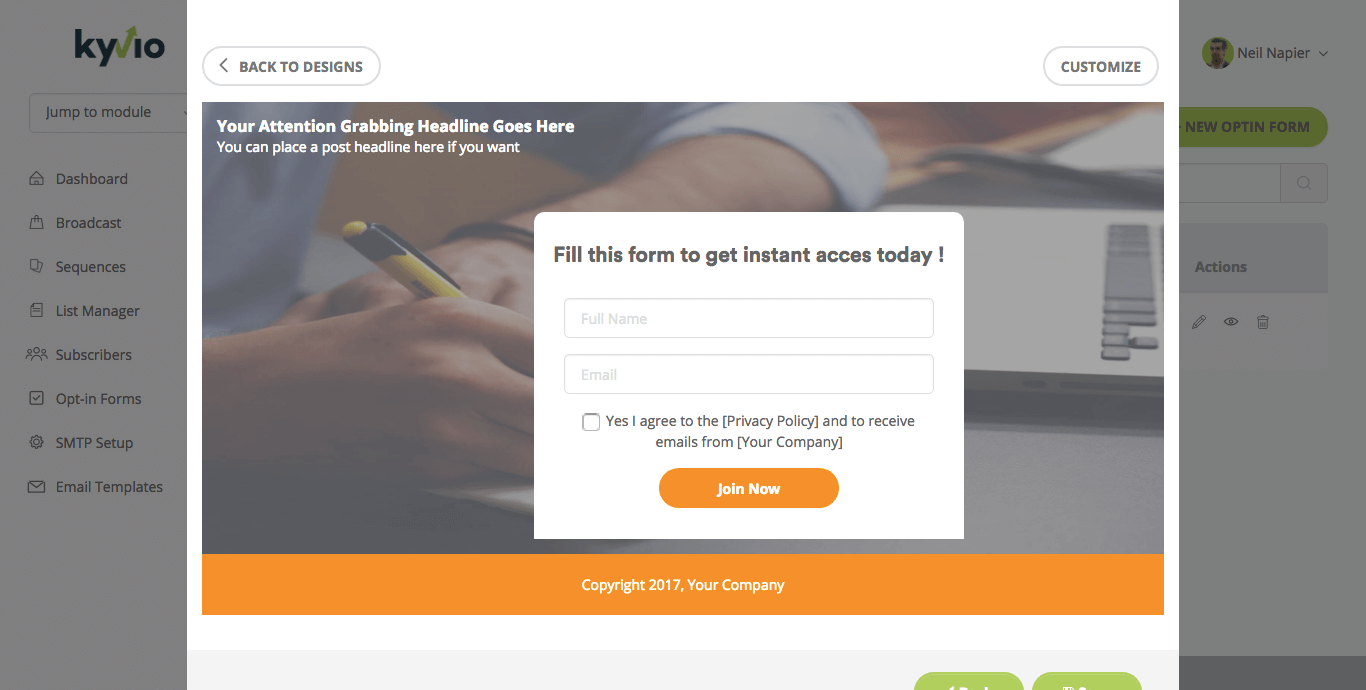 In a few click,you can edit the optin.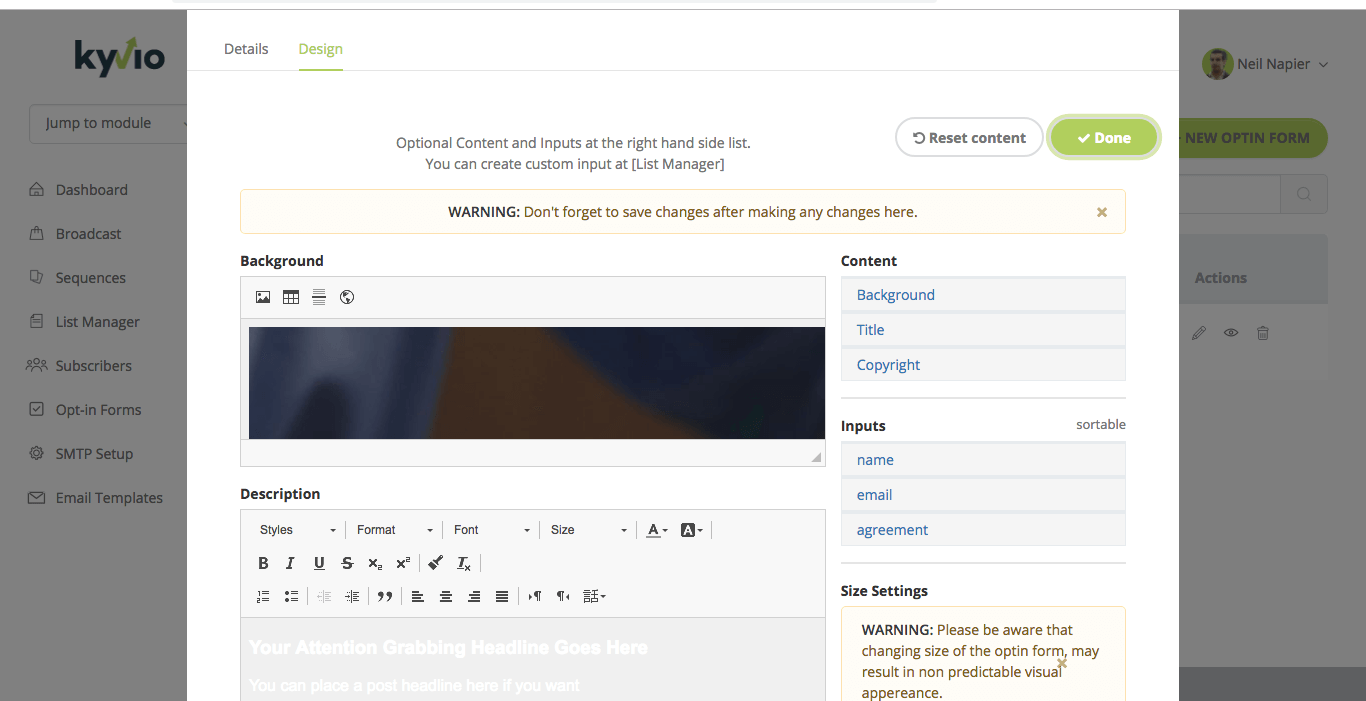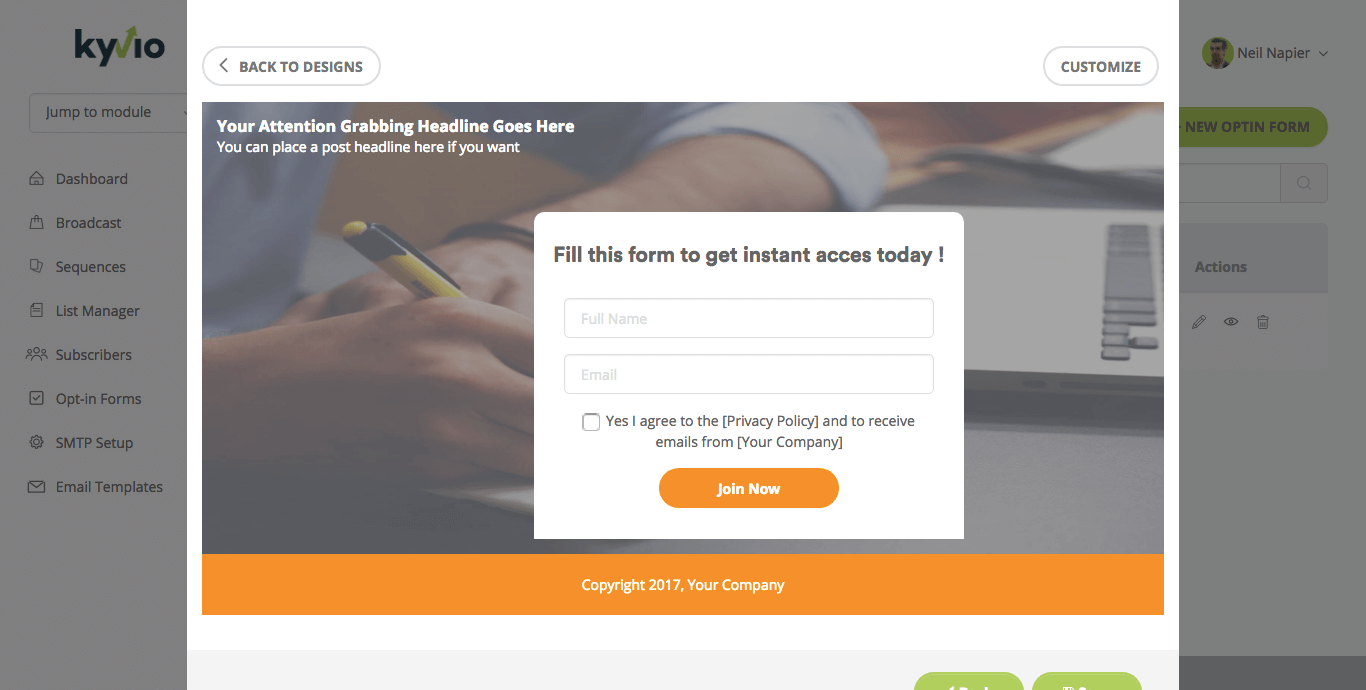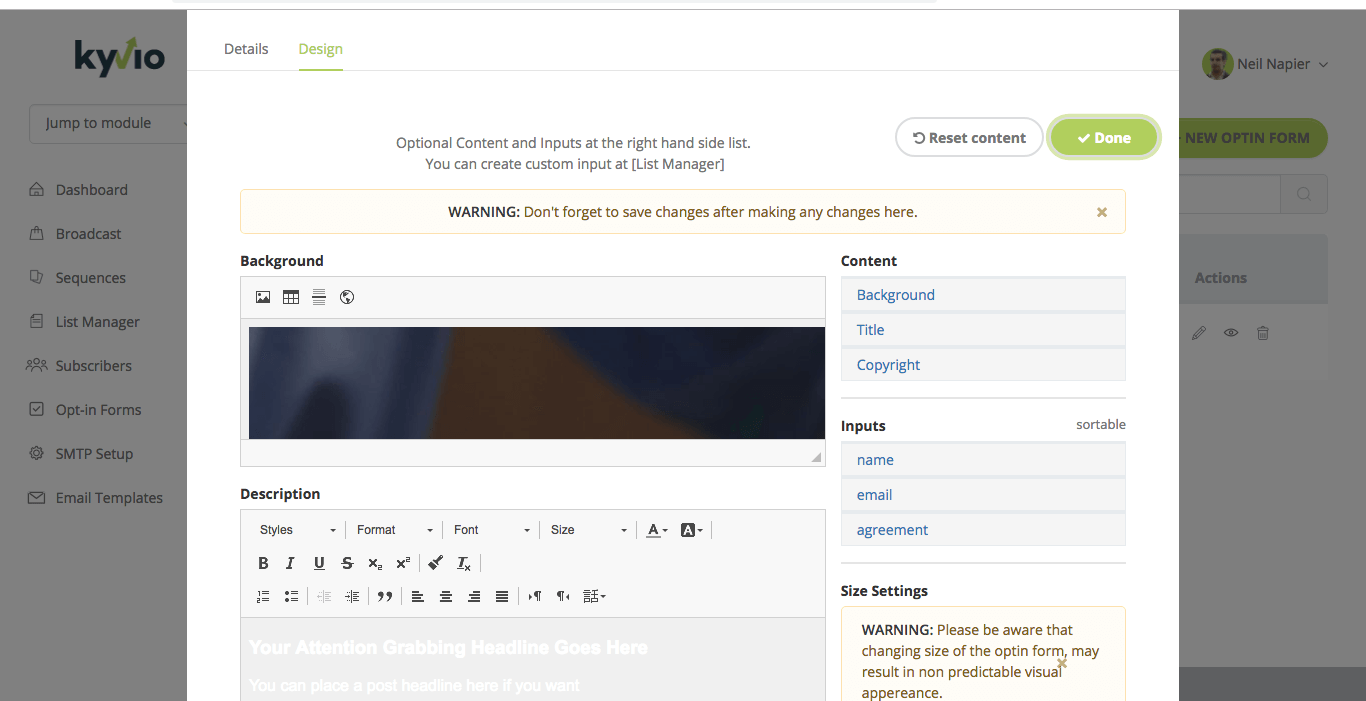 At the editor,simply edit text and background.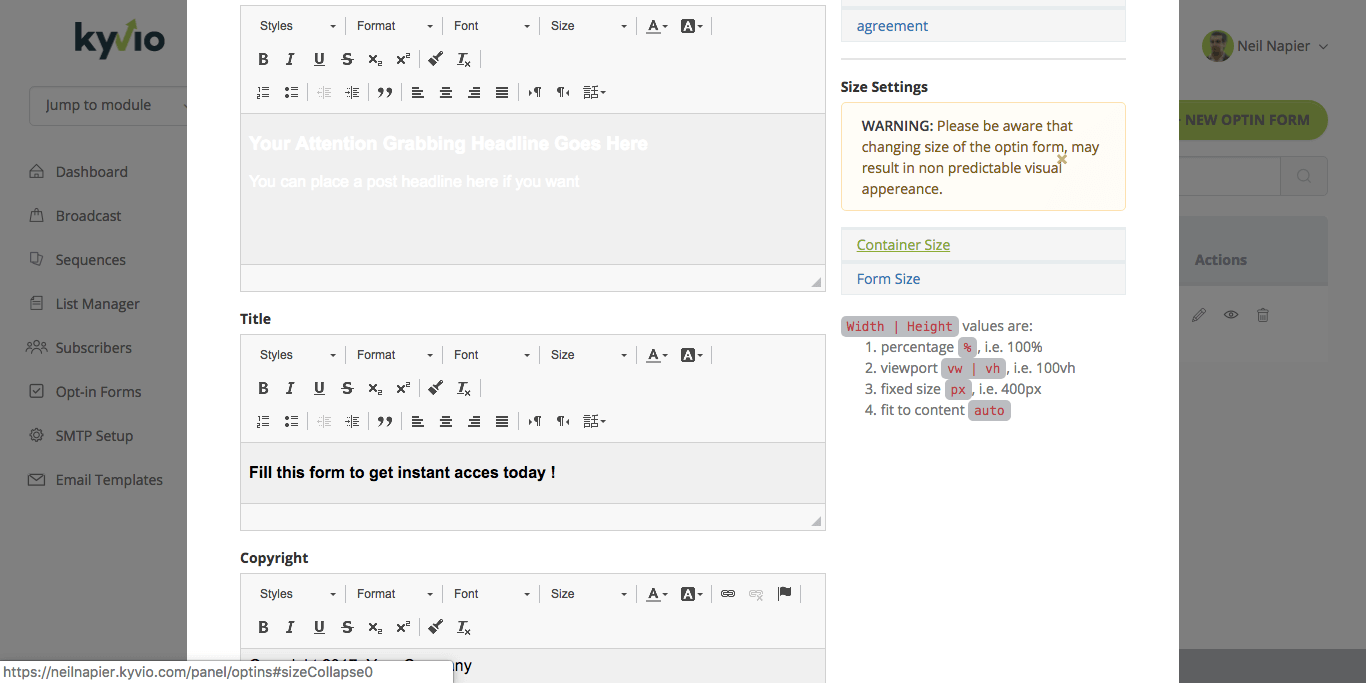 And most importantly,the optin form and you need to choose list subscribers.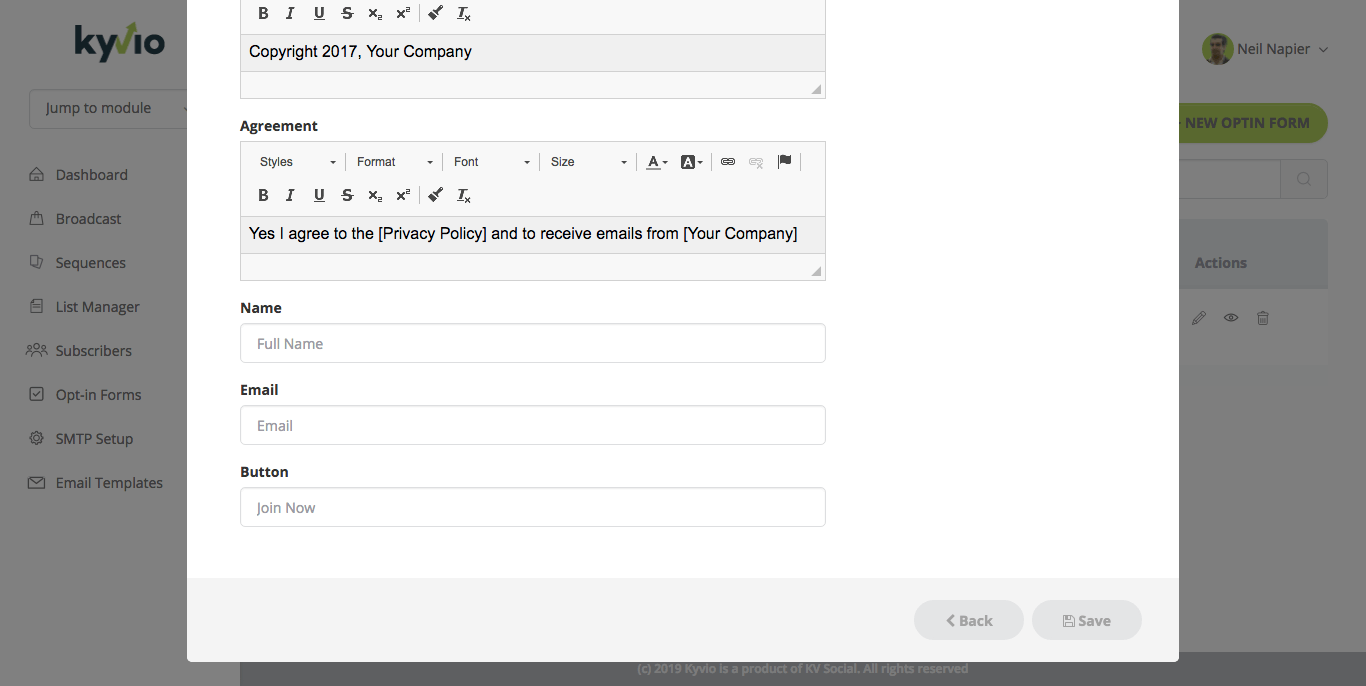 After creating,you can see HTML form that you can embed anywhere.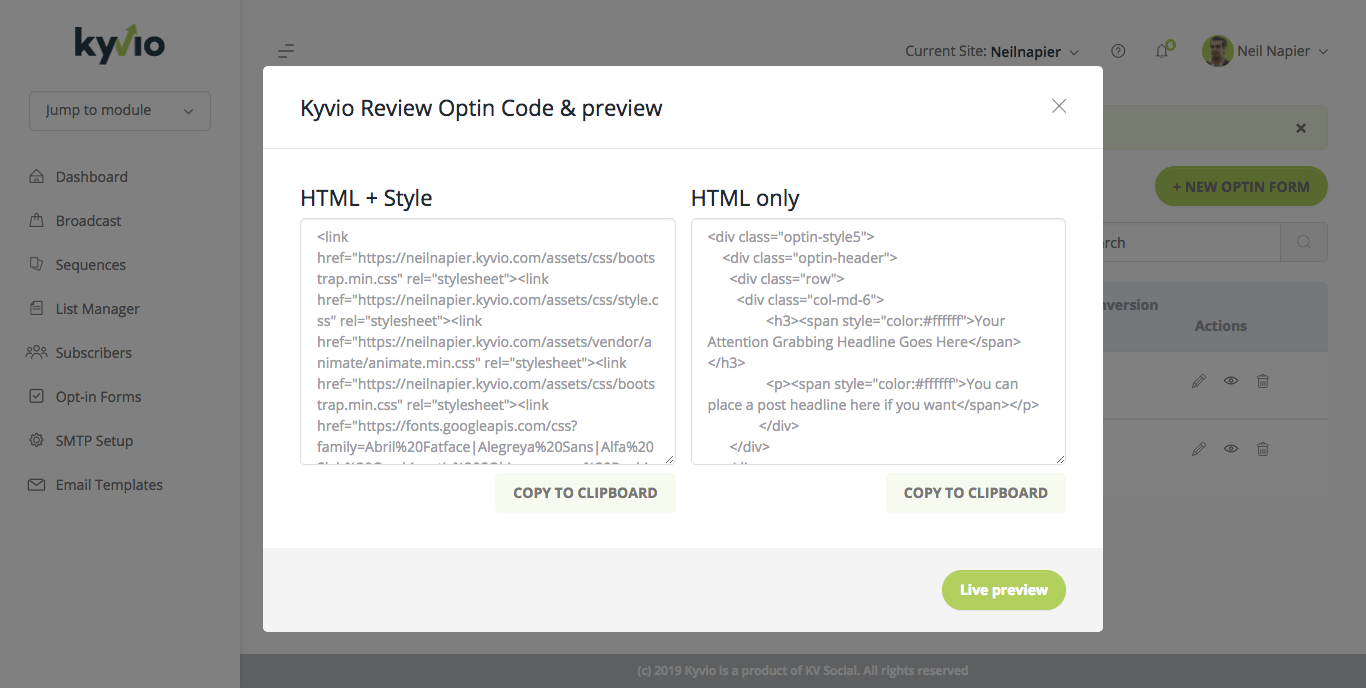 Here's the preview of the optin page. In fact,you can use direct URL.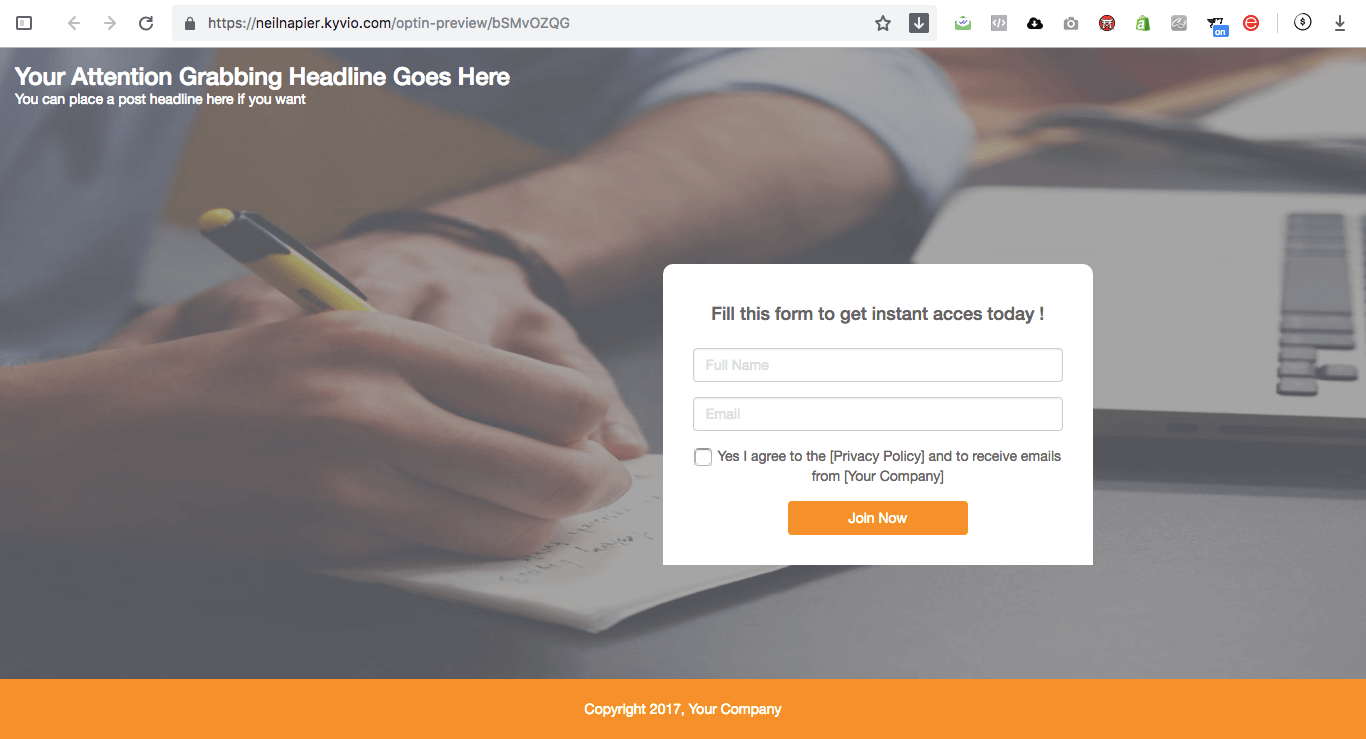 You can send BroadCasts email to subscribers to promote something.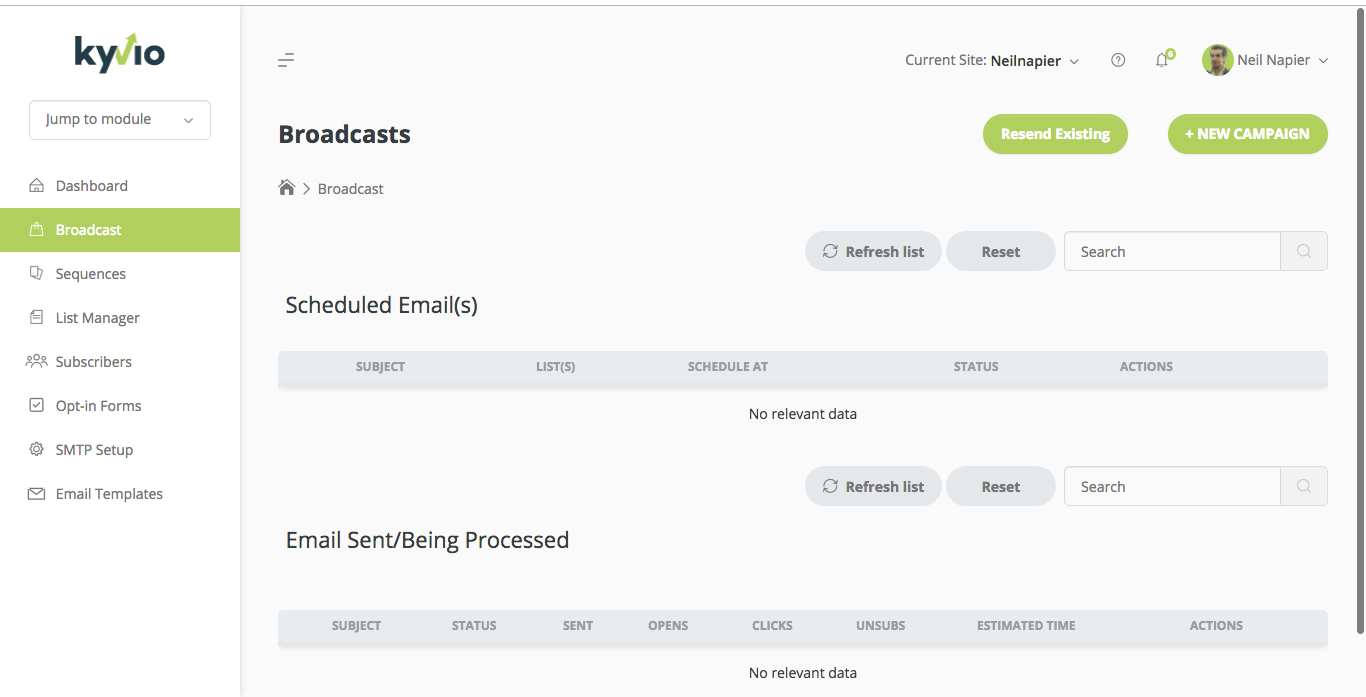 If you already have mailing subcribers,you can import from CSV file.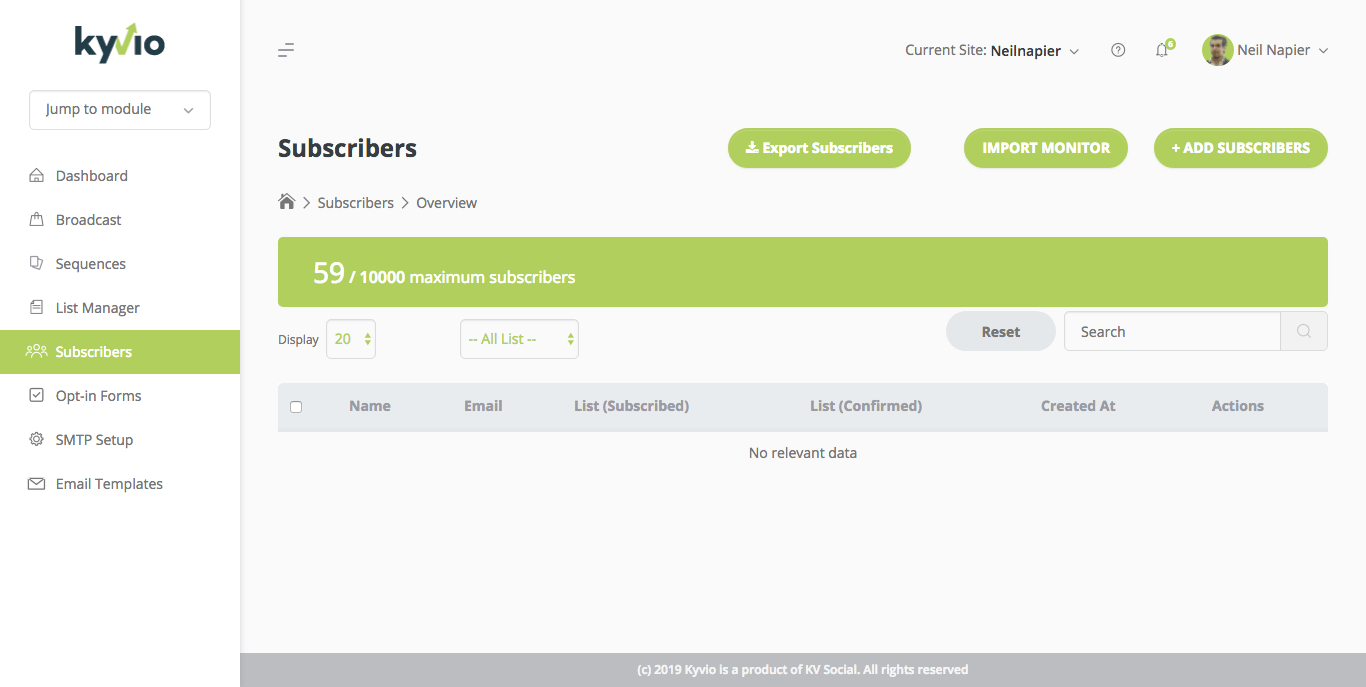 Then you can manage your subscribers.
Autoresponder sequence is a great features from Kyvio,this is where you can create one.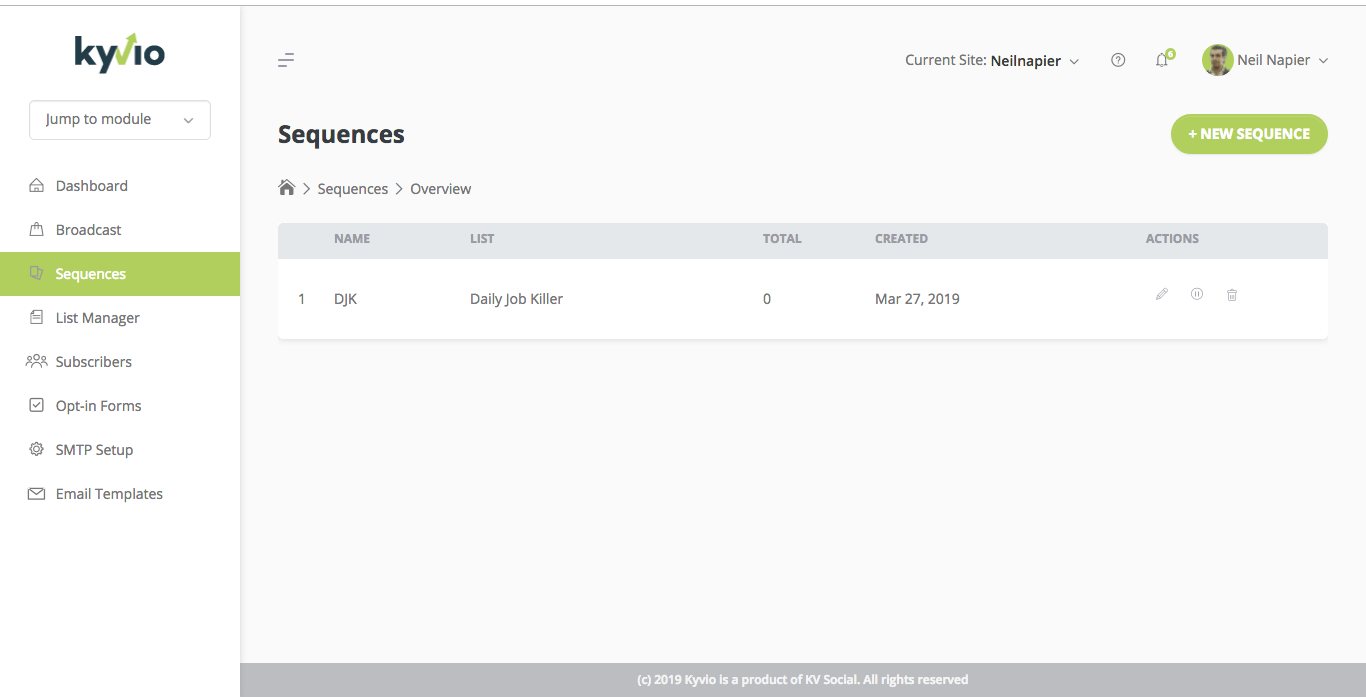 Actually,it's like you add multiple email automation.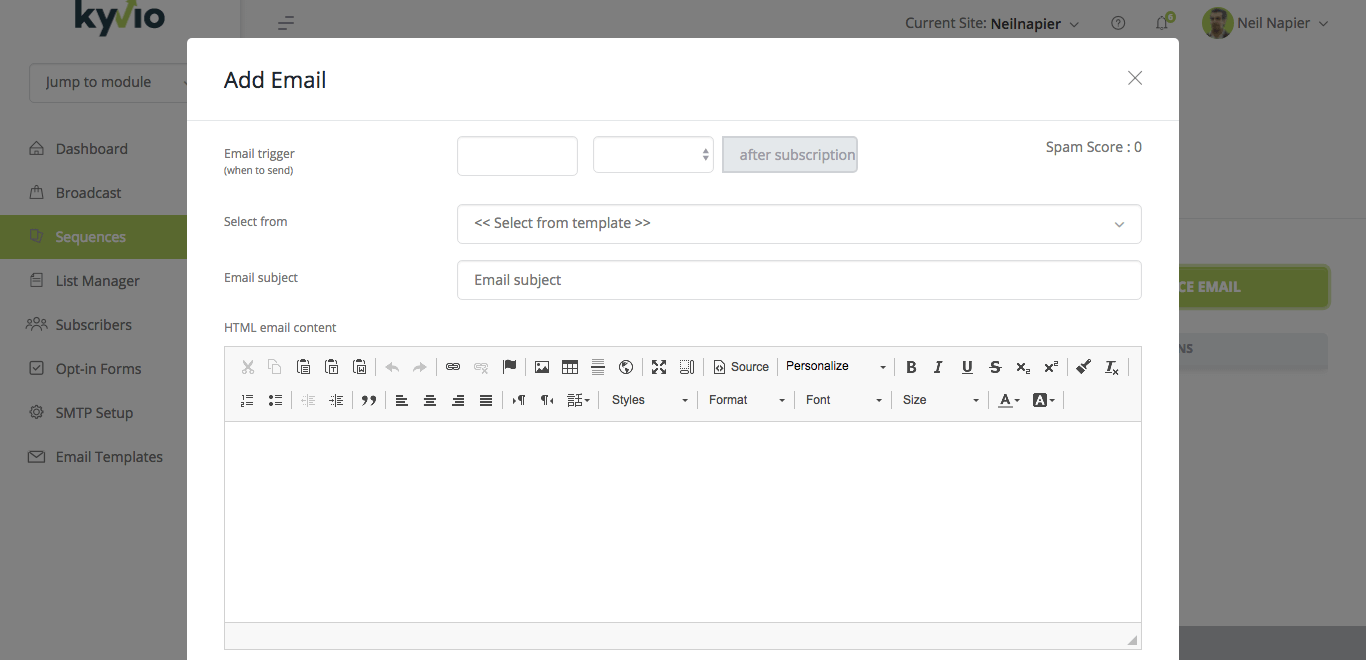 Besides,you can create and manage your own email templates with custom HTML.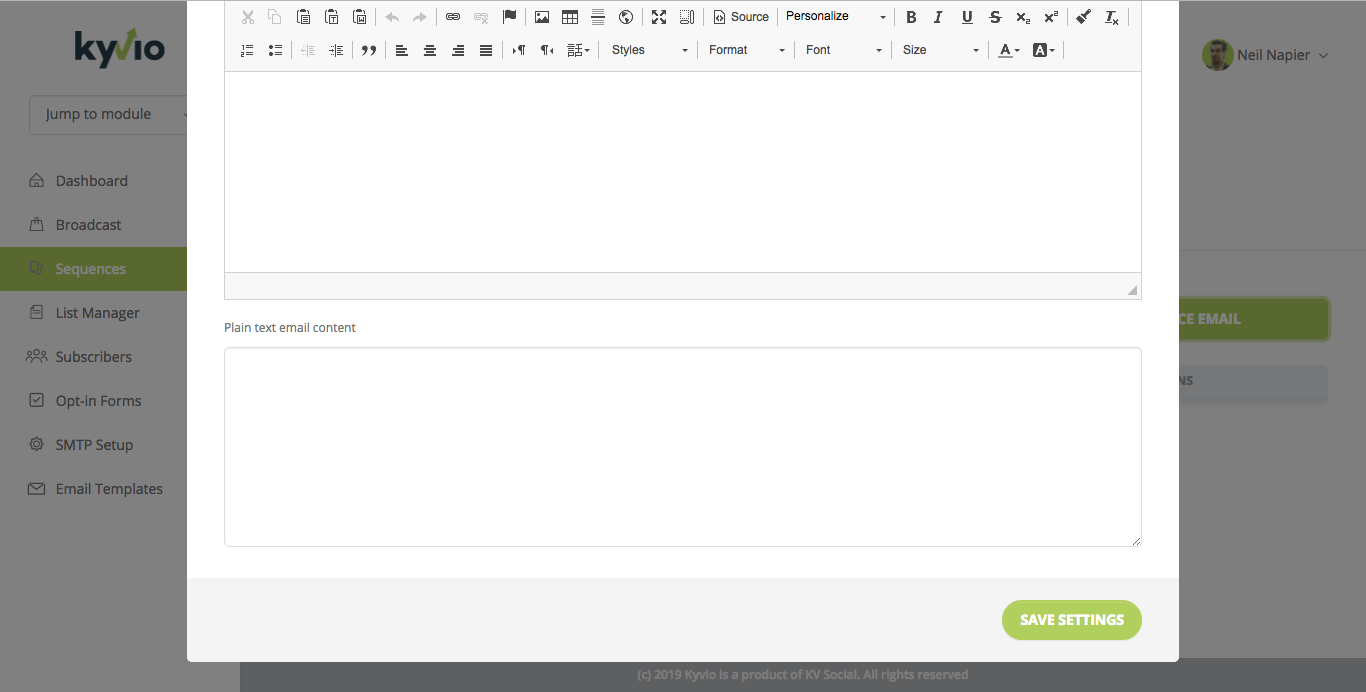 Here's the automation after people subscribe to your list.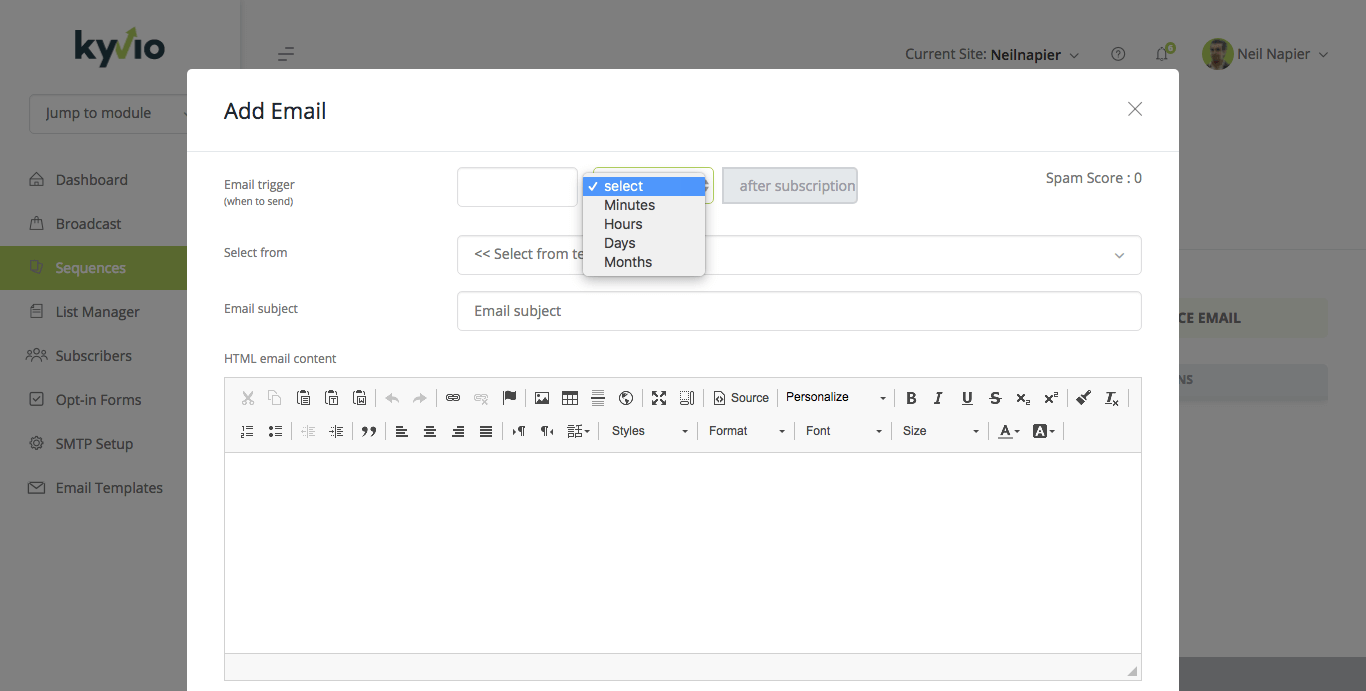 For each email,you can easily preview before sending and also has spam score.
On the other hand,it has list cleaning and can block mail.ru or bad IP.
4.Smart Affiliate
This feature is for those who launch products online. Instead of paying a lot for advertising,now,your affiliate will do this process for you.
However, it seems like many users from Kyvio don't use this feature and in fact, Neil is selling Kyvio through Zaxxa Premium, not his software.
I will discover about this feature soon. And that's all you need to know about Kyvio before you buy the product. In fact, it's a great product worth your investment and yes, it can save you a lot budget.
Pricing of Kyvio
There are three main pricing plans for this product. It has limitation about product and funnel but you can create unlimited pages of course.
Clearly, the full benefit of Kyvio is from Business and Pro. In my opinion, Basic is great for small business while large can buy Business and Pro. The decision is ultimately yours.
My Kyvio Review Video (Please Watch)
In order to provide you a correct understanding about Kyvio after watching this real Kyvio review, i have recorded a full Kyvio review video with walk through demo about it. So before you buy, turn on your volume and watch these videos first.
Is Kyvio Better Than Clickfunnels?
This is the most frequently asked question for those who intend tho buy Kyvio. The best answer i can provide you is that this one has some features that we say better than Clickfunnels and it's also better about pricing.
Full benefits of Clickfunnels is only from Actionetics and Backpack because the $97/month has a lot limitation. So,in my opinion,Kyvio Business and Pro is better than Clickfunnels at $97/month plan but about Actionetics and Backpack,i think it loses.
When talking about features,i think this one is better than Clickfunnels in terms of membership site. Besides,it has SSL certificate in-built while Clickfunnels require Cloudflare setting.
But if you talk about funnel hacking,my answer is that Clickfunnels is pure better and in fact,it's also more popular.
Bonus From Me
In order to help your life much easier,i will add some extra bonuses if you buy Kyvio through my link. This product is sold on W+ so that you buy you buy,you'll get direct access to my custom bonuses.
Pros of Kyvio
Reasonable price when comparing with competitors
Very Fast Page loading
Include SSL Certificate and Subdomain License (and can point your own domain name)
Secured membership delivery
Can Manage and follow your Students's Learning process
High Delivery Rate Email Marketing Features (and built-in SMTP)
Manage Affiliate Program and Commissions
Cons of Kyvio
Limitation about Funnels and products You can Create
Final Verdict
In summary,Kyvio is a great product for entrepreneur and business who sells their own products. This one can save you a lot budget while selling physical and digital products. As you know,sales funnel,email marketing and membership are three most important factors when you sell or launch products online. Of course,Kyvio is a yes from me.
Mini FAQs
What is Kyvio?
Kyvio is an All-in-one marketing platform designed for and by online marketers. It includes every tool you need to make reliable money online in one stupidly simple interface. The web-based platform includes the page builder, funnel builder, support desk builder, email mailing service and so much more, all under one roof, all working seamlessly together.
Is Kyvio easy to use?
Kyvio is so easy to use, 9 year olds and 90 year olds alike can setup A-Z working sales funnels in 25 minutes or less.
This is because of the drag-and-drop style of Kyvio, where you can see what you're building in real time without ANY code at all.
But I already have page (or funnel) builder software, do I need Kyvio?
ABSOLUTELY. Nothing does what Kyvio does.
So even if you have a page builder, then you need to integrate a funnel, e-mail marketing, membership area, and so much more. Which is at least 3 additional tools to configure and worry about.
With Kyvio, you can forget about all of that, everything is in one place and works excellently.
The founder at Kyvio believe this: building a funnel ANY other way would require at least DOUBLE the work and DOUBLE the expense of Kyvio, and you'd still likely be missing out on profit-maximizing functionality like one-click upsells, email automation, and so much more.
Is there a guarantee?
YES. There is a 30-day ironclad guarantee.
Which means all you have to do is satisfy your curiosity and TRY Kyvio right now, while scoring the lowest investment it'll ever be.
If you're not thrilled for any reason, you can just click your mouse for a 100% refund with no questions asked.
You can even Export ANY assets you create before processing your refund, so these are yours to keep no matter what.
If I decide to leave Kyvio, who owns my assets?
You do – Kyvio gives you full control where other page builders hold your assets hostage. If you stop paying for your page/funnel builder, say bye-bye to your pages and funnels, but with Kyvio, you can EXPORT your assets so no matter what, you have them. You won't get this sort of dedication to your business anywhere else.
Is Kyvio GDPR compliant?
Yes – they are completely GDPR compliant, just look at our privacy policy in the footer.
How long has Kyvio been around, what are the future plans?
Kyvio has been around for nearly 2 years and we are adding new features, improvements and bug fixes every couple of weeks. You can see their entire changelog here (over 200 features added in the last 2 years)
Plus, in a few months, Kyvio 2.0 comes out – you get upgraded to that for FREE! Kyvio 2.0 will provide cutting edge funnel builder as well as fully customizable (including languages) membership sites.