Product : Live Event Blaster 2
Creator : Tom Yevsikov (also the creator of Adbuddy) and Blastersuite (also the creator of VMB and VPB)
Price : $27 on Warrios Plus during September launch. Price can grow after launch,i am not sure about that.
Do I Recommend : Yes,this product is OK
Video marketing is so powerful presently. If you know how to get traffic from video,certainly your winning chance will increase a lot. When you get traffic to a video campaign,Youtube free traffic is one of them. So,the key to success is to rank your Youtube video successfully.
Ranking your video on YT is not easy especially for those who lack experience. Fortunately,YT has new features that helps us rank easier,live streaming. Youtube loves live streaming and they normally credit these video for rank. Today,i will show you a software that helps you rank your live video on Youtube,Live Event Blaster 2.
Notes : i got the Jv access account from Tom Yevsikov so that i know exactly what inside.
What Is Live Event Blaster 2?
At first,it's a Window desktop app that allows you to create and post a live event on Youtube. Live Event Blaster 2 can generate CTA text,images as a way to increase conversion for video content. Then it helps you rank video content after you enter information.
Who Is Live Event Blaster 2 For?
Of course,Youtube video marketer
Live Streamer on Youtube
People who want to rank video content better
And more,..
Features and Demo of Live Event Blaster 2
Now,i will show you how easy it is to create a live event on Youtbe together with Live Event Blaster 2. Oh,don't forget that it's a Window desktop app only so that if you are a Mac user like me,you need parallel. This is the member's area once you login.
1.Connect Account
This is a review access account so that there are some limitation. I will ask Tom for info about how many channels you can add on the Front-end product.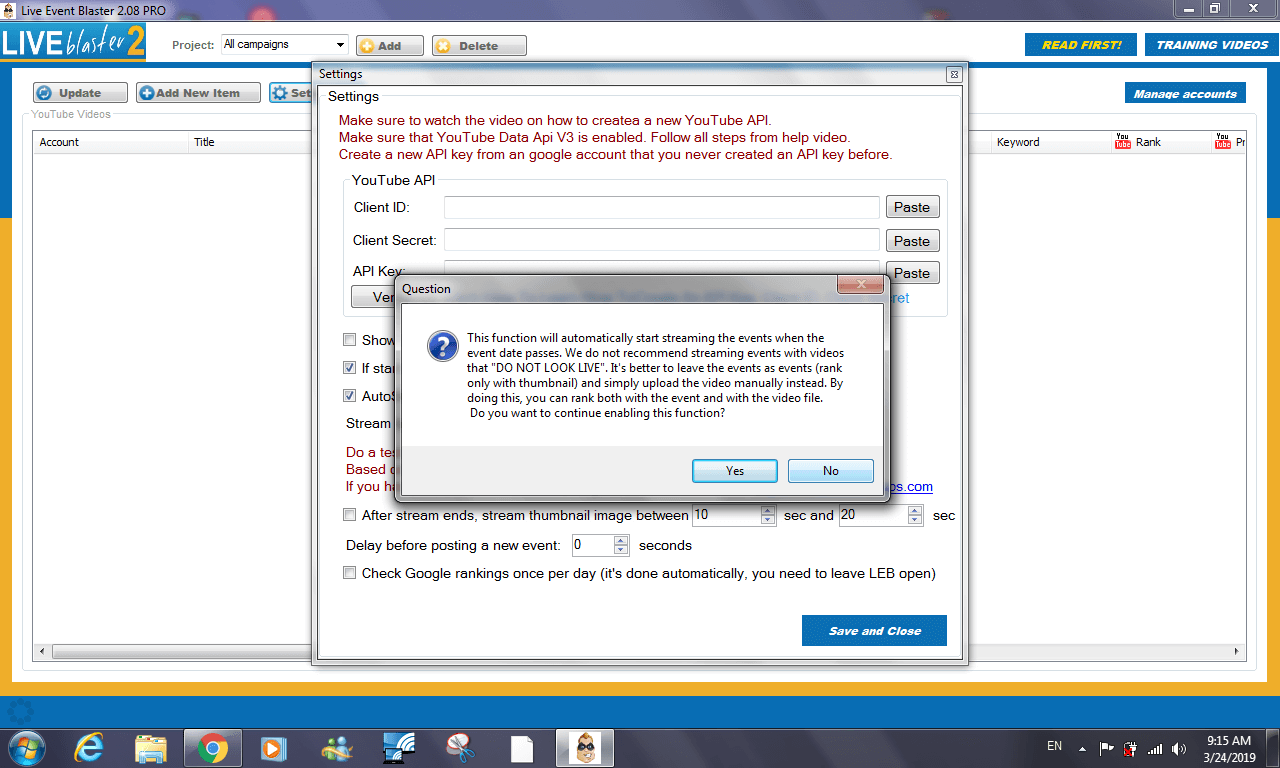 The first thing to do when using Live Event Blaster 2 is to connect your Youtube account. Now,go to your Youtube account and then enable for live streaming. Personally,i have done this after using some streaming softwares such as Livecaster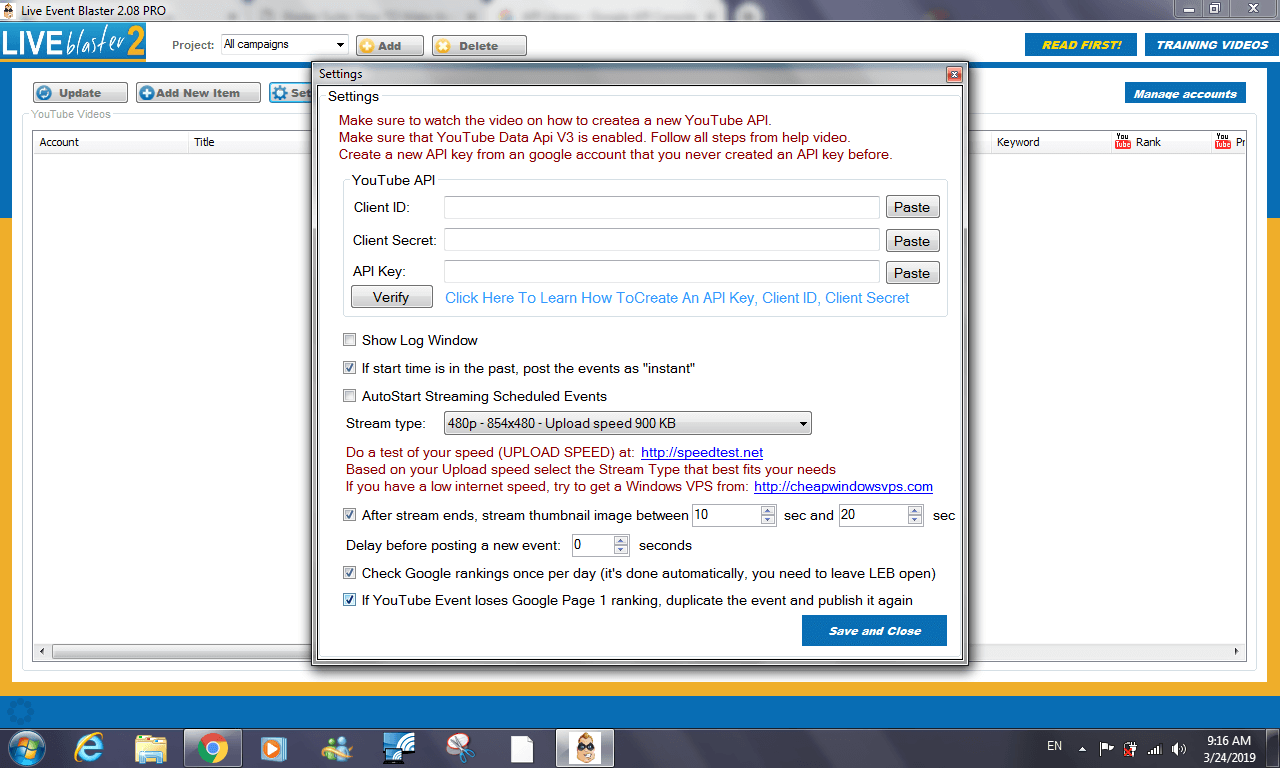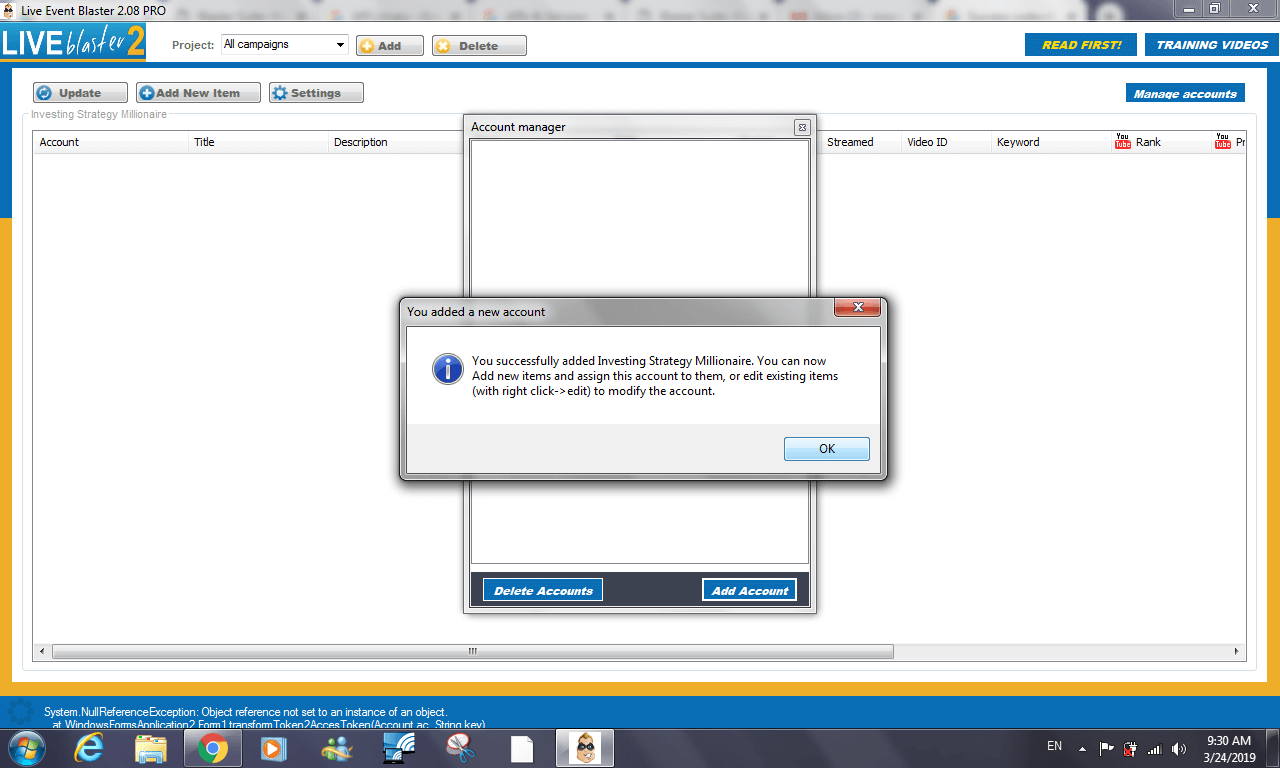 And that's all you need to do to connect Youtube Live Stream account with Live Event Blaster 2. Now,it's time to create your live event.
2.Thumbnail Generator
This is what makes Live Event Blaster 2 stands out the competition.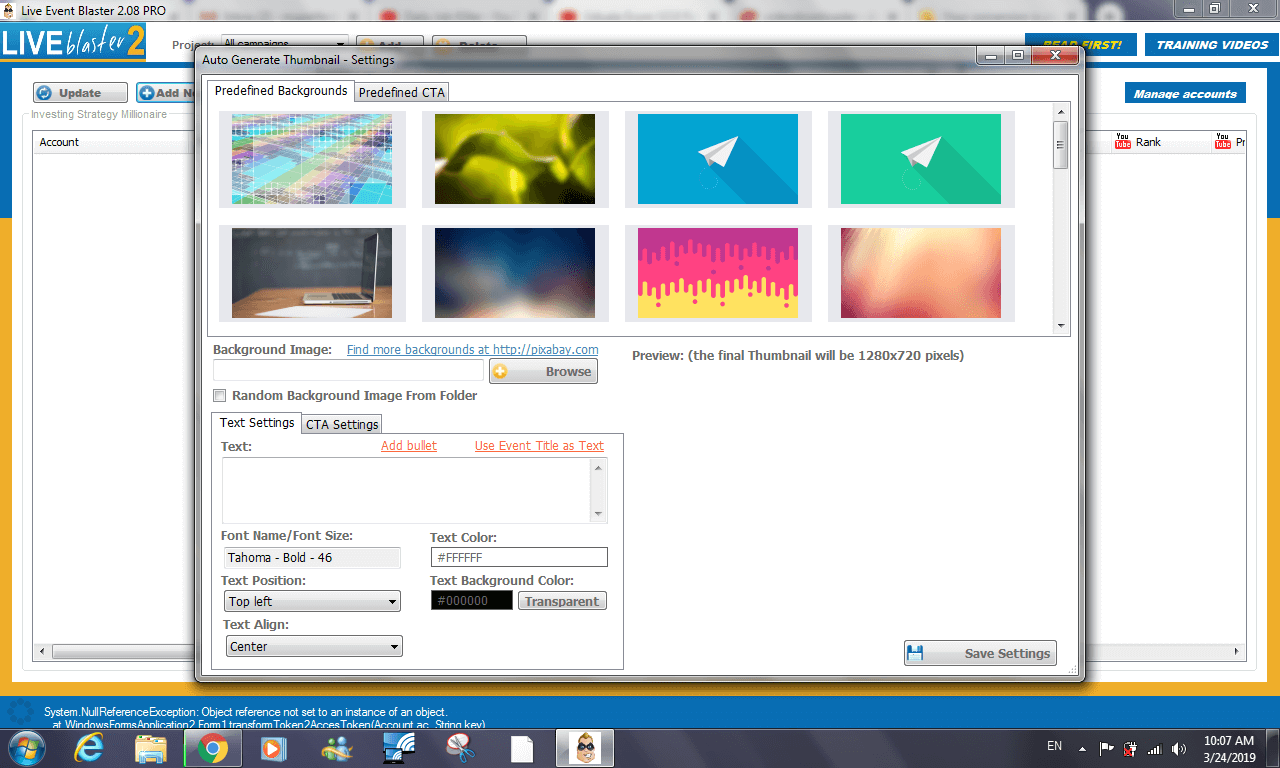 You can easily customize these thumbnail templates.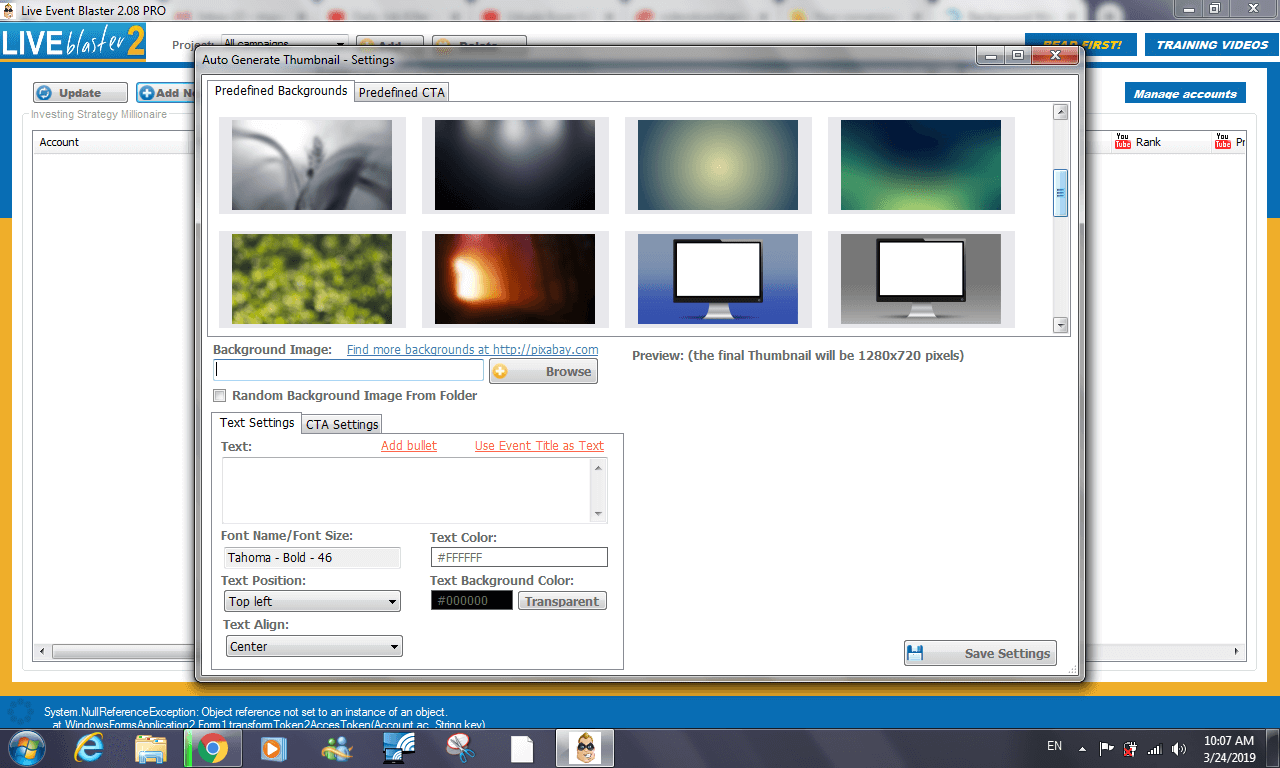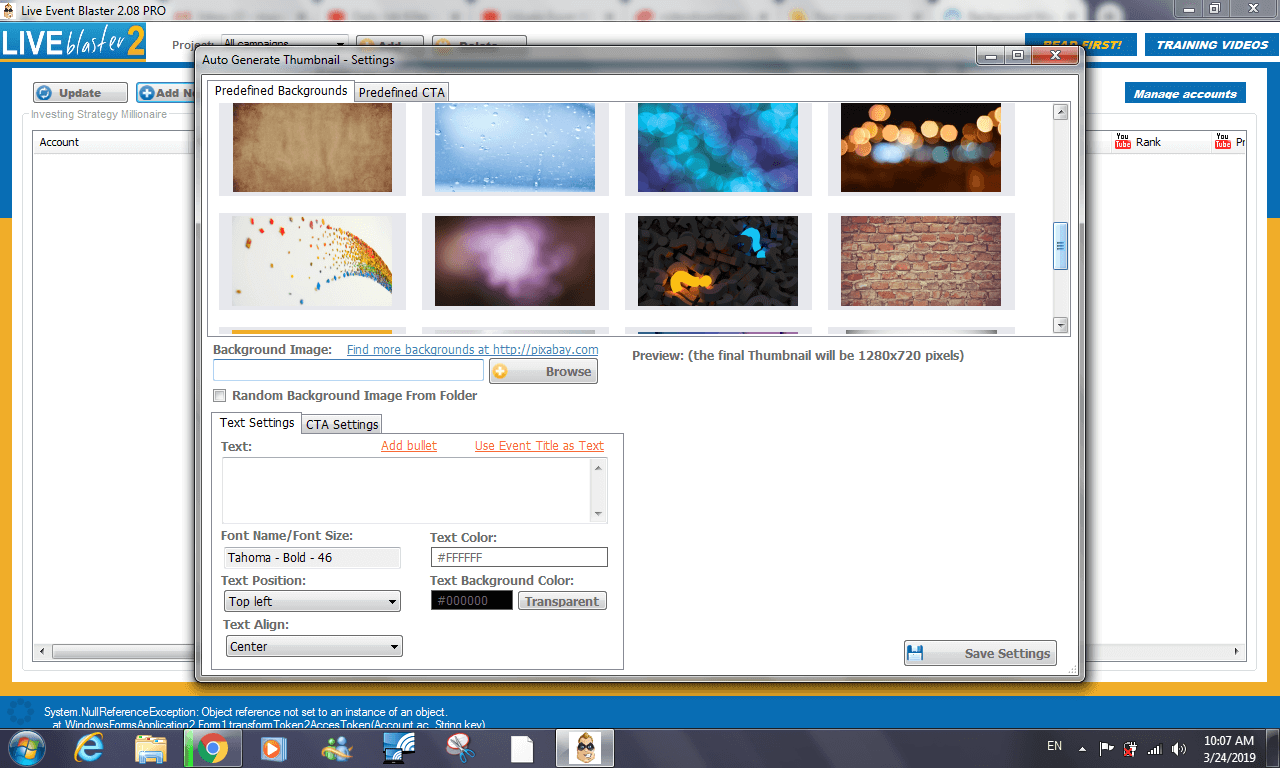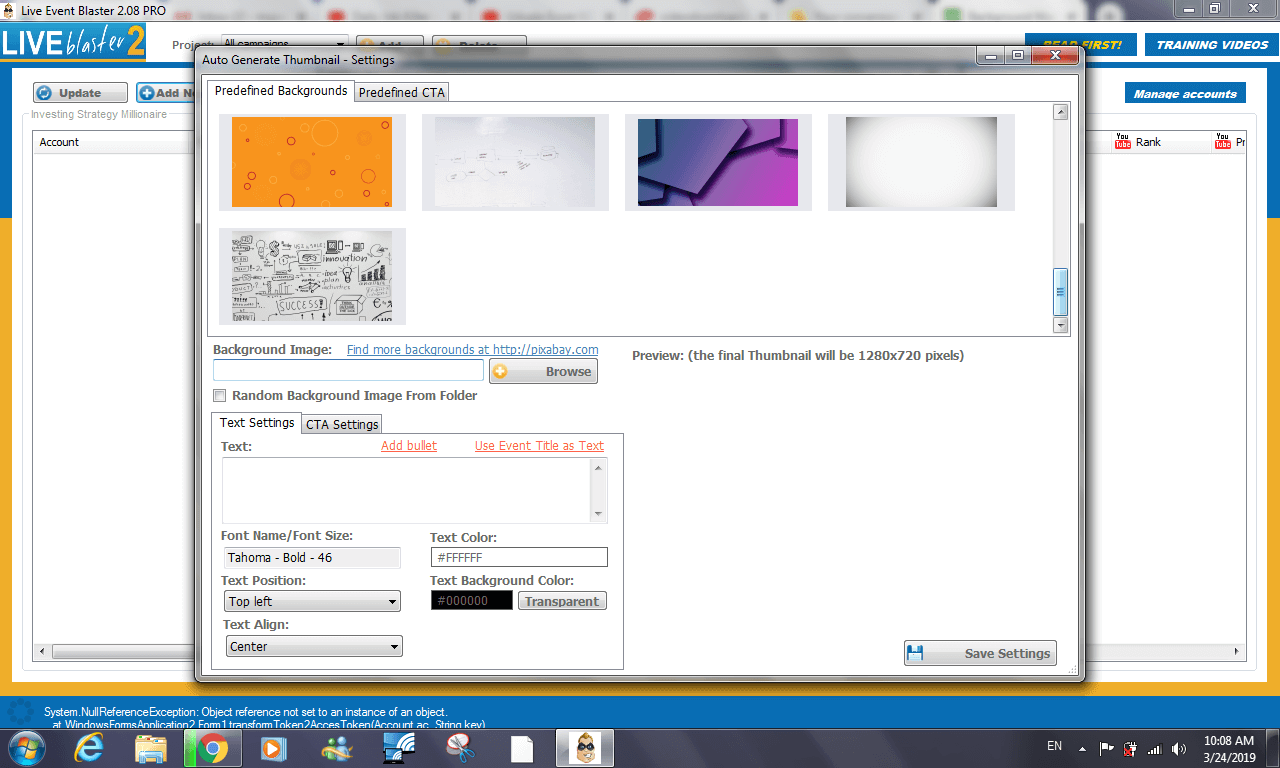 As a results,you can create multiple Live Events in bulk,which is a proven ranking technique. Just enter the Text here.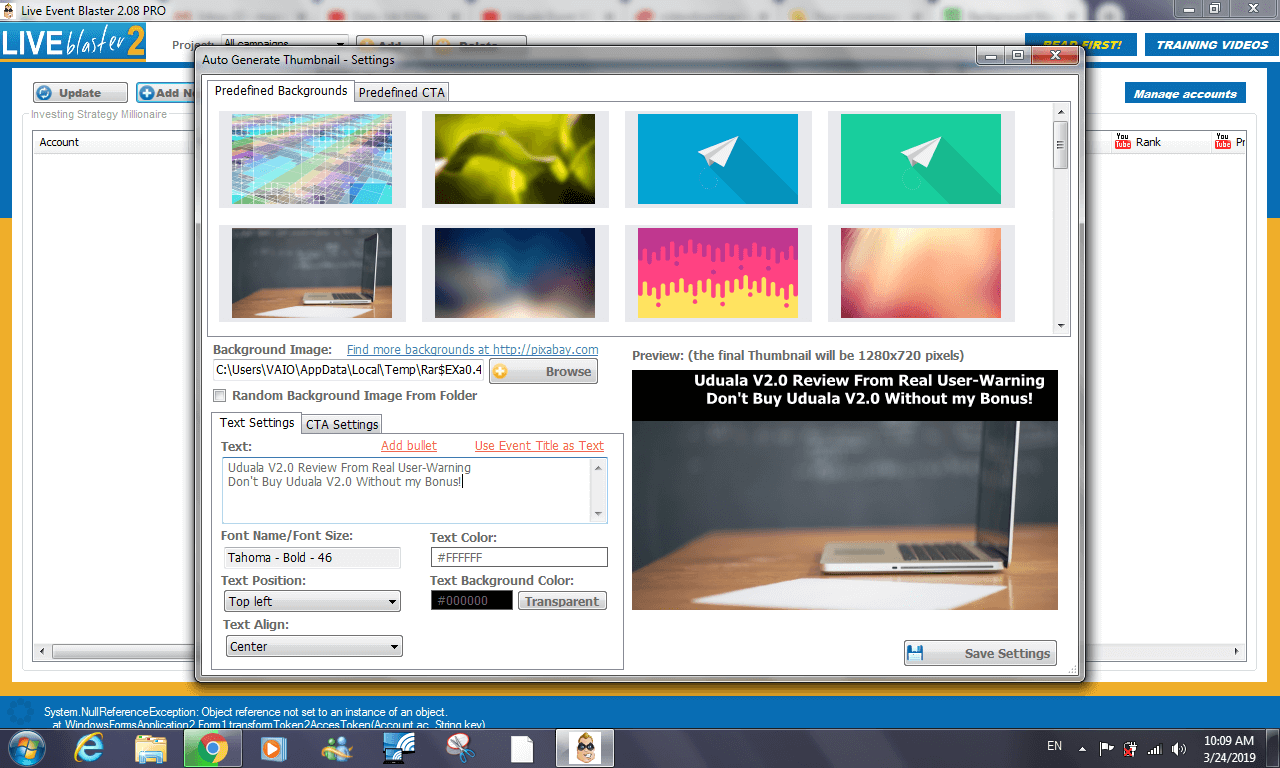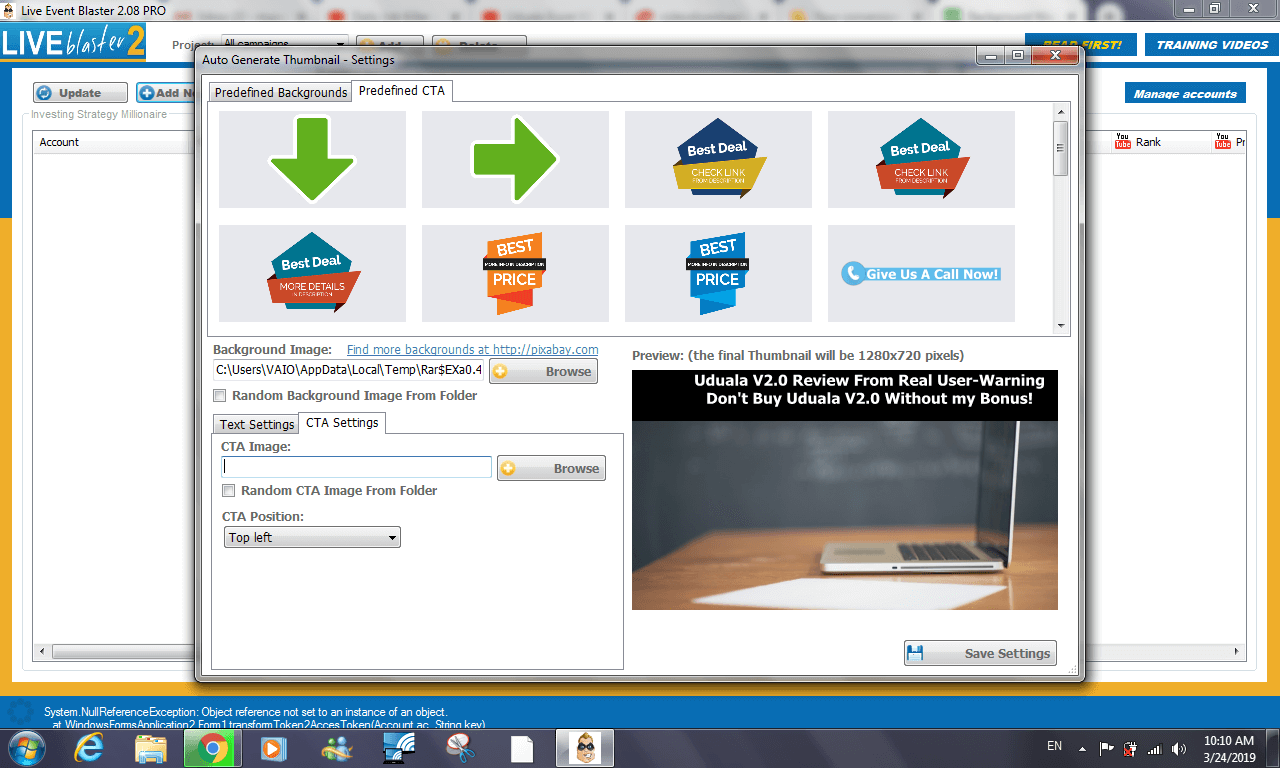 Insert Icon and CTA for better CTR.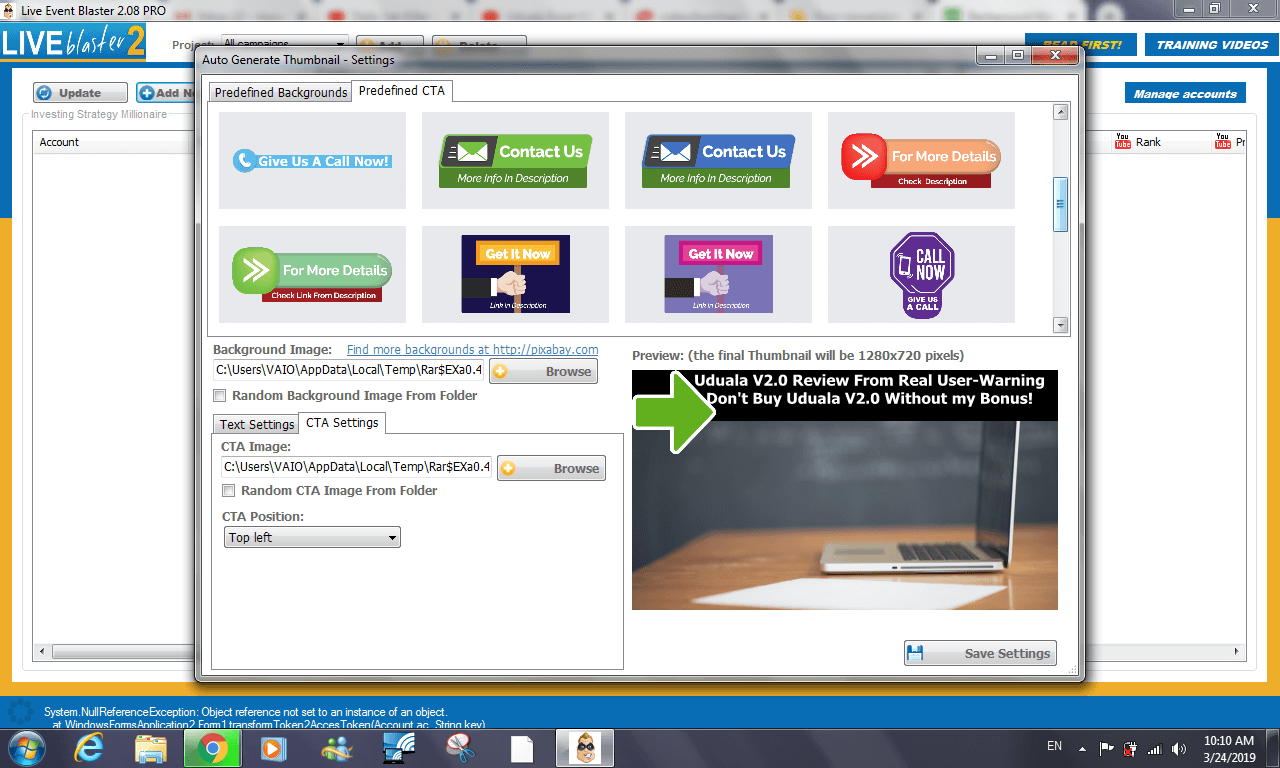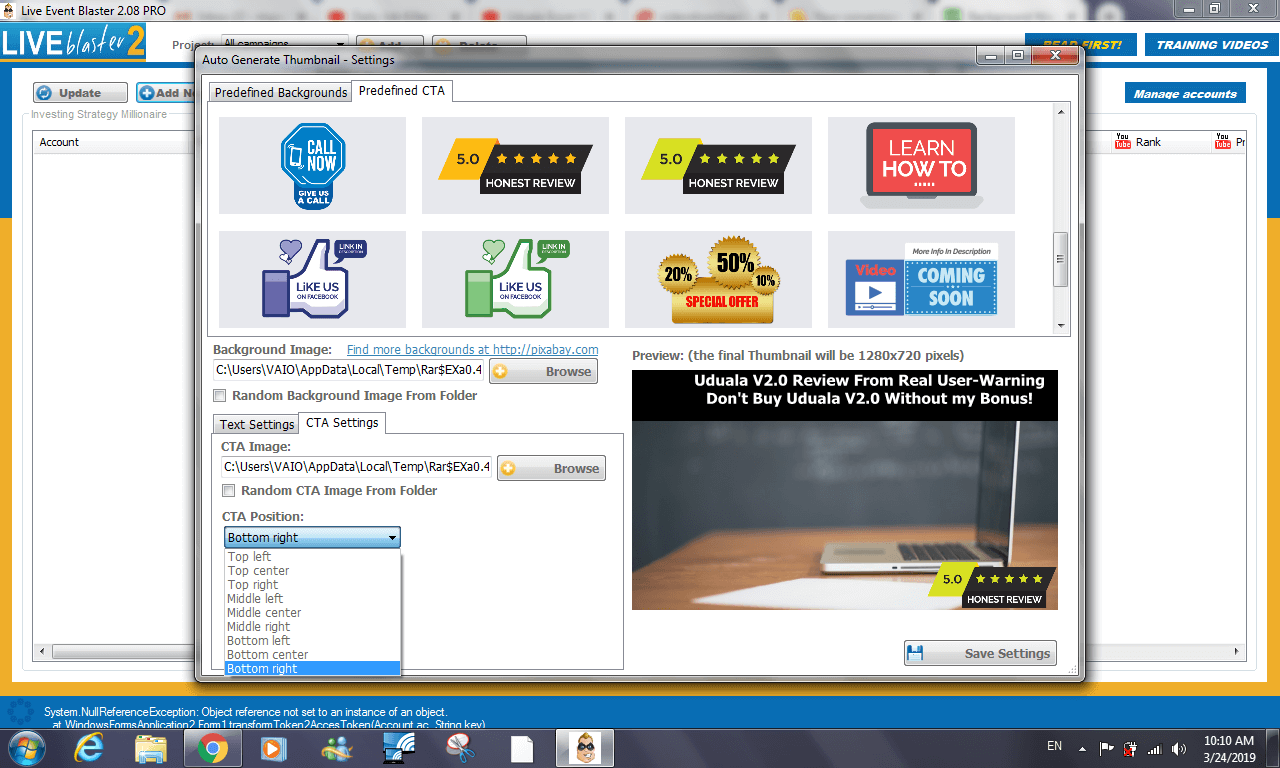 3.Add Live Event
Firstly,click Add New Item.
After that,you need to enter information.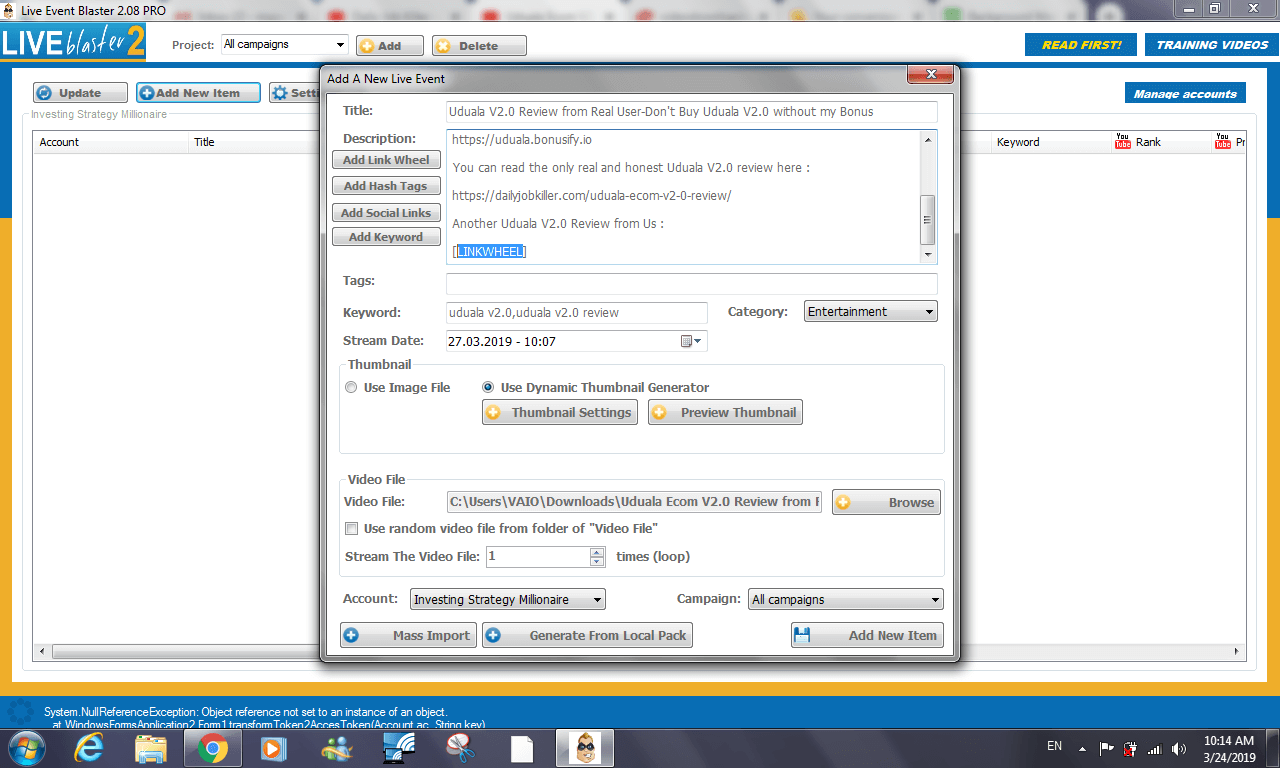 Don't forget to schedule stream date and event,it's on your computer timezone.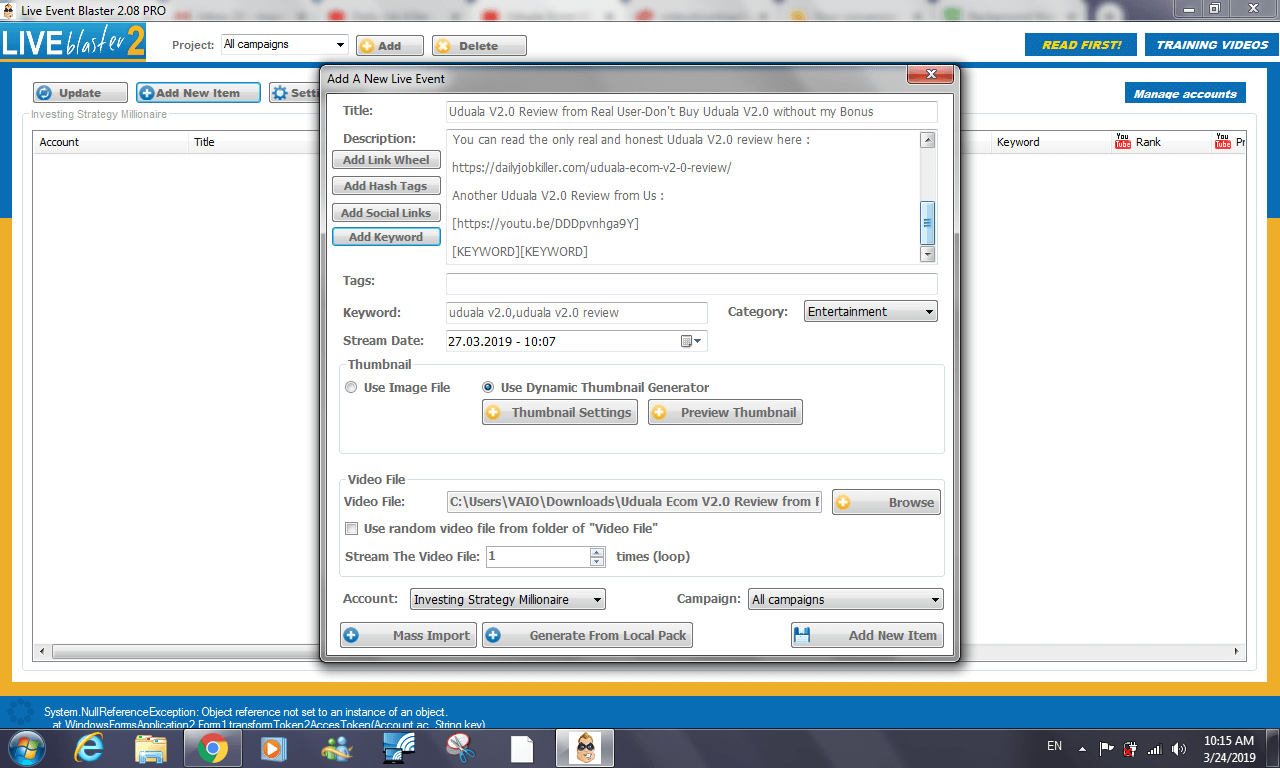 In 1 click,you can add Social Links and Keywords.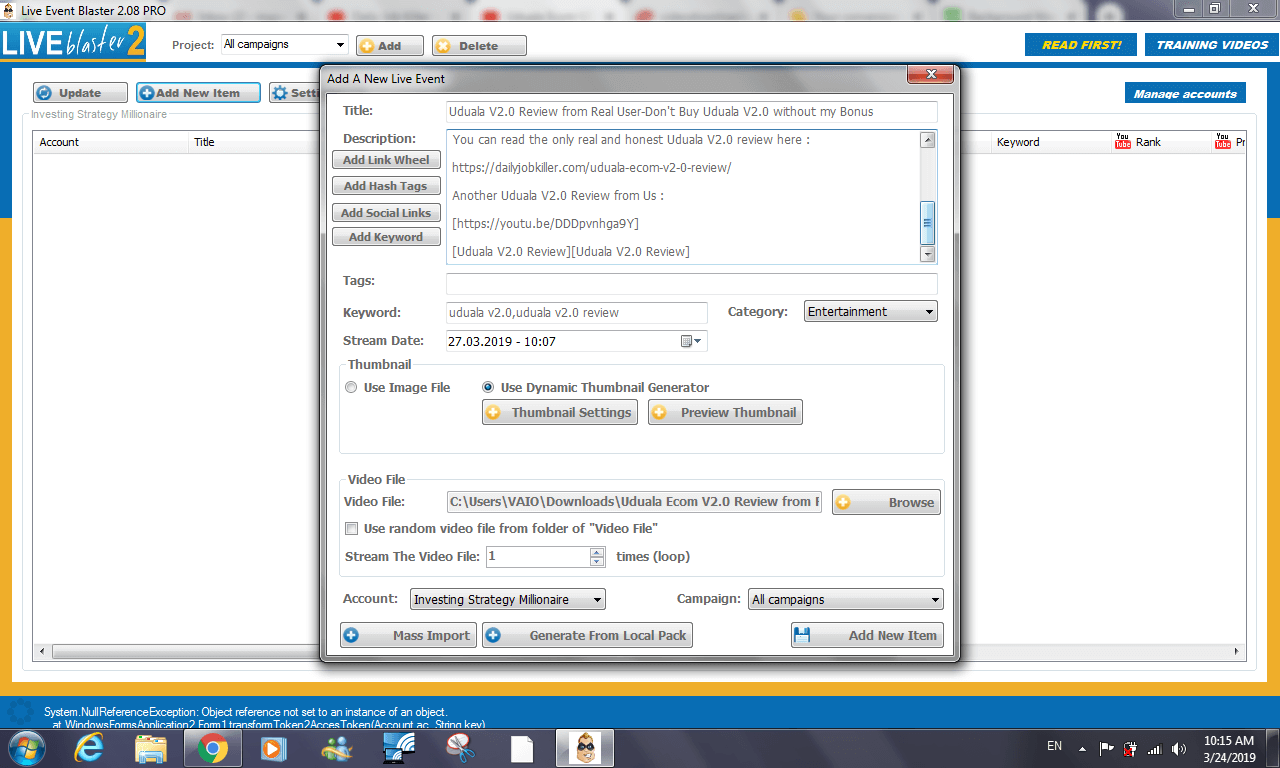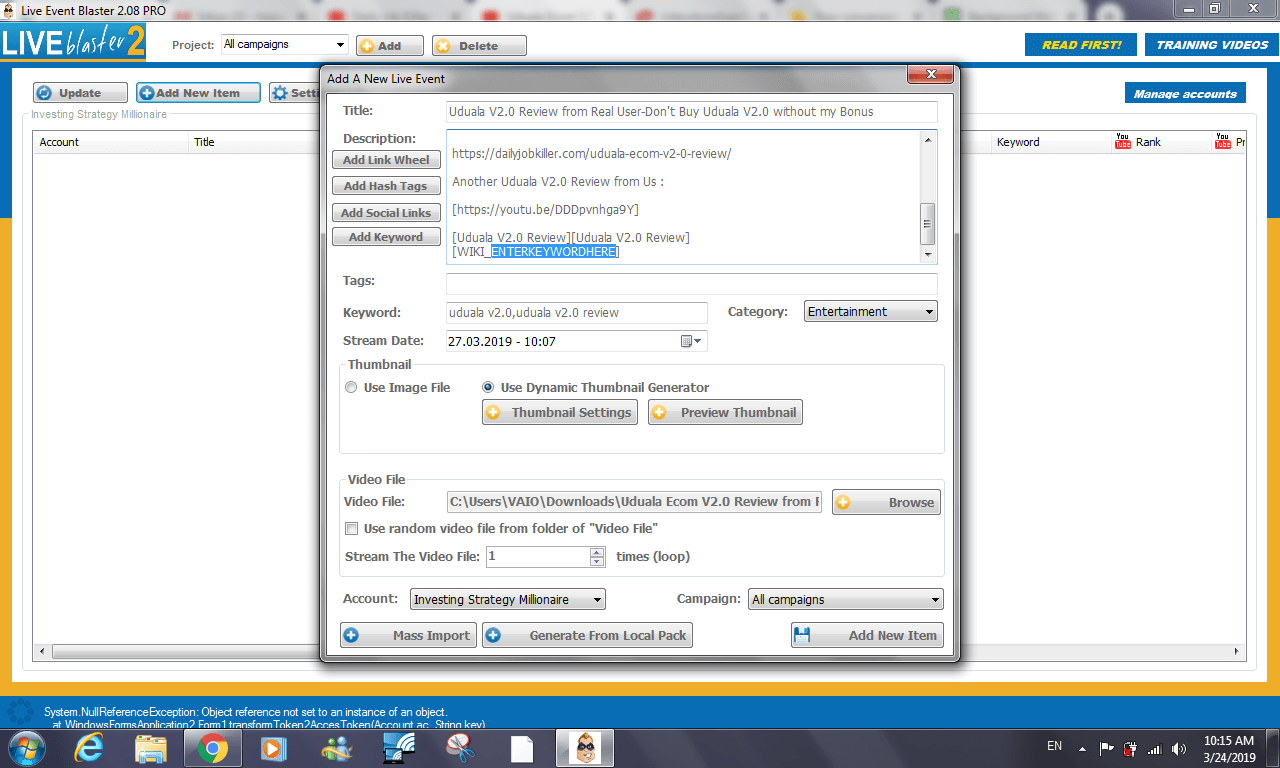 The strategy here is to help your viral get sources and make it viral.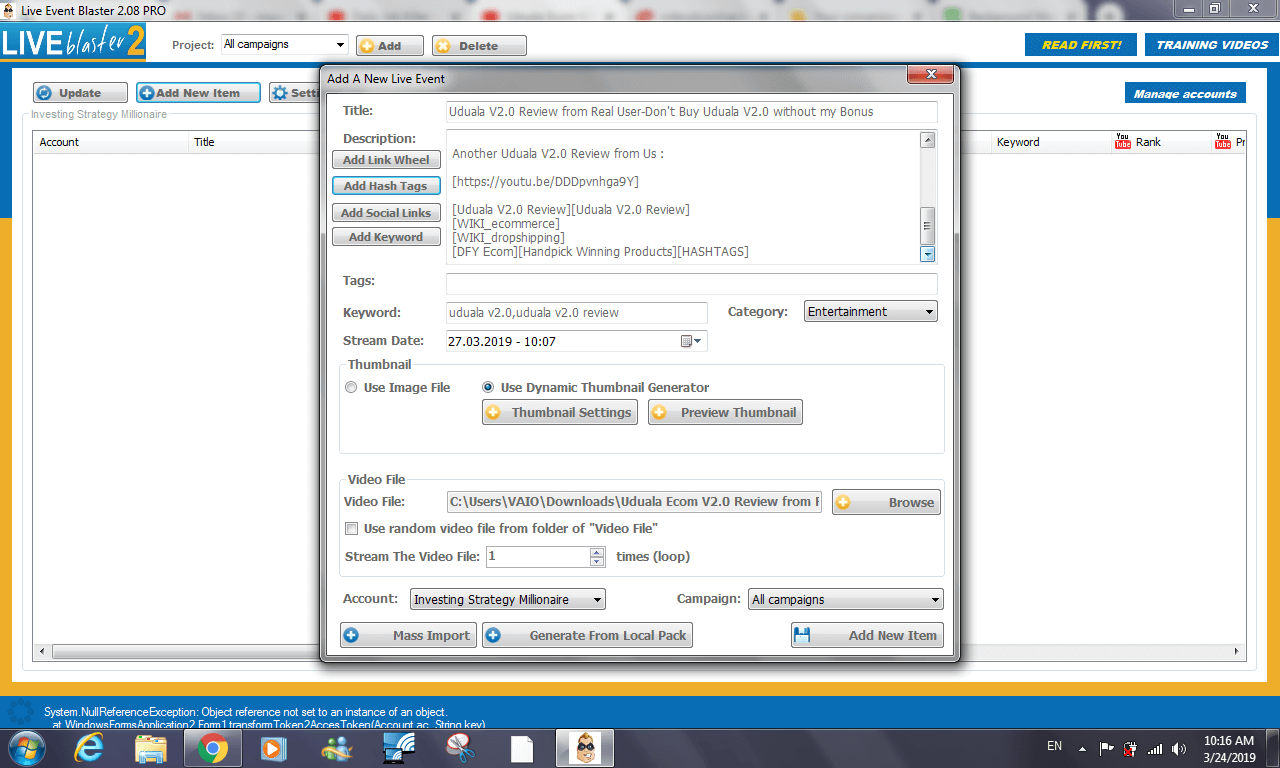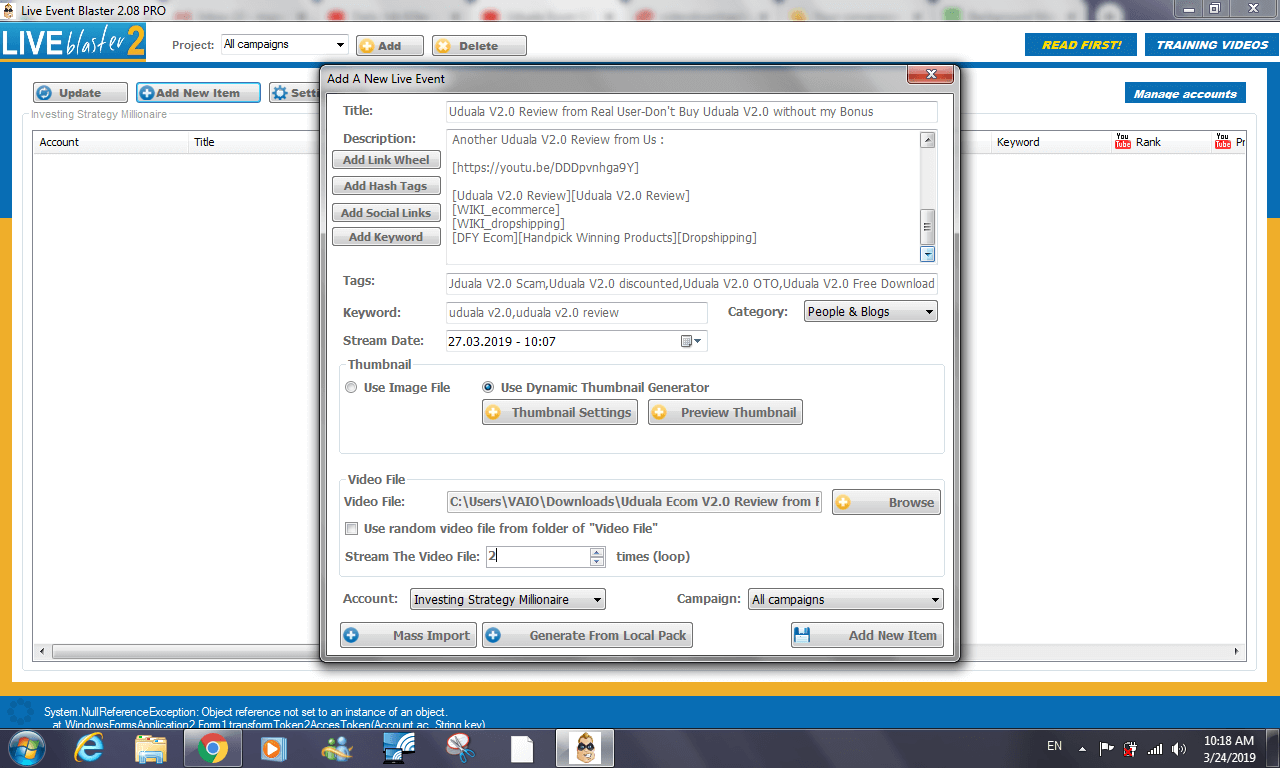 Now,you can see the Events directly on Youtube and Google.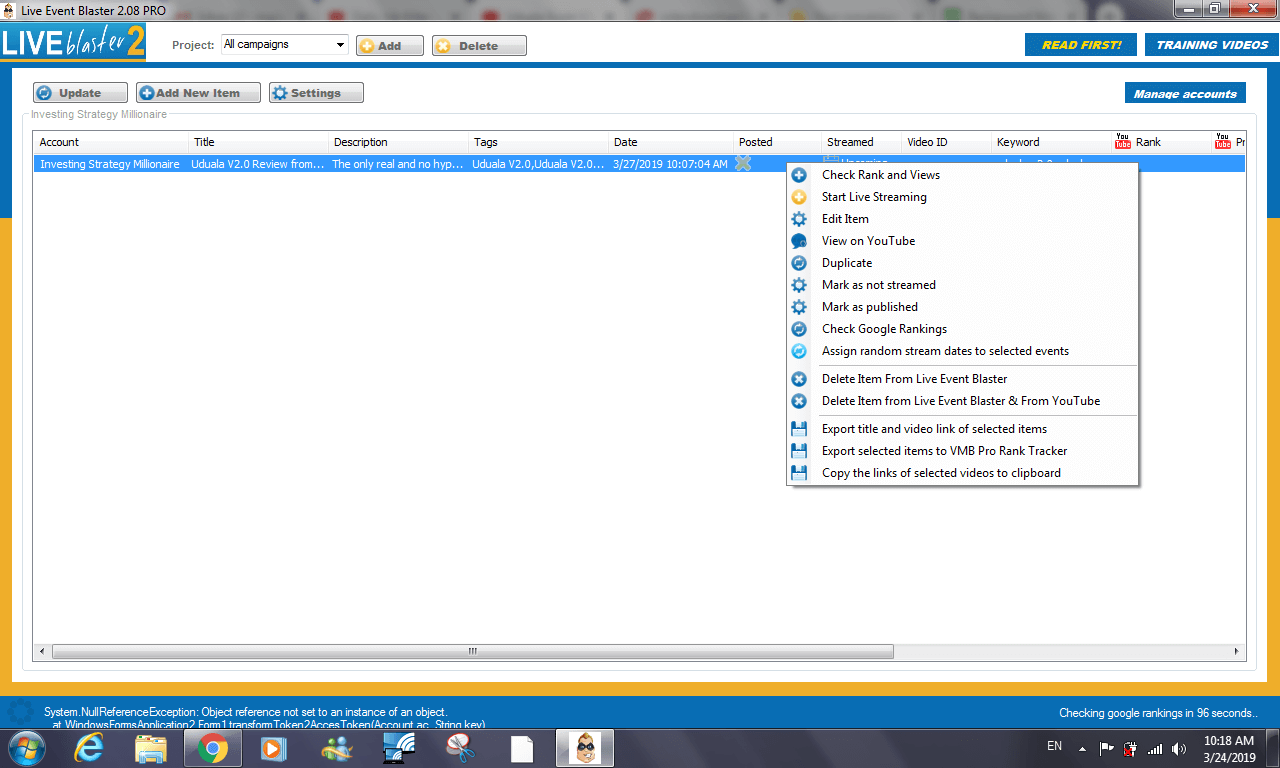 You can either wait or 1 click Posting the Events.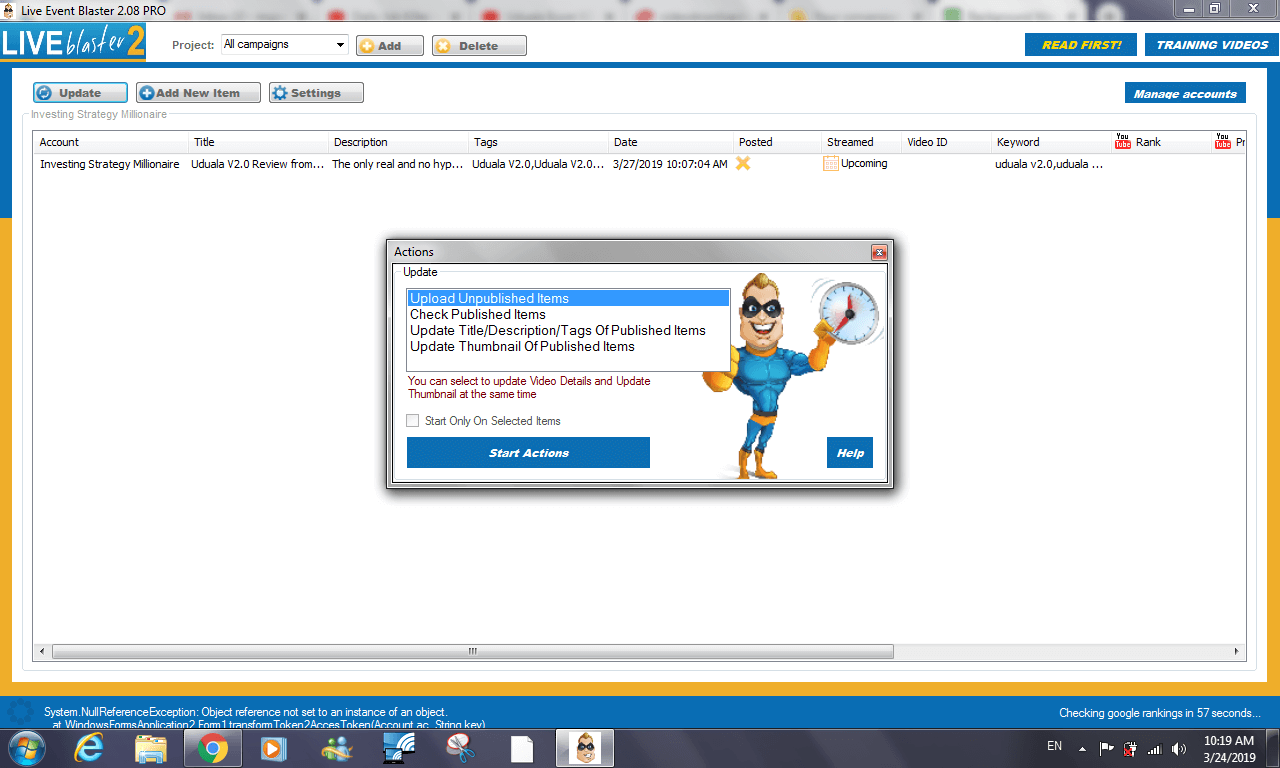 Now,you have already posted the event.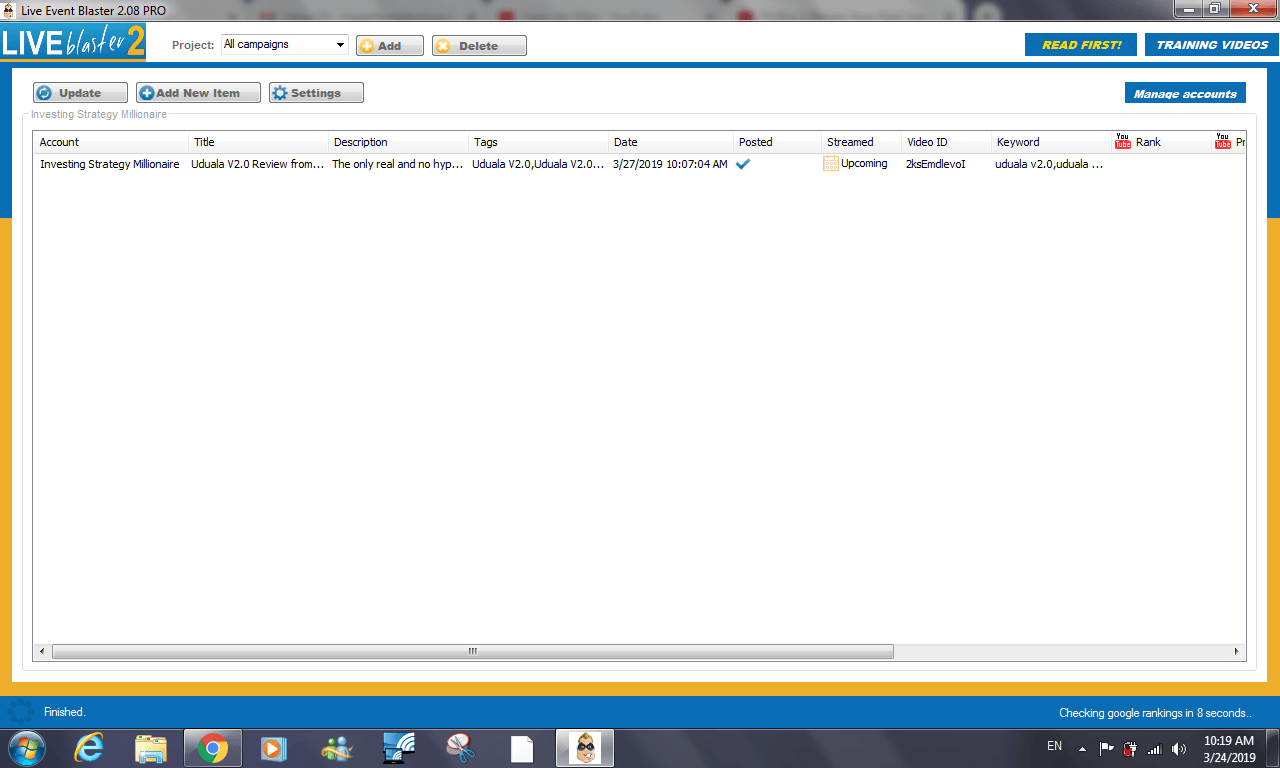 Here it is in reality.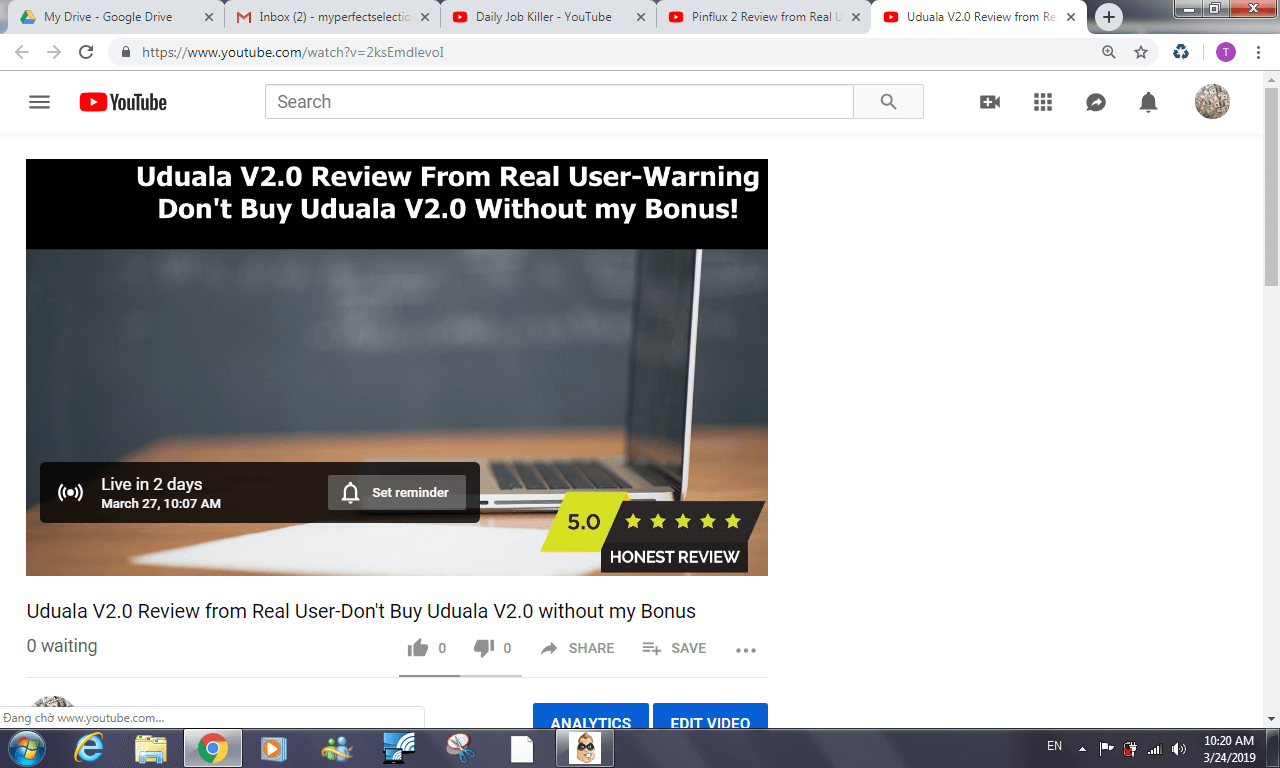 And you can track ranking on Google and Youtube with the exact kewords.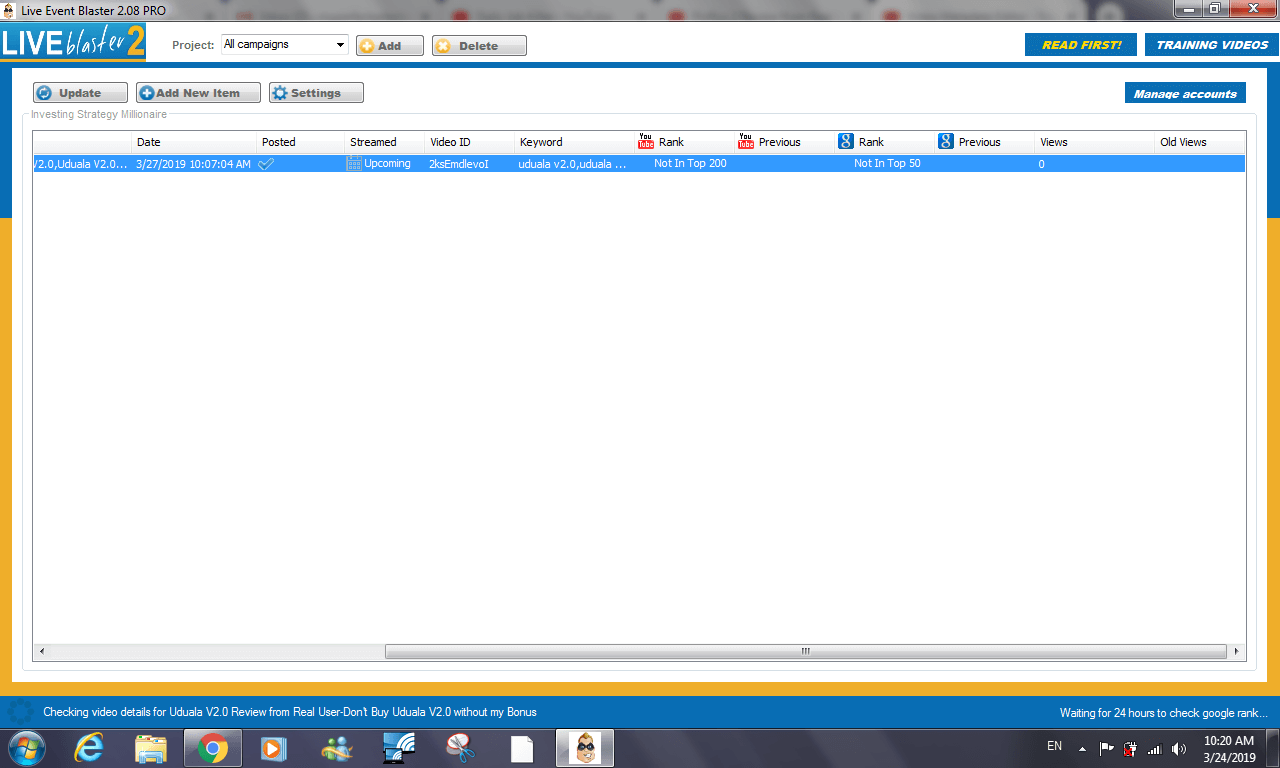 In the Youtube Section,you can see all the details that have been posted.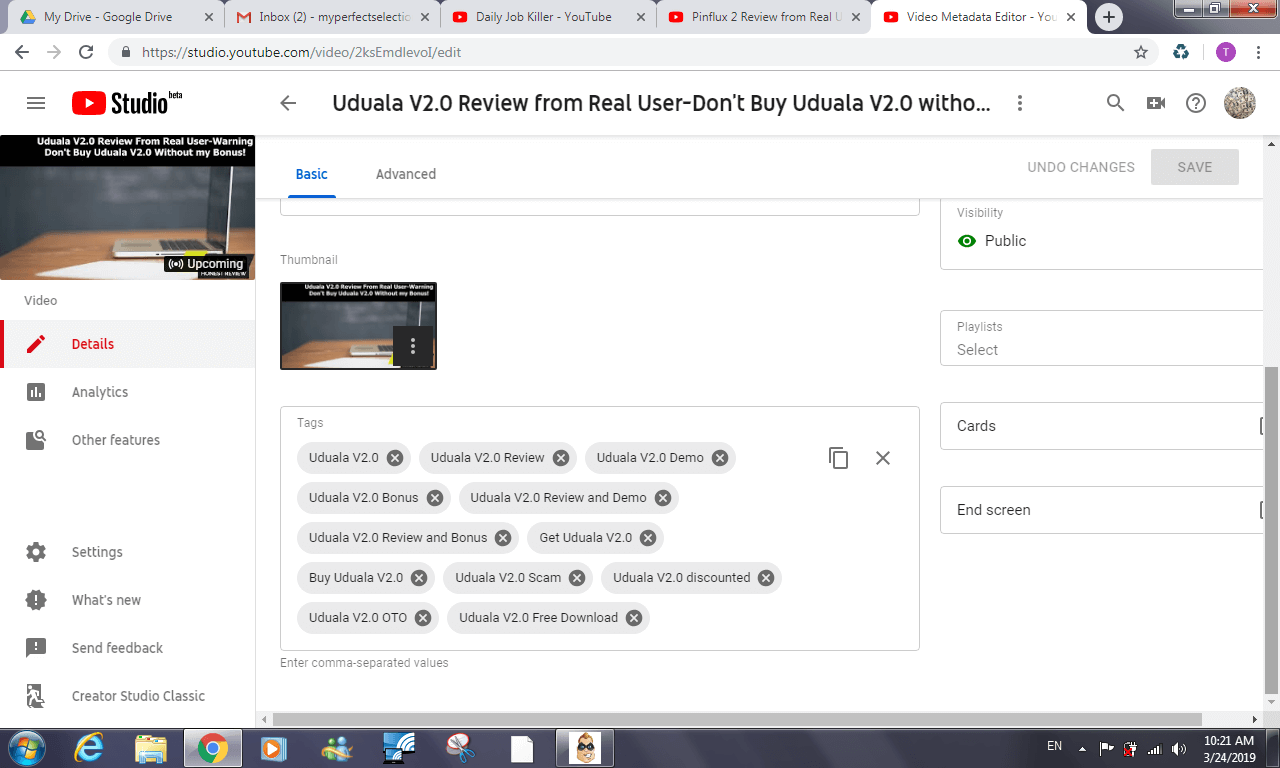 Here are Social Links in reality.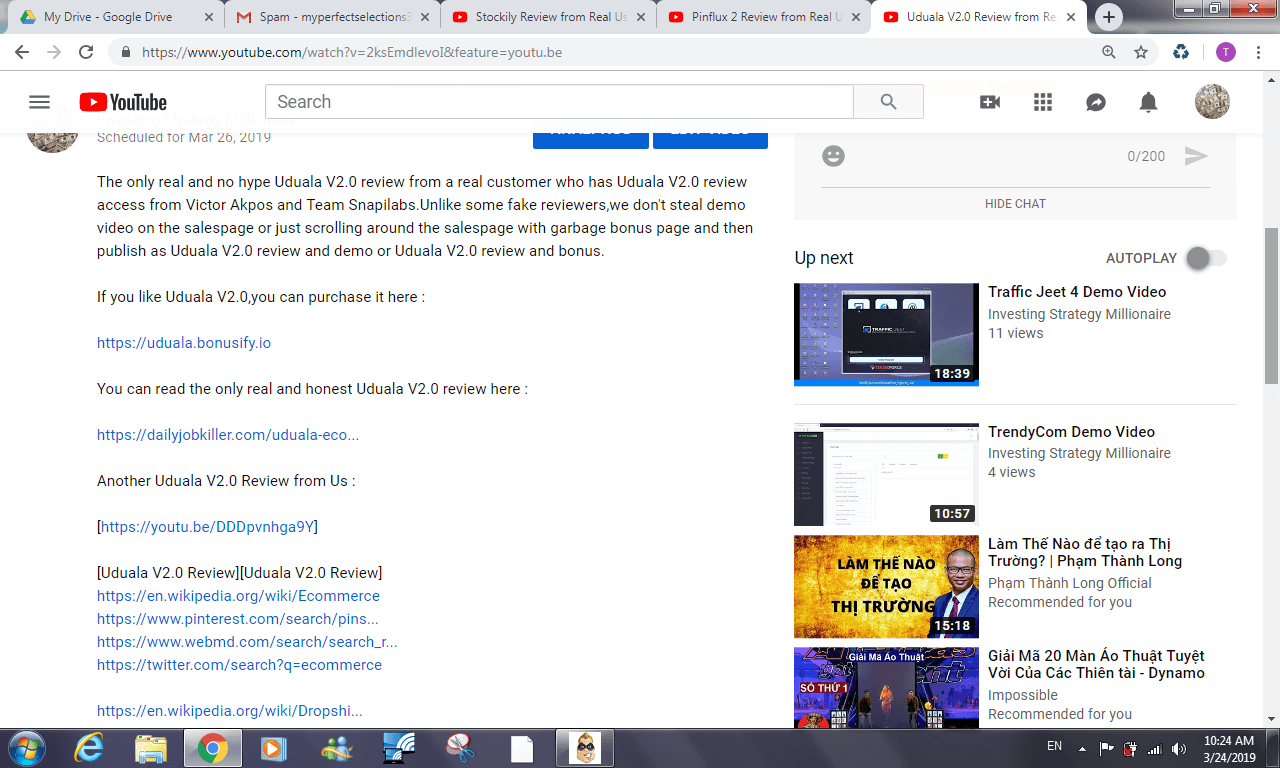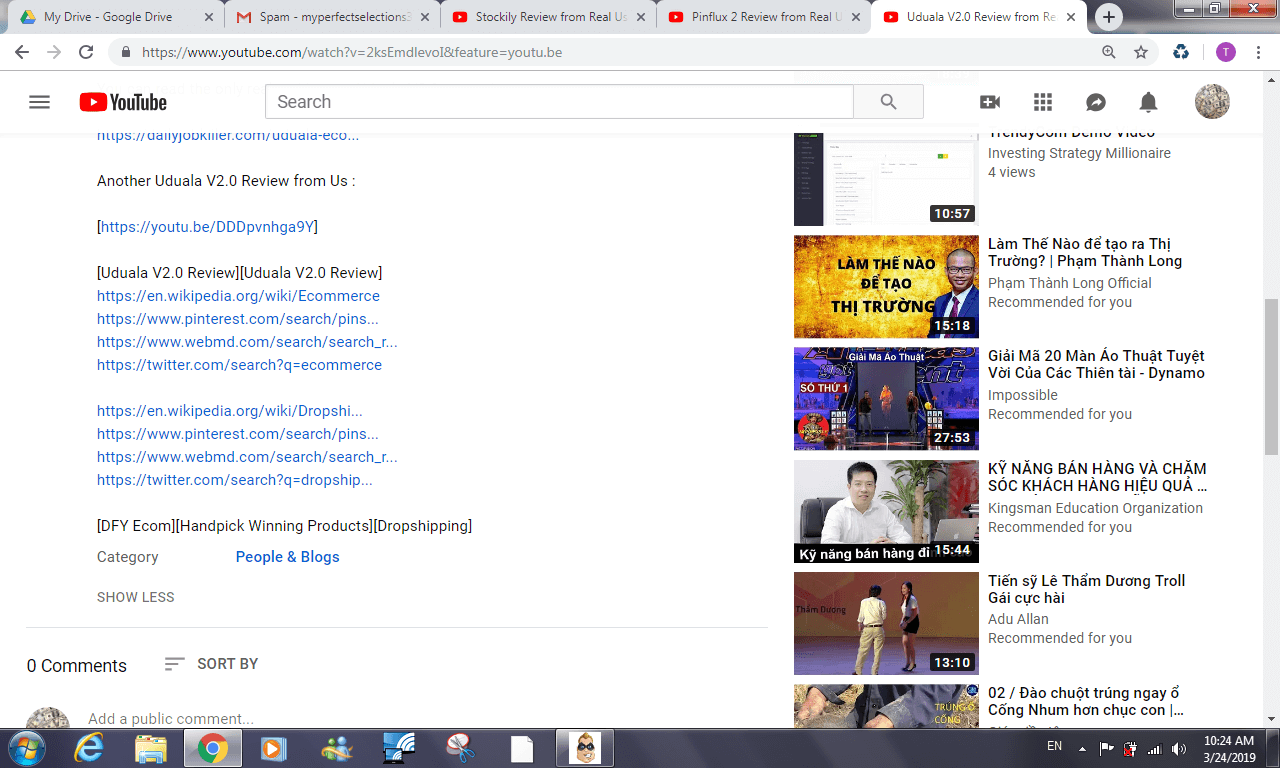 You have 2 options : stream or not to stream.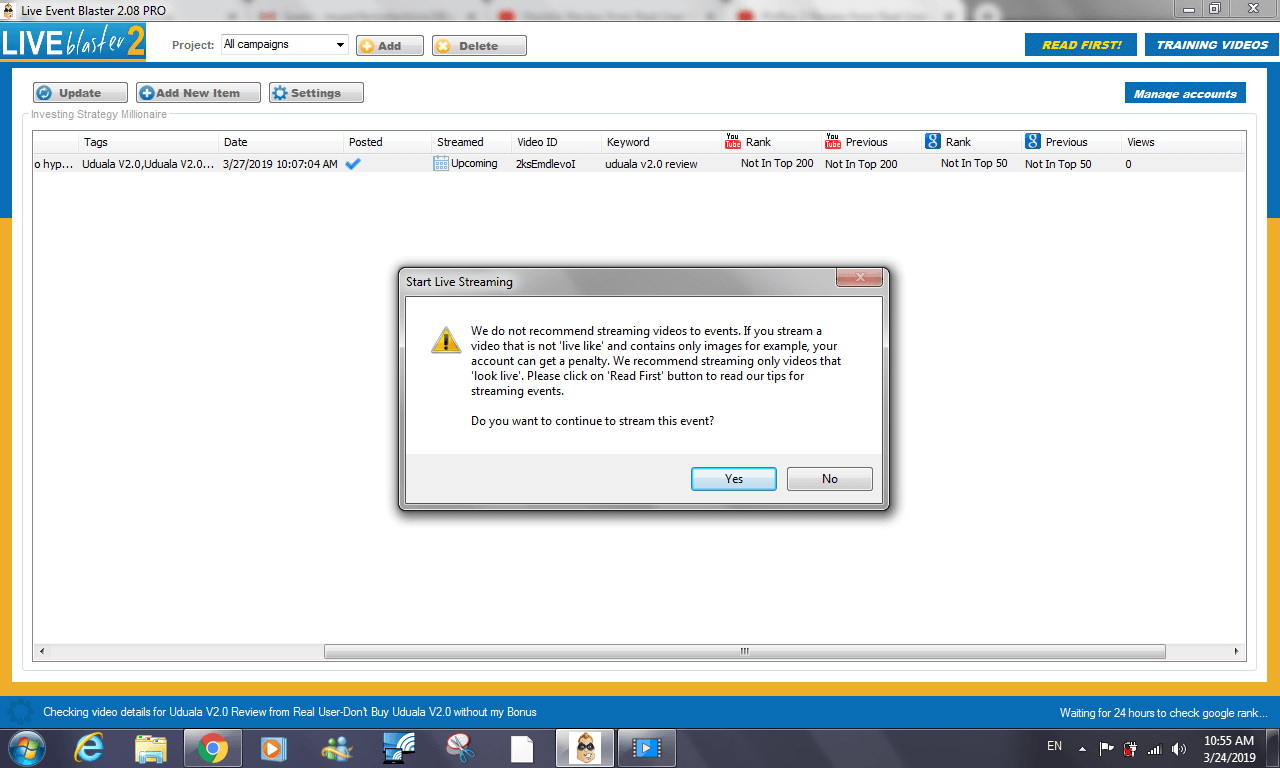 To make sure the event plays good,you need to ensure you have good internet connection.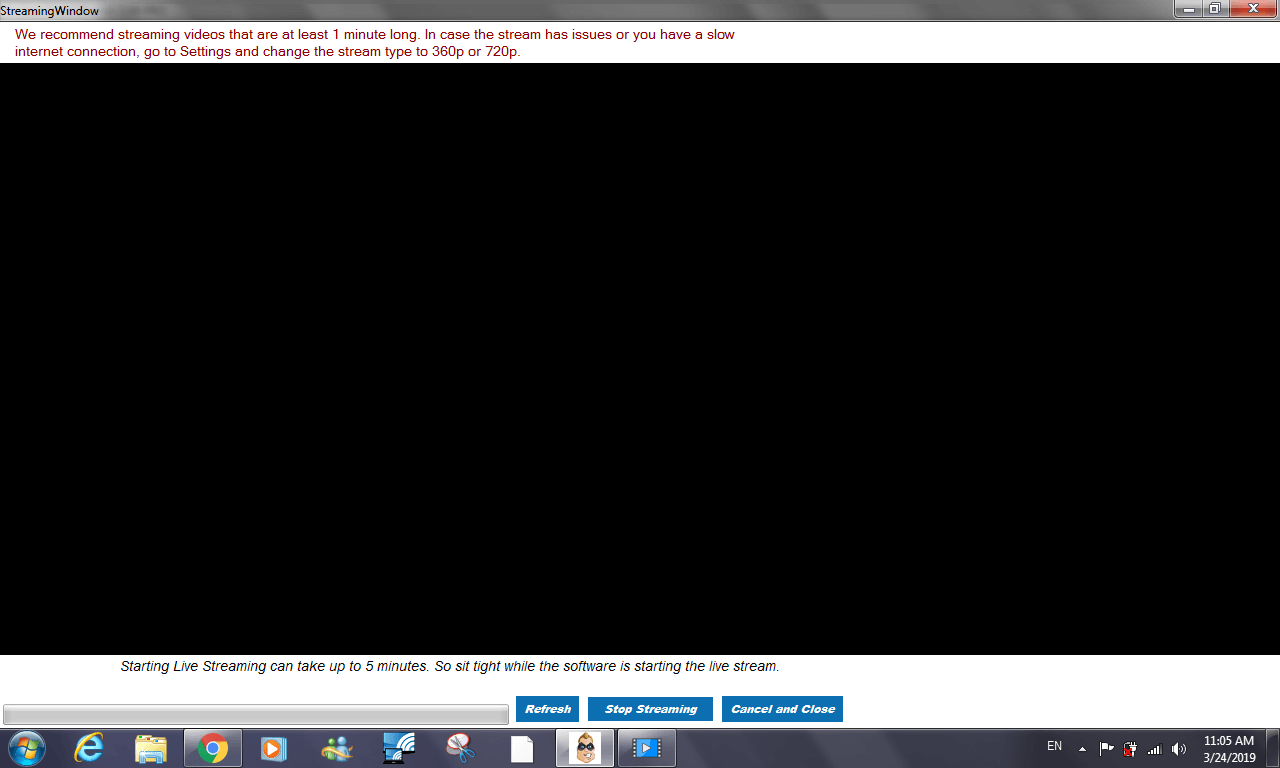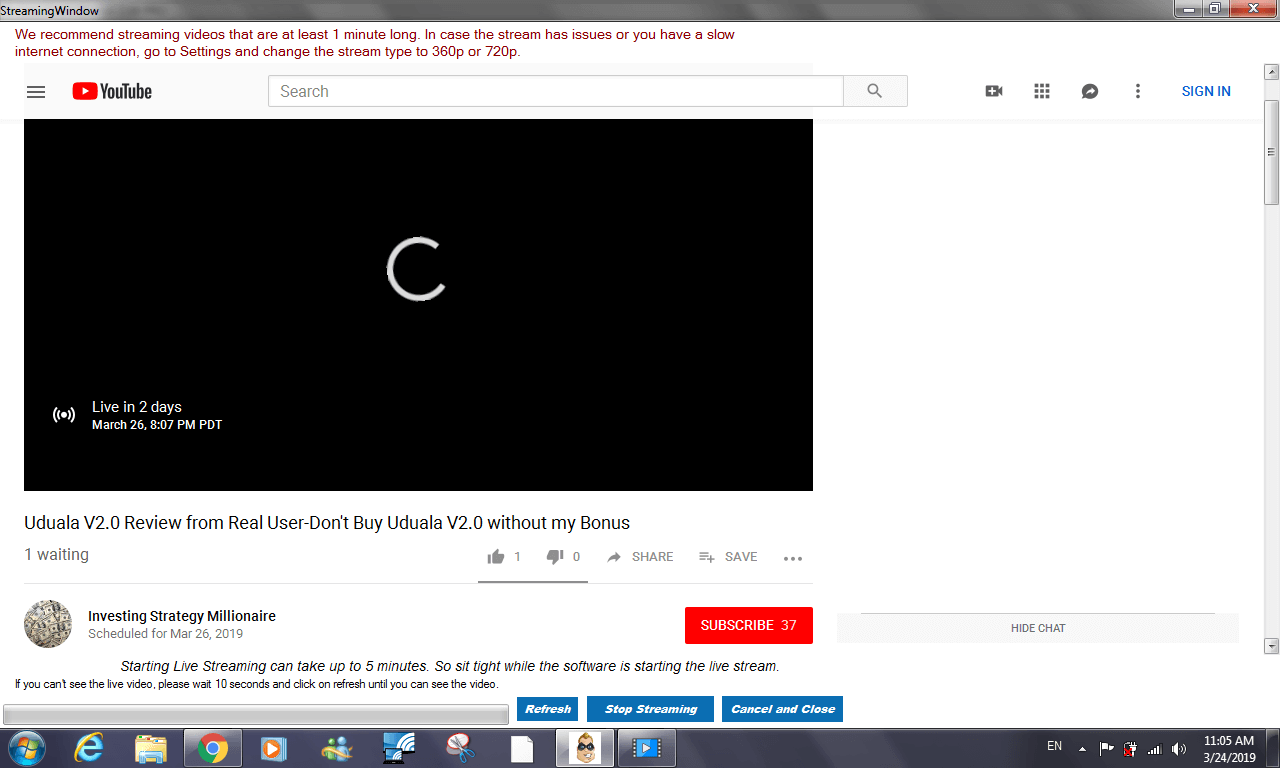 Now,you can manage the Streaming Video.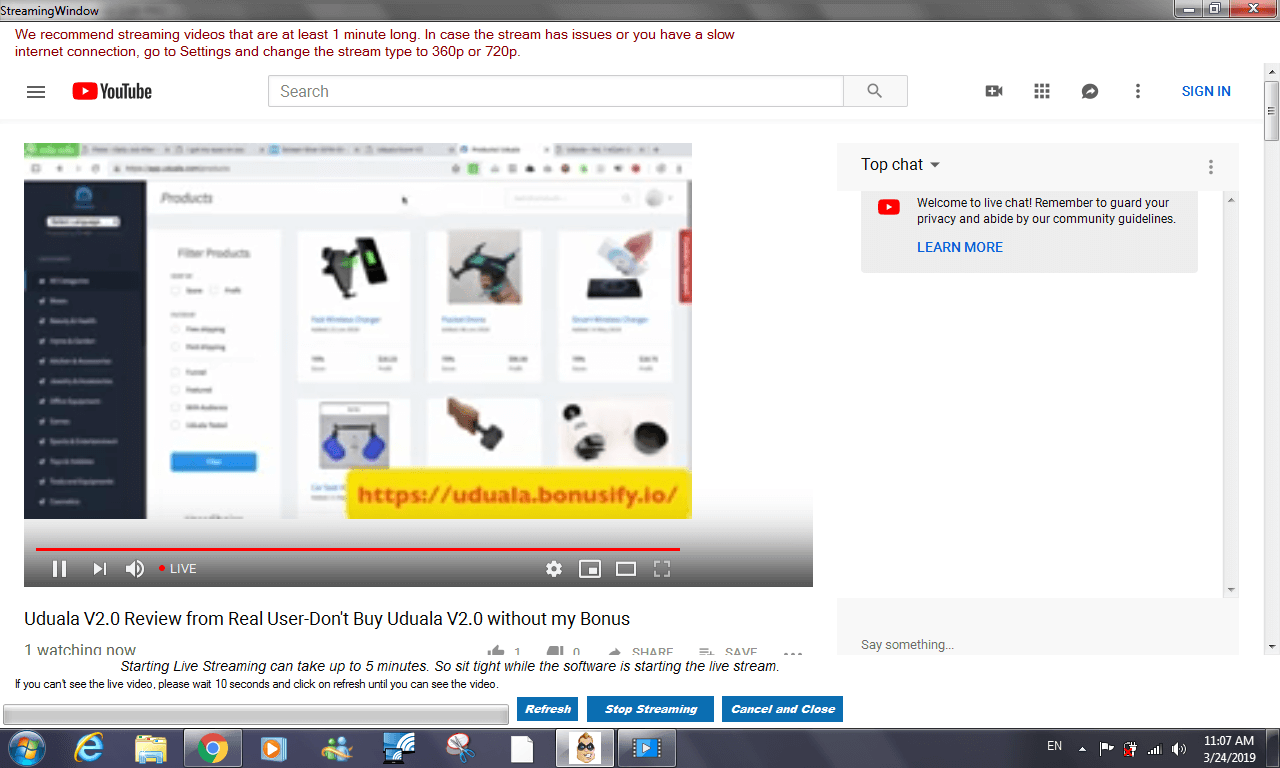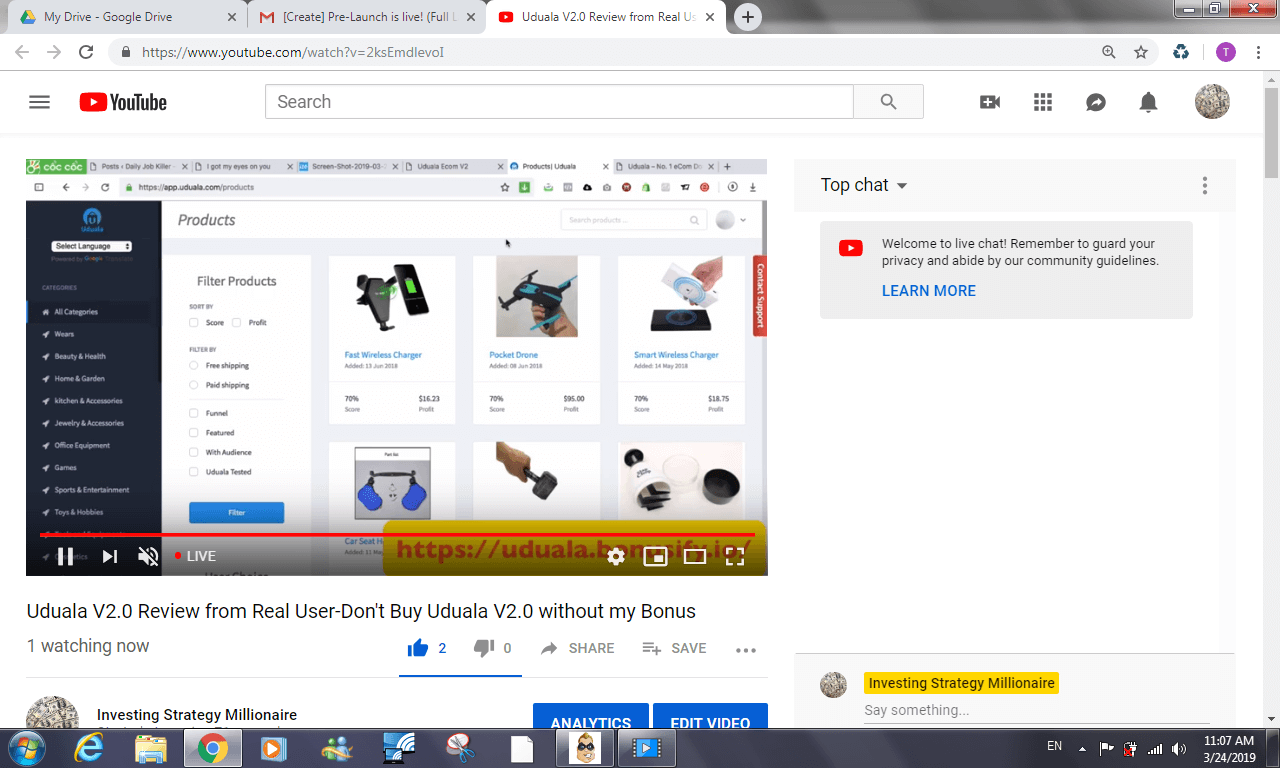 After the stream ends,it will be a normal video and not get good indexing or ranking if it doesn't have good view,engagement rates.
Also remember to setup like this to ensure it ranks. The idea is like when you create a streaming event and if setup description,tags the correct way,it will rank. Of course,Live Event Blaster 2.0 has auto indexing features to help you rank. But you know,rank in short times doesn't mean you can rank for a long term. Therefore,if setup like this,Live Event Blaster 2.0 will duplicate this event cause it's proven for ranking.
And that's all you have on a single time purchase,let's take a look at the entire funnel.
My Live Event Blaster 2.0 Review Video (Please Watch)
In order to bring you a fully understanding about Live Event Blaster,i have recorded a full walkthrough demo video about it. Before you buy the software,make sure you watch my video first. I also show you proof when i rank my live video.
Here it is 🙂
I have 2 live video and both rank on Youtube,this is what we call ranking Domination.

Funnels of Live Event Blaster 2
This product has 4 upsells.
OTO 1 : Live Event Blaster 2 Pro ($37)
This upgrade includes Campaign Support, Multi Account Support & Agency Rights.
OTO 2 : Video Marketing Blaster Pro ($47)
This software allows you to find untapped keywords and generate Titles/description/tags to rank easy on first page of Google. Actually,it's another product that also on Youtube category.
Read my full Video Marketing Blaster review here.
OTO 3 : Video Spinn Blasters Pro ($37)
This is a video creator that you can use so as to create live event video with Live Event Blaster 2. Normally,it's sold at $67 but as an upsell of Live Event Blaster 2,you got it for just $37. Read my full Video Spin Blaster Pro Plus here.
OTO 4 : Live Event Blaster Local Pack ($47)
30 Templates for Local Businesses, fill in the blanks and get unique title/descr/tags for local business marketing
And that's the exact funnel of Live Event Blaster 2. In my opinion,this funnel is OK,not too expensive and complex.
Bonus From Me
In order to make your life much easier,i will add some extra bonuses if you get Live Event Blaster 2 through my link. This is a Jvzoo product so that after you buy,you will get immediate access to my bonus. These are bonuses from Tom and some 7 figures marketers,not cheap PLR bonus.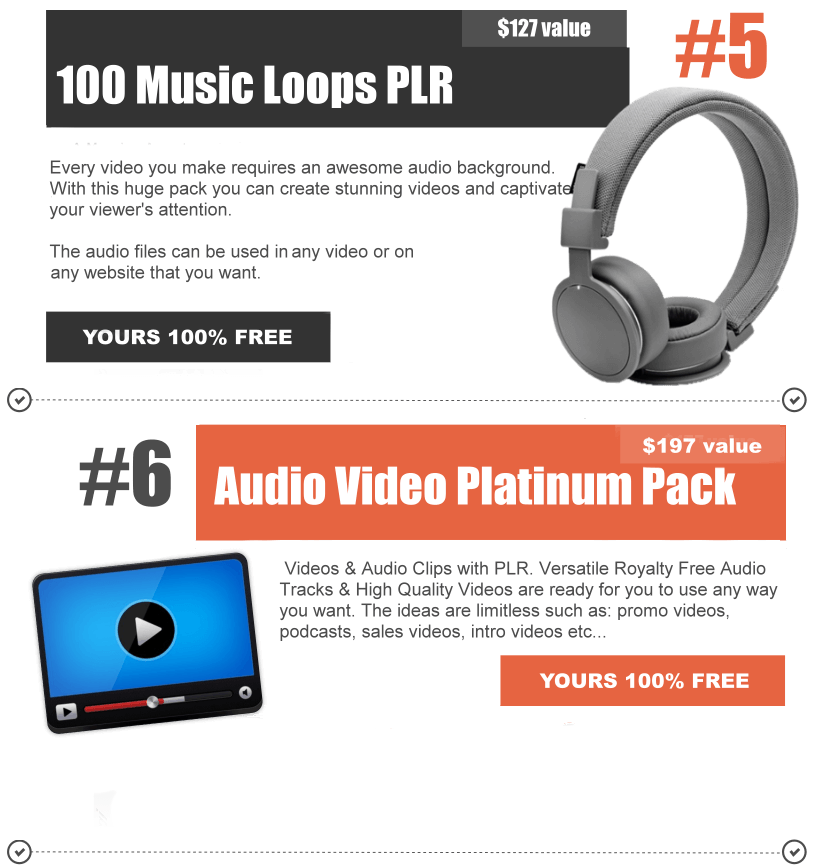 7.Pin Image Grabber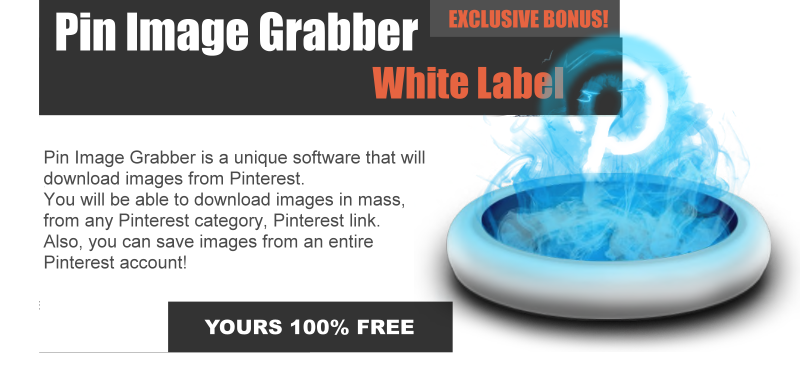 8.EZ Video Trimmer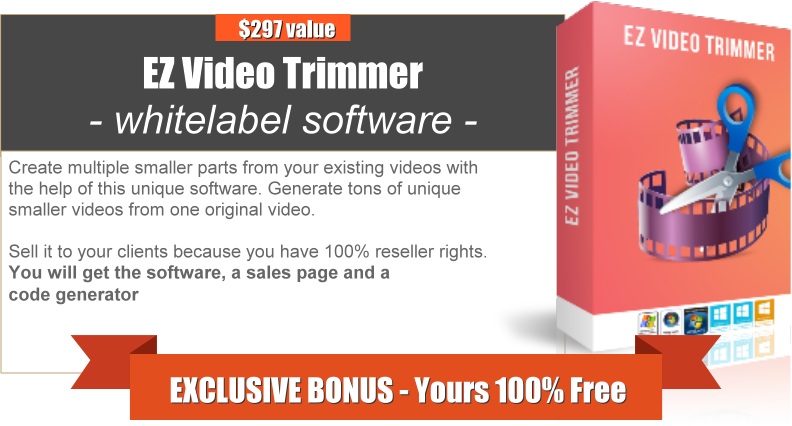 9.Bulk Image Editor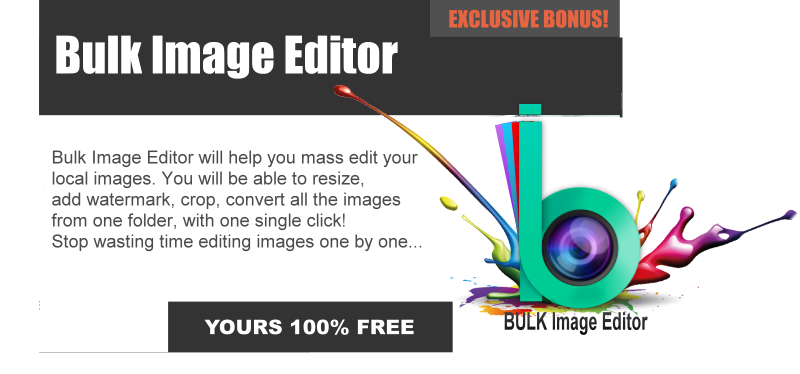 10.Trace Blaster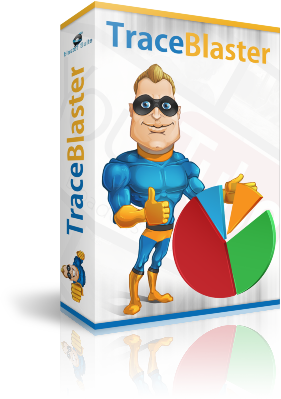 Trace Blaster will help people trace the ranking of their YouTube videos or their clients YouTube videos. For each video you can find the google position, youtube position, number of comments, number of likes, number of views.
User can also see previous ranks so they know if their video is on the right track.
10.Vidkala (Reseller License)
Software Create Viral Fb Videos With Trending Hashtags For Any Keyword In Under 60 SECONDS To Get FREE Targeted Traffic.
11.Freecom Blueprint

Everyday 100s of newbies are getting started and killing it with eCom/Shopify. While they use Facebook paid traffic which is paid off course and risky and needs a huge budget to test and get started.
Inside you'll find the exact strategy and we already use to find winning products and get FREE traffic and sales to our stores.
Pros of Live Event Blaster 2
Affordable price without recurring fee
Easy to use and manage
Generate Thumbnail
1 Click Integration with Youtube Streaming Account
Integrate Pixabay
No Limitation about Live Video Event
Custom Setting to ensure Ranking #1 Page
Re-Post Live Event
Cons of Live Event Blaster 2
1.Just Windows
This is a big cons of Live Event Blaster 2,if you are a Mac user,you need to have Parallel and Windows. Somewhat annoying for people like me.
2.Limitation about Channel on F/E
For the front-end product,you can not add multiple Youtube channel live event with this app. Therefore,you may need the OTO 1 to add more accounts.
Final Verdict
In summary,Live Event Blaster 2 is an OK product that you can buy and use. It solves one of the biggest issues on the internet,Youtube ranking. Video marketing is powerful especially for those who know how to benefit and use the correct way. Of course,i recommend this app if you are serious about Youtube ranking. Besides,the price is still affordable for everyone.