Product : Live Leap
Creator : Luke Maguire (also the creator of Octosuite,Cryptosuite) and Andrew Graham
Price : $297/lifetime on Jvzoo and $1 for the first 7 days on Paykickstart,then $19/month.
Do I Recommend : Yes,especially for FB Marketers

Recommended But Not For Everyone
Live streaming is the latest marketing tactics on the internet. It doesn't just help you boost ranking but also engagement. Agree or not,more and more bussiness are using live streaming video more frequent.
Live Stream is a new feature of FB and this network really loves live video. However,when live streaming on FB,you must have a camera to record.
Of course,this process is annoying and cost you a lot of time. To boost reach,you will also need to share your live video to other places to get known by people. Clearly,it's nearly impossible for lazy people who want to share their live video.
Therefore,it could be better if you have something do automatically for you.
When you post live stream video on FB,it will notify your audiences so they will watch your video. Not just that,FB also boost reach for you because people will know your live video and they watch.
Besides,if you share your live streaming video on Facebook Groups and related Fanpages,other people will get notified too. Moreover,if your streaming video is live on Twitter and Linkedin,audiences in these networks will also know you. As a result,you get a lot of free traffic from social media.
Now,i will introduce you a useful software that especially help you boost more free traffic from Facebook,Live Leap. Live Leap is currently one of the best FB live streaming tool on the planet. Let's check out my Live Leap review so that you know what inside.
What is Live Leap?

At first,Live Leap is a software that helps you syndicate a live streaming video. It features automatic syndication features. As a result,your FB live stream video will be shared to Facebook Fanpages,Groups,Twitter,Linkedin,Email,SMS and even your website.
So,in fact,it uses the power of Live Streaming (which is credit for ranking) and syndication to boost more reach.
Who is Live Leap For?
Of course,FB Live Streamer on the internet
Any marketer at any experience
SEO marketer who want to get better ranking
Especially for Social Media Marketer who want to boost more reach and view
Those who want more free high quality traffic
Mobile and Email Marketer
Affiliate Marketer,Product Launcher,Seller
Amazon FBA and Ecommerce Seller
And many more,…
Main Features and Demo of Live Leap
Now,i will show you step by step on how to create a live streaming campaign together with Live Leap. After that,i will show you how does the syndication work. This is the member's area once you login.


At present,Live Leap doesn't have any upgrade and it won't have in the future. It has been updated a lot and if you pay the $49/month,you will also access the page builder. If you just need streaming,just buy the Jvzoo's product or $19/month subscription.
Like other Luke Maguire's products,Live Leap also has link cloakening features. This allow you to hide your affiliate link,blog URL when posting video on social media.

1.Setup and Integration
The first thing to do when using this app is to connect your account. You can integrate any Facebook Fanpages,Timeline you own and Post Streaming Events to Facebook Group.
Besides,you can also integrate email and SMS services.


Besides,integrate your Twitter and Linkedin Account to syndicate your live video. That's the main benefits of Live Leap,boost reach and get free traffic. Of course,the more the better,right. Just simply syndicate them,don't duplicate content,that's spamming violence.

2.Create Campaigns
Each streaming event is known as a route.


After create your route,then you need to pick a Facebook Group and Fan Page you want to share.


Always keep in mind that Live Leap is a syndication app so that you need to have pages,join groups as much as you can.


Lastly,send your notification to Website or SMS,Email.


However,what i really don't like is that you can not add text and message for sharing. While with another software,SociLiveStream,you can do that but you need to buy upgrade for SMS,Email Message.
Currently,FB has updated a new rule about Facebook API,which requires review before posting campaigns. I will update some of my case studies about this app later.
And that's all you get inside Live Leap.

Bonus From Me
In order to help your life much easier,i will add some extra bonuses if you get Live Leap through my link. You can buy Live Leap either on Jvzoo or Paykickstart,you will also get my bonuses inside your account after purchase. Of course,i just add related bonuses to the product,no cheap PLR.
1.Facebook Live Authority

Facebook is the biggest social media marketing platform with above 2 Billion active users. With the release of Facebook Live Authority, it offers tons of benefits, revolutionizing how firms and brands present their commodities and interact with their respective clients.
So, to enable you to get these benefits, this package enables you to beautify EBooks/Newsletter/Magazine etc.
This bonus is a boon and when combining with Live Leap, it's going to yield great results for every marketer.
2.Magnetic Facebook Marketing

Social media networking is the best channel to attract laser targeted traffic, build an audience and eventually make money online. As a result, you can have a chunk of the pie from this platform and boost profits from countless people using Facebook.
The big question that arise here is how you can make money online out from those Facebook users? To answer this, checkout this info-packed report that comprises of magnetic ways and ideas how to do Facebook Marketing for profits and sales.
These ideas when clubbed with Live Leap yield top results for marketers.
3.Streaming Profits

This guide contains excellent strategies to exploit the opportunities of Facebook Live based on extensive research to enable you to market your products and services in creative ways, so as to enhance engagement levels of customers and drive traffic. When coming with the powerful features of Live Leap,it's a win-win combination.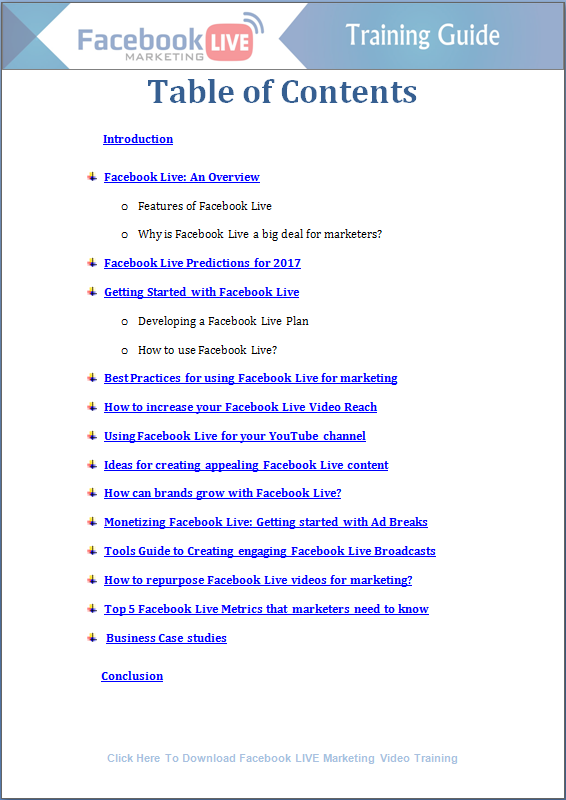 4.Live Streaming Video Profits
5.Linkedin Masterclass
Unlock the Power of 'Linkedin for Unlimited Traffic, Leads and Sales'

This is an advanced training from Roshni Dhal.
6.Facebook Laser Targeting Masterclass

LEARN TO LASER TARGET PEOPLE ON FACEBOOK WITHOUT AFFINITY AUDIENCE & GROW YOUR BUSINESS AT 10X SPEED.

7.Viral Marketing Made Easy
8.Viral Marketing 2.0 Made Easy
9.List Building Made Easy
10.Linkedin Marketing Made Easy
11.Linkedin Ads Made Easy
12.Video Ads 2.0 Made Easy
Pros of Live Leap
Super easy to use and to manage
Integrate Unlimited Fan Pages and Groups
Automatic Sharing to social media
Syndicate Unlimited Posts
Allow Sharing FB live video on Website
Fast Syndication Features
Cons of Live Leap
Can Not Add Text When Sharing (it only say i currently go live at yourfblive video links)
Expensive Price for some people
Final Verdict
In summary,Live Leap is a great tool that helps you boost live streaming video to the next level. It combines the power of live streaming and syndication,which is proven to boost more reach and view. Besides,it's a complete saving of time and energy because everything is automatically. Of course,i highly recommend this app for those who want to get free traffic from social media.

Or Click Here To Get it For Lifetime Access on Jvzoo