Product : Mailvio
Creator : Neil Napier (also the creator of Meetvio, Funnelvio, Content Gorilla, Kyvio, Curation Lab, Email Ramp and a lot)
Price : $297/year or $39-$49/month.
Do I Recommend : Certainly Yes
What is MailVio?
Who is Mailvio For?
Any marketer at any experience
You don't intend to pay monthly for autoresponder
Product Creator,Ecommerce,Affiliate,List Builder,etc..
And a lot more,..
Main Features and Demo of Mailvio
Now,i will show you exactly how the app works. This is the member's area once you login.
Before using the app,you need to manage the Sender Email.
1.Create Form
Before sending any Email or SMS Campaign,you will need to setup a Form to collect subscribers. Here's an example Form Builder.
It can both host the form for you and you can embed it online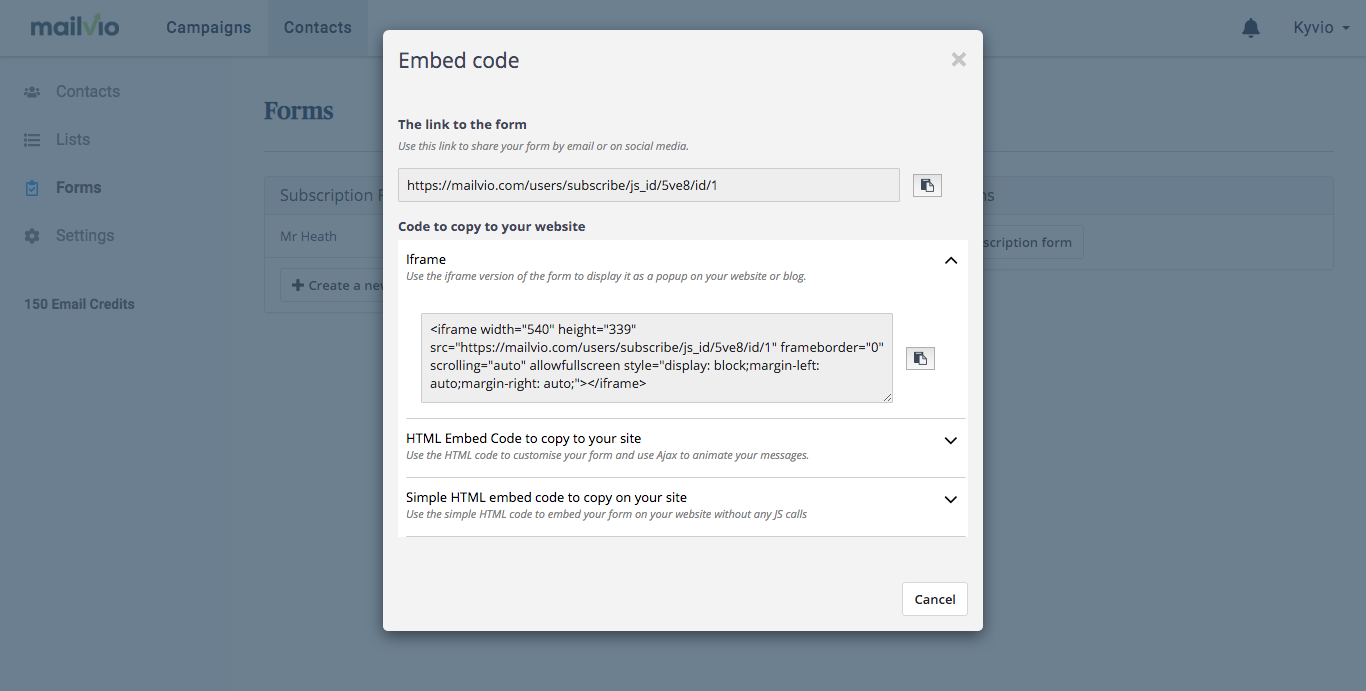 Here's an example Form to Collect SMS.
2.Create Campaign
At first, create the Name and your Subject Line
There are three options for you to customize.
If you choose from Templates,there's an available gallery for you.
This is the editor where you can edit email content.
Before you send email,you can have a preview.
Then choose the List you want to send.
You can also preview your email on Mobile.
And remember,you can segment your list based on Actions.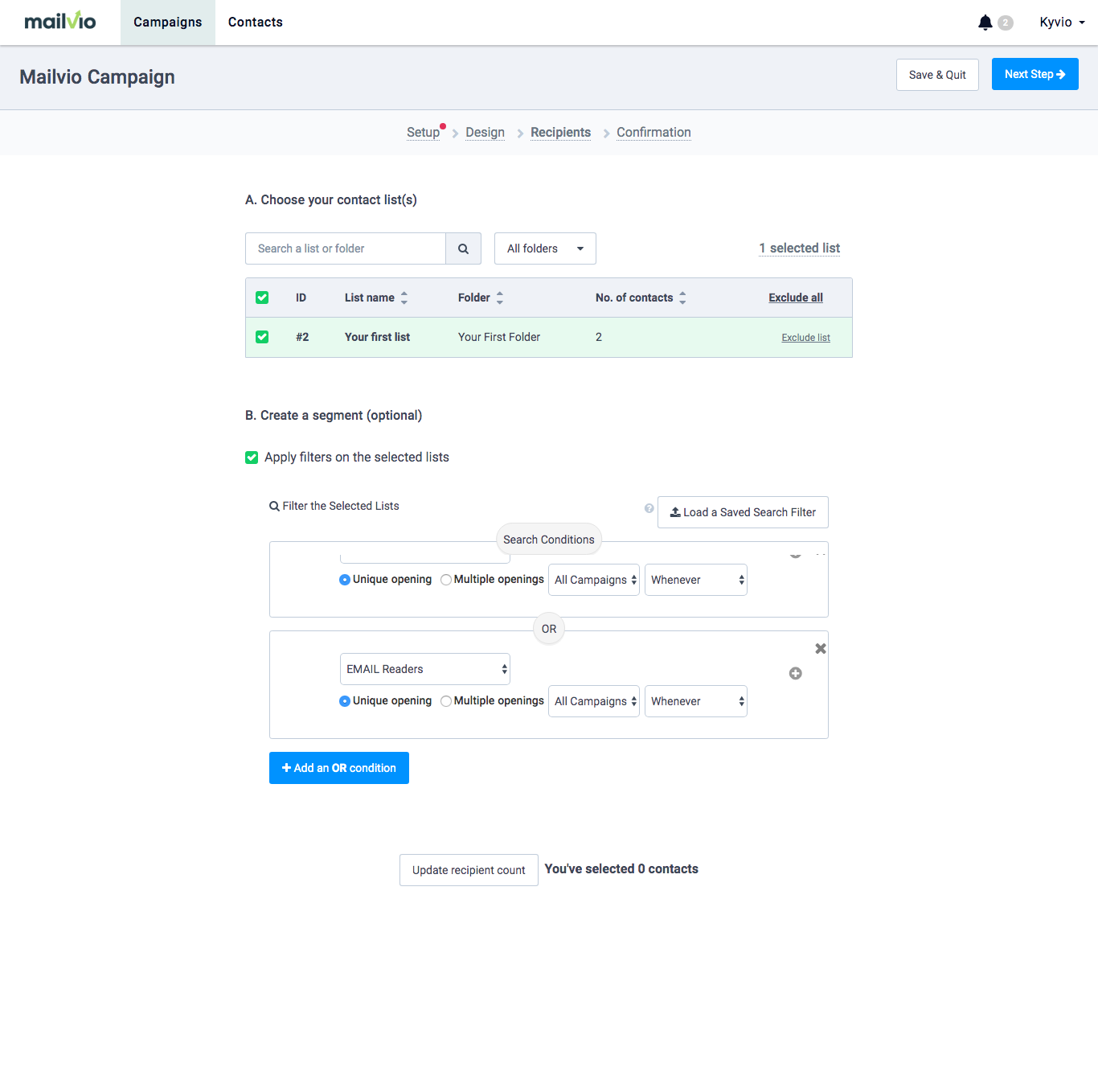 For SMS, the usage has some similarity.
Once you finish customizing message,you can send it to subscribers.
After you send any Email or SMS Text campaign, you can see how it performs
Here's an example email that i have sent.
As you can see,it reachs the inbox.
You can see the Stats as i have clicked and opened.
3.Automation
With marketing automation,you can easily segment your list thus only send emails to what your subscribers actually wants.
And that's all you need to know before you buy Mailvio. In fact,it's a nice product you can have a try.
My Mailvio Review Video (Please Watch)
In order to provide you a correct understanding about the software,i have recorded a full walkthrough demo video about it. So before you buy, turn on your volume and watch these videos first.
Funnels of Mailvio
This time, there will be no upsells for the software. Therefore, no kind of
Bonus From Me
In order to help your life much easier,i will add some extra bonus if you get Mailvio through my link. This product is sold on Jvzoo so that after you buy,you will get immediate download link.
Pros of Mailvio
Easy to use and manage
Can Send Email and SMS all in one dashboard
Ability to Send Unlimited Emails
Can Collect Email Opt-in and SMS
Various Email Templates Gallery
No SMTP Setup Needed
Absolutely no upsells
Avoid Spam by Requiring Domain
High Inboxing Sending Server
High Reputation Sending Server
Cons of Mailvio
A little bit Expensive Price
Final Verdict
In summary, Mailvio is a great autoresponder app and it can directly replace Getresponse, Aweber and some other big services outside. Within the app, you can send email hosted on your domain and you have features to boost open rates as well to automate your marketing stuffs. Of course, Mailvio is a big yes from Daily Job Killer.
Mini FAQs
Can I mail scraped lists or rented/purchased leads with Mailvio?
NO – you cannot. They openly welcome niches like affiliate marketing, but they are NOT a cold emailing platform. They are VERY careful about doing the best for their Mailvio community and protecting both our users and our system. They will support all genuinely intentioned users with any problems you may have, but for the best interests for their users, they will not tolerate spammers and they will kick them out quickly, without a refund (part of their ToS). So, for those people looking to misuse the system, please look elsewhere.
How many emails can I send today with Mailvio?
They want you using Mailvio every day for as long as you want. To help you get the best results from Mailvio, they have set up a unique proprietary account warmup system that will help you inbox better for the long-term. You will get double credits available to you, but today you start with a smaller percentage of your emails – enough to get you inboxing better right away and build your open rates right from the get go. Based on your open rate, spam rate and bounce rate, this number will change day to day. Until the point that you cross a minimum threshold (within 2 to 4 weeks). After this you will unlock ALL of your credits to use as you see fit.
What Is A Charter License of Mailvio?
They are giving you 1 year's unrestricted access for PLUS double email credits (and more as a bonus). They will not auto-renew. Instead, they will contact you before those 12 months are over and as a reward for being a charter member of Mailvio, they will offer you a great deal (most likely super similar to what you see now, or if you want to switch to monthly – $29pm which will include 100,000 email credits) or you are welcome to choose to choose a monthly plan or (they'll be sorry to see you go though) close your account. 
Does Mailvio have a minimum open rate?
They are wanting to work with you to get your open rates through the roof right from the get go. We all know Aweber will warn and then ban you if you go under 10%. Ideally they want to be working with you to get your open rates beyond 20% and more. But we are marketers – we understand that sometimes things are outside of your control.Theye aim for you to achieve 5% open rates at least, but also factor in spam rate and bounce rate. And as long as you are well intentioned and willing to work with their team, they are happy to help you out to achieve the sort of open rates you desire.
Can I get my own IP when using Mailvio?
Yes, of course. You are welcome to purchase your own dedicated IP for $199 per year. And as a special welcome gift, if you reach out to them anytime during your charter membership (12 months), they will give you an extra $50 off.
Do I need my own SMTP to make Mailvio work?
Nope! 🙂
It's all built in!
Can i integrate Mailvio with other platforms?
Yes, you can use the custom HTML integration (forms) for now, and they plan on having Zapier up and running in near future.
Do I Get Charged More As My Contacts Grow from Mailvio?
Nope You Can Rest Assured They Will Never Charge You 'Success Tax' For Growing Your Contacts.
Is Mailvio Only Availble In English? 
Nope! Multiple languages are supported, so as well as English, if you speak Spanish, French, Italian, Portuguese or German, Mailvio is available for you to enjoy using in your native language!
What Is My IP Pool Based On?
They Protect Both You The Users And Their Platform. By Basing Your Ip Pool On Your Open Rates, Spam Rates and Bounce Rates. And The Best Bit…Because They Know The Better All Their Users Do, The Better Everyone's Open Rates Are, They Are Committed To Working With You All To Improve Your Scores.