Product : Mobile Optin 2.0
Creator : Anthony Morrison (also the teacher of Fanpage Domination and Email Domination Profit Cycle)
Price : $1,997/one time or $797/3 times when bill monthly (just my link have)
Do I Recommend : Yes But Not For Low Budget

Recommended But Not For Everyone
There is no doubt when people are using mobile phone frequently. As a result,this has some affect on email marketing. People are not only subscribe to your list on desktop but they also subscribe on mobile phone. Therefore,we need to have a tool that supports email marketing with mobile phone. Mobile Optin 2.0 is a great tool that especially has mobile responsive and friendly feature. In addition,it's a premium software from Anthony Morrison,founder of Email Domination and Fanpage Domination. Now,let's check out my review on Mobile Optin 2.0 so that you know exactly what inside.
What Is Mobile Optin 2.0 ?



At first,it's a landing page creator software that helps you create a responsive mobile squeeze page. Like many notable landing page builder such as Clickfunnels,Instapage,ec,Mobile Optin also offer split-testing and reporting. What makes this software outstanding is that it offers over +300 mobile-friendly templates and create unlimted campaigns for life. Besides,this software can host URL page and solve annoying problems with email marketing (fake email address).
Who Is Mobile Optin 2.0 For?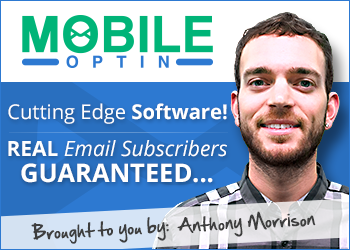 People who are doing mobile marketing
If you are tired of fake email addresses (they do that so as to get your report)
Email Marketer who wants to increase their open rates,click rates and lower unsubsribe rates
You don't have any high quality giveaway reports (because he gives you 10 giveaways reports)
If you are looking for the highest converting mobile responsive templates
People who are running CPA/CPL affiliate marketing
You need a high quality lead,not a fake lead or subscriber
If you haven't used solo ads or facebook ads since joining internet marketing
You want to master Facebook Fanpage as well as Facebook Ads
You are running a Shopify (check out Ecom Success Academy) store or even FBA (check out FBA Ninja)
If you want to learn more about free traffic from Google,Youtube and Facebook
You want to get approve into high paying CPA networks much easier
Main Features of Mobile Optin
At First,let's take a look at Mobile Optin's member dashboard.


As you can see from the picture,Mobile Optin can also track your campaigns like other autoresponders software.
Create Campaigns
The first thing to do once you sign up is to create your campaign,this software allows you to create unlimited campaigns with no monthly fee.


Then,just simply click on Create Campaign and see what's next.


Hey,Mobile Optin can even host your mobile squeeze page for you,which means you can even no need a website. It's just like Instapage and Clickfunnels but with mobile only and just high quality lead (real subscribers).
After that,click on Add Template and a list of high converting templates will appear. Notes:Anthony gives you 10 ebook in order to create an optin-bait and they are all profitable niches.


Amazing,right,a lot of high converting templates together with 10 giveaway ebooks,key to collect email.
After choosing a template,that's what you see next.



After your visiors sign up,just simply redirect them to your thankyou page,tripwire page or your first recommendation (of course,include your affiliate links). Notes:if you have a tripwire page,the offer should be go around from free to $47,don't choose the expensive one.
2.Visual Editor
The next feature of Mobile Optin is a drag and drop editor. As a landing page creator,this is a must have feature and this software is not an exception despite mobile-only.


As you can see from the picture,it does have nearly all elements you need for an optin-page,ec. And hey,Mobile Optin even have available ecover for you so that it's no need to outsource an ecover. Of course,the more impressive of your ecover,the higher chance of collecting email.
Now,let's take a look an example of Mobile Optin. Firstly,choose any template you want.


Now,i'm going to choose my templates as an example,not the ebook.


Because it's a drag and drop builder so you can manage easily. After that,just simply add varitions as what you want,i can be redirect site,autoresponders,ec.


Then,go to the campaign page of Mobile Optin and choose a campagin you have created.


Next,click on the hosted url.


Remember,you are in the mobile optin's server so that you can create any subdomain as you want. For example,it should look like app.mobileoptin.com/cxxx/yourdomain.
Comeback to your campaign,don't forget to optimize it and also have a look at mobile preview.


Hey,don't worry about the integration because Mobile Optin integrates with all (Mailchimp,Getresponse,Convertkit,ec.)
Normally,an email marketing from experts campaign will have various templates and Mobile Optin offers this feature.

Support and Tutorials
A good software and service means nothing if it has a bad support and tutorial,fortunately,Mobile Optin doesn't.


What i really like about Mobile Optin is that he offers Case Studies so that anyone can copy exactly to get the best result.


Therefore,there is no experience required,the only one may be your skill on writing email newsletter.
Traffic Training , WOW
If you don't send traffic to your mobile squeeze page,certainly there is no sign up and no money. Once you sign up at Mobile Optin,you will get access to Mobile Traffic Training like Google,Facebook and Solo Ads.


There is no doubt when Solo Ads is one of the best paid traffic method and it converts very well. However,it's not easy,you have to know to write email solo ads and choose the advertisers. In this training,Anthony will teach you how to buy solo ads at Clickonomy. Notes,the owner of Clickonomy is Anik Singal,also the teacher of Inbox Blueprint and Lurn Insider,one of the best training.


Facebook Ads is the gold mine especially if you are running an e-commerce bussiness or affiliate. In the Facebook training,his brother,Adrian,also the owner of Ecom Success Academy will teach you about this traffic. In addition,Google advertising is a great traffic but it's not easy and you may be penalized if you lack experience. Fred Lam is a master of Google Marketing and personally,i find some Google Ads from him when i do search engine. And each week,you will get access to the webinar training,Success Connection from Anthony.

Fast Action Bonus From Anthony
In order to make your life much easier,he adds some bonus to help you start instantly.


With those 10 Done For You free reports,you can easily build a massive email list. And of course,they are all profitable niches that pay out like crazy.
Pros of Mobile Optin
Lifetime access and No Upsell (hence there's no hidden features)
High Converting and Responsive Templates (over 300)
Drag and Drop Visual Editor
Split Testing and Reporting
Great Support and Tutorials
Integration with nearly all autoresponders service
Include Case Studies
Weekly Coaching with Anthony Morrison
Host Your Mobile Squeeze
High Quality Leads and Real Subscriber Only (because you have to approve them,so there's no kind of fake email addresses that just want to get your ebook)
Include Real Life Case Studies
Traffic Training (the best value,include the best paid traffic such as Google,Facebook,Solo Ads and Youtube)
10 Done For You Giveaway Ebook (so as to build a massive list fast)
Cons of Mobile Optin
Expensive Price ($1,997 or $797/3 times are not afforable by anyone)
He Forgets To Train Instagram Ads (instagram is more interactive than facebook and people use mobile phone at Instagram)
Final Verdict
In summary,Mobile Optin is a great mobile squeeze page tool for both email marketing and mobile marketing. This is so far the best software for mobile landing page and for people who are collecting leads by email. In addition,there are up tp 10 free giveaway right reports and Traffic training that helps you build your email marketing bussiness much faster and easier. If money is not your problem,i highly recommend you to buy this tool,it's great,it's friendly and it has valuable and traffic training bonuses.