Social Video Ads + AdPoint Review From User-Great Video Ads Training
Product : Social Video Ads + AdPoint
Creator : Cham Altatis (also the creator of Vidtasia)
Price : $27-$47
Do I Recommend : Yes,but only for Facebook Video Advertiser

Presently,Facebook video ads seems to be one of the best way to increase ROI. People love watching video and more than 70% video ads viewers are potential customers. Besides creating a video ads,you should also think how to make money with it.
No matter how good your video ads content is,if you don't display ads,certainly you can't make any dime. When creating a Facebook video ads campaign,targeting and retargeting are the most important stuff. If you target the correct audiences together with the correct interests,your winning chance will be very high.
Before you setup an actual ads campaign,you should learn it first. Today,i will introduce you a great video ads training,Social Video Ads. If you buy Social Video Ads,you will also get Adpoint,which is a FB Retargeting Apps from Cham Altatis. Let's checkout my Social Video Ads + Adpoint review so that you know exactly what inside.
Notes : i'm a real user review who has a review access account from Cham Altatis.
What is Social Video Ads + Adpoint?

At first,Social Video Ads is a 9 modules training showing you how to setup and profit from a Facebook Video Ads campaign. He also teaches you some little bit about Instagram video ads. This training will cover about strategies when running ads campaign,video ads display.
Adpoint is a Facebook Retargeting App that helps you retarget audiences over and over until they buy.
In the training,he also covers some additional strategies like chatbot and webinar marketing.
Who is Social Video Ads + Adpoint For?
Of course,FB video advertiser
Affiliate Marketer,Email List Builder or Ecom Seller,etc
Webinar and Chatbot Marketer
People who haven't created video ads before or setup campaigns the wrong ways
You want to increase ROI from a video ads campaign
And many more,..
Main Training Inside Social Video Ads + Adpoint
Now,i will show you exactly what you are getting inside Social Video Ads + Adpoint as a user. Personally,i have learnt his strategies and it actual works. This is the member's area of Social Video Ads.


And this is the member's area of Adpoint.

1.Social Video Ads
a.Basic Setup
The first module is the gameplan,which he explains you what to do with a social video ads.


After that,he shows you what to prepare before running ads campaign. They are landing page,Facebook bussiness page and video editor. He recommends Adobe software,Camtasia or Viddyoze. The best video ads creator i would recommend you is Reevio. About landing page,he recommends you to pick something like Igloo,Profit Builder or FastEye.
And more important,ads budget when you run ads campaign


And then,you will learn about Targeting,Interests and Audiences,which is super important. In this module,you will also see how to setup a Facebook Bussiness Page and Ads Manager,all are step by step.
The module 3 will cover about Facebook Video Ads strategies.


Three main FB Video Ads strategies he mentions are video view ads,Machine Strategy (like Webinar) and Messenger Strategy. Of course,he explains you all about them and their benefits.
b.Setup Actual Campaign
The module 4 will discover about Facebook Video View Ads strategy. This is a 6 video training that you learn everything when displaying video ads campaign.



They are combination between Facebook Video Ads targeting and Facebook Video Ads retargeting.


In the video 5,he will mention his own software,Adpoint,which you get immediately on Social Video Ads.
Everything you need to have is a landing page together with Ads Retargeting Pixel you got on Facebook.
Then Adpoint will generate code for you to paste.


In the last video of module 4,he will show you real Facebook Video Ads campaign that works.


The module 5 will discover about the Machine Strategy. Machine here is actually a webinar marketing technique. At present,Ever Webinar is one of the best webinar service. But in case you can't afford EverWebinar,he teaches you about using OmniWebinar. You can read my Omniwebinar review and instruction here.
Webinar marketing is a proven strategy that 7 figures marketers are using so as to enhance their ROI. Oh,he also shows you what a good webinar video content look likes with his own example.


Here are some training he shows you how to setup EverWebinar and Facebook Video Ads campaign.


Unlike most teacher,he also instructs about Omniwebinars.


Messenger strategy is like chatbot marketing,it's an addon in case people don't buy.

c.Scale Your Ads
After running ads campaign,you also need to scale your ads to maximize return on investments.


It's about Custom Audiences,just a way to target better.
After learning all,he gives you bonus training about Instagram Video Ads. However,you will display by using Facebook Power Editor.



The process is almost the same with FB. And the last training is about Social Video Ads for affiliate marketing.


And that's all training inside Social Video Ads,let's take a look at Adpoint.
2.Adpoint
As i mention before,Adpoint is a Facebook Retargeting App.


It's like you pick your custom audiences,then enter your landing page url and the Ad Retargeting Pixel on Facebook.
Then,Adpoint will generate a code and you need to paste it again to Facebook.


As a result,if people click on that Retargeting URL,they will be redirected to your landing page.
And that's all you get inside a single time purchase of $47. In my opinion,Social Video Ads worth its price.

Funnels of Social Video Ads + Adpoint
Every product has upsells and so does Social Video Ads. However,buying or not is still your choices.
OTO 1 : Video Ads Monthly Club ($27/month or $59.95/3 months)
These are templates that you can use in order to create a video ads. If you have already had a video ads creator like Reevio,you may not need it. Anyway,decision is ultimately yours.
OTO 2 : Video Ads Overlay ($47)
And that's the entire funnel of Social Video Ads + Adpoint. In my opinion,this funnel is not too expensive.
Bonus From Me
In order to help your life much easier,i will add some extra bonuses if you get Social Video Ads through my link. This product is powered by Jvshare so that after you buy,you will get immediate access to my bonuses. Of course,i won't offer cheap PLR bonuses,just relevant with the products.
1.Video Ads Made Easy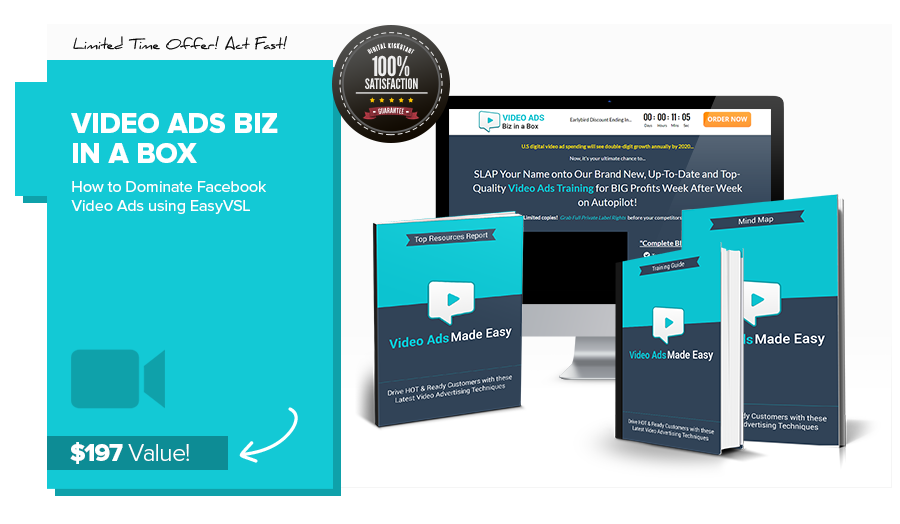 2.Video Ads 2.0 Made Easy
3.Instagram Ads Made Easy
4.Webinar Marketing Made Easy
5.The Chatbot Revolution
6.How To Write Compelling Headlines
7.Easy Video Sales Letter 101
Pros of Social Video Ads + Adpoint
Affordable Front End Price
Easy to Understand Video Training Lessons (show step by step)
Practical and Realistic Strategies
Include Ads Retargeting App
He Shows you the Flow when running Ads campaign
Include Basic Setup and Advanced Training
Cons of Social Video Ads + Adpoint
Doesn't teach a lot about click tracking
No teach about video creation
Final Verdict
In summary,Social Video Ads is a great Facebook video ads training that you can buy and learn. I have learnt myself and i would say this training is 100% legit. Besides,i like his actionable and practical guide when we run video ads campaign. Moreover,the strategies mentioned are very popular towards advanced marketers.

About Author
nguyenhaitran