Product : Sociible
Creator : Joshua Zamora (also the creator of Syndlab,Syndbuddy and X-Ranker 360)
Price : $27-$47 during launch and price can be $97 after launch
Do I Recommend : Yes,it's an OK product you can buy.
Social media traffic is one of the best free traffic for internet marketer. And in order to get free traffic,you need to be an authority. But you know,it's a time-consuming process that will takes us a lot time.
That's where Sociible comes in,a software that helps you become an authority in your niche without having to create content. Not just that,it can help you increase leads and sales thanks to exit intent technology.
What is Sociible?
Who is Sociible For?
Any marketer at any experience
Those who want more free viral traffic
You want to save time while becoming an authority
Amazon Affiliate or Amazon FBA Seller
And many more,…
Main Features and Demo of Sociible
Now,i will show you exactly how Sociible works. This is the member's area once you login.
Before using this app,you must integrate social media with FB Page and/or Twitter first.
After that,just simply click confirm button on your FB.
Right here,you can manage social accounts and also view the Post that Sociible auto create for you.
In order to save time adding content for multiple accounts,you can create a group.
1.Content Stream
In order to make Sociible works,you must enter keywords for content stream.
For a list of content,you can setup Bucket.
Here's where your content stream is after creating campaigns.
2.Post Content on Social Media
Right here,you can 1 click posting campaigns on social media.
Overlay is kind of lead generation and exit intent for your campaigns.
After that,just check on your FB Pages to see your campaigns. If you want to setup automation,it's OK too.
Consistent is the key to successful viral marketing,now you can do that with Sociible.
3.Overlay Types
This is a lead generation features that helps you get leads or enhance Call to Action. Right here,you can manage view and traffic you got from Sociible overlay features.
Here's autoresponder that integrates Sociible,just Getresponse and Aweber.
For Amazon,you can either insert your Associate Tag or not,depending on you.
Here's Bar Overlay should look like.
Now,you can design your bar before publishing.
With Custom CSS,you can do whatever you want but you need to know HTML 🙂
For an optin-form,here's what you see.
This is Amazon Overlay.
For notification,it appears like this.
And this one is for Popup.
That's all you need to know before you buy Sociible,in fact,it's a nice to have product for viral marketing technique.
My Sociible Review Video (Please Watch)
In order to provide you a correct understanding about Sociible,i have recorded a full walkthrough demo video about it. So before you buy the software,turn on your audio and watch this video first.
Funnels of Sociible
All products have upsells and so does Sociible. But buying or not,the choice is still yours.
Agency upgrades here means you can run campaigns for client. As you can see,it allows unlimited features for FE.
Bonus From Me
In order to help your life much easier,i will add some extra bonuses if you get Sociible through my link. This product is sold on Jvzoo so that after you buy,you'll get immediate access to my extra bonuses.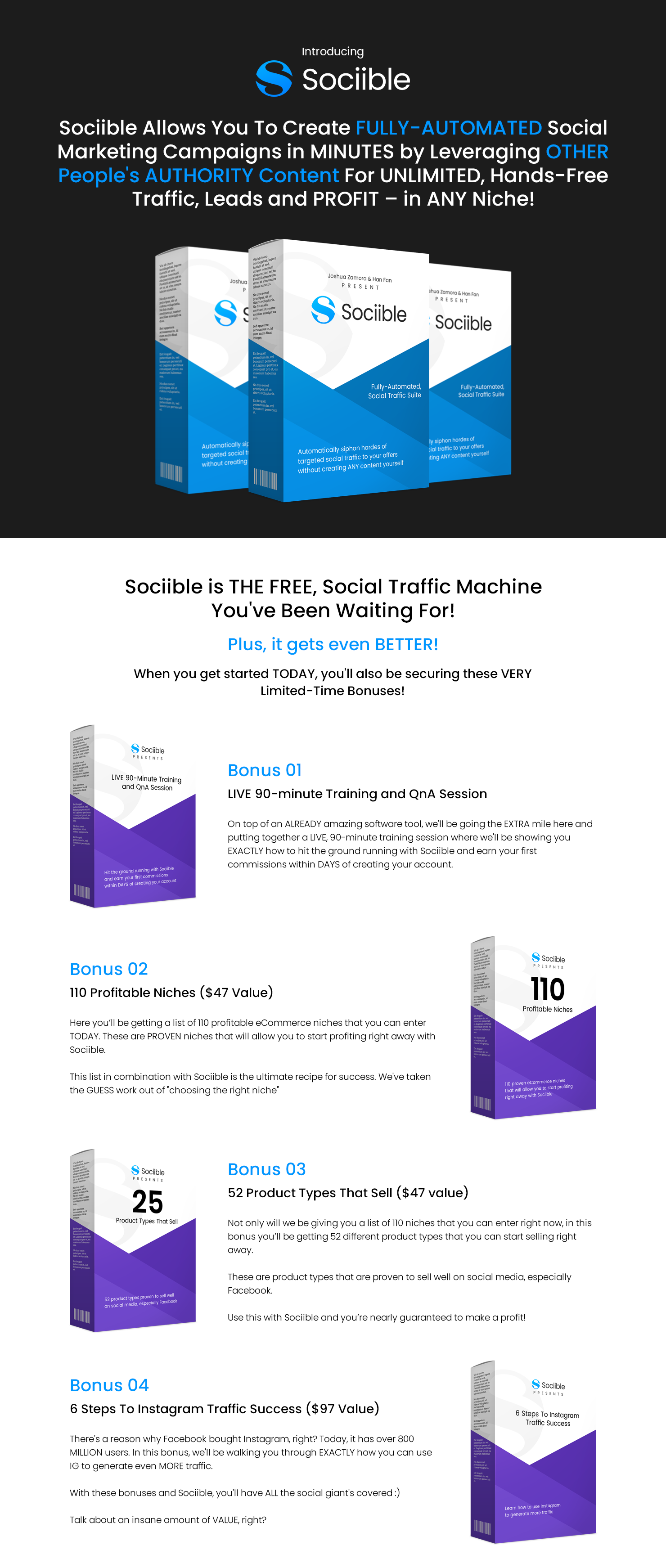 Pros of Sociible
Easy to use software
Affordable Price
Include FB Pages and Twitter (not timeline)
Everything Automated
No Manual FB Developer App Setup
Support Multiple Content Stream
Cons of Sociible
Full benefits and features is only for Upsells
Just Getresponse and Aweber as autoresponder integration
Final Verdict
In summary,Sociible is a nice to have product for internet marketer. As you know,social media marketing and authority are some of the most important factor that gets you real free traffic. Thanks to the help of high quality content,automation and lead generation,you can confident to get free traffic on social media while focusing in other stuff. Of course,Sociible is a yes from me.