Strike Trader Elite Review from Real User-Most Advanced Fx Indicator
Product : Strike Trader Elite
Creator : Trading Strategy Guides (also the creator of Big Three Indicator)
Price : $47 for 30 days trial and then $99 per month
Do I Recommend : Yes,but only for serious Fx Trader.
Forex is presently one of the best work from home money making. In fact,a lot people are getting rich as a Forex Trader while some are full-time traders.
It's easy and you can make money from home but frankly,it includes a lot risk. Even if you have technical analysis skills,this doesn't mean you'll make passive income. Therefore,we need something that's realistic and not theoretical.
Forex Indicator is currently playing an important roles towards forex trader. Today,i will introduce you a useful Fx Indicator,Strike Trader Elite.
After testing Strike Trader Elite,i would say it's one of the best Fx Indicator that you want to use. Now,let's read my entire Strike Trader Elite review so that you understand how it works.
What is Strike Trader Elite?
At first,it's an Fx Indicator that works for MT4,MT5 and Ninja Trader Plattform. It generates Buy,Sell Signals together with Take Profits and Stop Loss Level.
Who is Strike Trader Elite For?
Of course,you are a Forex Trader
Serious Traders who want to Earn Big
Those who are sick of scams and the hype
And many more,..
Main Features and Demo of Strike Trader Elite
Now,i will show you exactly what inside this indicator. This is the member's area once you login.

In order to help you become an action taker,The Trading Strategy Guides team provides badges earner and they will also review before providing you badges.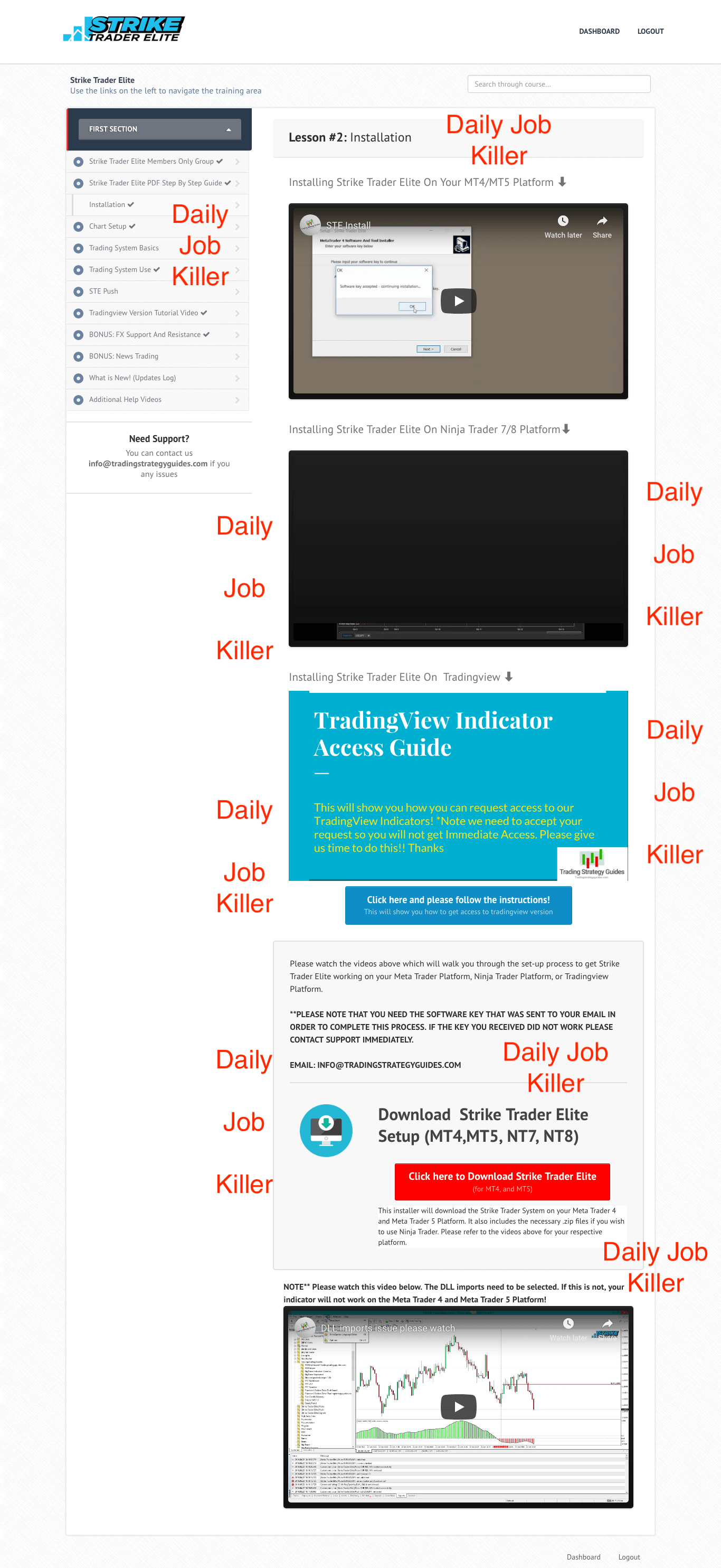 Firstly,before using the software,you must Download the file and then Attact the Fx Chart.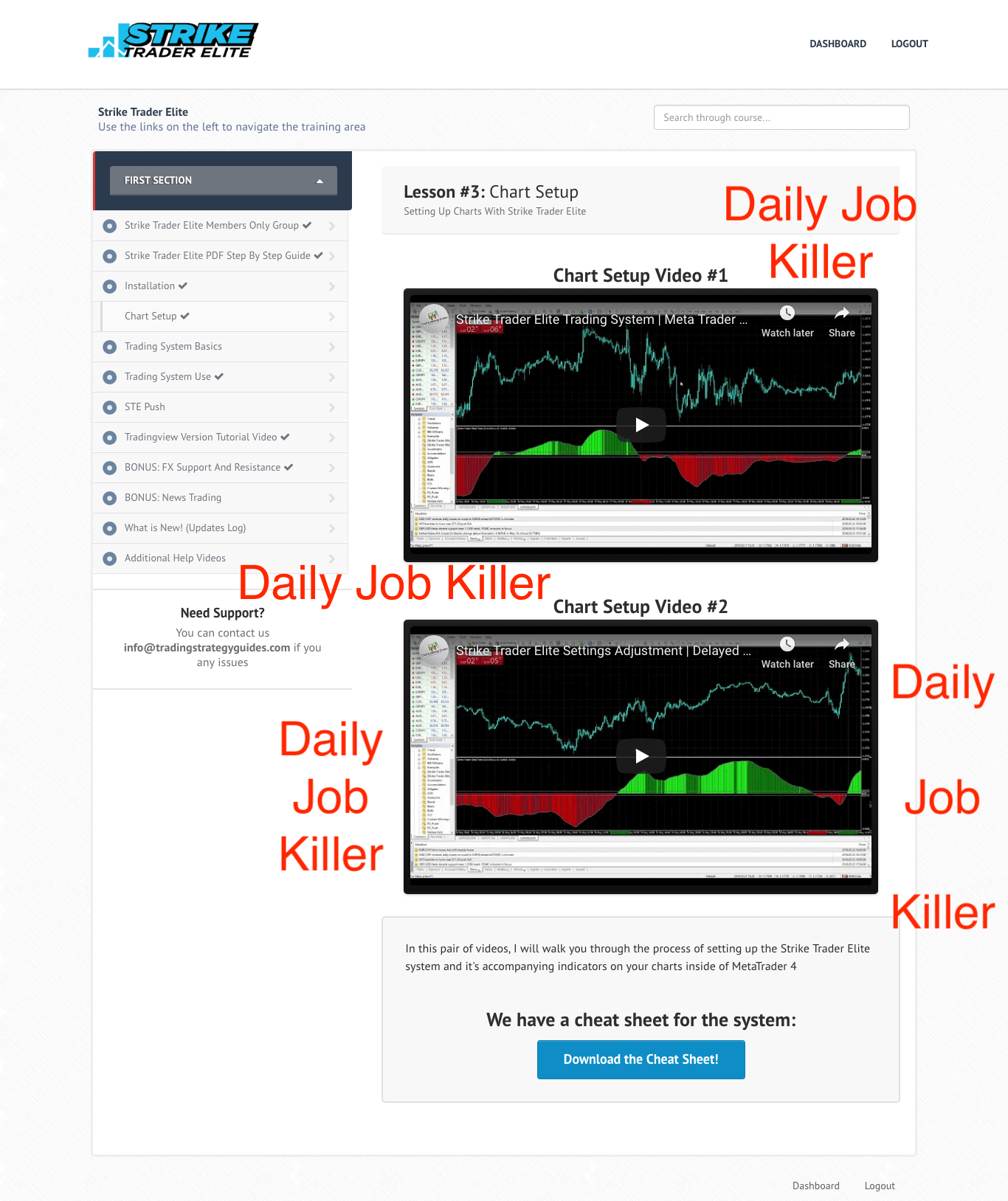 It's very simple to setup chart on MT4 Plattform. Here are currency pairs that they recommend working.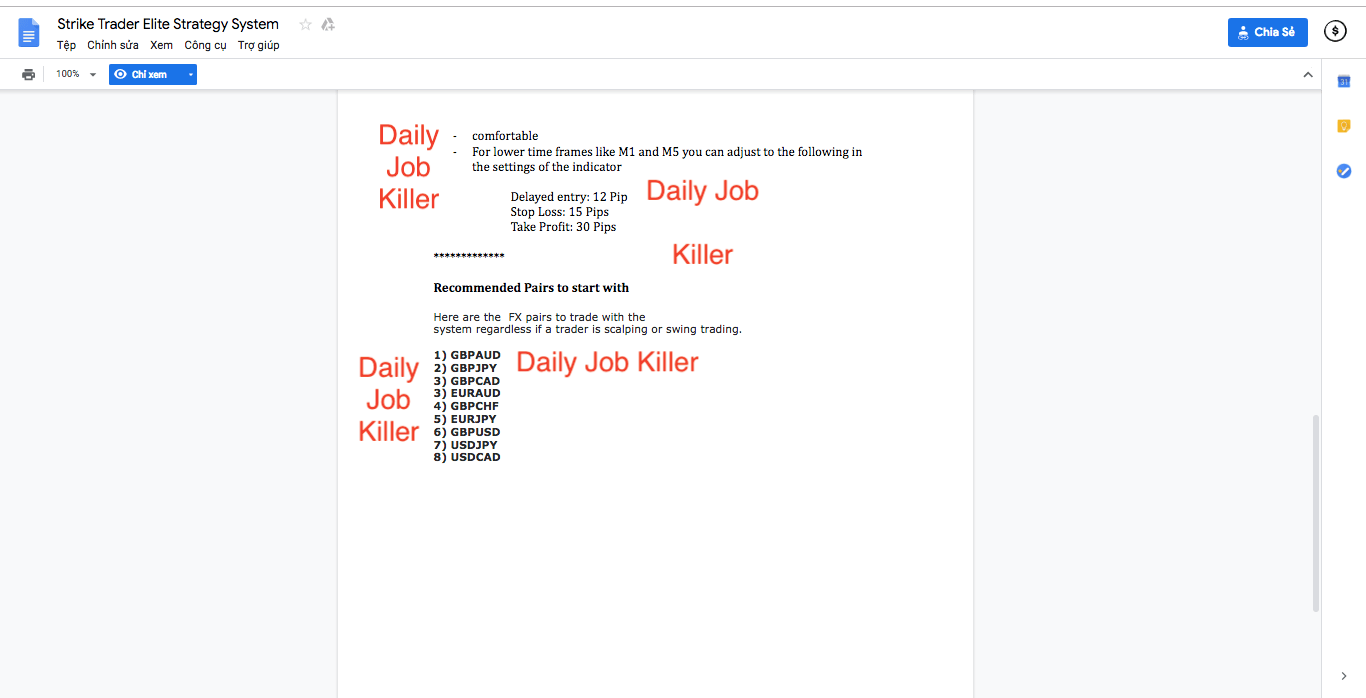 Besides,they also provide Script Version at Trading View so that you can trade with Gold,Crypto and Financial Instruments. They have a dedicated Chat Group that will answer you anytime you need.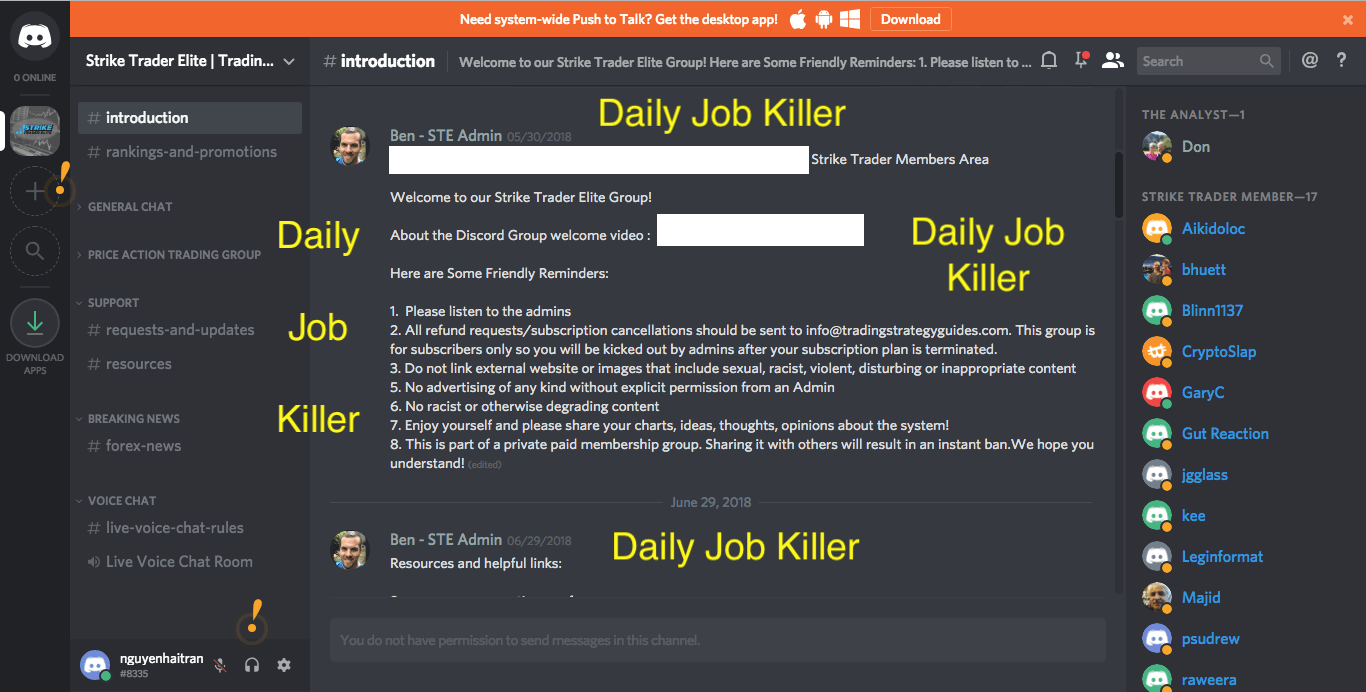 1.Training from Them
To help you take decision on each trade,they provides advanced Fx course.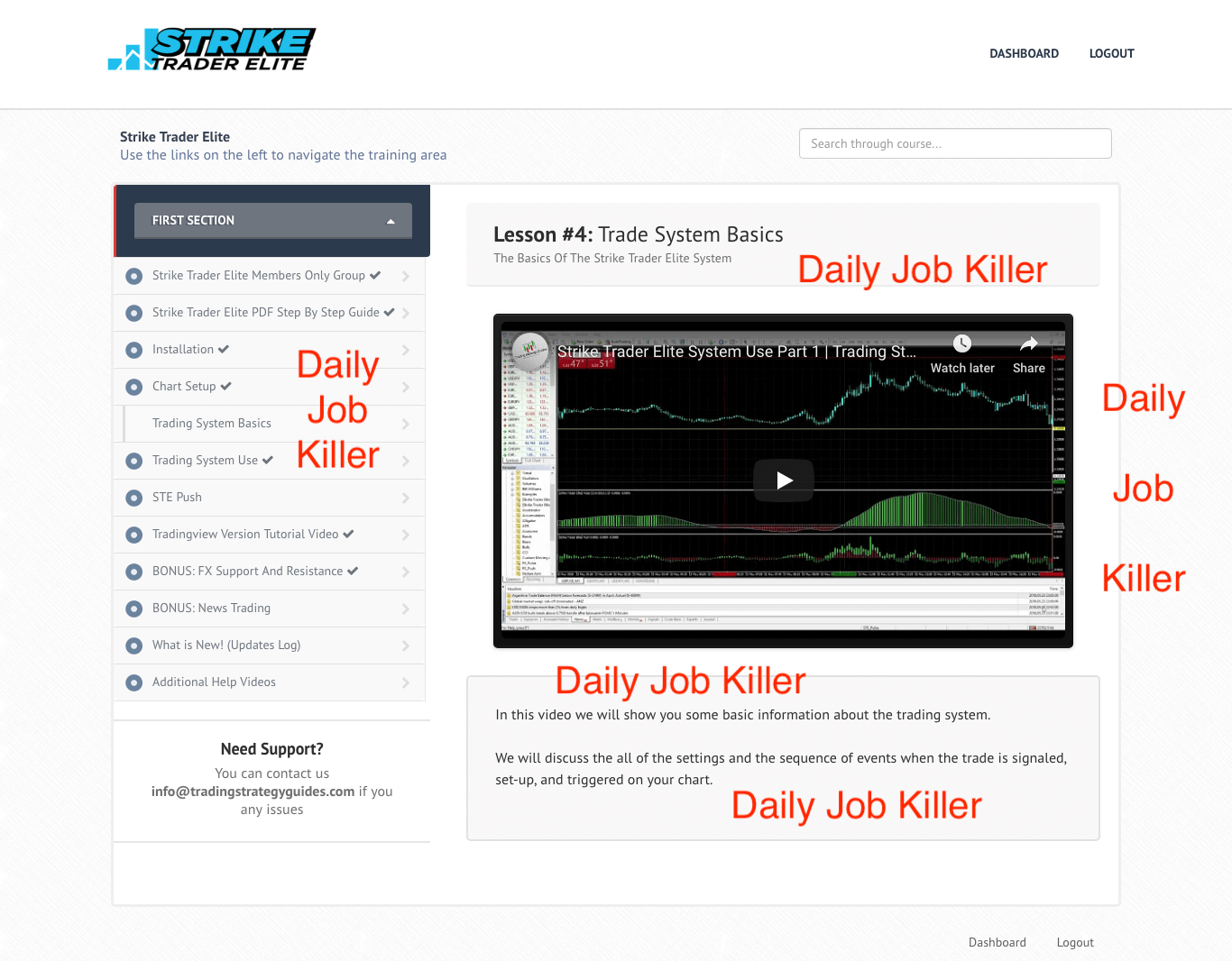 This covers about how to use Strike Trader Elite System and how to Decide when to enter a trade.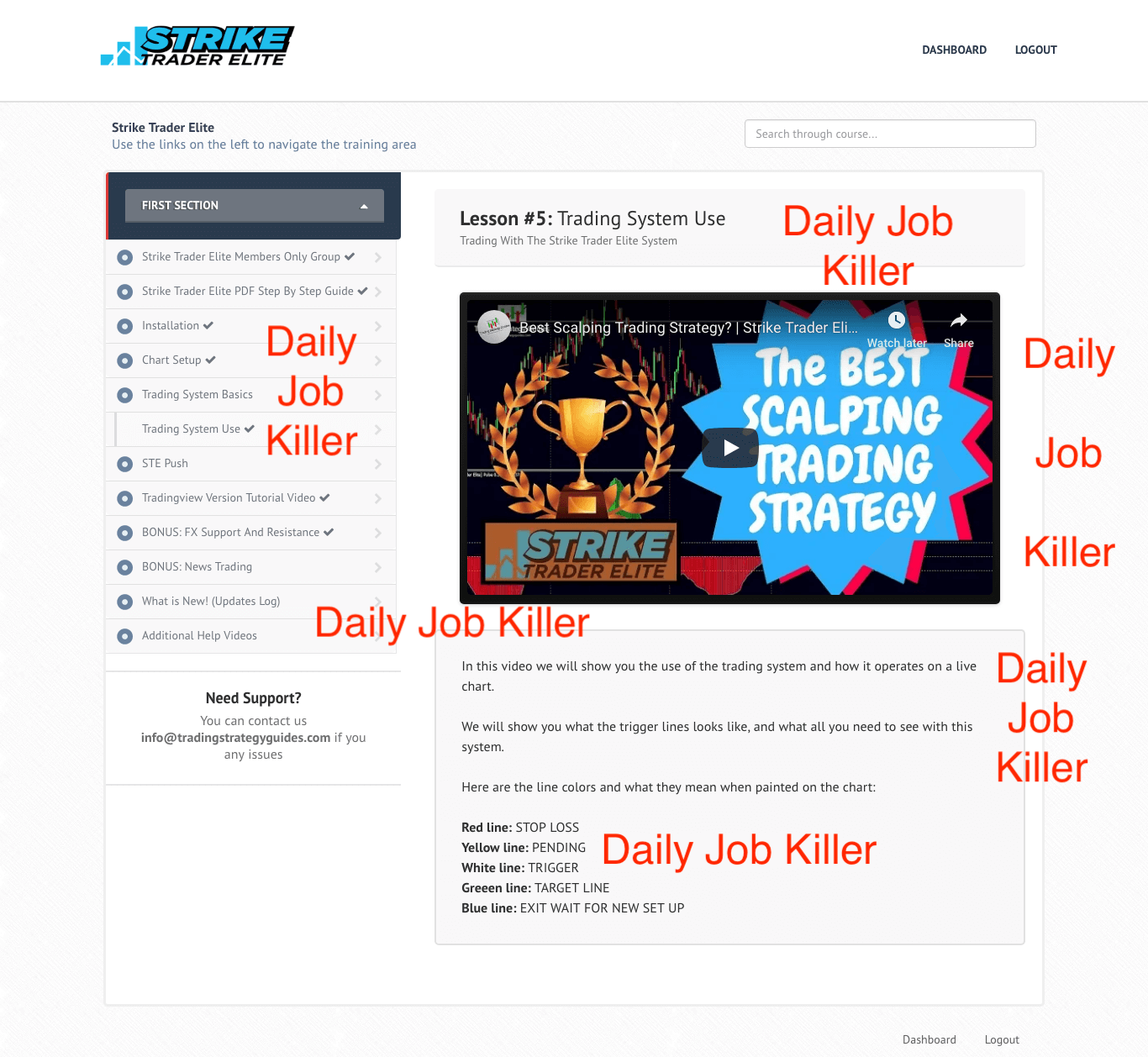 Besides,they provides some useful tips that you may want to use.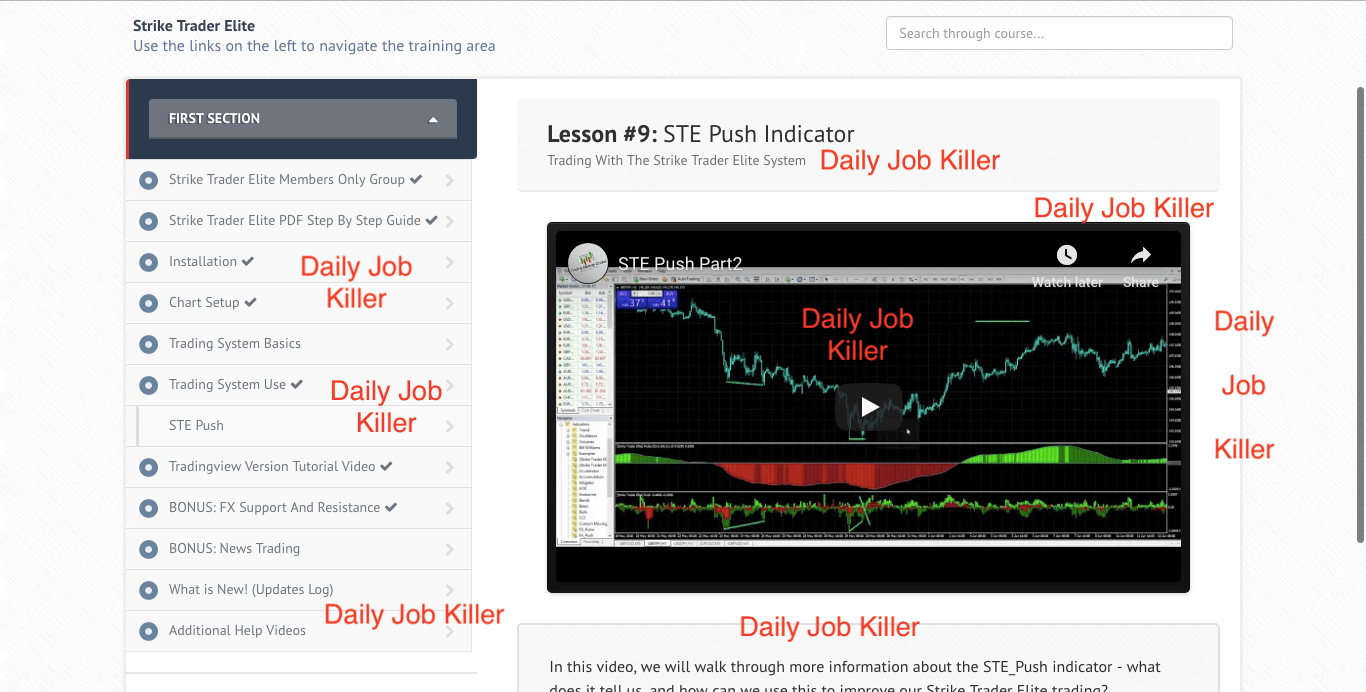 In fact,Strike Trader Elite fits multiple trading styles.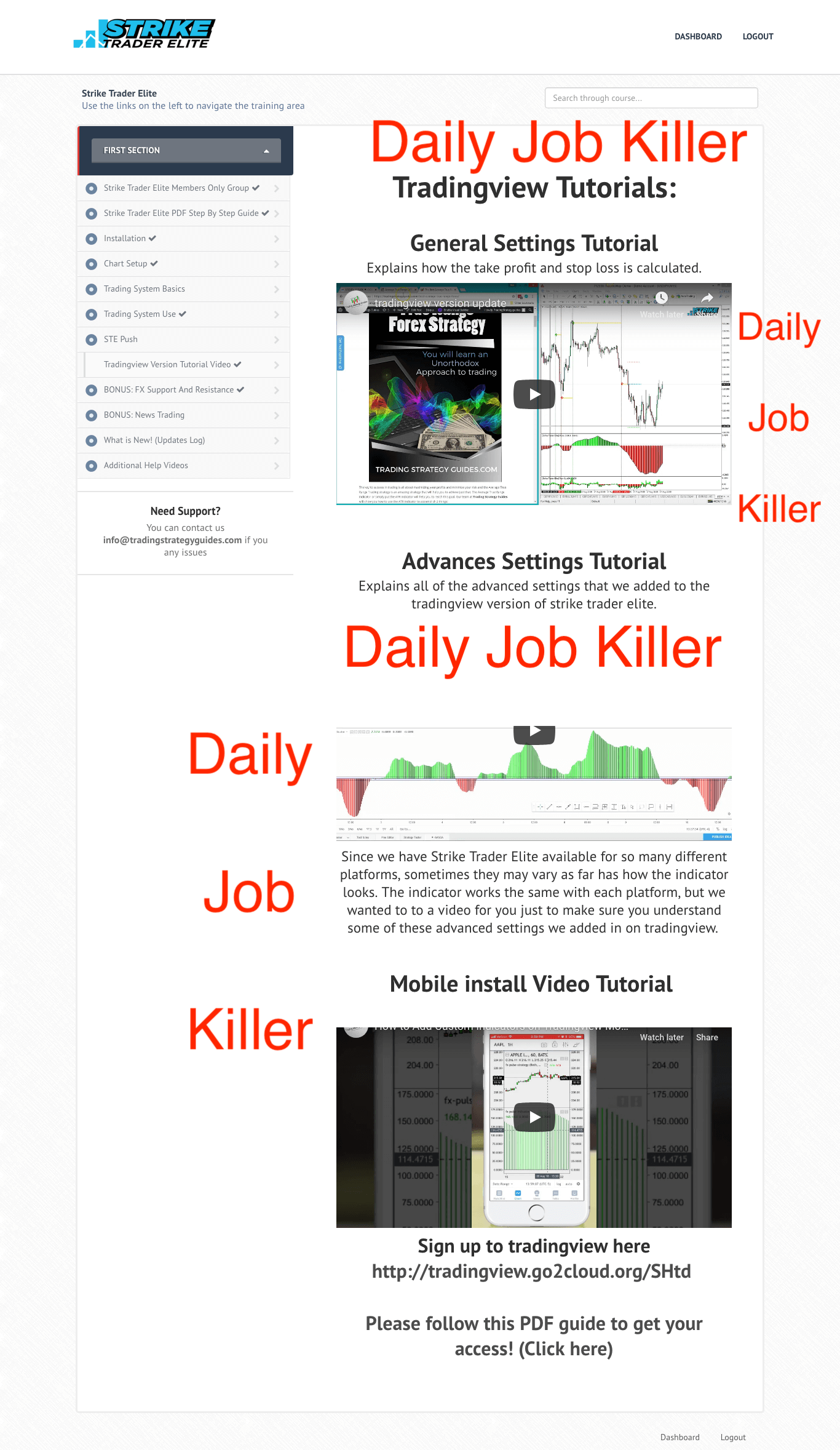 If you are new to Forex Trading,don't worry because inside the member's area,they teach you everything you need as a Fx trader.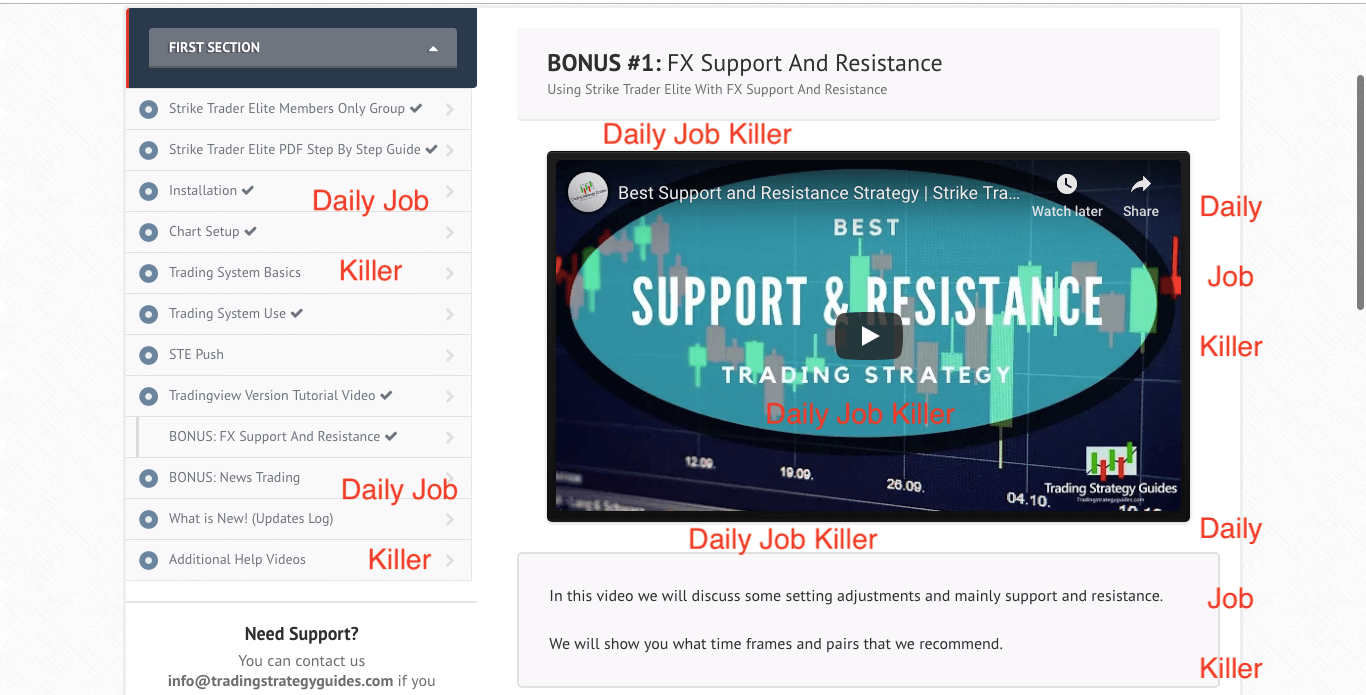 As you know,sometimes some news may affect currency pairs and will somewhat affect the indicator. That's really easy to understand because Strike Trader Elite is an algorithm for Techical Analysis.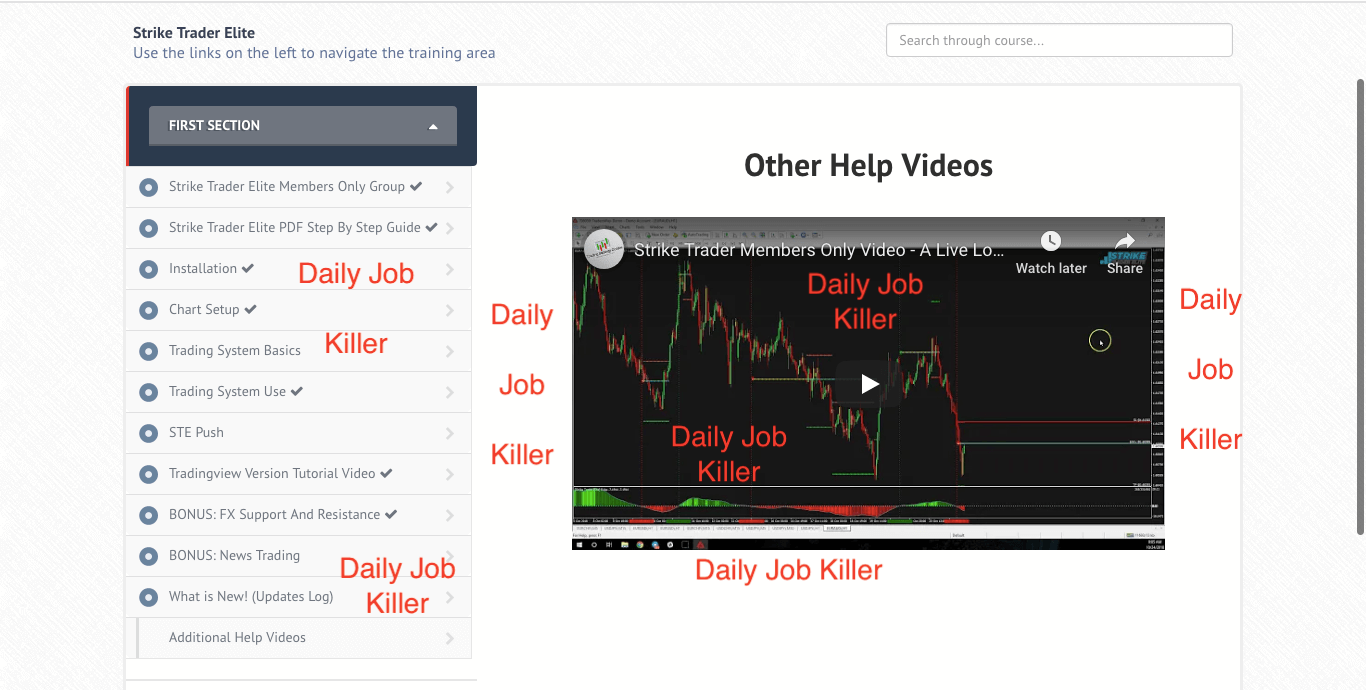 2.Indicator in Reality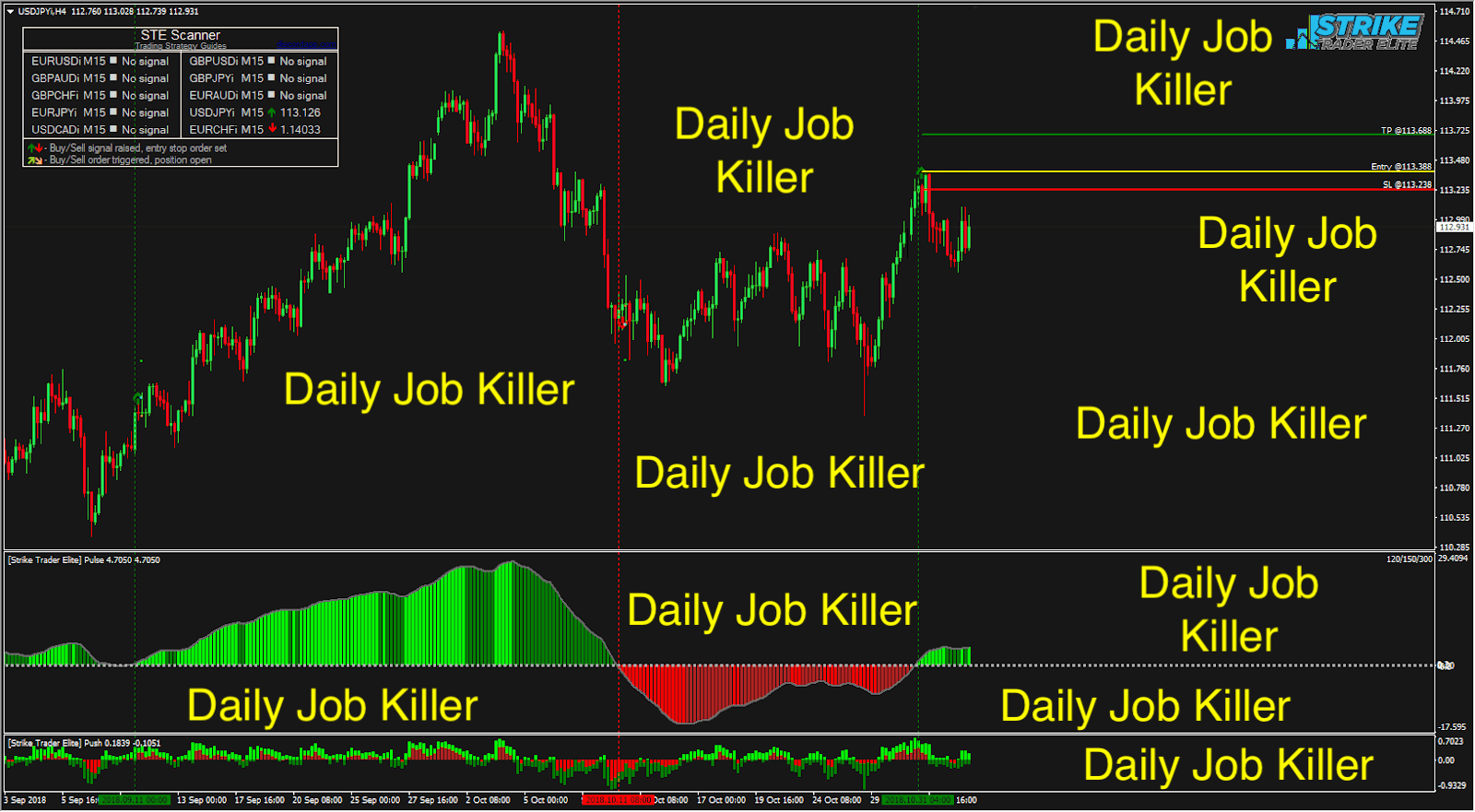 As you can see from here,the indicator generates all the signals you want. In fact,this is very simple for a newbie to take action.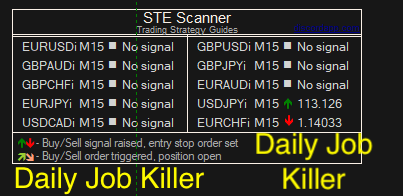 Like the Big Three Indicator,this one allows you to see multiple pairs simultaneously on Top Left.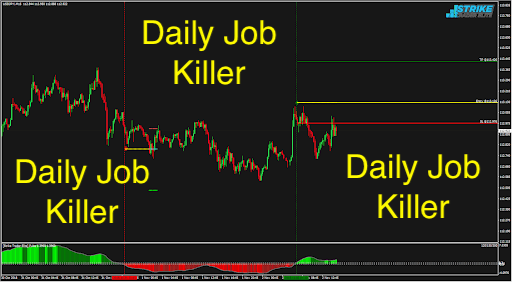 As you can see,there will be Take Profit and Stop Loss level and if it reaches,you can close trade immediately.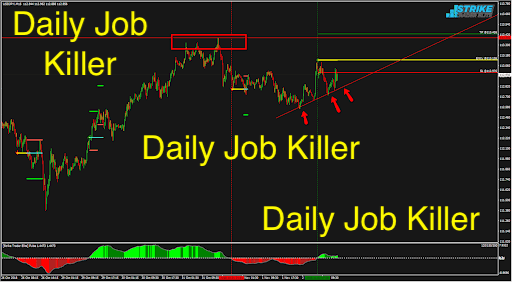 Another cool stuffs about this one is that signals never repaint.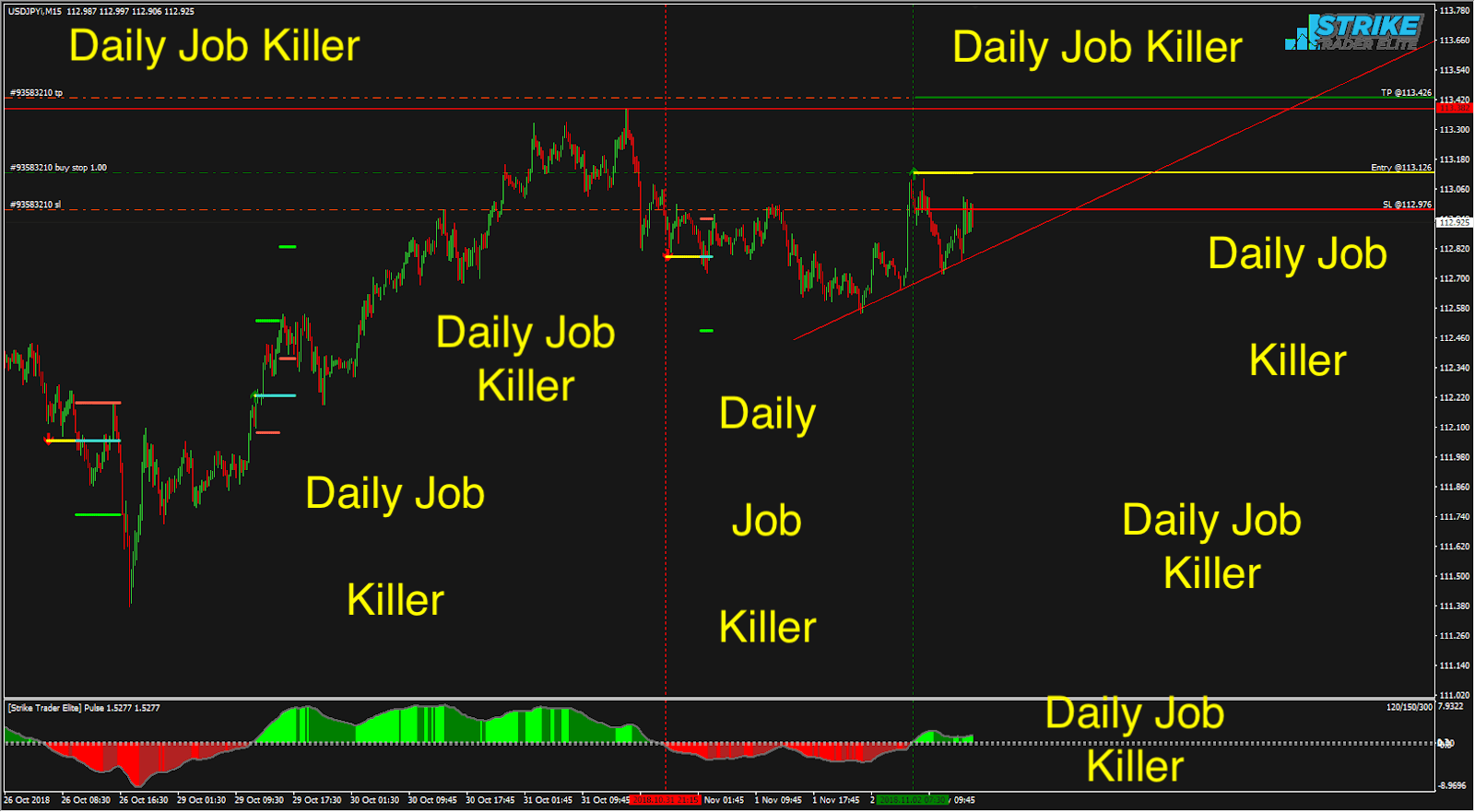 But in case there's a potential TP Level,it will generate new one.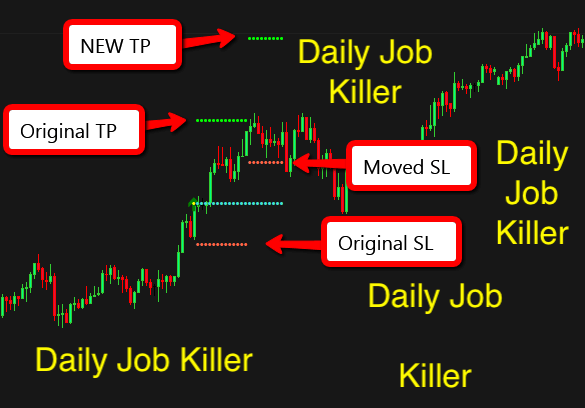 And that's all you need to know before you want to buy Strike Trader Elite. In fact,despite the price,it's really well worth every single penny you are paying.
Pros of Strike Trader Elite
Easy to use and manage
Dedicated Support Group
Signals never RePaint
Reliable Fx Indicator
Realistic Training Course that Works
Cons of Strike Trader Elite
Somewhat expensive for Some People
Final Verdict
In summary,Strike Trader Elite is a great to have Fx Indicator that works. After trying and testing the app,i see that it fits my personal trading rules and can be a great weapon for Traders. What i like about the product is that it has dedicated support team,Badges Earners to make sure we are Action Taker,Reliable System and Real Training that works. Of course,if you are serious about Trading,Strike Trader Elite is a big yes from me.