Product : Thrive Architect (also Thrive Visual Editor)
Creator : Thrive Themes Company (also the creator of Thrive Leads)
Price : $67 or $97 for lifetime or $19/month for membership
Do I Recommend : Certainly Yes. However,i only recommend Thrive Architect for WP user.
Landing page is very important to any internet marketer at present. That's why a lot drag & drop page builder comes into the market. After trying a lot popular page builder on WP such as Thrive Architect,Divi Buider,Elementor,etc,i would say Thrive is the best one. In this post,i will introduce you about Thrive Architect review aka Thrive Visual Editor so that you know about it.
What is Thrive Architect?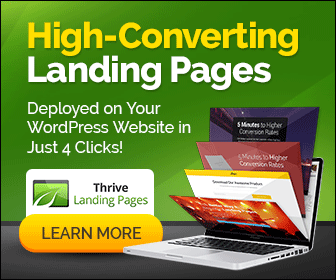 Basically,Thrive Visual Editor is a drag & drop landing page builder for WordPress. It's a grid page builder comes with 274 templates.
Who is Thrive Architect For?
Any marketer at any experience
Those who don't intend to buy Clickfunnels or Instapage
Of course,you are a WordPress User
Product Launcher,List Builder,Affiliate Marketer,Ecom Seller or Agency Business,etc
And a lot more,,,
Main Features and Demo of Thrive Architect
Just like competitor like Divi Builder and Elementor,you also need to visit the Post or Page. Then click on the Launch Thrive Architect Button.
So,here is the page editor.
Thrive Themes company is currently creating a WordPress Theme Builder so Thrive Visual Editor can even affect as a Website Front Page.
1.Thrive Architect Templates
To help you start building page faster and easier,they provides various of templates.
Presently,Thrive Architect has 274 page templates and they will continue to upgrade.
As you can see right here,the page are in-built to work for multiple niches,markets.
For each templates type,there will be other Templates inside.
2.Thrive Visual Editor
This is the drag & drop landing page builder that you can edit immediately.
As you can see,it's a block-based page editor but comparing with Clickfunnels and Divi Builder,this one is smoother.
As you can see,you can even display your blog post or if you have Woocomerce,you can display product feed.
And of course,the page is built-in for mobile and Ipad Friendly.
Here are elements that you can insert to your pages.
To combine text and image,just add coluum like other block-based page builder.
Choose the grid you would like.
Here's an example using 1/2 and 1/2
And as you can see,each elements will come with custom Animation & Layout.
So,when the page load,people will see some animation,which will enhance your engagement.
a.Google Maps
It can display where the business location is.
b.Testimonial
With the power of social proof,your landing page will convert better. And thanks to the power of Thrive Architect,you can even capture and display testimonial.
Right here,choose your testimonial templates.
As you can see,it has various testimonial templates built-in as a block elements.
If you have Thrive Ovation,you can select your pre-built testimonial.
Just choose any from Ovation if you have.
You can also capture testimonial from website's visitors.
In case you don't have existing testimonial or you don't use Thrive Ovation,you can create your own.
When using Thrive Ovation,you can choose pre-existing,this is perfect if you create multiple landing page.
c.Trust Badges
This will provide more trust from your visitors.
There will be Guarantee Box Session Available here.
And here it is in reality.
d.Pricing Table
Another useful features from Thrive Visual Editor is the Pricing Table.
You can create a Price Box right here.
e.Content
Thrive Architect doesn't just help you build page but also design a blog post.
No Gutenberg Block Editor here 🙂
And besides,it does come with Table of Content Features. You can also insert table for comparision without placing shortcode.
In order to make your post or page go viral,Thrive Architect has social sharing feature.
For those who create review blog,here's a star rating elements.
What surprises me is that this plugin also enable Facebook Comment Plugin.
If you don't like to menu of your WordPress Theme,it's OK to create other mega menu with this Visual Builder.
f.Custom Setting
As a landing page builder,of course,Thrive Architect accepts lead generation.
In order to setup your email list,you need to integrate through API first.
In case you don't use any of the services it connects,it's OK to use custom HTML form.
Of course,you can also add other HTML code like tracking or some other services.
Countdown and Countdown evergreen will help you increate conversion. If you use Thrive Ultimatum,you have other choices.
If you setup checkout,it's necessary to add Payment Box.
For Video,it accepts Youtube,Vimeo and other Sources.
And that's all you need to know before you want to buy Thrive Architect. In fact,it's worth every single dime you are paying.
My Thrive Architect Review Video (Please Watch)
In order to provide you a correct understanding about Thrive Architect,i have recorded a full walkthrough demo video about it. So before you buy the plugin,turn on your volume and watch this video first.
My Thrive Visual Editor Bonus
In order to help your life much easier,i will add some extra bonuses if you get Thrive Visual Editor through my link. Just simply buy and then contact me with your name and your purchase receipt. I will verify and then provide you access after that.
Pros of Thrive Architect
Super simple to use and manage
Grid Builder but really smooth
Multiple Block Session and Elements
Drag & Drop Page Editor
Can Be Used for Post Builder
Built-in Scarcity and Conversion Elements
Connect Multiple Services through API and also HTML form
Super Fast Page Loading
Built-in SEO Friendly and Also Mobile Friendly Look
Can Insert Other Thrive Products like Ultimatum,Leads,Ovation,Quiz Builder and Apprentice
Cons of Thrive Architect
No unlimited options available
Final Verdict
In summary,Thrive Architect is the best landing page builder for any WordPress user. It's easy to use and it's designed to convert. Besides,what makes this one different from competitors is that it's really smooth and it has various elements. Not just that,Thrive Architect has various landing page templates that supports multiple online business and also replace some unnecssary investments. Of course,Thrive Visual Editor is a big yes from me.