Traffic Travis Review From User-Advanced SEO Tools for Bloggers
Product : Traffic Travis
Creator : Mark Ling (also the founder of Affilorama and Affilojetpack)
Price : $97 for 12 month
Do I Recommend : Certainly Yes

Mark Ling is one of the best SEO expert and once again,he introduces a useful SEO tools,Traffic Travis. This kind of traffic is extremely hard and it requires a lot of skill especially writing content. In SEO,content is king,so that keyword,backlink and competitor analysis is queen. Therefore,he creates Traffic Travis as a way to make your life much easier. Now,let's check out my Traffic Travis to see its features,member area so as to understand what you get.
What Is Traffic Travis?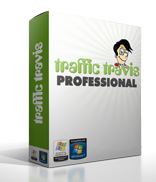 Firstly,it is a professional traffic tool no matter what you are running free or paid traffic. Secondly,it looks like a tracking tool for your site and to peek under the hook of your competitors's site. In other words,Traffic Travis is a SEO and PPC research tool. There are many features maybe you are looking for such as page analysis, backlink monitoring, keyword research, and site tracking.
Who Is Traffic Travis For?

Complete newbie to internet marketing who don't have a huge budget
Intermediate and experience internet marketers who also want to save a lot of money
If you are running PPC ads with some big network such as Google,Bing,Yahoo
You are finding your own backlink so as to get rank
Especially good for people who are building an authority site
Email marketer who want to grow their subscribers's list
You need to track your ranking to improve content (because content is king)
If you need a Site Audit Tool (in order to check your SEO's health)
Internet marketers who want to make it easier for niche research to dominate their markets as well as ruthlessly defeat their competitors
You are targetting specific buyers (for example : Gambling UK,Skincare NZ,Diet CAD,…)
You were penalized by Google because you were lack of experience and knowledge
Main Features and Member Area of Traffic Travis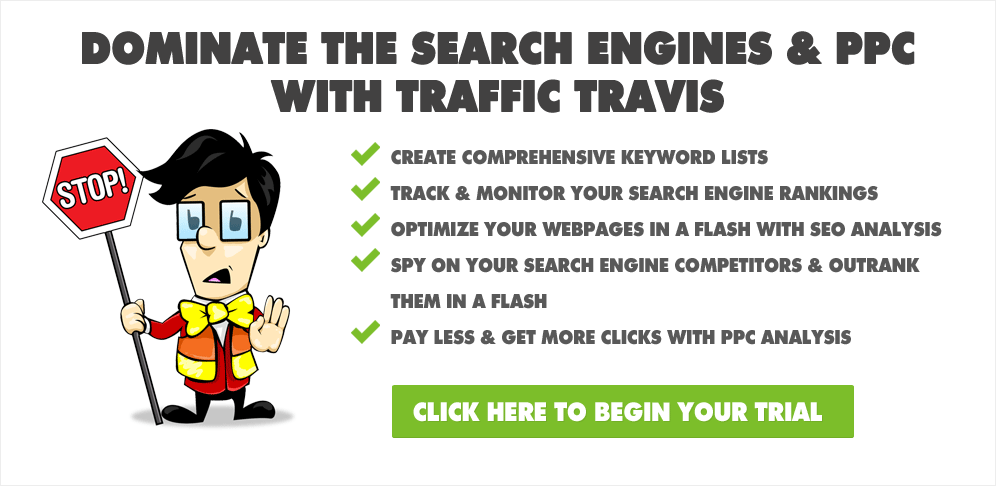 1.Add A Project
Every campaign should have a project and so does this software.


As you can see from the picture,you can target 3 main search engine such as Google,Bing,Yahoo and countries. In the targeted countries.you should list US,UK,NZ,AUS or CAD on the list because most of the revenue may come from them. In addition,you should add your own website and your sitemap.
2.Dashboard
Now,let's take a look at Traffic Travis 's dashboard.


There's a lot of code,backlink and keyword inside this member area. Normally,you can add your site and your competitors's site so as to analyze backlink and the best keyword. If you are a complete newbies,please don't care about a backlinks until you have some training. Affilorama Premium is a course that go overs about backlink.
Sitecheck : PR,Alexa, Page Warning & XML Sitemap
Keywords: Keyword Count & Traffic Potential
Rankings for: Pages indexed, Ranking in top 5 & Ranking in top 10
Top 5 ranked keywords (of course,it's like the name)
Top 5 Backlinks : Most reliable backlinks (site authority)
2.My Site
This is your SEO audit tool when Traffic Travis use its algorithm to estimate. And the good part is,you can also check your competitors's site.


After that,click on Add Keywords.


Simply choose some of them and click OK. Then,let's move to the SEO pages of Traffic Travis.


As you can see from the picture,this can check all backlink from a website. Normally,#1 website of any keyword gets a lot.
For example,i import the keyword american bulldog training


Traffic Travis will automatically check your site and some factors of your keywords together with your content.
3.Keyword Research (The Best Value is Here)
If you are finding an affordable keyword research tool,it's here despite not having an impressive look.


Traffic Travis even estimate the monthly search of Google Global,Local and keyword in Tittle while many tools doesn't.


Doesn't look impressive but clearly that's everything you need for a keyword tool.

4.Domain Research Tool
If you haven't already registered a domain name,it's ok because Traffic Travis make it easier for you. Especially you can search for available domains based on keywords. However,forget about domain match because it doesn't work with SEO anymore,just to help you find the right domain name.


And then,a list of available domain will appear 🙂

5.Advanced SEO tools
As i mentioned before,experience internet marketers can use Traffic Travis thanks to some advanced features.
1.Ranking
At first,this software can track a keyword's ranking in Google,Bing and Yahoo.


After that,choose any keyword you want and see its ranking history


2.Competition
When joining internet marketing,it's hard to avoid competition. But forget abouth this,what you need to do is to remove your competitiors. Google is not the only competitor through Google Search Engine,youtube is also your competitors.


3.Backlink Analyzer
Another important factor of SEO is backlink and Traffic Travis analyzes this.





4.Link Finder
The last advanced tool of this software is link finder as it analyze backlink,url,page rank
and page authority.

6.PPC
There are two things to do:find a website to place your adsense and see adwords competition.
With Adsense Finder,you can find a good website for your ads


Next,watch your competition in order to choose the correct way

Bonus : 1 Month Free Trial With Affilorama Premium
Traffic Travis was developed and created by Mark Ling,founder of Affilorama and Affilojetpack. Once you buy the Pro version of this software,you will get access 1 month to Affilorama Premium ($67/month). As you can see from those pictures above,this kind of traffic is not easy and you need a training to actually understand and take advantages of those highly advanced features.

Click here to learn more

Pros of Traffic Travis
Affordable Price
Including Keyword Research Tool
Advanced Backlink Analysis
Domain Research Tool
Free 1 Month Access to Affilorama Premium
SEO difficulty,competition analysis and PPC ads support
Local Search Volume
Include SEO audit tool and website's health checker
Cons of Traffic Travis
A little bit overwhelming for newbies and even intermediate
Just support Microsoft (no IOS)
Final Verdict
In summary,Traffic Travis is a good and affordable SEO and PPC ads tool that internet marketers should have. It's useful and it supports you to do the market research and compete with your opponents. As an affiliate marketer,take action,no need to worry about competition if you do the correct way. Of course,i recommend any marketer to buy this software to get more traffic to their website. And you will also get access to Affilorama Premium (include Affilotools) for one month.