Viddictive 2.0 Review From Real User-Advanced Video Ads Technology
Product : Viddictive 2.0
Creator : Mario Brown (also the creator of Dealcount)
Price : $37 during launch and $67 when it ends
Do I Recommend : Yes,but only for FB and Instagram video advertiser.

Video ads is presently one of the most powerful traffic sources on the internet. People loves watching video and present video ads and display it normally encourage people to buy.
Before starting any video ads campaign,you need to create your video first. In this site,i have reviewed some video ads creator such as
Doodly
,
Reevio
,
Viddyoze 3.0
and
Clipman
. Today,i will review another one,Viddictive 2.0.
What makes this app so powerful is that it allows you to create video ads campaign directly on your account. And it helps you create video ads super fast and easy. Let's checkout my Viddictive 2.0 review so that you know what inside.
Notes : i got a review access account from Mario Brown so that i know exactly what i'm talking about.
What Is Viddictive 2.0?

At first,Viddictive 2.0 is a software that helps you create video ads by customizing pre-formatted scenes and templates. You only need to edit text,image and add logo into your video. It also has drag and drop technology to make your life much easier.
On the front-end account,you will access 100 ready to go template that works in multiple niches and markets.
After that,you can create a Facebook Video Ads campaign immediately on your Viddictive 2.0 account.
Why Using Viddictive 2.0?
Viddictive 2.0 helps you to run the most advanced Facebook video ads in a few clicks. It starts with choosing high converting ad templates built from marketers with the ability to upload it directly for Facebook ads following easy steps. This app is for newbie and advanced marketer to create, build and run their especially on autopilot with the easiest way.
Benefits of Viddictive 2.0
There are four major benefits from Viddictive 2.0
1. Video ad templates: They are 100 video ad templates that are carefully crafted and based on scientifically proven marketing principles.
2. Facebook marketing API: Easily integrate with Facebook so every ad that you built will be able to uploaded directly to Facebook and built the entire campaign through it without download the video upload and built Facebook campaigns from scratch through Facecbook .
3. Drag and drop technology: Drag-and-drop photos into the video design, change the text fields and customize color text.
4. Completed video advertising automated suite: Our app with the help of Facebook advertising API is solving the main problem of a new marketer which is handling all the parts of video advertising.
Features and Full Demo of Viddictive 2.0
Now,i will show you step by step on how to create a video ads campaign together with Viddictive 2.0. After that,i show you how easy it is to create Facebook Video Ads campaign with this app.
This is the member's area once you login.


The first thing to do is to connect your FB and Youtube account.

1.Create Your Video Ads
Now,let's see how i create video ads using Viddictive 2.0. As i mentioned before,Viddictive 2.0 allows you to create video ads by customizing pre-formatted templates. Here are 100 templates you got from a Front-end account.


After buying this software,you will automatically see the upsell 1,Viddictive 2.0 Template,which costs $47. Here are additional templates inside the OTO 1 account.


Firstly,click Create Your Ad with any template you have chosen.
a.Example 1
This is the first example video ads i create,for instance,i pick this template.


At first glance,it has some similar usage with Reevio.


And like Reevio and Viddyoze,this one also has limitation about characters.


At here,you can either choose their gallery or add your own images.


Next,add Viddictive 2.0 available music or your own.


And lastly,click Finish to make it render video. Then just wait until it finishes rendering.


And you have finished.



An idea of Viddictive 2.0 is to create a short promotion Facebook or Instagram Video Ads.
b.Example 2
For example,i pick this template.


Comparing with the first example,this template allows more characters.


Now,i will edit text.


This template is a more specific video ads than the first example.


When adding image,it seems to be Viddictive 2.0 chooses the highest pixel of that image.


Very easy,right.

2.Setup Facebook Video Ads Campaign
After creating your video ads,it's time to create your Facebook Video Ads campaign. Here's the process


However,you need to setup Facebook Custom Audiences on your Facebook account first. Watch this demo video from Mario Brown to understand.

Besides Facebook Video Ads,you can also upload Facebook Video Post.


And that's all you get inside a single time purchase of just $37. Most video creator online in the internet just create video for you while Viddictive 2.0 is created to help you make money.
Let's take a look at the entire funnel
Funnels of Viddictive 2.0
At present,Viddictive 2.0 has 3 upsells and none of them are recurring fee.

The Templates Club include templates that i have screenshot above.
If you buy the Pro version,you will access :
Reseller License plus Team Access

Connection with Multiple Social Accounts

Unlimited Renders together with

2K Extra Sounds
I just recommend the OTO 1,the template club,it's no need to have resell,agency or commercial license.
Bonus From Me
To make your life much easier,i will add some extra bonuses if you get Viddictive 2.0 through my link. This product is powered by Jvzoo so that after you buy,you will get immediate access to my bonuses product. Of course,i won't offer cheap PLR bonuses as always.

5.Video Ads Mastery
6.GetInterests

Find profitable untapped Facebook interests other marketers and business owners didn't already know about … effectively leapfrogging your competition.
Notes : this is a high quality bonuses created by Mario's marketing team.
7.Video Ads Made Easy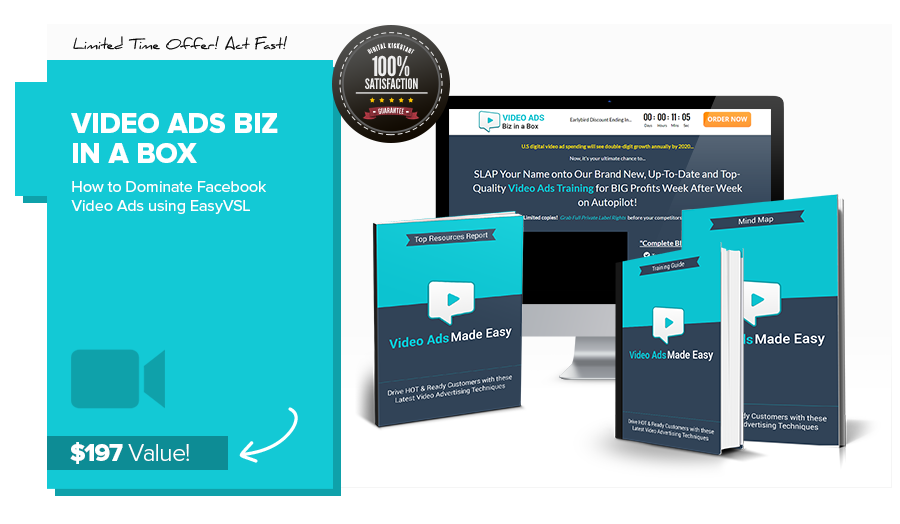 8.Facebook Ads 3.0 Made Easy
9.Facebook Remarketing 3.0 Made Easy
10.Liking Facebook Ads Again

And these are my bonuses that you will automatically get inside your f/e account after purchase.

Pros of Viddictive 2.0
Affordable Front end and OTO 1 price without recurring fee
Easy to use and manage
Create Video Ads by Simply Customizing Templates
1 Click Integration with Facebook Account
Drag and Drop Technology
Very Fast Video Rendering
Create Facebook Video Ads In Minutes
Cons of Viddictive 2.0
1.Limitation on Text and Characters
Because it's a video ads creator.
2.Not Ideal for Creative
When using Viddictive 2.0,you are depended on templates. Some background images can not be changed,you can only edit image when adding media.
Final Verdict
In summary,Viddictive 2.0 is a great tool that you can buy and benefit. Most video creator just create video for you but they don't help you make money. While Vidditive 2.0 is different,it helps you boost ROI from your Facebook Video Ads campaign. What i really like is the beautiful templates and we can create video ads by simply customizing text,images and logo. Of course,i recommend this app for all Facebook video advertiser.