Product : Viddyoze
Creator : Joey Xoto
Price : $77 or $97 and one upsell
Do I Recommend : Yes (but you may need some information before buying)



Video marketing is now becoming a very powerful way to get more traffic at present. It's not a nice to have add-on anymore,it's now  a must have tool for your online bussiness. There's a lot of thing to do with video,create a sales letter video,presentation video,Youtube and Facebook video ads,etc.
But you know,not all video convert. I know there's a lot video creator online such as Explaindio,EasyVSL,VideoRobot,Powtoon,Doodly. However,one thing they lack is the live animation. In fact,without animation,it's hard to capture attention from people.
Viddyoze is a popular software that helps you create live animation for your video. Now,let's check out my Viddyoze review in order to understand what inside. Personally,i don't buy Viddyoze,i got the review access from Becca,the blogger and Jv manager of it.
Notes : this is not a Jvzoo product,i'm an affiliate of Viddyoze but not promote it on Jvzoo.
What Is Viddyoze?
Firstly,Viddyoze is not a video creator,it's a cloud-based app that helps you create live animation for your video. Thanks to this software,you can create Intros, Outros, CTAs, Logo Stings, Social Actions, And Pure Live Action Magic video. In fact,it's not a normal MP4 video,it's a Mov video that you can add to your landing page background,animation when combining with video editing software.
The technology that the creator applies is to use 3D animation and you just need to edit text,add images to the pred0ne templates. So,in fact,it's like Reevio but not a video creator.
Who Is Viddyoze For?
Video advertisers on Youtube and Facebook
Any marketer who want to increase engagement of a video
Those who have already had a video before
Member's of IM Video Masters
Live video streaming on Youtube,Facebook and Instagram
Main Features and Demo of Viddyoze
Right now,i will show you step by step how to create a live animation video using Viddyoze. The process is super simple when you only need to customize predone templates.
This is the member's area once you login,look attractive interface,right?

1.Templates
Once again,Viddyoze is an app that helps you create live action video by customizing pre-formatted templates. So that template is the most important factor when using this software. These are templates from a review access account so that i have some limitation. If you buy yourself at a price of $97,you will certainly get more than that.

2.Demo
As mentioned on the salespage,you can create a live animation within 3 steps. Now,i will show you the exact three steps to customize and render video.
Firstly,choose a template.


In this scenario,i choose the App Developer template. Here's what you see after that.


Everything you need to do is the fill in the form and customize colors.
After you complete the whole process,then click on Render Video.


Right,here,you will have a preview with your live animation video templates.


You can add audio here if you want. The next step is to click Render Video.


All you have to do is to wait until Viddyoze finish rendering.
So,in fact,you can create a live animation video super fast and easy. Of course,to create the best video,you need to have multiple animation like that.

Once you master this software,you can even create a video ads without needing to use other video creator.
And that's exactly what you get inside a lifetime access live animation video creator. In my opinion,it's worth every single penny you are paying.
Upsells of Viddyoze
At present,there's only one upsell of Viddyoze and it charges monthly fee. The OTO of Viddyoze is the monthly templates club,which charges $37/month.
Explaindio,Vidgeos,Reevio are others software that also charges you at a price of $37/month for monthly templates so that i think this price is OK.
In my opinion,if you are new to this software,you should join this template club for around 1-6 months to get enough templates you may want.
Again and again,buying or not is up to you. If you want to create a video without using other software,the more templates the better.
Bonus for Viddyoze
In order to make your life much easier,i will add some extra bonuses if you buy Viddyoze through my link. This is not a Jvzoo's products so that there will be no instantly delivered bonuses. Just buy through any link from this page and then contact me with your name and your receipt. I will check and give you immediate access after that. Of course,no cheap and suck PLR bonuses here.
1.Youtube Marketing 3.0 Video Training
2.Youtube Ads Made Easy Guide
3.Facebook Ads 3.0 Made Easy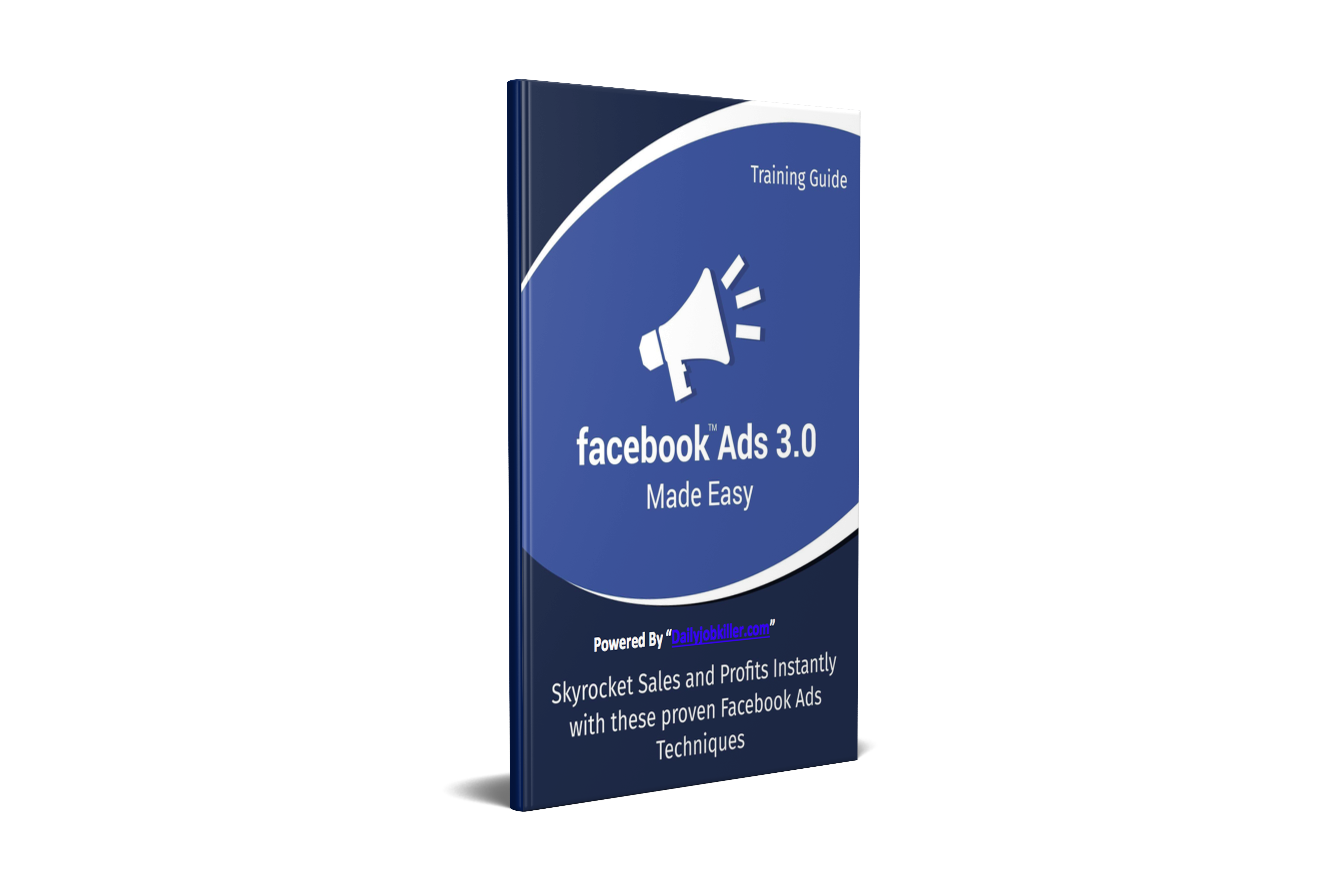 4.Youtube Ads Made Easy Video Training
5.Video Ads Made Easy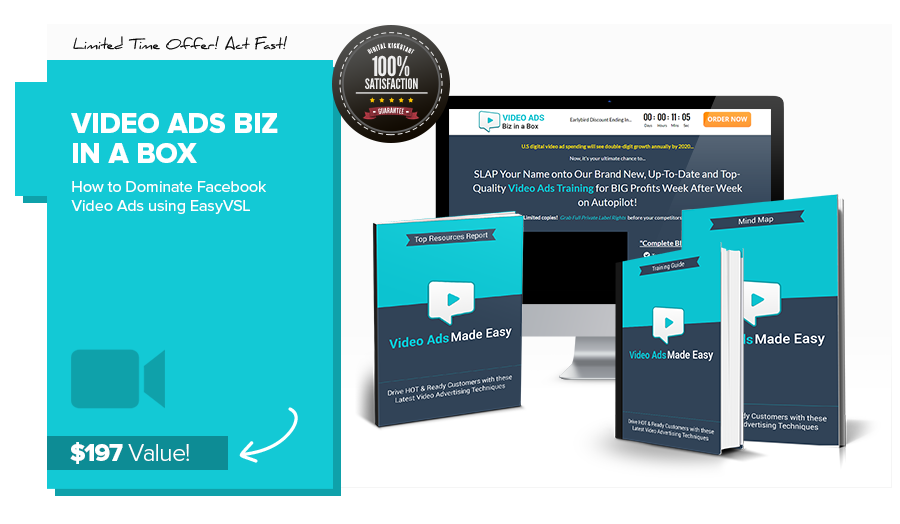 6.Still Shot Into Video – And Other Cheats
7.Video Marketing Blunders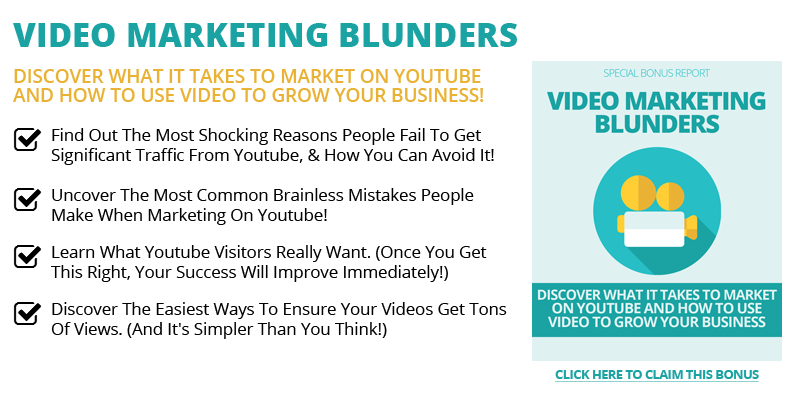 8.Youtube Ads 2.0 Made Easy
9.Easy Sketch Pro 3.0 Software

You may surprise but it's 100% real. In fact,Easy Sketch Pro 3.0 is one of the most popular video creator besides Explandio and EasyVSL. When combining with the live animation features inside Viddyoze,it's a win-win situation for your video marketing campaign.
10.Facebook Remarketing 3.0 Made Easy
11.Magnetic Video Marketing

Online money making looks quite luring from the outside, but it's not everyone's cup of tea. However, if you also want to make money online using videos, then you can breathe easy as this is an entire training program that walks you step-by-step in order to start making money online using videos without investing a fortune.
Now all you need to do is combine these tips and techniques along with result-oriented features provided in Viddyoze, and reap long term benefits for your business.
12.Video Marketing Made Easy
13.Creating Powerful Video Sales Letter

Your video sales letter should not just be a transcript of your written sales page. That's boring, and even worse, it can hurt your conversions! Inside this package you will learn how video marketing experts create sales videos that grab their viewers attention and practically hypnotize them into buying! This training package includes a downloadable MP4 video and full written transcript.
14.Instagram Marketing Made Easy
 
 
Pros of Viddyoze
Easy to use and easy interface
Affordable price without recurring fee (on the front-end)
Fast Rendering
Various templates and they work with various niche
No limitation about text,letter for animation you create
Cons of Viddyoze
1.Need Time To Master
Unlike Reevio,you need to create multiple animation to create the whole video. Besides,a big disadvantage of Viddyoze is that some templates inside are not sync as Reevio does. But the advantage is that you don't depend a lot on templates while Reevio is highly.
Final Verdict
In summary,Viddyoze is a great live animation video creator you can consider to buy. In fact,without animation,it's hard to boose engagement as well as to capture attention. To create a live animation with Viddyoze,it's super simple,everything you need is to customize pre-formatted templates and wait until it finishes rendering. Always note that video is no longer a nice to have add-on,it's a must have at present.