Product : Vidgeos
Creator : Josh Ratta (also the creator of Clipman,Vidello and Reevio)
Price : $27/month or $127 when bill annually
Do I Recommend : Certainly Yes

At present,video marketing is becoming a trend to make money online. It doesn't only help you get more traffic but also improve conversion. So that sooner or later,you should consider using video marketing techniques for your bussiness. In the last article,i have posted a review of
Clipman
,which is another Josh's product. So,in this post,i will show you my Vidgeos review,demo so that you know what inside. Unlike Clipman,which is mainly for ecommerce,Vidgeos works in more various way.
What Is Vidgeos?
Vidgeos is the first ever viewer specific smart video creation software which enables you to display a live interactive video which speaks specifically to each individual. You can also set your videos to instantly translate text to the language of the viewer and add on smart viewer specific elements. Creating vidgeos is as easy as drag & drop, point & click. It comes with pre-built templates for quick start video creation and you can also build out your videos from scratch adding on stunning animations and effects.
Besides,Vidgeos adopts CTA buttons, Email op-tin forms and even live countdown timers. And users can also add on a front splash image on their video. Orginally,when it first appeared,it's in HTML format but right now,you can download MP4 format.
But the main purpose and usage of Vidgeos is to help you create an HTML Video,which is used to collect leads or add Call to Action for video.
Who Is Vidgeos For?
Any internet marketer who want to enlarge more traffic and conversion
Email list builders who want to increase their subscribers list
If you are dealing with Facebook Ads,Native Ads or Youtube Ads
People who want to enlarge their fanpage
People who are selling ecommerce product on Amazon,Shopify and other platform
You want to understand your audiences more
Main Feature and Demo of Vidgeos
Now,let's see my Vidgeos demo and instruction. Like Clipman,this one is also a cloud-base software so that you don't have to download. This is the member's dashboard once you log in.


If you have any issue when creating video,you can see the tutorials.


And this is the place where you can setup autoresponder integration. Presently,Vidgeos only has direct integration with Mailchimp,Aweber,Getresponse. If you need more,you have to contact Josh.

1.Basic Setting Up
Hit the button Create and then you will be redirected here.


Then,customize your background.


After that,you need to add element to your slide.


On this place,you need to add audio into Vidgeos. It can be a music track or you can record your own voiceover. Currently,this software doesn't adopt text-to-speech feature.


Next,it recommends you to create an Amazon S3 account,which is free to sign up. This is the hosting service for your video.



After that,you need to paste your access key from your account.


And now,you can start create video.
2.Create Video

On this place,you can whether add template or remove them if you want. Oh,but you need to know one thing,Vidgeos doesn't have spy pen,which is a disadvantage. These are basic template,you can hit Add From Templates to insert more.

a.Add Text
In order to add text,just simply hit the Text element on your slide. Vidgeos is a drag and drop video creator so that you can customize and edit easily.


Despite not offering sky pen,it can display text attractively.


It's easy to change duration,effect or how it display text.

b.Add Email Form
A great feature of Vidgeos is that it allows you to add an email optin form. As i mentioned before,it has direct integration with mailchimp,aweber and getresponse. Just simply hit the element Mail Form,then an optin form will appear.


In this scenario,i highly recommend you to add voiceover because it will encourage people.
On the other hand,it also adopt a thank you message after your audiences enter their email addresses. They will not get your gift or lead magnet automatically,they have to confirm their subscription. Don't worry about bad subcribers because if people watch the video until they see the optin form,they are the real potential customer. For instance,you can do like this.


Besides,you can customize the time when it displays on Vidgeos.

c.Countdown Timer and CTA Button
Another great feature of Vidgeos is that it allows you to add countdown timer. As you know,this is the way copywriters are doing to scary their audiences so that people will buy.


Just simply hit the element Countdown. Don't forget that you can drag and drop it.


You can add a background and then add countdown element on this.


You can add button by hitting the element Button,remember to insert the target URL.


Besides,you can even set up the link to make it open on new tab.


After you finish all of the process,you can download,publish it on Amazon S3 or ember video on your website.


And this is the feature you need or care on the front-end of Vidgeos. Basically,it's worth the price you are investing.
Upsells of Vidgeos
Like his newest product Clipman,Vidgeos also has 2 upsells. In my opinion,you can skip the upsell if you feel you don't need.
1.OTO 1 : Vidgeos Monthly Template Club ($37/onetime and then $27/month)

Vidgeos Templates Club gives you customers 100 pro designed template slides as well as 50 new slides every month. Josh Ratta is an expert in terms of video marketing. Personally,i also own Video Maker Fx,which has themes created by Josh. This price may be expensive to some people because if you combine with the front-end,it's up to $54/month or $127/year + $37 + $27/month.
2.OTO 2 : Vidgeos Pro ($97/onetime)

This package includes: Tap-to-call, Social Sharing, Add your logo to player, 30 Premium Audio Tracks, 50+ Extra Transitions & 100+ Text Fonts. Besides,you have developer license to sell video. In my opinion,you should consider this package. But if you don't really need,it's OK to skip.
Bonus From Me
In order to make your life much easier,i will add some extra bonuses if you buy Vidgeos through my referral link. This product is powered by Paykickstart so that you will have instant access to my bonus link immediately. Basially,they are all you need after buying.
Notes: you get instant access to all my bonuses once you buy the front-end product. So that you don't need to buy upsell.
1.Greatness Vidgeos Templates (value At $497)
Get the exact template we used to create this incredible video. This is a fully customizable vidgeos template you can edit it and tweak it for your own business inside of the vidgeos studio. You'll also receive the exact audio track royalty FREE!
Bonus 2 : Motion Docs (value At $297)

Want to sell video creation or marketing services to businesses but don't have the right resources to brand yourself as an expert? These documents do just that. Simply add your logo to the documents and adjust any text you like and instantly you can begin selling video creation and marketing services to businesses!
Bonus 3 : Conversion Timer (value At $47)
ConversionTimer is a WP plugin which enables you to quickly & easily create beautiful countdown timersto add to your sales and marketing pages to increase your conversions during product launches and product promotions you run from your websites.
4.Youtube Ads Made Easy (value At $67)
5.Youtube Marketing Made Easy (value At $67)
6.WP Video Frame (value At $47)
Don't just embed video,create a frame to make it look more professional. This plugin allows you to paste html file you have created on Vidgeos to make a professional video frame.
7.Youtube Marketing Excellence (value At $147)
8.Video Marketing Blunders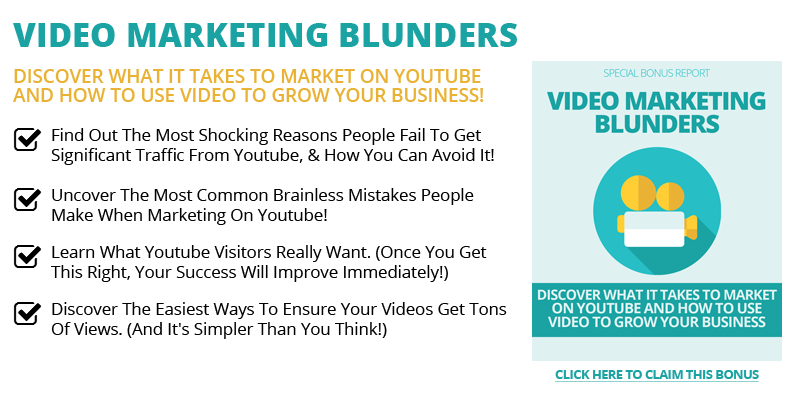 9.Youtube Ads 2.0 Made Easy
10.Produce Video For Profits
11.Video Cheats
Pros of Vidgeos
Affordable price
Super simple to use
High quality templates and slides
Direct integration with Amazon S3 and autoresponder
Add URL,CTA Button easily
Support email marketing
Adopting scary countdown timer
Cons of Vidgeos
Doesn't offer Text-To-Speech (so that you need to use voiceover)
Still lack integration (you need to contact Josh to add more)
Final Verdict
In summary,Vidgeos is a great video marketing software to promote affiliate offers,market your products and to build an email list. It's friendly and highly affordable to anyone. Moreover,it's great to vary your traffic with Youtube and even Facebook Ads. Buying or not,it's up to you. And don't forget to take advantage of my exclusive bonuses.